3 Reasons Buying a Home in Winter Can Be a Smart Move
For a moment, imagine this scenario. Your children have a good routine going. You enjoy spending time with the friendly neighbors. Your family is pretty much content with this assignment. Then, it happens.
You have military orders--mid-year. In addition to the hectic pace that the holiday season brings, you are now tasked with winter house hunting for your military move.
Serenity now!
At a moment like this, it may ease the stress if someone offers a few helpful hints. That's where we come in. Here at MilitaryByOwner, we strive to share handy tips and worthwhile information for military members, spouses, and families. If you're facing a mid-year PCS and looking to buy a home, we have good news! The off-season timing may work to your advantage.
1) Time to Research before Committing

After the surprising news of the upcoming transfer settles in, you've most likely spent some time online. Perhaps you've explored these four resources:
With these and other factors in mind, you may have an idea of where you'd like to live. Along with information about schools and safety, it might be good to look up the history of the housing market in the area you've narrowed down. With summer sales complete, it may be easier than ever to find out what neighboring homes have sold for.
2) Home Shopping at Your Own Pace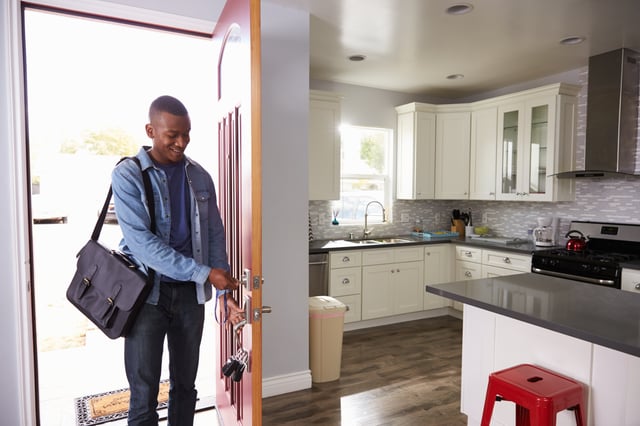 If you're moving to an area where the winter months bring chilly weather, you may notice there are fewer homes up for sale. While this could seem like a negative, this slow down of housing inventory may work in your favor. A less competitive market could make it easier for you to negotiate a deal. With fewer worries about the bids from other buyers, your offer may take the spotlight!
Keep in mind, it might get lonely out there. On the hunt. Doing the drive-bys. Scouting for hidden gems. You may not be running into a lot of other house hunters. But, less traffic may give you more time to linger at properties that catch your eye. Feel free to tour the homes at your own pace, rather than being rushed in and out. Enjoy the chance to chat a while, without being crowded by other home seekers or open house surfers.
RELATED: HOMEBUYER WALK-THROUGH CHECKLIST
3) Working with Motivated Agents and Sellers
via Flickr Nerisa Dela Cruz
As the post "4 Benefits of an Off-Season PCS" explains, if you plan to work with a real estate professional, that "go-to" person that everyone recommends may now have time to devote to your house hunting needs. On a similar note, it may be easier to find top-notch home appraisers and home inspectors with the off-season freeing up their schedules. With fewer clients pulling these professionals in different directions, they may have more time to focus on you.
Additionally, without the hectic pace of peak buying season, all the pieces of the puzzle may fall into place and lead to a more efficient transaction. Perhaps you'll find yourself in your new home by Christmas Eve? Or, maybe you'll have everything squared away to ring in the New Year at your new address? It could happen!
With a motivated seller, the odds are in your favor. You may consider placing an offer under the asking price, as long as the terms are fair. If you've researched comparable homes, have a grasp of the local market, and know what to expect with the property, a seller should agree to a reasonable bid.
If your holly jolly end-of-the-year celebrations include closing on your new home at your new assignment, here's hoping everything falls into place. Keep in mind MilitaryByOwner has curated a wide variety of helpful home buying information to guide you through even the most spontaneous timing of a military move!