3 Year-Round Colorado Getaways
Got orders to a base in Colorado? You're in for a treat! The state is full of unique things to see and do in every season! When you want a break from your duty station, you don't need to travel far to find the perfect vacation spot.
Here are three Colorado destinations that make great getaways any time of year!
1) Rocky Mountain National Park
Needless to say, if you're stationed in Colorado, you can't miss the most popular national park in the state.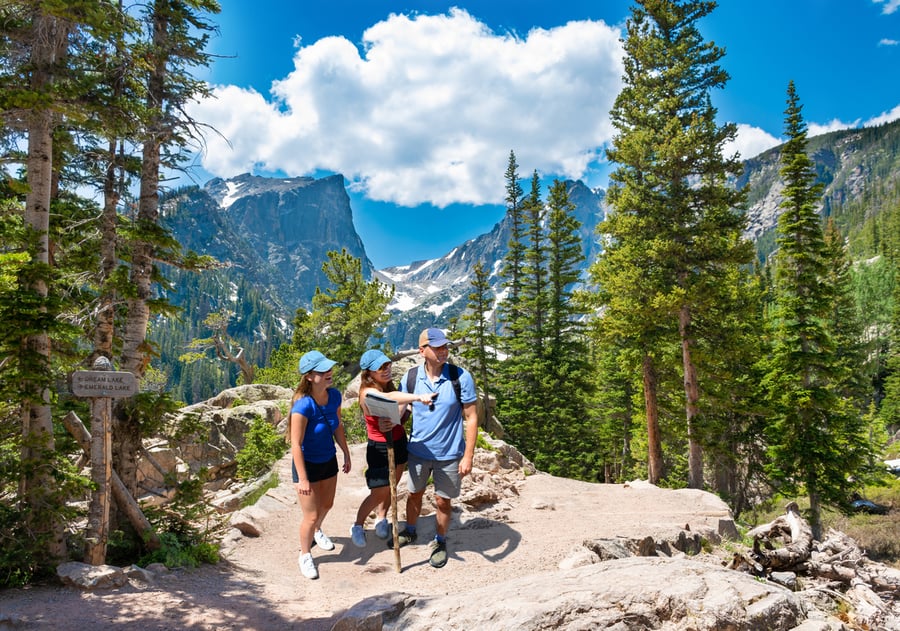 Rocky Mountains National Park, Colorado, USA. Photo by iStock.com/MargaretW
The closest park entrances to military bases in the Colorado Springs and Denver areas are on the eastern side. From south to north they are: Wild Basin (one of the least crowded entrance stations); Beaver Meadows (the most popular entrance near the town of Estes Park – it gets backed up during the high season); and Fall River (less crowded than Beaver Meadows but also near Estes Park).
Rocky Mountain National Park is open and has plenty of things to do year-round. Summer and fall are the peak seasons, but if you take advantage of your proximity to the park to visit at other times of year, you can enjoy it with fewer crowds (albeit with a different choice of activities).
The park has something for all ages, including many easy – and even some stroller-friendly – trails. Other kid-friendly options include guided horseback rides, fishing, and junior ranger programs. Also, any visitor can enjoy a scenic drive along Trail Ridge Road or other roads within the park!
Where to Stay
Within Rocky Mountain National Park, you can stay at one of the five campgrounds. Moraine Park, located near the Beaver Meadow entrance, is the only campground open year-round. None of the campgrounds has RV hook-ups.
Outside the park, the town of Estes Park has the most lodging options. A fun choice for families is the YMCA of the Rockies, which has cabins and hotel-style lodges, plus a broad range of organized activities.
Another unique lodging option in Estes Park is the Stanley Hotel, an old Victorian-style mansion that was the inspiration for Steven King's famous horror novel, The Shining. Stay there and find out for yourself if it's really haunted!
2) Great Sand Dunes National Park
Located in south central Colorado, this national park boasts the tallest sand dunes in North America. Surrounding these giant hills of sand are the snow-capped Sangre de Cristo Mountains and lush forests of the San Luis Valley, resulting in a very unique landscape.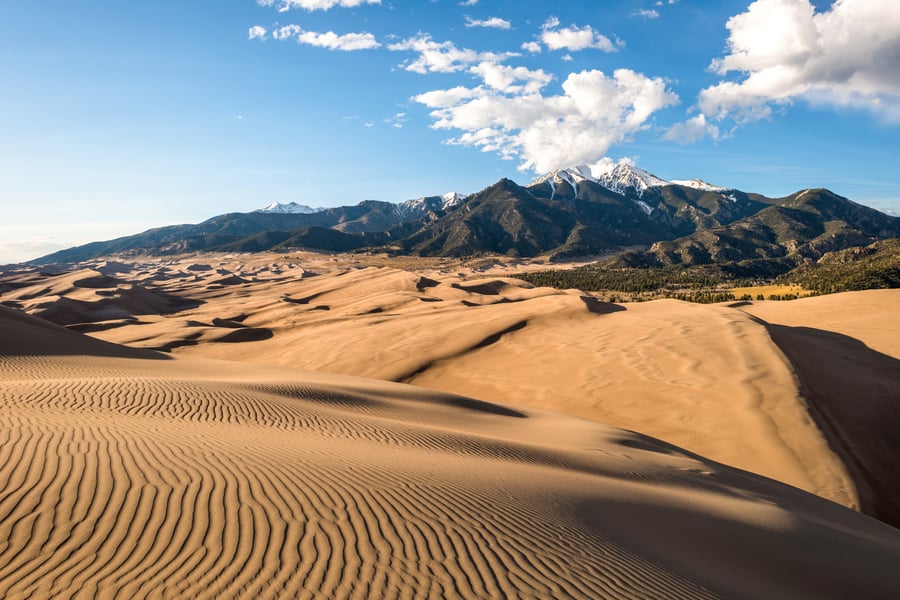 Sunset view of sand waves at the top of Great Sand Dunes, Great Sand Dunes National Park & Preserve, Colorado, USA. photo by iStock.com/SeanXu
Make no mistake; the presence of all this sand does not mean the park is in a desert. It gets plenty of snow during the winter, but in most months, it melts quickly, and you can visit this park year-round.
Popular activities include hiking and off-roading along the 25-mile Medano Pass. But the most unique thing to do in Great Sand Dunes NP is to ski, snowboard, or sled down the dunes!
Where to Stay
Piñon Flats Campground is located within the park and is open April through October. Besides backcountry camping, it is the only lodging option within the park.
The Great Sand Dunes NP website lists several of the closest lodging options outside the park, but most are not open year-round. The next closest options if you plan to visit between November and March are in the towns of Hooper and Alamosa.
3) Durango
This small city in southwestern Colorado is rich in natural beauty, outdoor adventures, and history. About 5.5 hours from Colorado Springs, Durango is a former mining town, and it still maintains the feel of the "Old West." It's often called the Hollywood of the Rockies, because more than 30 movies were filmed in Durango over the past hundred years.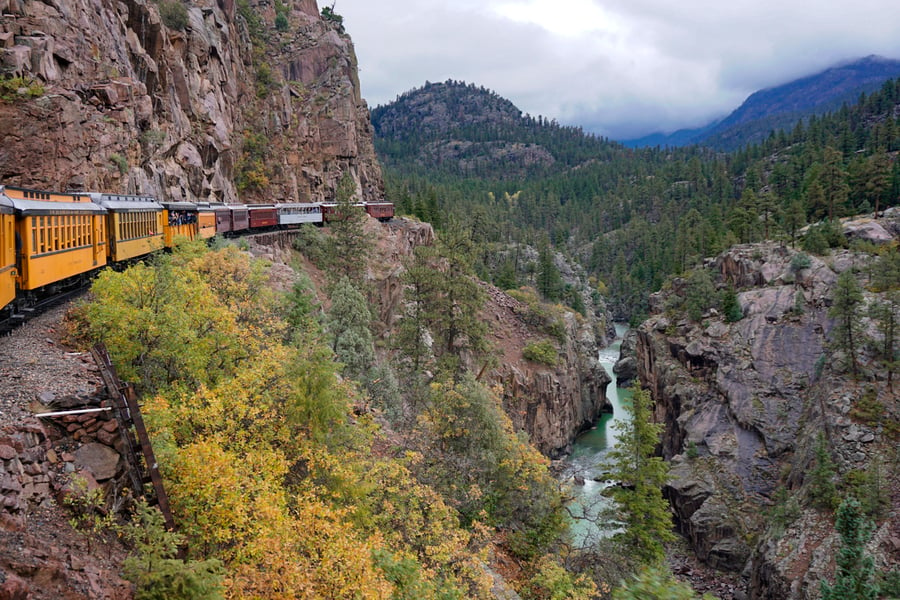 Durango and Silverton Narrow Gauge Railroad. Photo by iStock .com/Paul Hamilton
Durango is located at the foot of the San Juan mountains, so naturally, you can find plenty of skiing, snowboarding, and other snow-related activities in the winter. In the warmer months, it's a top destination for biking, hiking, rafting, and fishing (the Animas River runs through the town and is a "gold mine" for trout!).
In addition to its many outdoor activities, Durango has other attractions.
Hop aboard the Durango & Silverton Narrow Gauge Railroad for a unique journey through San Juan National Forest. You can take the 5+-hour scenic rides year-round, but the available trips depend on the time of year.
If you're interested in railroad history, check out the free D&S Roundhouse Museum, which features exhibits and artifacts from Durango's mining days, including restored locomotives.
Another fun and family-friendly museum is the Powerhouse Science Center. It's located in a former steam-generated power plant and features interactive, educational exhibits.
Where to Stay
Durango has a variety of lodging options, including popular chain hotels, local lodges/motels, vacation rentals, and full-scale resorts.
Two resorts that are very popular and destinations unto themselves are Purgatory Resort and Durango Hot Springs Resort & Spa.
If you have an RV, camping is a great way to enjoy Durango. There are several campgrounds in the area, but if you want to visit during the colder months and you're prepared for winter RV living, Alpen Rose RV Park is a good choice. It's only 6 miles north of downtown Durango and is open year-round.
Those are just a few of the cool destinations to visit in Colorado. The state is home to several other national parks and forests, so there's a lot more to explore. Don't forget to bring your America the Beautiful pass for free access!
Is your military family headed to the Colorado Springs area? Grab our free guide to the area below!