5 Weekend Destinations Near Colorado Springs
With orders to Colorado Springs, you're probably ecstatic about all the things to do in the area. Nestled near the base of Pikes Peak, it's no surprise to find endless adventures and attractions near Fort Carson, Peterson Space Force Base, or any of the other area military installations.
But did you know this Rocky Mountain location also lends itself to incredible weekend getaways? Your backyard has an even bigger backyard, and in just a few hours, you can drive to unforgettable destinations to ditch the everyday grind and unplug.
Here are a few ideas to start your weekend travel list!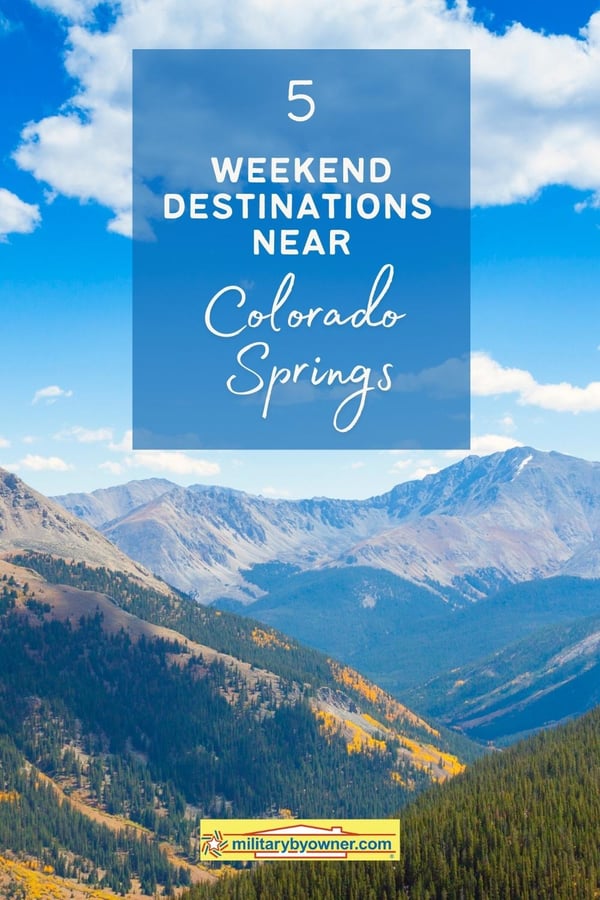 1) Aspen
Roughly 4.5 hours from Colorado Springs is the famous Aspen, Colorado. This high-end ski town, though small, packs a punch, attracting 1.5 million visitors a year. So what makes it so irresistible? Its size, history, ski mountains, and shopping.
Aspen only houses about 7,000 residents year 'round, giving it that charming, almost magical small-town feel many city-dwellers seek for reprieve. With easy access to four skiable mountains, many flock to the area to hit the slopes in the winter.
But once the snow melts and the flowers bloom, this backdrop becomes the perfect place for hiking and all things outdoor adventure, causing many to return during summer. Plus, behind its beauty, Aspen has a long history of mining. Downtown is full of museums, restaurants, and shops—everything from local boutiques to designer labels.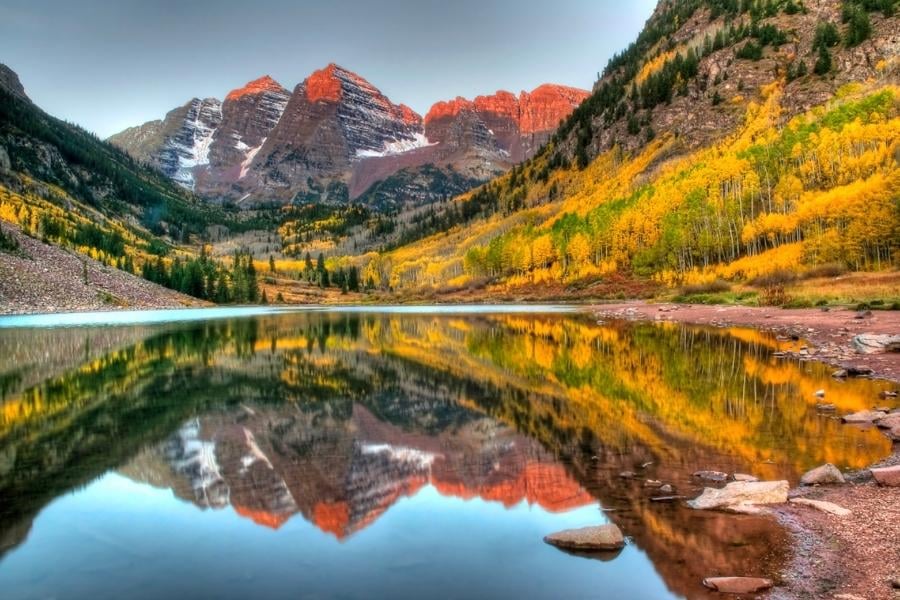 Photo from ffs.usda.gov
Top things to do in Aspen:
2) Rocky Mountain National Park
Sitting a couple hours north of Colorado Springs is the Rocky Mountain National Park. Encompassing 415 square miles of rugged wilderness, this national park is a quick and easy getaway if you want to make time stand still. Equally important, it's an unforgettable backdrop for your favorite family activities: hiking, fishing, camping, horseback riding, and more.
The best part? You might even make a few friends along the way. Bighorn sheep, elk, and mule deer all call this space home.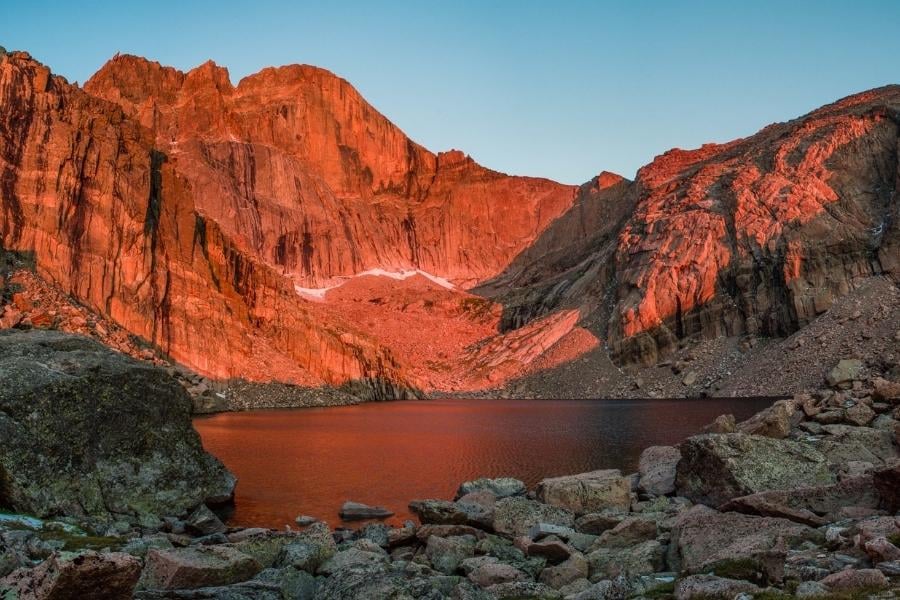 Photo from Rocky Mountain National Park Facebook Page
Top things to do at Rocky Mountain National Park:
3) Breckenridge
Just over two hours northwest of Colorado Springs is Breckenridge. This picture-perfect ski town offers a relaxed, laid-back culture, inviting visitors to join in the charm like a local. Here, you'll find a festive small town rich in history and big on adventure.
One stroll down Main Street, and you'll find mouth-watering food, beautiful boutique shops, and festive events waiting for your arrival. The best part about this quaint town is its accessibility. When you arrive, park your car and enjoy the simplicity and ease of walking (or bicycling!) to your outings. Want to hit the slope and work up your appetite for dinner? Catch the BreckConnect Gondola to your favorite snow-capped mountain.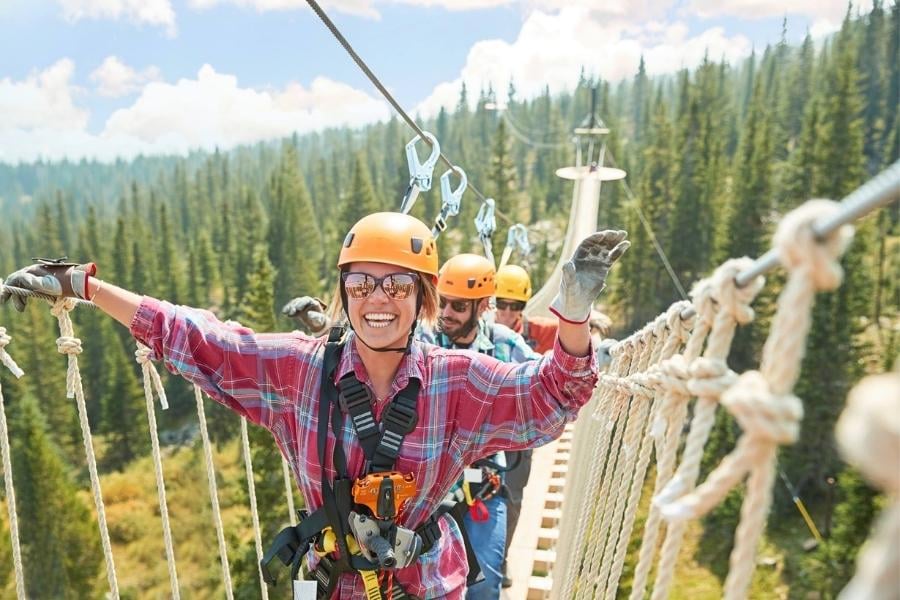 Top things to do in Breckenridge:
PCS move to Colorado in your future? Get to know Fort Carson, Colorado.
4) Great Sand Dunes National Park and Preserve
Head two and a half hours southwest to Great Sand Dunes National Park and Preserve and trade the snow for sand. Experience the tallest dunes in North America, surrounded by an incredibly diverse landscape. It's the terrain that makes it a unique destination. You'll find nearly every outdoor adventure you're craving right here within the park.
Head to the dunes for a fun-filled afternoon of sandboarding or sledding, hike through the forest on the Montville Forest Trail, or test your skills and hike up Star Dune (currently tied for the highest dune in North America). The park also offers horseback riding, opportunities to fish, camp, star gaze, play in the water, and four-wheel drive trails.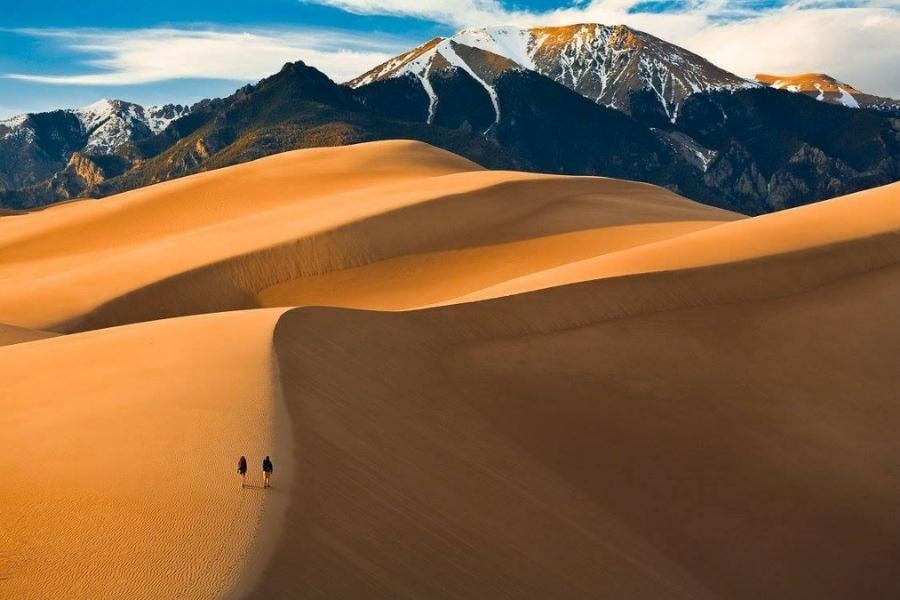 Photo by Erica Fry on Great Sand Dunes National Park and Preserve Facebook Page
Top things to do at Great Sand Dunes National Park and Preserve:
5) Vail
A little less than three hours from Colorado Springs is Vail. Like other Colorado ski towns, Vail offers top-notch ski slopes, a charming downtown, and an addictive culture that brings you back year after year.
But Vail offers something a little different. Nurturing five distinct neighborhoods, you can take an afternoon to experience a different culture or you can visit Vail many times and have a different story to tell each time you come. This popular destination breaks down into Vail Village, Lionshead, East Vail, West Vail, and Cascade.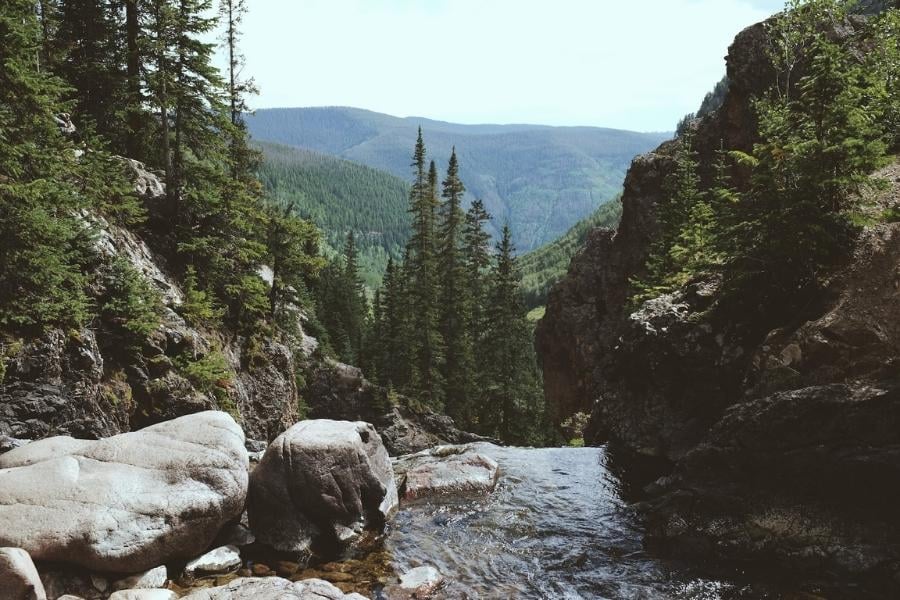 Photo by Kaitlin Muro on Unsplash
Top things to do in Vail:
One thing's for sure, a Colorado duty station offers endless adventure opportunities. Denver sits just an hour north of Colorado Springs, and though its proximity to the city doesn't warrant the title "weekend destination," its amenities do. If you broaden your scope, you'll find more destinations perfect for longer trips like Telluride, Durango, Silverton, and more!
Moving to Colorado Springs? Download our free guide to the area!