4 Design Ideas We LOVE!
Home decorating is a love interest of many homeowners and renters, so during this month of Saint Valentine, MilitaryByOwner is sharing four design ideas we heart and want to share with our lovely readers.
See what you think of these up-to-the-minute home decorating tips!
1) Bold Color

The perfect amount of color injected into a design space ebbs and flows in the world of home interiors. After several years of tone-on-tone fabrics, neutrally decorated rooms in many shades of linen, and stark white kitchens, color is coming back for the warm months. Although for many of us, color never really leaves!
Just look at Pantone's color choices for this year. Their favorite pick is a vibrant yellow-green called Greenery. Speaking of yellow, Marigold is an on-trend color of the moment too. Marigold is easily incorporated into linens throughout the house in window coverings and pillows.
But picture frames and lamp bases show the color well too, allowing those who prefer a "less is more" approach or for those too shy to take a plunge into walls painted the sunny color.
2) Mixing Old and New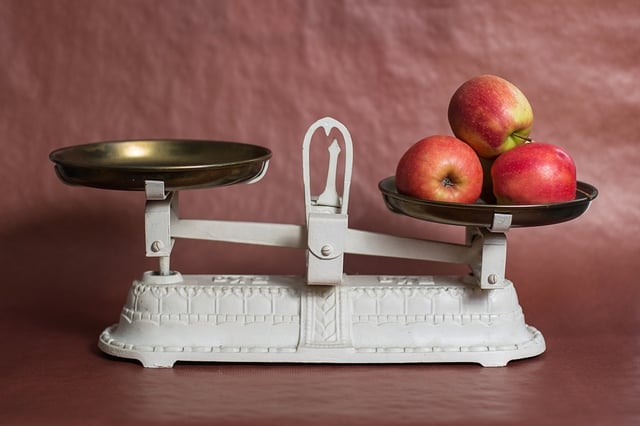 Designers shy away from "matchy-matchy" home décor because it tends to be boring and looks dated. Decorating with old and new pieces of furniture and accessories with a similar feel or look yields far more interesting results.
Today, it's not uncommon to see an antique dresser reinvented as a sink in a bathroom. Coffee tables are now repurposed from just about anything, including wooden pallets to industrial pull carts found by antiquers from long ago factories. New accessories take shape as shelving units made from wooden bottle crates and old-fashioned enameled scales become part of a recently curated collection to be displayed on fireplace mantels.
The best part of this design idea is that it never goes out of date and can be constantly tweaked to reflect current but temporary trends.
3) Countertop Options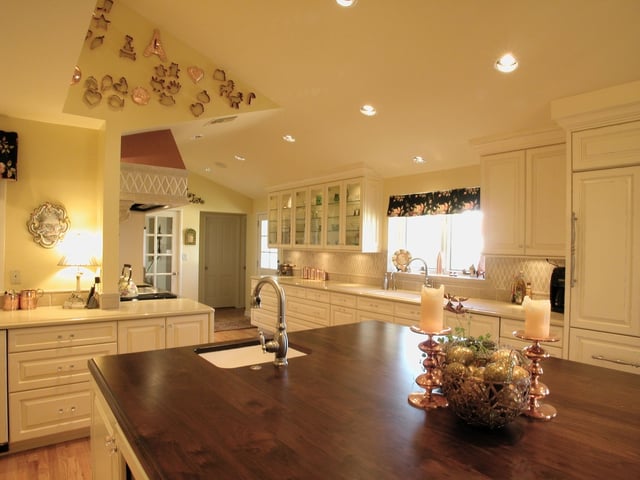 via Flickr user Nancy Hugo CKD
Granite countertops have had their day in the sun. More and more homeowners are looking for something new and different to prepare their food on!
Quartz is leading the pack because of the wide variety of colors and variations, as are marble tops, but laminates are making a new name for themselves. Gone are the plastic, stain-filled types of your grandmother's kitchen.
Better formulated synthetics are taking the shape of wood grain, distressed metals, and concrete. Because of the easy installation, easy clean-up, and more affordable price than the cost of stone granite, these new design choices are piquing homeowners' interests.
4) Workplace at Home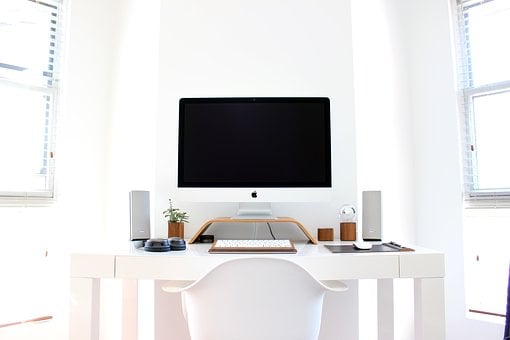 Are home offices becoming obsolete? Technology is definitely making working from home easier than ever. Wi-Fi and smaller, mobile office hardware have made working from a corner in the living or bedroom simple.
Grand desks and bookshelves are not necessary equipment anymore. Slim organization units and attractive accessories are taking over modern workspaces. Creatively decorating with functionality in mind is a trend that will likely take hold and become a mainstay for those who work from home regularly.
Home shoppers are also thinking twice about dedicating an entire room to a single activity when a room could be used for multiple purposes. Office and guest space double nicely in one room. Corralling kids' toys into a playroom and shutting the door is a very attractive option for parents, while toy-free families enjoy hobby rooms and theater spaces.
Loving these design ideas? Fill your decorating heart's desire with an entire category of decorating tips
in MilitaryByOwner's daily blog.