4 Reasons to Use FamCamps and Military Lodging
Are you familiar with FamCamps and military lodging facilities?
Perhaps you've heard of them, but never used them. And to that I say, shame on you! I'm only kidding. My husband and I use them on occasion, but not nearly as much as we should. When you consider that these facilities are available all over the world and are convenient resources when planning your PCS move or vacation, it's clear that military families should make the most of them!
Many of your fellow active and retired military families use them. In fact, one retired military couple I know decided to take their lives on the road. That's right! They bought an RV and went completely mobile. They decided that since they'd been overseas for the past 17 years touring Europe, Hawaii, and other countries, it was time to explore their own country for a change. So for the past year, they have traveled all over the U.S., staying at FamCamps along the way.
Whether it's a PCS move, vacation, or year-long travel, take a look at...
4 Good Reasons to Use FamCamps and Military Lodging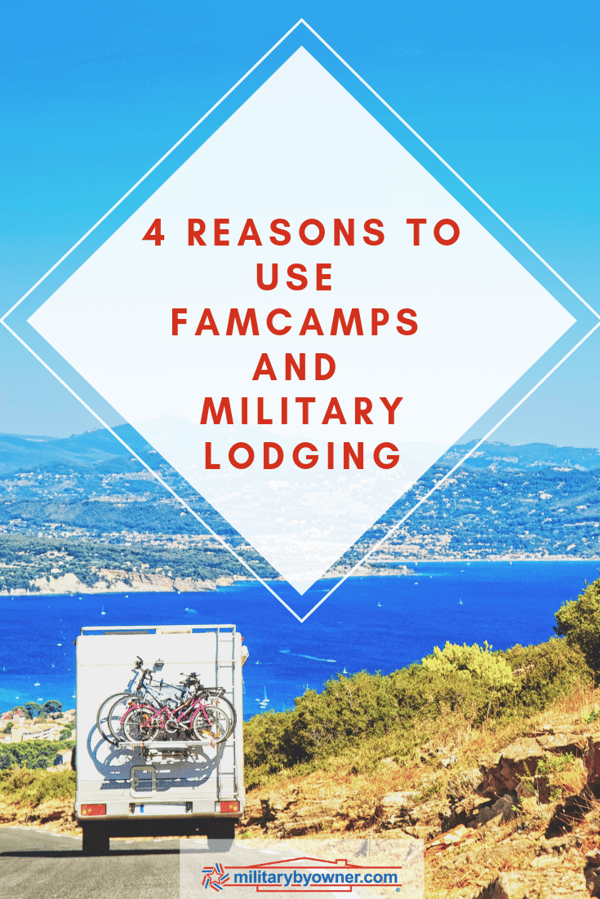 1) It's economical.
You get more for your money on base. Sure, you can haggle the Hilton management into offering you a lower rate, but is that how you want to spend your evening?
One of my friends notes that she can reserve a suite on base and give her kids their own room for the same price she can stay in a regular sized room in a civilian hotel. Saving money, especially while moving, is a huge reason to stay in military lodging.
2) Security.
Safety is arguably the most compelling reason to stay on base. Military installations are very selective of who's allowed through the gate. Think about a typical campground you choose to stay, and you'll realize there's very little security in comparison. You have no idea who is sleeping in the tent next to you, nor do you have much protection from them.
With that in mind, sleeping on a military installation, whether in a tent, camper, or room, is safer than any civilian facility. Security gives you one less thing to worry about when traveling by yourself or with your kids.
3) The convenience factor.
FamCamps and military lodging facilities aren't placed at random; most of them are located on military installations! They are easy to find and extremely convenient when you're in the middle of a military move and need a place to stay while you look for a home or a place to sleep the night you pack your house.
4) It can be extravagant!
Some military lodging facilities are more than a great place to crash for the night. Some are so glamorous they should be your destination!
Lodging like the New Sanno, Shades of Green, and Hale Koa deserve to be your reason to vacation. Some locations require active duty orders to that particular area be presented upon reservation, while others do not. Before you plan your big vacation, be sure to check the hotel's reservation policy.
Plan your PCS or military family travel with these facilities in mind. Need help finding them along the way? Check out the Military FamCamps app and DOD Lodging. Bon voyage!
Get even more tips for your military travel with our free ebook. Simply click below to find out more!