4 Washington, DC, Getaways to Get You Back to Nature
If the military has you stationed in the Washington, DC, area, you'll find something fun to do any day, any time. There's a museum for all interests, countless historic monuments, and dozens of performance venues, plus professional sports and a huge variety of restaurants. But one of the best things about DC is that you can travel only a few minutes out of the urban areas and feel as though you're miles from a city!
Here are four spots in the DC area that make a great escape from city life.
Theodore Roosevelt Island
This small island in the Potomac River is smack in the center of the action between Virginia and DC, but it feels like you're in the forest! It has trails around the perimeter and through the center, making it a great spot for a run, an easy hike, or an outing with the kids.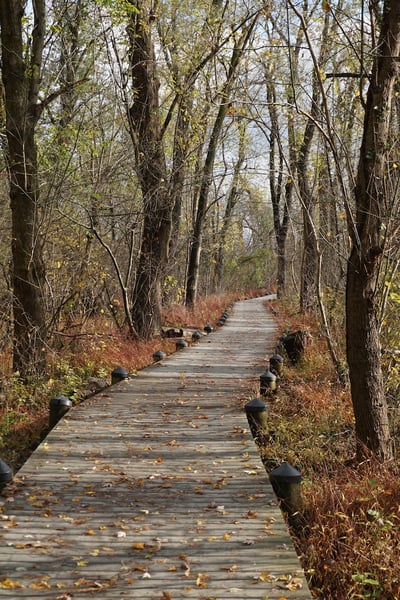 The raised walkway in the more marshy sections of the loop trail on Teddy Roosevelt Island. Photo by Ian Hutchinson on Unsplash
The center of the island has a monument to the president after whom it was named, and it's a peaceful area to relax or have a picnic.
Roosevelt Island is accessible from Arlington, VA, just north of the Key Bridge, and it has a nearby parking lot. From there, cross over the footbridge, which is the only way to access Roosevelt Island unless you arrive by boat, which you can do from the next destination!
Chesapeake & Ohio Canal Towpath/Fletcher's Boathouse
This path, known by locals as simply "the C&O trail," starts in Georgetown, under the Key Bridge. Made of dirt and crushed stone, it's great for walking, running, and biking. The path follows the C&O Canal for more than 180 miles to Cumberland, MD. It was originally built for mules to pull canal boats, so it's very flat, and you don't need to cross any roads.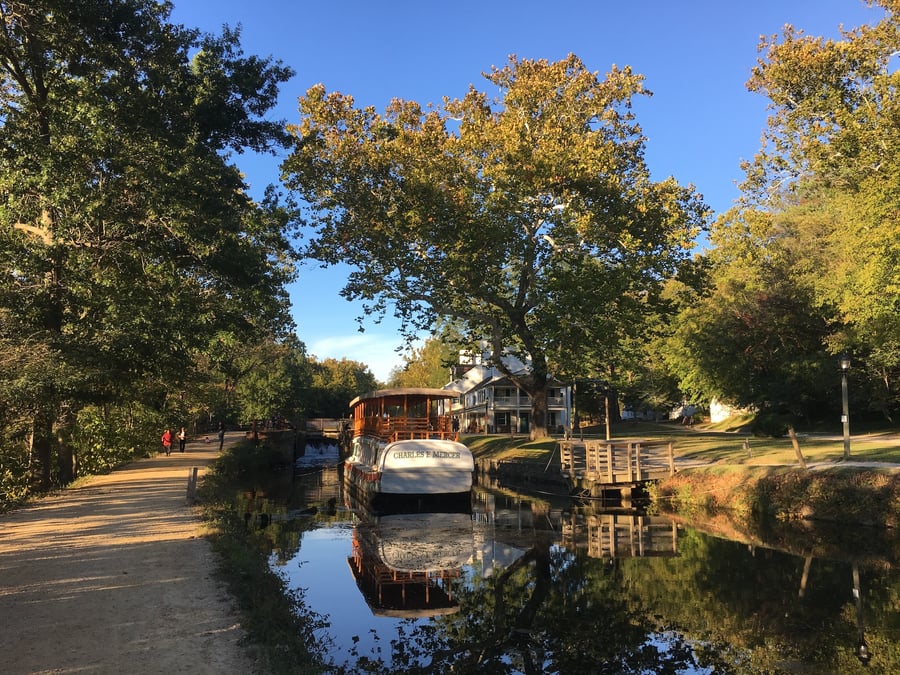 Photo by László D. on Unsplash
About two miles from the start is Fletcher's Boathouse, a DC-area institution since the 1850s. Fletcher's rents kayaks, rowboats, canoes, and bikes. They also offer guided kayak tours and sell fishing tackle.
Note that the start of the C&O does not have parking. There's a dirt parking lot next to Fletcher's Boathouse, so many users of the trail start their outings there, even if they are not renting equipment.
Great Falls
Great Falls is a narrow section of the Potomac River, less than 15 miles from DC, with rushing rapids and waterfalls of up to 20 feet. You can see them from the banks of both the Virginia and Maryland sides of the river.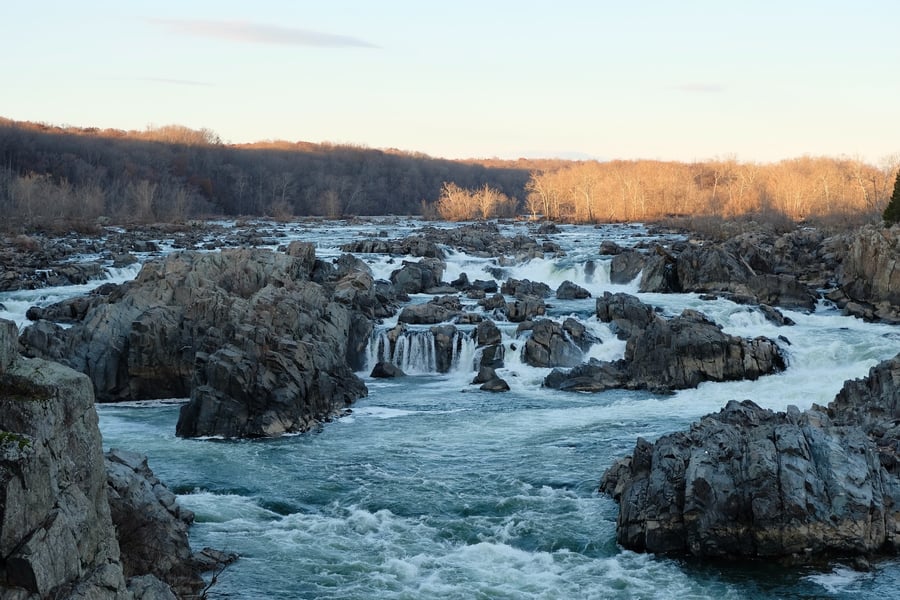 Famous falls of the Potomac River at Great Falls from the Virginia side in winter. Photo by Sara Cottle on Unsplash
On the Virginia side, head to Great Falls Park in McLean. It has three designated overlooks with close-up views of the falls, plus 15 miles of trails. Some are mixed use for hiking, biking and horseback riding, while others are exclusively for hiking. Other popular activities at the park include rock climbing and kayaking.
On the Maryland side, you can view the Falls from the Chesapeake & Ohio Canal National Historical Park. This is the same park that has jurisdiction over the C&O towpath, and in fact, if you travel about 14 miles along the path from DC, you will arrive at Great Falls!
The Maryland side of Great Falls also has great views along with numerous hiking trails. The Billy Goat Trail is among the most popular and includes a challenging rock scramble.
The parks in both Virginia and Maryland have parking lots.
Shenandoah National Park
This national park, which includes 100 miles of the famous Appalachian Trail, is only 75 miles west of DC. It's a fantastic place to visit any time of year to enjoy hikes of all levels, many of which feature waterfalls, plus panoramic views of the Shenandoah Valley and plenty of wildlife.
Skyline Drive, which runs the length of the park (north and south) for over 100 miles, also makes for a scenic ride on a motorcycle or bike.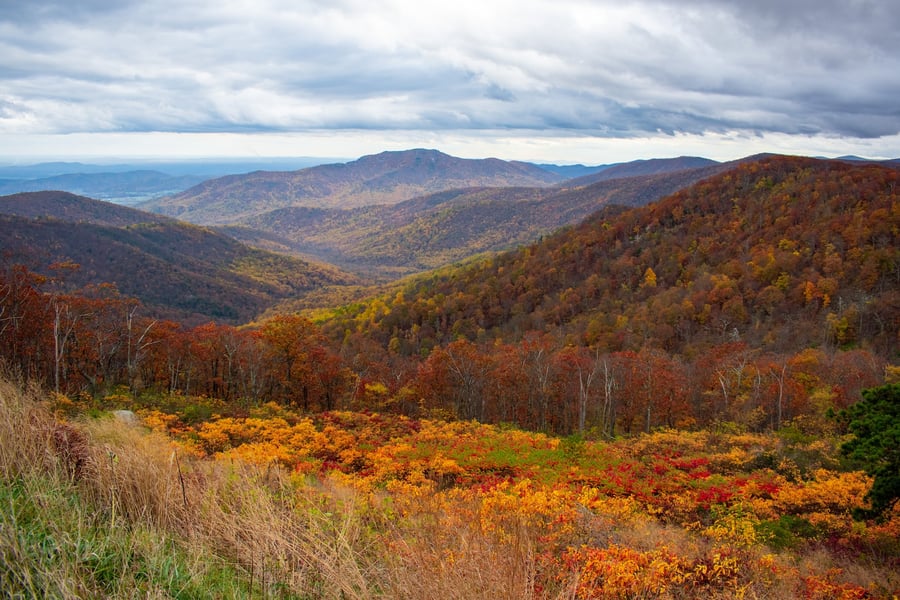 Photo by Akhila Katuri on Unsplash
Depending on your starting point, Shenandoah is a great day trip from the DC area, but if you want to turn it into an overnight getaway, you have many options. Within the park, you can stay at one of the lodges or cabins. Shenandoah also has numerous campsites for RV or tent camping.
Outside the Park, you can find a range of small hotels, B&Bs, and guest houses in nearby towns. For a splurge, stay at the famous Inn at Little Washington, a luxurious historic hotel in the small colonial town of Washington, Virginia.
The Washington, DC, area is a great duty station for city lovers as well as for outdoor enthusiasts. With hundreds of miles of well-connected recreation trails, tons of green spaces, and dozens of National Park Service sites, you can always find a place that brings you close to nature!
Are you about to make a PCS move to Washington, DC? Grab our free guide below!