5 Easy Day Trips from Joint Base Elmendorf-Richardson (JBER), Alaska
With its stunning natural beauty and promise of adventure, Alaska frequently tops travelers' bucket lists and military PCS dream sheets.
And for good reason— Alaska boasts a unique combination of rugged beauty and endless opportunities to explore, particularly near Joint Base Elmendorf-Richardson (JBER). From nature cruises to spotting local wildlife (to include moose and bears) to catching a peek of Denali (North America's tallest mountain) to hikes and glaciers, you really can explore it all with JBER as your home base.
Whether you are new to Alaska or have friends and family visiting, these five easy trips from JBER promise fantastic day-trip adventures, with something for everyone.
New to JBER? Start here: What to Know for Your PCS Move to Joint Base Elmendorf-Richardson (JBER), Alaska.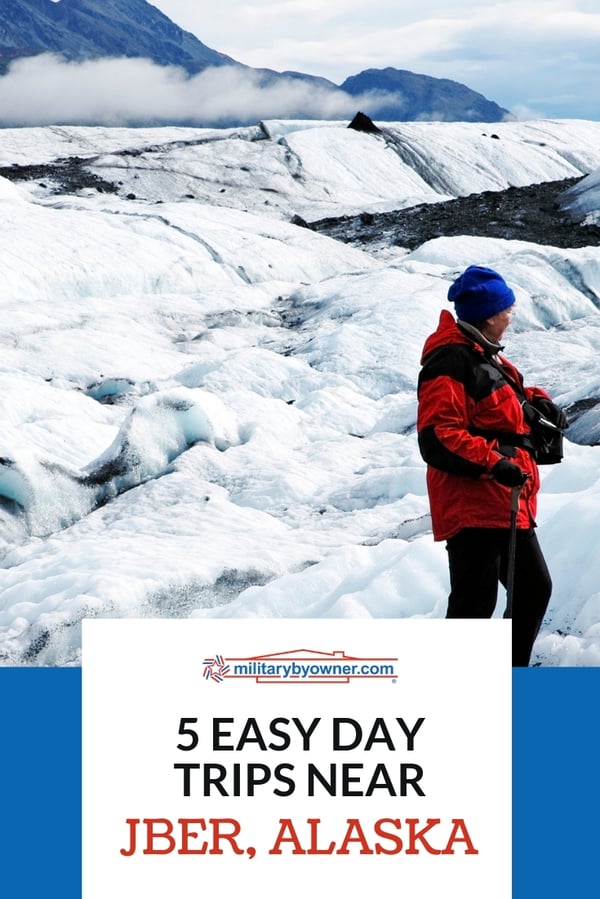 1) Get On the Water in Seward
If it's a nature cruise your heart desires, then Seward is the place to be.
Photo from Major Marine Tours
Sail through the breathtaking beauty of the Kenai Fjords National Park as you navigate through calm protected bays and glaciers and spot the wide variety of wildlife that call the Kenai home. Otters, seals, sea lions, porpoises, and dozens of bird species, to include bald eagles and puffins, inhabit the aquamarine waters of the park. Black bears and Dall sheep dot the coastlines, while whales are often spotted in deeper waters.
There are two well-established, and reputable companies to sail with: Kenai Fjords Tours and Major Marine Tours.
Seward is approximately a 2.5-hour drive from Anchorage, or you can make a full day of it and board the Alaska Coastal Classic train straight down to Seward. The train makes for a longer trip, but as you ride along the rugged and picturesque Alaskan coast, you'll soon discover why National Geographic ranked the Coastal Classic Train as one of the "Top Ten Train Rides in North America."
2) See For Miles in Gorgeous Girdwood
Take a deep breath of crisp mountain air aboard the aerial tram at the Alyeska Resort. The tram gains 2,300 feet in elevation as it climbs to the top of Mount Alyeska in the Chugach Mountains. From the mountain top, you'll be treated to sweeping views for miles. Depending on the season, either enjoy the slopes or a nice summer hike around the resort.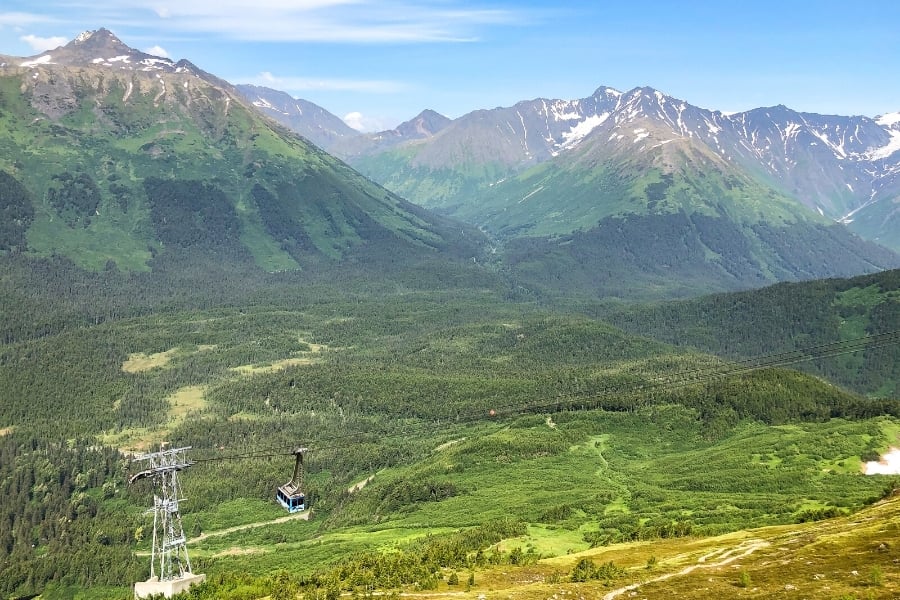 Girdwood, Alaska- image from Canva
Girdwood itself is a lovely mountain village to stroll. Located just 30 miles from Anchorage, find a great meal at one of the town's many acclaimed restaurants and stroll the boutique shops as you hunt for the perfect souvenir.
You can also pop onto the Alaska Railroad at the Girdwood Depot and ride the train to the Spencer Glacier.
Learn more: What to Know for Your Military Move to Alaska
3) Take a Hike
Alaska has no shortage of gorgeous hikes, and the Anchorage area offers hikes to suit all skill levels. Here are a few ideas for hikes near JBER.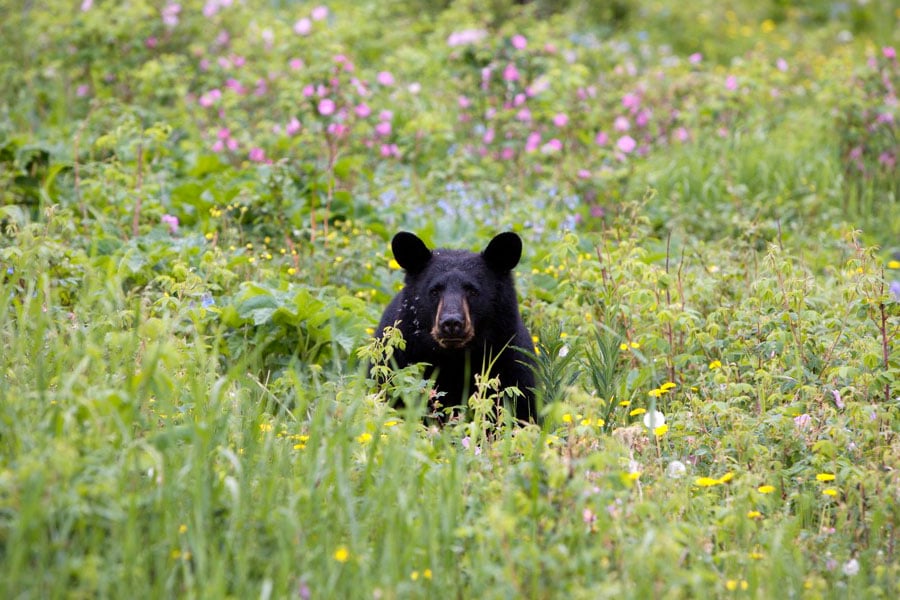 Photo from Eagle River Nature Center
Easy & Picturesque
Hikers and walkers looking for an even, flatter trek will appreciate the stunning views available at the
Potter Marsh Boardwalk Sanctuary
and the
Eagle River Nature Center
. Both walks are approximately twenty minutes from Anchorage, offer flat, even walking surfaces (Potter Marsh boardwalk especially), and can easily accommodate strollers, and wheelchairs.
Catch a Few Waterfalls
For a moderate level hike, head just 30 minutes north of Anchorage to
Thunderbird Falls
. The hike is fairly steep initially before leveling out into an easy walk with the roaring Thunderbird Falls about a mile down the trail.
Guaranteed Wildlife Sightings at the Alaska Wildlife Conservation Center
Located 47 miles south of Anchorage is the
Alaska Wildlife Conservation Center
. A scenic 1.5-mile loop winds through the 200-acre property, and the center serves as a sanctuary for injured and orphaned Alaskan wildlife. See bears, moose, bison, lynx and more in spacious habitats as they receive the medical and quality of life care they need.
4) Take in the Sights in Talkeetna
Want to see Denali, but don't quite have time to squeeze a full visit to Denali National Park into the schedule?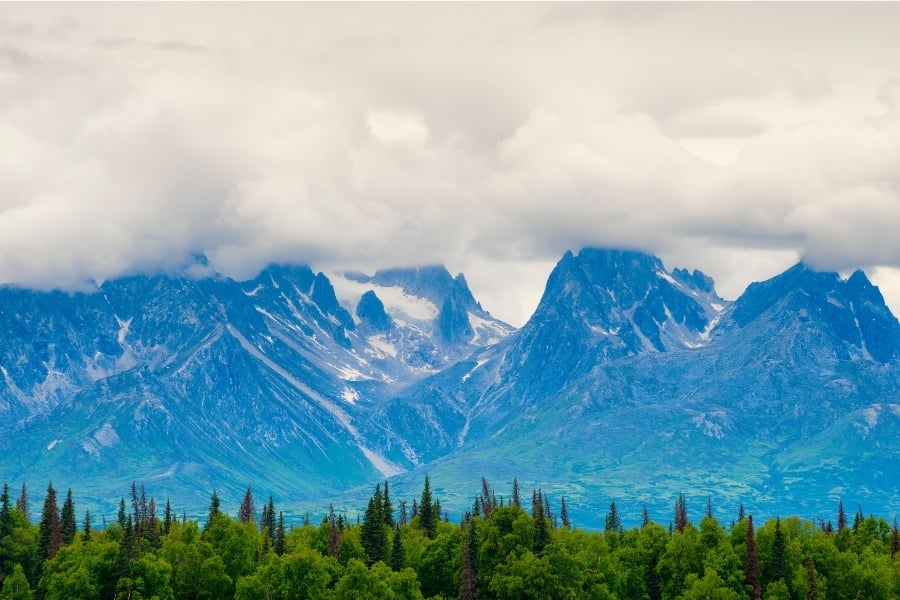 Talkeetna, Alaska - image from Canva
If it's a clear day, head just two hours north to the picturesque village of Talkeetna. Nestled at the base of North America's tallest peak, Talkeetna offers panoramic views of the Alaska Range and outstanding views of Denali that can be enjoyed year round.
Have lunch at the historic Talkeetna Roadhouse, which has been in operation since the 1940s and is a favorite of Man vs. Food on the Travel Channel. Stroll the town's compact but charming historic district – including the McKinley Climbers Memorial and monument garden, dedicated to those brave souls whom have passed on in their pursuit of Denali, mountaineering, and advances in extreme wilderness aviation.
Talkeetna is a small but charming little frontier town that is proudly included on the National Register of Historic Places. With plenty of gift and souvenir shopping to fill an afternoon, visitors to Talkeetna will be treated to unforgettable memories with Denali soaring just over the horizon.
5) Explore a Glacier
Some of the most awe-inspiring sites Alaska has to offer are the numerous Arctic glaciers. Several glaciers are accessible from Anchorage and JBER.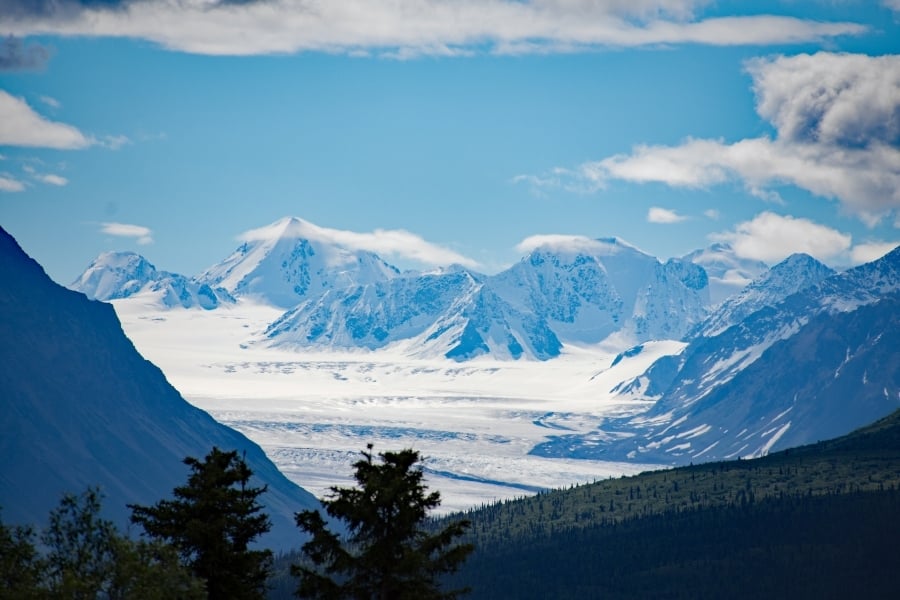 Matanuska Glacier, Alaska- image from Canva
Matanuska Glacier
The Matanuska Glacier is about a two-hour drive north of Anchorage, and is touted as one of the few remaining major ice sheets in the world that visitors can drive to and explore on foot. The glacier is massive, at approximately 26 miles long and 4 miles across at its widest point. Guided tours are needed to access the glacier and trail routes for safety.
Exit Glacier
Exit Glacier has been hailed as one of the most visited glaciers in the world, owing its notoriety to its accessibility for hikers. Located just outside of Seward, the crackling blue Exit Glacier earned its name from its stunning, natural flat "exit" ramp that was a welcomed site for adventurous mountaineers exiting the treacherous Harding Icefield.
Byron Glacier
The Byron Glacier Trail is a popular summer hike, particularly as the toe of the Byron Glacier is less than a mile from the trailhead. For those wanting a longer hike, the Begich, Boggs Visitor Center (run by the National Park Service) can offer insight into longer trails, including "The Trail of Blue Ice."
One of the toughest travel decisions you'll face as a newcomer to Alaska might just be what to cross off your bucket list first. Whether it's getting out in nature, seeing wildlife, unforgettable hikes, and more, you really can knock out those Alaskan "must-do's" with day trips from JBER as your home base.
Relocating to JBER? Don't miss these Anchorage and Eagle River homes!