5 Signs a Rental Is a Good Fit for Your Military Family
Your military life usually comes with a lot of relocations, which means lots of moving. Depending on your situation and how long you'll be at your new duty station, you may decide that renting is a better option than buying.
But how can you be sure you'll find a good rental property? It can be hard to know until after you've moved in if you've made the right choice. But there are a few things you can be on the lookout for as you start your rental search that will help you make the right choice from the start!
5 Signs a Rental Is a Good Fit for Your Military Family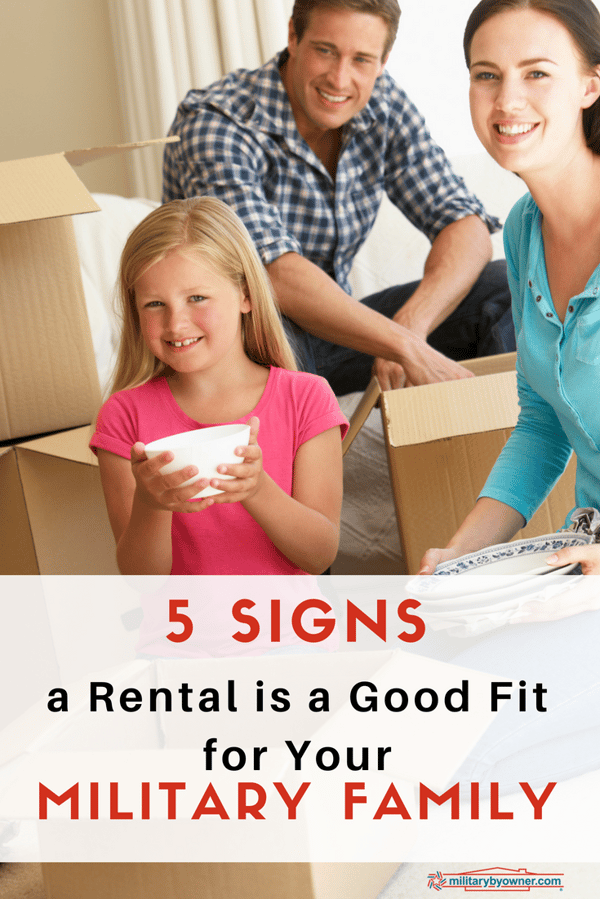 1) Truth in Advertising
It's worth your time to check out your potential new rental and make sure everything that seems to be true actually is. For instance, is your rental within the school district it claims to be? Use Google Maps to check out the surrounding area to make sure it's a good neighborhood. Be aware of any rentals that seem too good to be true because they probably are.
If the landlord is being truthful about all the information they share with you, then it's most likely a good fit. Anyone who treats their rental properties as a business has done the research to determine the appropriate rental price for that area and they're knowledgeable about what else is on the market.
2) Responsive Landlord
The last thing you want after a big storm is to find that your basement is flooded and your landlord isn't answering their phone. What are the landlord's policies on responding to your issues? Do they have a number you can call 24/7 where someone will answer the phone? How long does it take for them to respond to issues?
Renting a property is not a one-way interview. Ask questions and ask for referrals from previous or current tenants. Then follow up to find out how responsive the landlord was with them. If your potential landlord is getting good reviews, that's a good sign that it will be a positive relationship.
3) Clean Property
A rental property shouldn't smell musty. The paint should be fresh and the carpets cleaned. Ideally, it should look brand new or close to it. If a property has a smell or doesn't look clean on your inspection, chances are, it hasn't been taken care of. The cleaner the property, the more love it's received which means there's an attentive landlord.
4) Solid Agreement
Your lease agreement is more than just one page stating your rate and lease term. It's an understanding between you and your landlord about what's acceptable behavior on both sides, what's considered normal wear and tear, and what you'll be charged for when you move out. It should include a clause for maintenance and repairs so that you know what to expect if there's a problem.
Each lease should be customized to the renter and the property. If your landlord presents you with a full and complete lease that lays out all the terms and expectations of your agreement, it's clear they know what they're doing and you're making a smart move.
5) No Red Flags
You know that feeling you get when you know something's wrong, but you just can't figure out what it is? You don't ever want to have that feeling when committing to a new home. If anything doesn't seem right, there's a reason. But if you have a good feeling about the landlord and the property, you've done your homework to check everything out, and you feel it's the "just right" fit, then you're making a good move.
Committing to a rental property can be stressful, not knowing what you're walking into, but if you do your homework and follow your instincts, you'll make the right decision.