Hidden Gems: 5 Unique Experiences in Italy to Take You Off the Beaten Path
Italy is one of the most visited countries in Europe, and for very good reason! With a beautiful, diverse landscape, rich history and culture, plus world-renowned cuisine, Italy attracts tourists from all over the globe who want to see, eat, and do everything they've read about.
If you're stationed in Italy, you can't miss the most iconic sites, of course, but Italy boasts many other unique places that most tourists don't have time to experience.
Here are five ideas to get you off the beaten path for some uniquely Italian adventures.
Visit the Canals of "Little Venice"
The small city of Treviso is only 30 minutes from Venice by train. Like the extremely popular tourist city, Traviso has a network of canals winding through the historic center, but it is significantly less crowded than Venice. Treviso boasts beautiful medieval and Renaissance architecture, a grand "Duomo" (cathedral) and a traditional market full of fruits and vegetables, cheeses, meats, and other local products.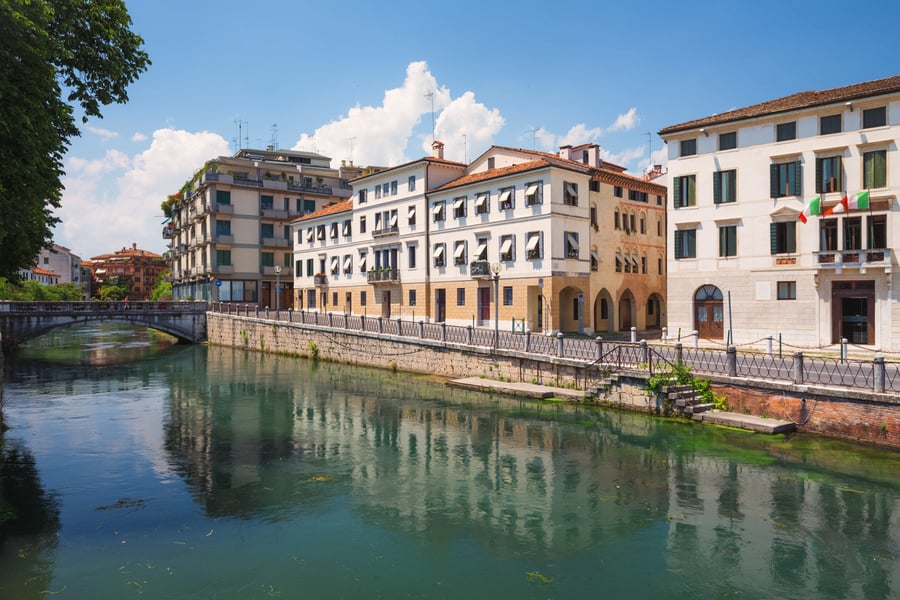 Treviso, Italy. Photo from iStock.com/Andrzej Rostek
Besides its nickname as "Little Venice," Treviso has its own notoriety for several Italian culinary
specialties. It's famous for Radicchio, the red lettuce used in many Italian dishes, and for the local
production of Prosecco sparkling wine. Finally, while you're there, make sure you try the Tiramisu – Treviso is the birthplace of this delicious dessert!
Treviso is about an hour's drive from both Camp Ederle in Vicenza and Aviano Air Base, making it an easy day trip from both bases.
Hike the Road of 52 Tunnels (Strada delle 52 Gallerie) in the Italian Alps
This trek combines a challenging hike with fascinating history as you traverse one of Italy's important WWI supply lines. Built as a mule track by the Italian Army in 1917, this route provided protection from Austro-Hungarian artillery fire. Today, it offers hikers epic views and a truly unique experience navigating the dozens of tunnels through the mountain.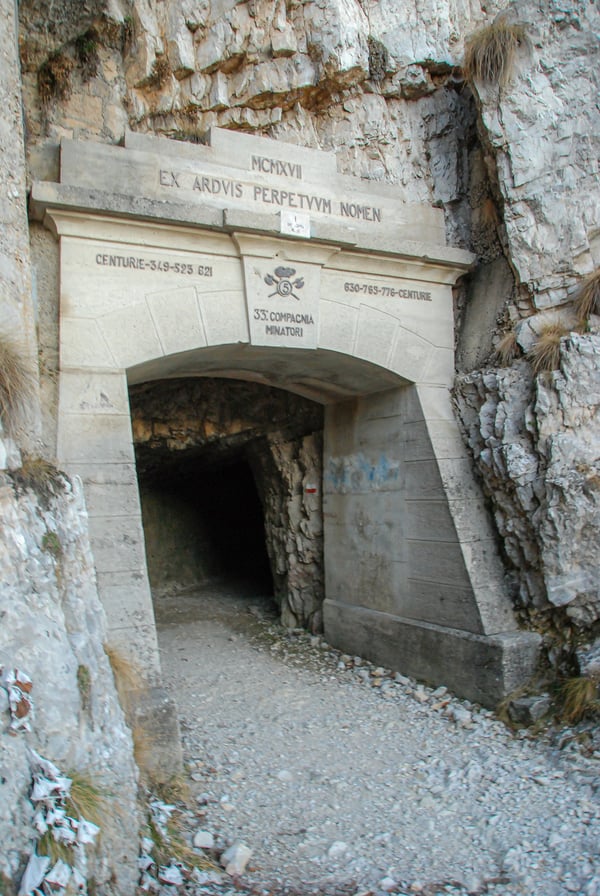 The Strada delle 52 Gallerie (Road of 52 tunnels). Photo from iStock.com/Simone Crespiatico
The hike is on Mt. Pasubio, just over an hour from Camp Ederle. It's one of the Outdoor Recreation office's organized trips during the summer months (the only time of year you can safely do this hike).
Dine in a Cave on the Adriatic Sea
One of Italy's most famous restaurants is in a cave, overlooking the Adriatic Sea. It's called Grotta Palazzese and you can find it in the town of Polignano a Mare on the southern coast of Italy. There are many natural sea caves under this town, and the restaurant is in the largest one.
The seafront entrance of Grotta Palazzese. Photo from iStock.com/Em Campos
Grotta Palazzese's beautiful terrace offers breathtaking views of the turquoise water below and an extraordinarily picturesque setting. The restaurant is open daily for lunch and dinner (closed during the winter), and reservations are required.

Grotta Palazzese is about a three-hour drive from Naples, which is why, while pictures of the restaurant are popular on social media, it's too far off the beaten path for many tourists. But if you're stationed in Naples, you can easily turn your visit into a fun getaway.
Guests of Hotel Grotta Palazzese and Grotta Palazzese Beach Hotel are guaranteed a table along the railing overlooking the sea, so if you splurge on one of those hotels, you can enjoy your meal in the best seats in the house.
Visit Herculaneum, the Alternative to Pompeii
This ancient Roman town was covered in volcanic ash by the eruption of nearby Mt. Vesuvius in the year 79 AD. But unlike its more famous neighbor, Pompeii, it was not bombarded with falling rocks, meaning there was less destruction. In fact, many of its buildings and colorful mosaics are still fairly intact, making it much easier to envision how Herculaneum looked in the moments before the eruption.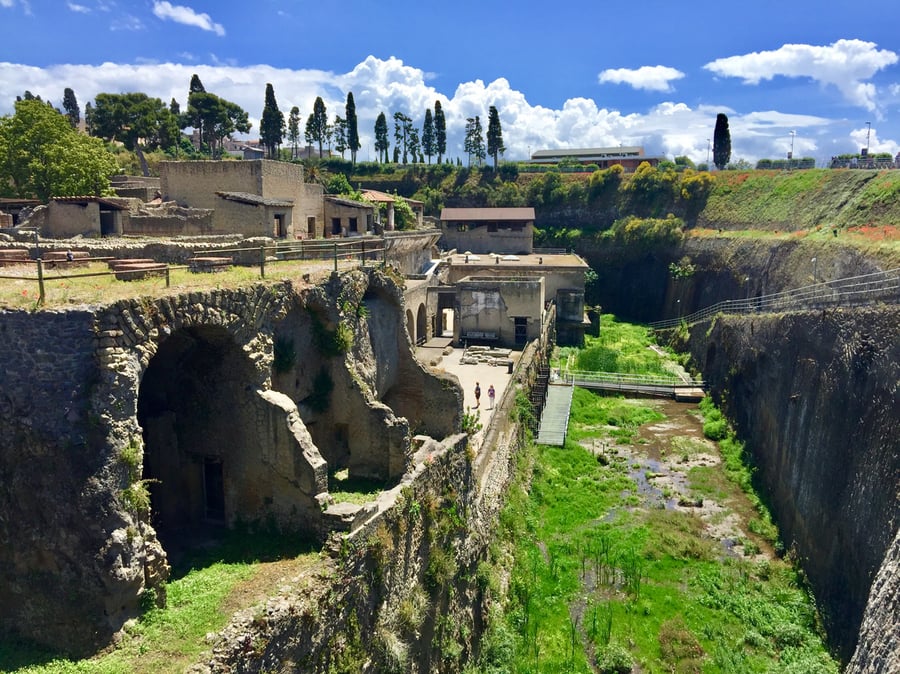 Ruins of Herculaneum. Photo from iStock.com/Darko Mlinarevic
The ruins of Herculaneum are under what is now the town of Ercolano, only a 20-minute train ride from Naples. The site gets a fraction of the annual visitors compared to Pompeii, but it's easy to access and well worth the trip. If you are stationed in Naples, don't miss this site!


Stay at an "Agritourismo" on a Farm or Vineyard in Sicily
Agritourism (farm stay) lodging is popular throughout Italy and offers guests a unique alternative to hotels. Accommodations range from small guest houses to large resorts and offer a range of perks, such as farm-to-table meals, tastings of the farm's products, cooking classes, or even opportunities to participate in harvesting.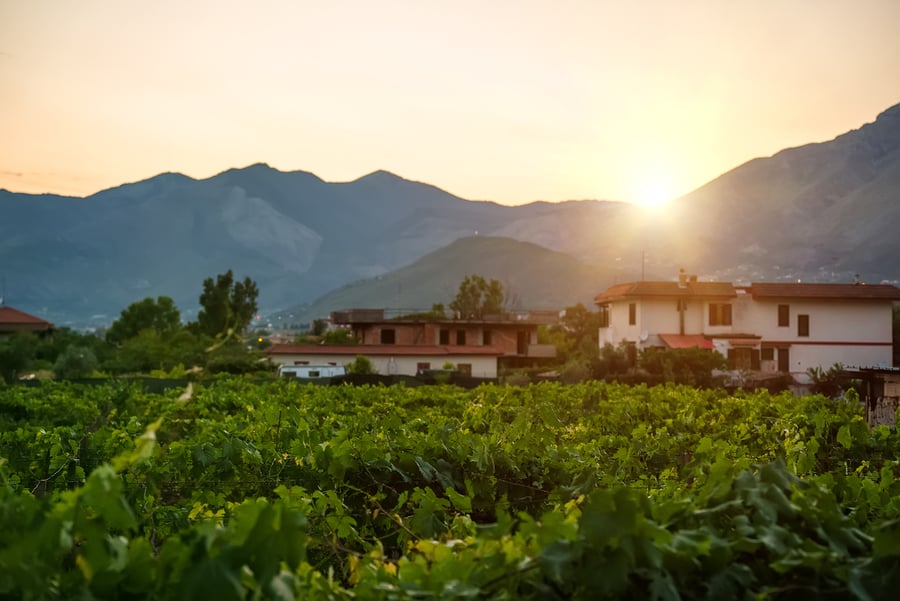 Vineyards near the Monti Aurunci mountains in Italy. Photo from iStock.com/M-Production
In Sicily, you can stay at "agriturismi" in vineyards, olive groves, and citrus orchards throughout the island. If you're stationed at NAS Sigonella and need a getaway, these are perfect for a long weekend.
Stationed elsewhere in Europe? You can combine your stay at an agritourismo with a "military hop" to Sigonella for a truly unique vacation! Learn more about Space-A travel, or military hops.

Italy is full of incredible sites to explore. While you're there, don't miss the most well-known
destinations, such as Rome, Florence, and Venice. But take the time to discover the many other hidden gems in the mountains, along the coast, in small towns, and in rural areas. Check with the Information, Tickets, and Travel (ITT) or Outdoor Recreation office at your base for more
ideas and to see what trips are on their schedule so you can make the most of your tour in Italy!