6 Ways to Save Money During Your PCS
You've got your orders and you're beginning to plan your PCS.
And you might be wondering about ways that you can save money during your move!
6 Ways to Save Money During Your PCS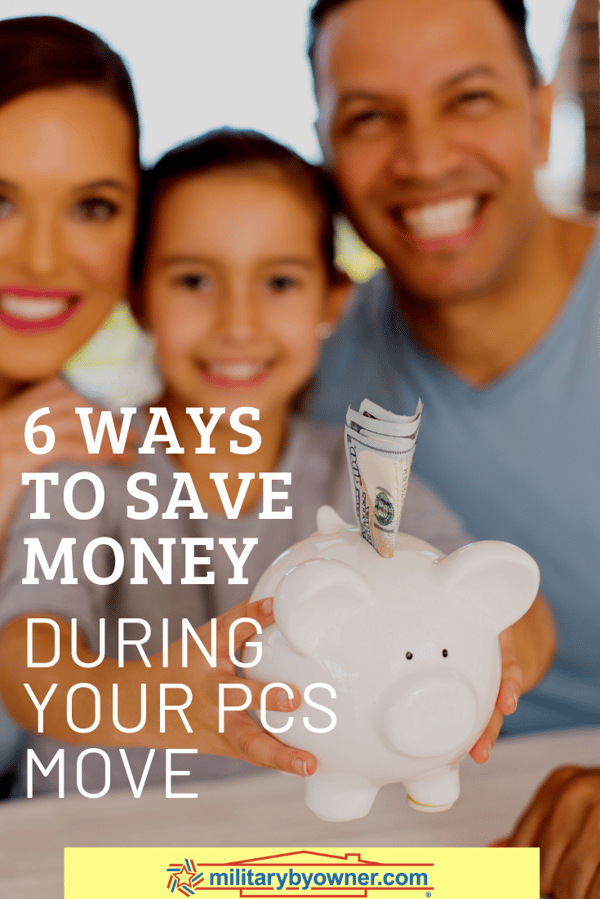 1) How can I save money on items I need to buy for my PCS?
If you're a parent, you likely know July to September is the time to buy school and office supplies. If you know you'll be making a PCS binder for important documents, move related info, and maybe your children's schooling, now is the time to buy binders, folders, pens, notebooks, page protectors, etc.
Office supply stores will even have box tape, scissors, and bubble wrap on sale at some point during this time period. Many of these items can be purchased at pennies on the dollar during this time of year or you might find some free boxes on military Facebook pages. Think about investing in some nice plastic tote boxes to better secure items like breakables, food, or chemicals.
If there are old clothes or towels you plan to trash or donate, these could be used to wrap breakables and then discarded on the other side of the move. Don't forget about the weekly newspaper you regularly trash; start collecting this as packing material. If you plan to buy moving supplies like boxes, paper, dish packs, and wardrobe boxes, consider buying these at home improvement stores that offer a military discount like Lowes and Home Depot. And don't forget about Amazon! Just be sure you update your address after the move.
Pro tip: keep an eye out for discounted gift cards to retail stores where you might be purchasing these materials. Target offers 10% off their Target store gift cards one day a year at the beginning of December. They also give a 10% discount to military, veterans, and spouses during Veterans Day week. You may find discounted gift cards during the year through PayPal, Newegg, or Costco for Lowes or Home Depot, which will allow you to stack that savings on top of the military discount they offer every day.
2) How do I save money on the moving truck?
When you're ready to secure your moving truck, shop around. Penske, Uhaul, and Budget all offer a military discount. Penske will even sometimes stack an online discount on top of that. If you're booking a couple months in advance, make sure the reservation can be canceled without penalty, as you never know when orders might change. Plus, you'll be able to re-shop the truck and see if the rates drop.
Look at different pickup and drop-off locations, as sometimes a little bit farther of a drive could save you a couple hundred dollars or more. Read the additional insurances offered by the moving truck company and go over them with your insurance agent-- you may not need any, but reassurance will give you peace of mind. Remember the belongings in your vehicle will be covered under your homeowners or renters insurance policies, so don't convert to a landlord policy or cancel that renters insurance just yet.
3) Where should I stay and when should I book?
Though it might be tempting to pre-book your hotels, it's advisable not to. When traveling long distance across country, you never know when you might get stuck in traffic, see an activity you decide to stop or detour for, or feel up to driving farther than you initially expected. You don't want to be on the hook for part or the entire night stay if you cannot make the reservation.
When looking at hotels or Airbnb style properties, keep your parking needs in mind. If you're bringing a moving truck and/or hauling a vehicle, a hotel with squishy parking will be your worst nightmare. And of course, ask about a military discount and compare it to online rates.
4) How can I save money on meals?
Pack snacks and even sandwiches for the road. Can't do sandwiches for days on end? Look at what promotions and deals the restaurants along your route are having. Is there a buy one get one free offer or maybe kids eat free the day you are driving through? Have any restaurant gift cards from Christmas you still need to use? Now is a great time to use them.
5) How can I save money on gas?
Download the Gas Buddy app to search for the cheapest gas along your route. Use the Love's and Pilot/Flying J apps to save even more on gas at these truck stops. Remember, if you're driving a long load, truck stops are going to be easier to maneuver in and out of.
6) Other tips:
If you pay off credit cards monthly, utilize your cash back credit cards to maximize your savings.
Unless you don't expect to move your full allowed weight, have the military contract movers ship pro-gear (professional gear). Service members are authorized 2,000 pounds of pro-gear, while spouses are allowed 500 pounds. For military contracted movers, this weight doesn't count towards the household goods weight. However, if you choose to move your pro-gear yourself, it will count towards your HHG authorized weight. Remember, you must declare pro-gear when you set up your move.
Save ALL of your receipts. Certain expenses are deducted from your incentive pay during a Personally Procured Move (PPM), also known as a DITY move. This means if your incentive pay for the move is $5,000, but you have $2,000 in expenses, only $3,000 of your incentive pay will be taxed before receiving payment. Once you receive your payments for your move, keep all your receipts for tax time, since most expenses are not officially "reimbursed" by the military because allowances are given. There are many tax deductions and advantages on your tax return for a PCS move.
---
About the Author: Rebecca Wills is an Army wife of 9 years and has become the primary planner of their PCS moves, allowing her husband to stress less and focus more on his job. She is a civil engineer by trade, but has enjoyed the opportunity to take on many different career opportunities over the years. Rebecca first learned about MILLIE through the Military Landlords Facebook page. With a desire to help other military landlords and military families in the midst of a PCS, becoming a MILLIE Scout was right for her. She loves what MILLIE stands for and all the information and resources they bring to military families.
MILLIE is an online community and digital marketplace that connects members of the military and their families with specialized knowledge and trusted resource providers to alleviate the stress of PCSing. Check out MILLIE's Installation Guides, our network of veteran and military spouse real estate agents, and MILLIE Scouts, our on-demand task service comprised of military spouses.