7 Outdoor Adventures for the Whole Family Near Peterson AFB
What comes to mind first when you think of Colorado Springs? Mountains, snowy winters, pleasant summers, and endless adventure?
There's a reason why your mind goes where it does. Situated at the foot of the Rocky Mountains, the city's geographical location sets the stage for unforgettable outdoor adventuring and jaw-dropping views for military families making a PCS move to Peterson AFB.
But it's not only picturesque. The scenery creates ample opportunity to get outside, unplug, and get a little much-needed space from time to time. Take a look at some ideas to get outdoors!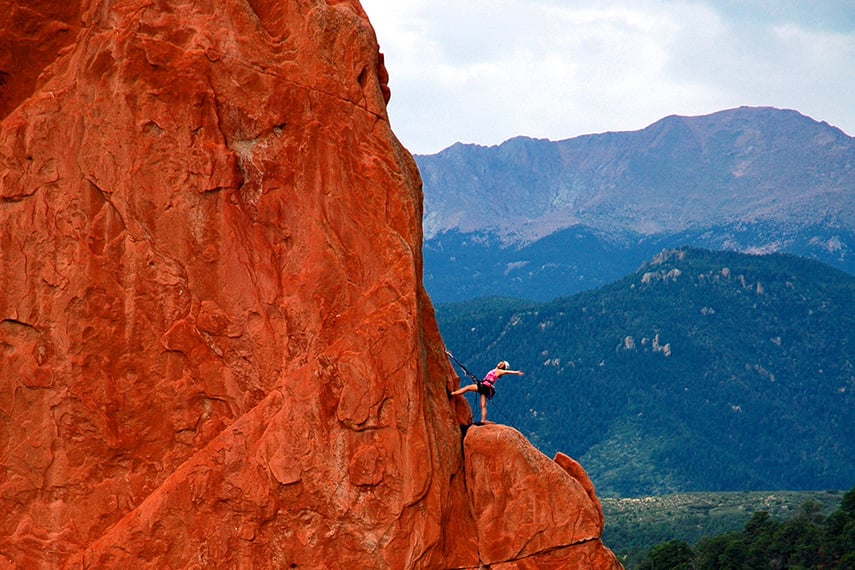 Photo via Garden of the Gods
With Front Range Climbing Co., you can scramble, climb, and rappel the Garden (don't worry, it's family-friendly!). Others might appreciate the opportunity to rumble down the road in a Jeep or peddle around on a guided bike tour.
If you're looking for a more remote experience, no worries. Lace up your hiking boots and hit the trails on your own.
This 1474-acre stretch of the unincorporated Wild West is free to explore. With over 653 acres designated as "open space" to ride horseback, hike, run, and bike, you can visit Red Rock Canyon a dozen times and cover different ground each trip.
Hogback Trail is especially memorable as it guides you to a plateau overlooking Red Rocks, America's Mountain, Pikes Peak, and the city below. Gorgeous wildflowers greet you during the warmer months!
This hiking only trail is a 5.78 miles round trip — a bit of a trek. It follows the South Cheyenne Creek crossing it, you guessed it, seven times. The cool water flowing makes it one of the more tolerable spots to get out and enjoy the outdoors when the weather heats up. Though it's lengthy, the trail is kid-friendly, and if they can make it past the seventh bridge, there's a beautiful aspen stand and meadows await you.
Bonus: Leashed dogs are allowed!
Setting your sights on the incredible beauty of Colorado has never been easier. This 19-mile long winding road takes you to the summit of Pikes Peak and offers breath-taking views of the lakes, mountains, and wildlife. The trek will take you about two to three hours round trip. But should you want to stop to take photos or hike a trail or two, it's best to budget more time!
If you want to hike, you can! Forgo the car and head on foot up the Barr Trail or Crags Trail to the summit. It's not easy, but the effort might just make the view that much sweeter.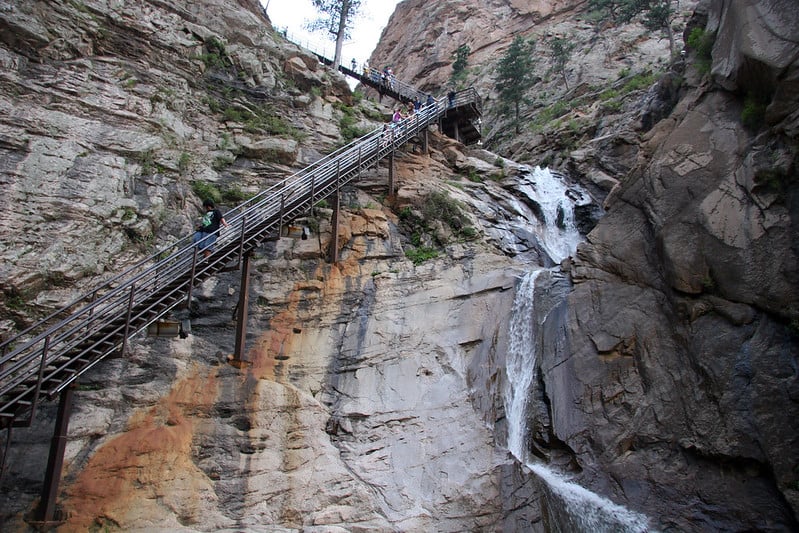 Photo via joevare flickr
Where the dry prairies meet the foothills is South Cheyenne Canyon. Enjoy "The Grandest Mile of Scenery in Colorado" as you make your way into Seven Falls. The water cascades down 181 feet between the Hercules Pillars — a 900-foot frame for this Colorado natural wonder. And if you want to make this experience even more unforgettable, take the steep 224-stair climb to the top where you'll access several trails above this phenomenon.
Just as the name implies, this mile-long hike is all uphill. Gaining over 2,000 feet within a mile, this hike isn't for the faint of heart (or those who just ate a big lunch).
The trail was once used as a cable car route to transport supplies up Pikes Peak. It was then turned into a tourist attraction until a rock slide wiped out the rails on the trail and created the 2,744 step incline we know today.
With over 25 miles of trails, there's enough to keep you busy exploring. Add to that horse stables, volleyball courts, a scenic overlook and drive, a playground, dog park, botanical reserve, and more, Palmer Park is the recurring weekend destination for many.
Other nearby parks:
In a place as beautiful as Colorado Springs, it makes sense to get outside and explore the great outdoors. With adventures for the littlest members of the family and difficult trails for the thrill-seekers, the Olympic city has it all!