7 Restaurants to Try in Prattville, Alabama
After hours of housing hunting in Prattville, Alabama, you'll surely be hungry! What better way to get to know your new home town than to sample menus from some of the most popular eateries in the area?
Chatting and dining with locals is a quick way to make new connections and get excited about your PCS to Maxwell AFB. Take a look at these food descriptions, pick a few outlets to try, and get ready to find your next go-to hometown restaurant.
And, if you're looking for a rental home in Prattville, then read on--there's a must-see option ahead.
Downtown Prattville, image via Wikipedia
Prattville Restaurants to Try Near Maxwell AFB, Alabama
Image via Uncle Mick's Cajun Market & Cafe
Known for their Southern Louisiana Cajun fare, Uncle Mick's draws the crowds day after day. A downtown Prattville staple, Uncle Mick's offers a unique menu, so unique in fact that you can request a taste of the entrée you're considering, a great idea if it's a new-to-you dish like Alligator and Sausage Sauce Piquant. Don't worry if spicy food isn't your thing; there's plenty of choices without the heat. Owner and manager Mickey Thompson, says, "Y'all Come See Us!"
Image via Chappy's Deli
A regional restaurant chain favorite, Chappy's combines New York-style flavor with Southern hospitality to offer guests a wide variety of choices for breakfast, lunch, and dinner. They even have ice cream. Local families love that kids six years old and under dine free. Chappy's catering menu is a go-to for meetings in the area. When football season begins, their specialized tailgating menu has everything you need to watch the game.
---
After lunch, check out this home, available for rent June 1, 2021.
3 Bed, 2 Bath (Single Family)
$1,500/month
MilitaryByOwner Listing MBO1469927
Renters know it's hard to come by a rental property with top-notch amenities. This home shakes up rental house standards by offering in-demand features like an updated, white-cabinet kitchen that includes quartz countertops. If you're into shiplap and a freshly painted barn door, this is the home for you. The house also has luxury vinyl plank flooring throughout, eliminating carpet cleaning and decreasing exposure to allergens.
Outdoor living is an option in Prattville almost all year long so that you can take advantage of the private, fenced yard's upgrades. The covered deck provides shade in the warm season, and a fire pit adds warmth in cooler temperatures. The 25-minute commute to Maxwell AFB allows you to take advantage of quality time spent at home.
Are you looking for a real estate agent near Maxwell AFB? Here's a real estate professional directory to help you choose.
---
Always on the best Prattville Mexican restaurant list, Mexico Tipico is the local's favorite way to enjoy Mexican cuisine and a margarita or two. Mexico Tipico's goal is to serve customers fresh homestyle Mexican food of the best quality.
What better way to spend Taco Tuesday than with deals starting at 11 am? If you can't make it Tuesday, try happy hour Monday through Friday, 2pm-6pm.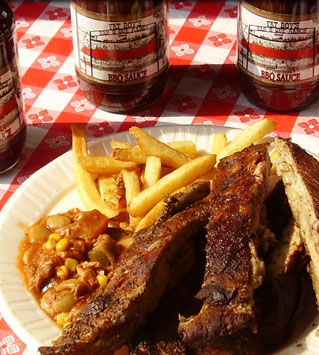 Image via Fat Boy's Bar-B-Que Ranch
Where "everything is homemade….the way it's supposed to be"--that's the tagline of Fat Boy's Bar-B-Que Ranch, known for slow-cooked chicken, turkey, beef brisket, and pork with flavor instilled from natural hickory and mesquite woods. An added bonus is Fat Boy's location, downtown on the banks of Autauga Creek. Try the homemade sides and desserts to get the best selection of what home cooking should be.
Once you've settled in, head to one of these family-friendly places to make Prattville feel like home: 13 Ideas for Family Fun Near Maxwell AFB, Alabama.
Image via Prattville Country Club
When you want the formality of a sit-down meal paired with a casual food menu, Prattville Country Club's restaurant offers the best of both worlds. Daily specials are available, but sandwiches, burgers, and salads are also on the menu. Members can also try the pool's cabana snack bar to grab a quick bite to eat.
Image via Fox's Pizza Den
For pizza and hoagies, Fox's is the place to be in Prattville. The menu is the best of what a pizza joint should offer: Hand-tossed and gourmet pizzas, stromboli, hoagies, wedgie sandwiches, salads, breadsticks, and appetizers. Operating in a historic building, Fox's keeps the downtown charm going to create a unique ambiance.
7) The Boat House Caribbean Restaurant
224 Interstate Park Look
Prattville, Alabama 36066
(334) 491-1343
Affordable and flavorful, The Boat House Caribbean Restaurant offers island cuisine for Prattville locals. They specialize in fish platters and jerk chicken, but you can also try baskets of fried and grilled shrimp, oysters, catfish, and tilapia. Lunch and dinner are available all week except for Monday.
Moving to Maxwell AFB and looking for a home in Prattville or other areas? Check back often to see MilitarybyOwner's most current inventory for homes for sale and rent near Maxwell AFB.