8 Amazing Hikes near Joint Base Pearl Harbor-Hickam
Is the military moving you to Joint Base Pearl Harbor-Hickam in Hawaii? Lucky you! Oahu is one of the most beautiful places on earth.
You already know about the legendary beaches of Oahu (there's a reason why people travel from around the world to visit Waikiki!), but you may not realize how much other beautiful scenery is all across the island. When our family was stationed in Oahu and we took our first drive across the H-3 highway that cuts across the middle of the island, I was speechless at the other-worldly views. You begin to understand why so many movies and TV shows are filmed with those gorgeous backdrops. The movie Jurassic Park and the TV series Lost were both filmed here, to name just a couple.
As you settle into your Hawaii assignment, it's time to start exploring! Though there's an amazing walking/running path that runs along the water near Hickam AFB housing (be sure to check that out if you haven't yet!), the island also offers an abundance of hikes which feature mountain and ocean views, waterfalls, and the chance to challenge any skill level.
Here are a few Oahu trails and hikes to get you started in your Hawaii adventures. From easy to those best for experienced hikers, each of the following is ranked according to the ratings on AllTrails. Those seeking more adventure may appreciate the suggestions from Unreal Hawaii for rock climbing, hiking, and backpacking options.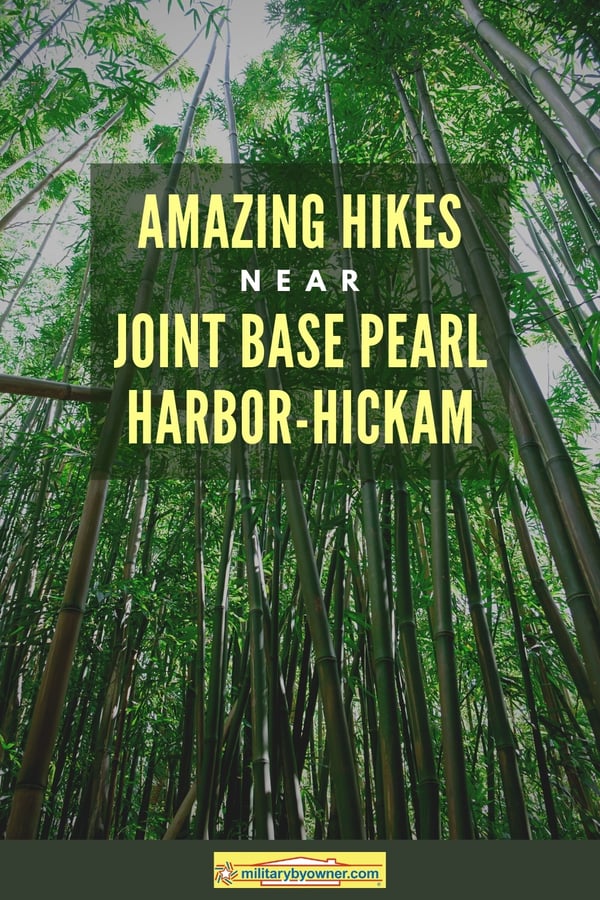 1) Koko Crater Tramway to Koko Head Lookout
Are you ready to brave this steep climb up old railroad ties? There are 1,048 of them to be exact, and the spectacular view at the top is worth the effort! This old military tram turned hike is one you must do at least once. Once you reach the top, you'll be greeted with a panoramic view of Hanauma Bay, the shoreline, and parts of the Big Island.
Trail distance: 1.6 miles out and back.
Rating: Moderate.
Getting there: Short drive from Diamond Head and Waikiki. Access via Koko Head.
What else to know: Though rated moderate, this trail is quite steep with no shade. One section has a "bridge" of ties over a drop, but it has a trail around it if you'd rather not cross it. Bring water! Can be heavily trafficked, but seems to be less people at sunrise/earlier in the day.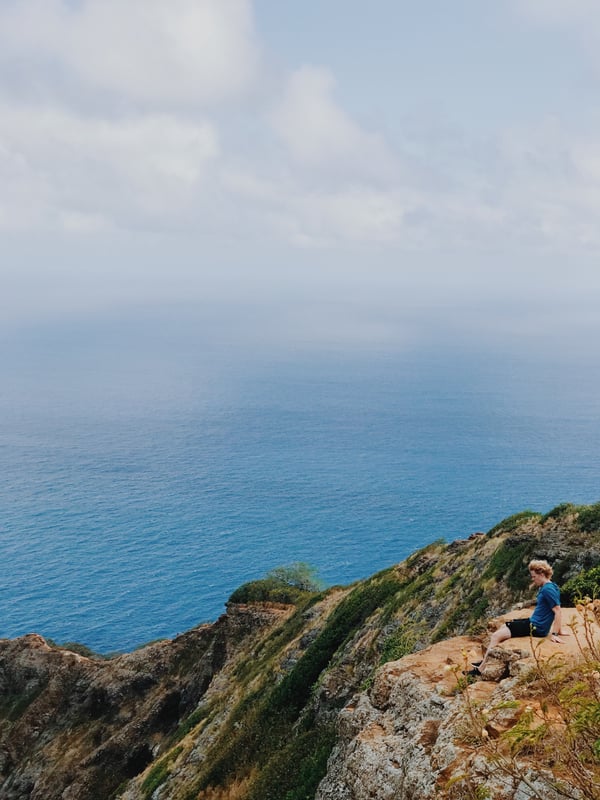 Koko Head View - Photo by Jura Greyling on Unsplash
2) Manoa Falls Trail
This short hike will take you to the base of the Manoa Falls in Manoa Valley. Depending on recent rainfall, the trail can be muddy, but the tropical rainforest views are gorgeous and unique (including large bamboo stands), and the hike is fairly short and not too strenuous.
Trail distance: 1.7 miles out and back.
Rating: Moderate.
Getting there: It's a short drive from downtown Honolulu and can be accessed at the end of Manoa Road. There is a $5 parking fee.
What else to know: You may recognize scene locations from Jurassic Park and Lost! Check the weather forecast before you start out, as the area is prone to flash floods.
3) Aiea Loop Trail
This trail is a usually cooler walk through the mountains with less climbing and an amazing view of H-3. Leashed dogs ok.
Trail distance: 4.9 mile loop.
Rating: Moderate.
Getting there: (from AllTrails) Follow H-1 to Moanalua Highway (Route 78). Take the Aiea cutoff to the third traffic light, make a right turn at Aiea Heights Drive and follow it about 3 miles up to the end of the road. Continue on the on-way park road to the trailhead.
What else to know: Can take several hours depending on your fitness level. There's a B-24J crash site that may interest history buffs. No fee, and camping is allowed on site.
4) Maunawili Falls Trail
Be prepared to get dirty! Maunawili is a nice hike along the river ending at a swimming hole and falls. The trail begins off Pali Highway and ends in Waimanalo. You'll enjoy some spectacular views of the windward side of the island.
Trail distance: 2.8 miles out and back.
Rating: Moderate.
Getting there: the Maunawili Trailhead address is 1201-1209 Kelewina St, Kailua, HI 96734. From AllTrails: Parking is strictly enforced near the trailhead, so it is best to park on the other side of the bridge in the more residential area. Follow the signs for the Maunawili Trail.
What else to know: There are no bathroom facilities at the trailhead, so plan ahead! This trail begins in a residential area, so be mindful of parking legally. The trail follows the creek and is quite muddy. Pack your bug spray and water.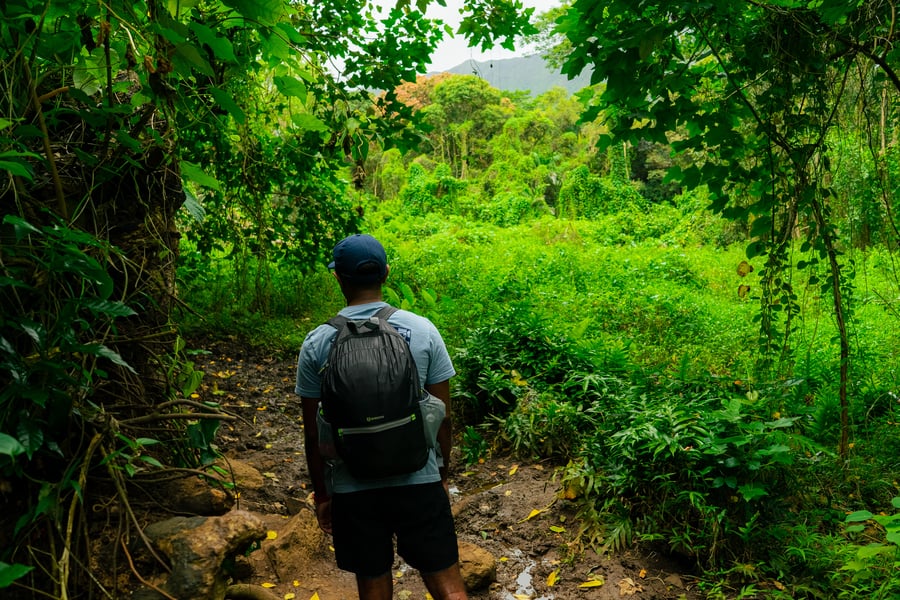 Maunawili Falls - Photo by Philip F Smart on Unsplash
5) Ka'ena Point
This trail is on the westernmost tip of Oahu. It's a dramatic shoreline hike culminating in a nature preserve where you may see albatross and monk seals.
Trail distance: 5.6 miles out and back.
Rating: Easy to moderate.
Getting there: There is parking on two beaches at either side of this trail: North Shore's Mokuleia and Waianae's Yokohama Bay.
What else to know: Several calm pools are at the tip of the island, so bring your swim gear. There are bathrooms on the Waianae side. Don't leave valuables in your car and don't park over the white lines--cars are ticketed and towed. From AllTrails: As of March 2021, a road leading to this trailhead is closed indefinitely, but the trail itself is open. This will add approximately 2.2km/1 mile to the hike out to the nature reserve at the midway point of the hike and on return to vehicles where you can either walk along the beach or on the paved road until reaching the trailhead.
Get your free guide to Joint Base Pearl Harbor-Hickam!
6) Makapu'u Point Lighthouse Trail
This paved trail is a great hike for the whole family. During the humpback whale migration season (November-May), you have a good chance of seeing whales breaching.
Trail distance: 2.5 miles out and back.
Rating: Easy.
Getting there: (From AllTrails) The park and trailhead are located off of the Kalanianaole Highway (Hwy. 72) at the southeasternmost point of Oahu. Turn off Kalanianaole Highway just before you bend around the island headed toward Waimanalo; park in the parking lot directly after the turnoff. The trail begins at the far side of the parking lot along the paved path.
What else to know: This is a stroller-friendly trail, and dogs are allowed on leash. No shade. Though rated as easy, some sections may be too steep for wheelchairs and mobility equipment. There are lots of lookouts for whales, and you can also view the iconic red-roofed Makapu'u lighthouse, which was built in 1909. On clear days, you'll see the neighboring islands of Molokai and Lanai. This is near Hanauma Bay, so there are typically lots of tourists which can make parking a challenge. Bring binoculars during whale watching season!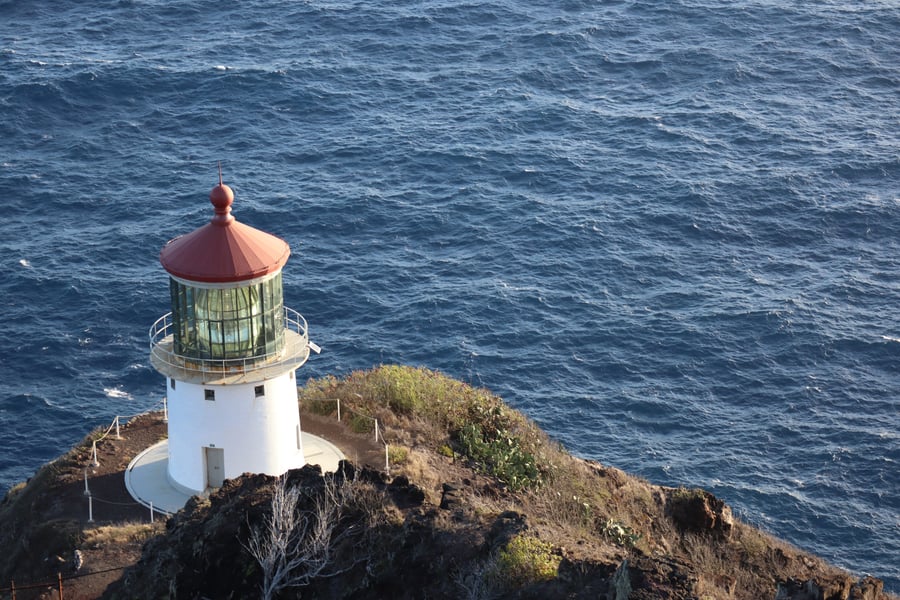 View of the Makapu'u Point Lighthouse - Photo by little plant on Unsplash
7) Olomana Trail
Olomana Trail ("three peaks") is recommended for serious hikers only. If you're afraid of heights, skip this one! There are steep drop-offs and rock climbing elements. The last peak requires ropes all the way up. Those adventurous enough to try will be rewarded with spectacular views.
Trail distance: 4.4 miles out and back.
Rating: Hard.
Getting there: The trail can be accessed from the intersection of Maunawili Road and Auloa Road off of Pali Highway.
What else to know: No parking area. You'll park on the side of the road. Make sure to do so legally, as cars are ticketed and towed here. The walk from parking to trailhead is about ¼ mile. This trail is steep, beautiful, and windy. Recommended for experienced hikers.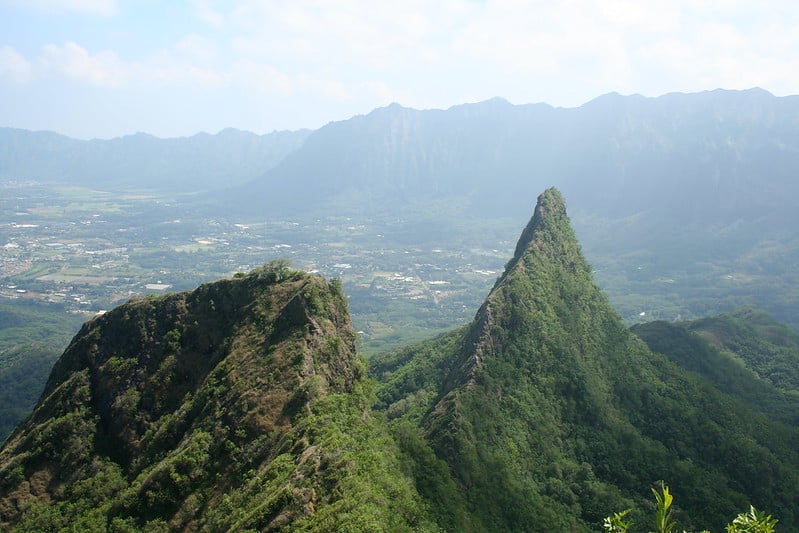 Olomana Hike - Photo by Kevin McCarthy
8) Kuliouou Ridge Trail
Nice trail through pines, culminating in a stair climb. View wildflowers along the way, then at the top of the ridge, you'll be greeted with a sweeping landscape. Rated moderate, but can be challenging for beginners.

Trail distance: 4.3 miles out and back.

Rating: Moderate.
Getting there: (From AllTrails) Directions from Honolulu: From Kalanianaole Highway heading east, take a left on Kuliouou Street toward the back of the valley. Follow the curve to the left, and take a right on Kuliouou Road. Proceed mauka (mountain) on this road, turn right on Kalaau Place, continuing to the cul-de-sac at the end of the street. Park at the end of the cul-de-sac, and proceed on foot past the cable gate on the access road. The trail begins on the right of the access road at the hunter/hiker check in station.
What else to know: No bathroom facilities or dedicated parking. There are two picnic areas. The trail is steep in places and can be slippery when wet.


Of course, we've barely scratched the surface with this list! There are so many more trails to explore on Oahu, from the well known Lanikai Pillbox Trail to others you may stumble across during your own explorations. Let us know what your favorite hike is during your time in Hawaii!

Looking for Joint Base Pearl Harbor-Hickam housing? Don't miss this beautiful home for rent in popular Ewa Beach!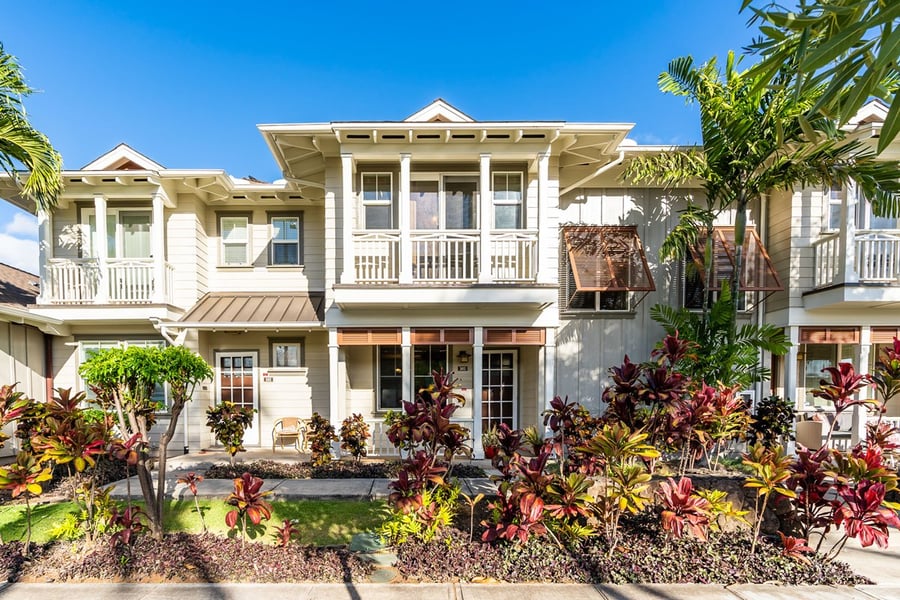 3 bed, 2.5. bath (townhome)
MilitaryByOwner Listing MBO1471271
For Rent: $3,200/mo.
Your Oahu duty station will feel like a dream in this 3-bedroom, 2.5-bath townhome in Ka Makana at Hoakalei. The home features an open floor plan, stainless steel appliances, upgraded floors, solar PV, and solar water heater. Washer and dryer are included. Your rent includes water, sewer, trash, basic cable, internet, home telephone, and use of the community pool, fitness center, and tennis courts. Easy access to schools, parks, shopping, and, most importantly, the beach!
Looking for a realtor near Joint Base Pearl Harbor-Hickam? Take a look at MilitaryByOwner's business directory.