8 Decorating Tricks for Awkward Spaces
Does your house have awkward spaces? If so, what does the area look like? Is it a corner that won't fit functional furniture? Or is it emptiness under a staircase? Do you notice or care about the gawky area?
Sometimes, the awkward spaces can keep you up at night, and other times, they barely register in your thoughts. Once you've identified the places you can't ignore, you can make a plan for sprucing up the space.
Use these strategies to tackle the most commonly complained about awkward spaces in the home. Use them for both off base housing and military community housing.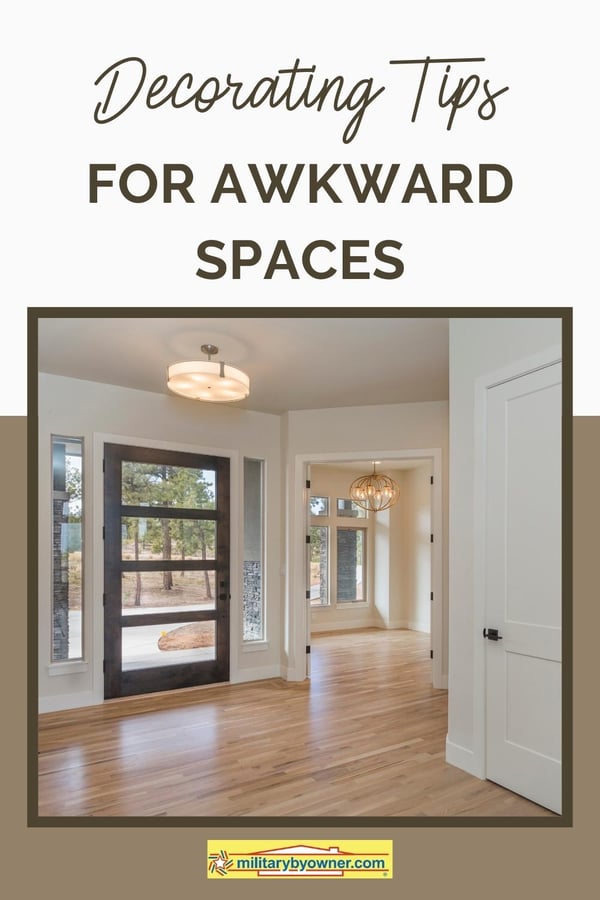 1) Split Foyer
When walking into a split foyer, the initial floor space is small, and there's always a bumbling jig of sorts that happens each time the front door opens to accommodate multiple people. To minimize the shuffle, keep the foyer as neat as possible. There's a natural inclination to dump the day's accessories there.
Avoid a pile-up and pick a flight of stairs to take the items into the house.
Hanging racks or hooks help organize dog leashes and light jackets, but the bulky stuff takes up too much real estate.
A petite table with a drawer for keys controls clutter.
Some people like to make the stairs the center of attention and paint contrasting risers and steps.
Are you new to home shopping? The Beginner's Guide to Home Style and Architecture will help you understand what you're looking for.
Photo by Steven Ungermann via Unsplash
2) Empty Space Under the Stairs
Consider yourself lucky! You can use the space for storage or a decorative vignette.
Pack up winter gear and other not often used items like grown-up board games.
Stack three vintage trunks or charming pieces of luggage for visual interest.
Build a kid's fort by adding spring curtain rods that would completely hide any toy items.
3) Tiny Closets and Teeny Nooks
These spaces are adorable and add charm, but it's hard to make them useful and eye-catching.
Paint or wallpaper the inset wall in a pretty color.
Take on a DIY project and install a desktop or a shelving unit for your home office or cloffice.
Turn the closet into a vanity area with an antique mirror as the focal point in a bedroom.
Photo by Paige Cody via Unsplash
4) Small Bedrooms
Small bedrooms are annoying if you need the space, but there are plenty of alternatives to consider.
If you have multiple children, combine their clothes to form a closet and dressing area.
Limited square footage easily converts to play and craft rooms with

creative storage and shelving units

. The storage also frees up space in traditional sleeping spots.
Put a chest of drawers in the closet to free up play space in the bedroom. This works incredibly well for infants because their tiny clothes are stored easily in drawers.
You won't go wrong with Home Decorating Tips for Every Room.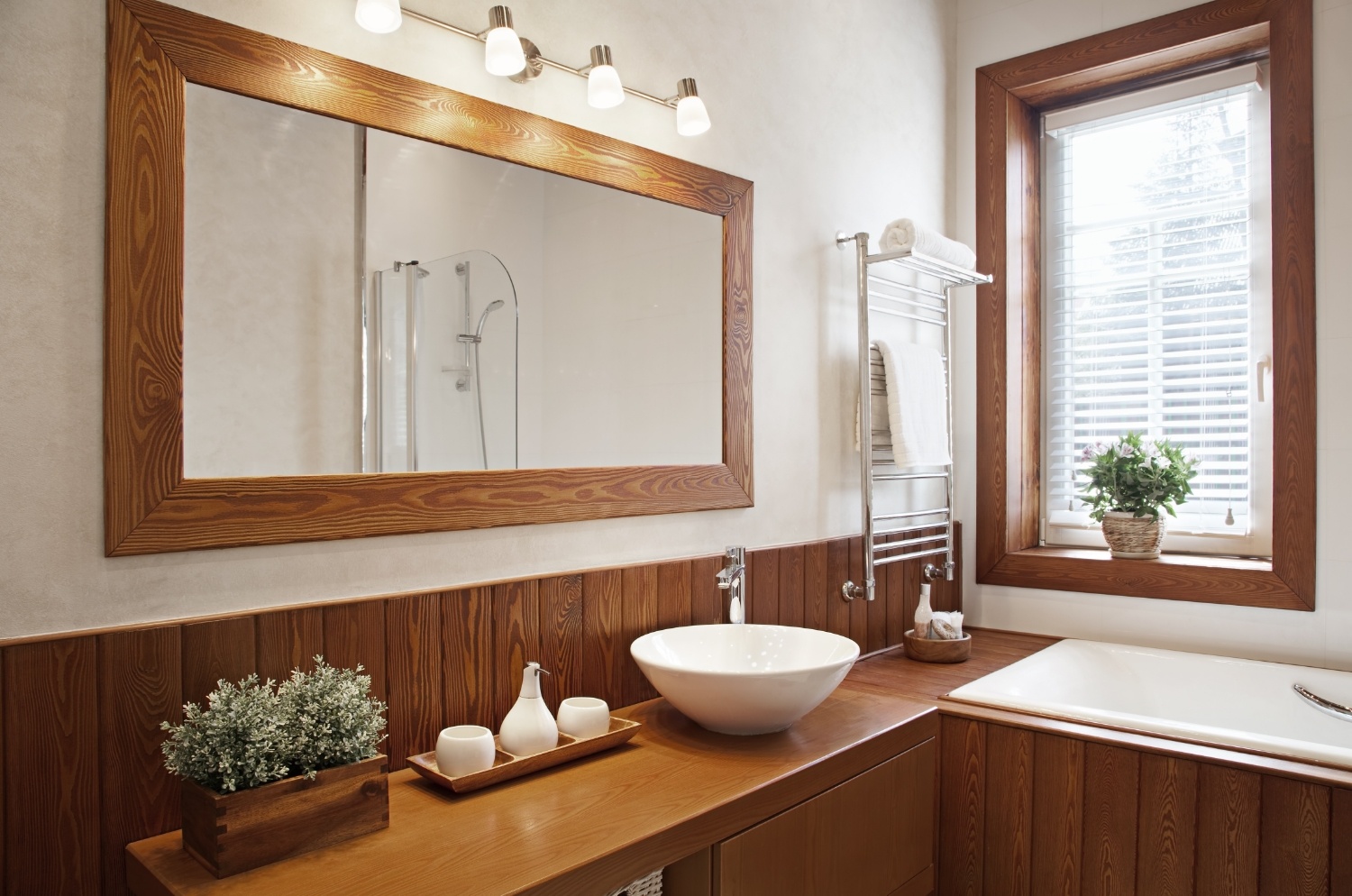 Image from Canva
5) Narrow, Awkward Corners
Just because you can physically jam a comfy chair in the empty gap doesn't mean it will do you any favors aesthetically. You need to-scale furniture or accessories.
Show off a large, pretty potted plant.
Stand decorative ladders or tall screens in the corner and display quilts or antique fabric.
Enhance

kitchen and bathroom

corners with upcycled window shutters to hang utensils and towels.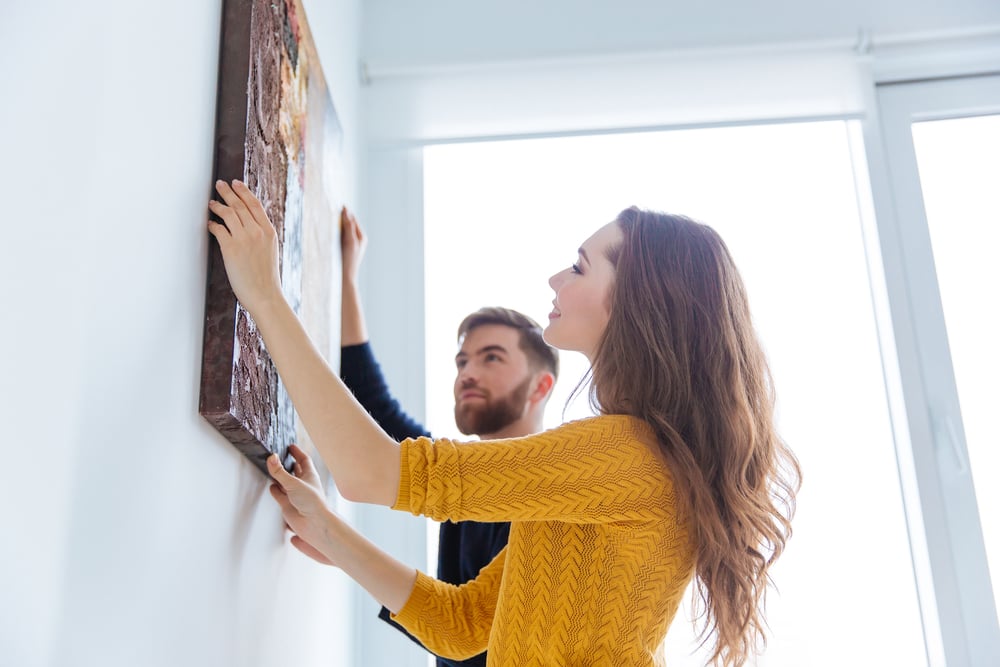 Image from Canva
6) Strange, Blank Walls
You can perk these oddly angled entries and stairwells.
Hang shelving options, flat baskets, or framed mirrors in a gallery display.
Show off photographs and artwork in attractive frames to liven up walls.
Need more inspiration for camouflaging expansive walls? Read 3 Big Ideas to Decorate Those Large Blank Walls

Photo by Sidekix Media via Unsplash
7) The Expanse Above Kitchen Cabinets
If your kitchen cabinets don't reach the ceiling, you have space to add color and charm.
Use baskets and crocks to store seldom-used pots, cookbooks, and other kitchen accessories.
Easel style plate stands efficiently display serveware and other specialty items.
Many military families like to show off their china and dishware purchased from previous duty stations.
Photo by Jilbert Ebrahimi via Unsplash
8) Air Vents and Radiators
These are tricky to disguise while remaining functional.
This Old House has a great tutorial on

how to safely build a radiator cover

, direct airflow, and add a shelf above for more storage or display.
Sometimes the easiest way to camouflage an air vent is to remove it and paint it the same color as the wall.
Most importantly—if it's not bothering you, it's not bothering anyone else!
Hopefully, you only have one awkward space in your home to remedy. You might think it is a trouble spot initially, but once you see it as an option to showcase special items or turn it into a comfy relaxation area, you'll appreciate the extra square footage.