8 Tasks for Your Winter Home Maintenance Checklist
A crisp breeze whistles in through your upstairs window, and the draft serves as a brisk reminder that it's time to remove the air conditioning unit from its perch on the sill.
While wiping down the A/C unit and cleaning the filter, it's time to think of other chores you usually do around this time of year or those that may have been neglected. And while winter is nearing its end, it's not too late to take care of some winter home maintenance. Follow along for a handful of ideas to keep in mind as the cold season rolls along, and be sure to download the quick list at the end of this post!
Winter Home Maintenance Checklist
1) Examine the appearance of your roof.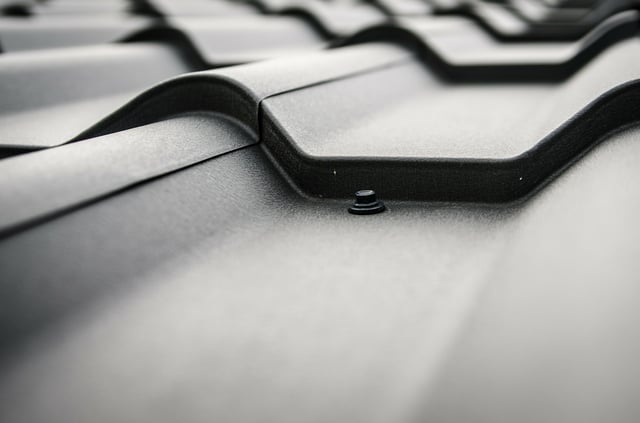 Rather than a risky climb up a ladder, stand safely on the ground and examine your roof with the aid of binoculars.
Be on the lookout for shingles that seem to buckle, bubble or curl up.
Make note of any spots where the roof covering seems to have broken off or missing.
Notice where the protective pieces meet vent pipes, skylights, and the flashing around the chimney. Pay attention to the status of your shingles at those overlapping seams.
If a problem stands out, call a home inspection professional to scan your roof and evaluate the extent of any damage. With these results, you can choose between contacting a handyman or roofing company for the necessary repairs.
2) Check the efficiency of your gutters and downspouts.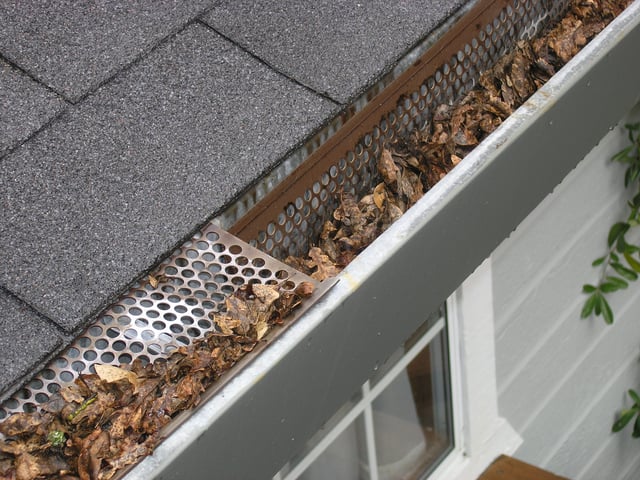 In some areas of the country, Old Man Winter can bring heavy drifts of snow and weighty amounts of ice. Make sure your gutters are up for handling the side effects of a winter wonderland. Even if you live in an area where snow is rare, you'll still need to keep your gutters clear of tree leaves, twigs, and other debris so moisture can flow away efficiently.
Thankfully, there are products on the market that allow you to clean your gutters while keeping both feet on the ground. From telescoping tongs to an angled nozzle wand, handy tool help remove debris safely without having to tempt fate by scaling a ladder.
When water from your garden hose flows easily down the track, your next move is to inspect the gutter traps and secure the downspouts. When giving each downspout a once-over, canvass the drainage. The path from the downspout needs to direct water at least 3 feet away from your foundation.
If rain clouds are in the weather forecast, make a habit of going around the perimeter of your house to ensure your downspouts are situated properly. Tasks like mowing the lawn, tending to the landscaping, kids playing in the yard, or a critter looking for a hide-out can shift the location of the drainpipe.
Taking it one step further, determine that your yard is abating run-off properly by following your water removal route to the nearest storm drain. Confirm the path is clear and that the drain is unhindered.
3) Prevent unwelcome pests.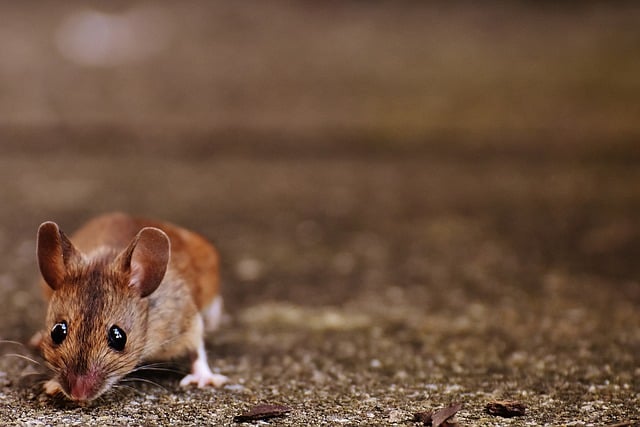 Creatures of all sorts are hoping to enter your cozy abode when the weather gets cold. Unless they plan to help pay the rent or mortgage, there's no need welcome the freeloading bugs, mice, squirrels or birds. An easy way to prevent opportunists from entering is to scout out potential access points. Consider an investigation of your cottage with questions like these.
Are entry doors closing securely?
It might be time for new door sweeps or fresh weather stripping.
Do windows shut tightly?
If you feel drafts of air, add adhesive foam tape to help insulate along the sills.
Have you been keeping nesting creatures away from your exhaust release?
An inexpensive bird guard can fit nicely over an exterior vent.
Are you seeing a line of ants around faucets?
Caulking the seams and spaces around each sink can halt the marching orders of insects in search of water.
In the nether regions under sinks, are there any gaps where the plumbing meets the wall?
Think of a mouse on a mission or a strong-willed squirrel. Using their special forces rodent training, they'll chew right through wood or plastic coverings. Instead, mix durable caulking compound with steel wool to keep determined varmints from gnawing their way in to your warm and cozy atmosphere.
While exploring your place and filling in the nooks and crannies, follow this rhyme,"Corners and Edges and Under Ledges." Packing heat with your caulk gun, you'll be looking for gaps, cracks, or holes that could attract both moisture and unwanted pests.
However, be careful when it comes to sealing up certain elements of your property, such as:
Tongue and groove siding
Trim tacked on the surface of siding
Metal flashing
Metal to wood joints
Factory weep holes in window frames
Panels of garage door
Exterior sealant should not be used with these items, as they need room to breathe (air circulation) and flexibility to shift and drain moisture.
4) Store your yard tools.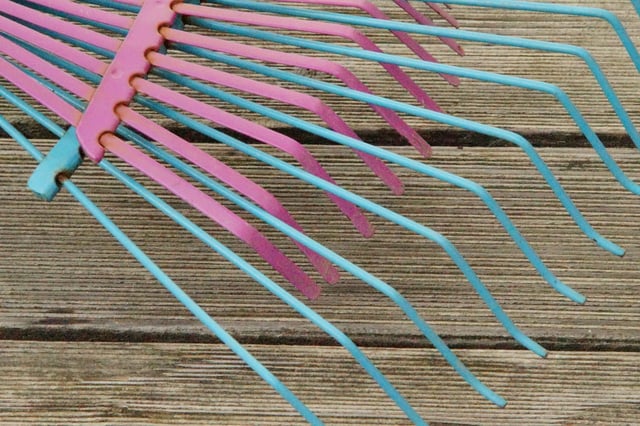 If you haven't already, disconnect the hose from the faucet and allow it to drain. Coil and store in your garage or shed.
Cover your exterior faucets with insulating foam cubbies or wrap each spigot for protection from freezing temperatures.
Disassemble your deck umbrella for the season.
Wipe down your patio furniture for storage or add a protective cover.
Bring potted plants indoors. Or, empty your flower pots, wipe clean and store carefully--particularly fragile terra cotta planters.
Spritz garden tools with a lubricant and tuck them away with your tidied lawnmower and other yard gear.
Taking steps to care for your yard tools and accessories now will keep them in good condition for spring.
5) Light it up.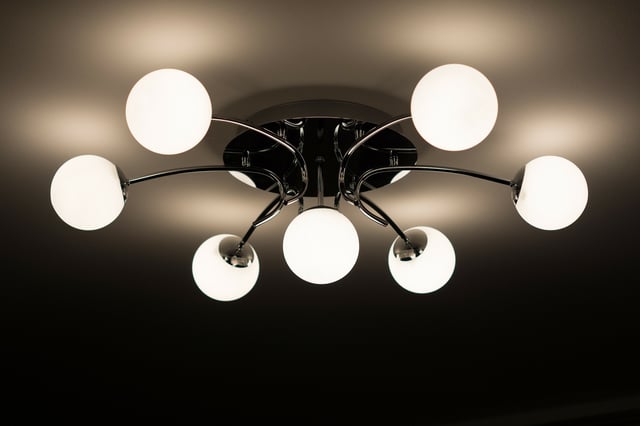 Shining the best light on your property is crucial throughout the year. Try these ideas to keep your address in the spotlight.
Shaking out each light fixture from dearly departed bugs is an important chore for light fixtures both inside and outside.

Another idea is to stock up on light bulbs now, while every light is working fine to make replacement easy.
Add fresh batteries to your trusty flashlight in case you lose power during a winter storm.
When the cold weather brings cloudy, grey days, you'll have the warm glow of brilliant lighting in and around your homestead.
6) Swap out filters and test detectors.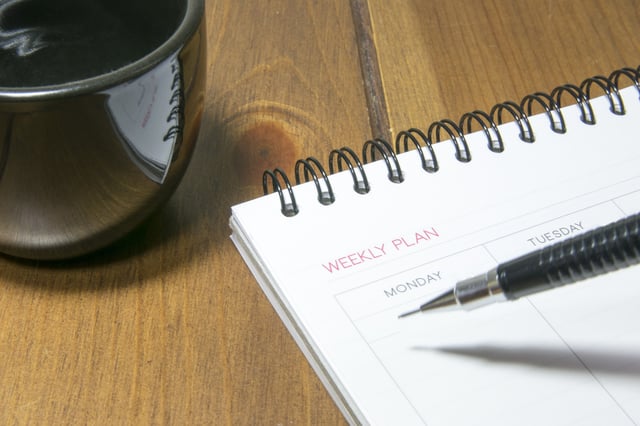 Here's hoping you have a note on your calendar reminding you to swap out your heating and air filters. If by chance you haven't changed out those purifiers in a while, now is the perfect time. While doing so, run a test beep on your smoke alarm and carbon monoxide detectors.
Your filters and detectors are continuously working behind the scenes and will appreciate your time and attention. Adding a note in your calendar will remind you when it's time to switch out filters again.
7) Keep your rooms cozy.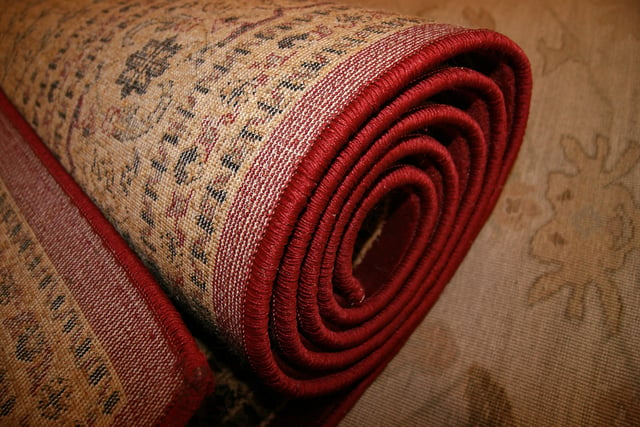 Either spraying on or laying down insulation around the bones of your house is an ideal way to make it weatherproof. However, if you're renting or don't have the know-how or budget for extra insulation, you'll have to be inventive with ways to create an insulated feel.
Add plastic safety outlet covers in open plugs to keep cold air at bay, especially with an exterior wall with limited insulation.
If your ceiling fan can alternate in direction, turn it to the winter setting which distributes the warm air downward.
Cover the entirety of interior windows with sheets of transparent, shrink-tight film to seal off drafts.
Thermal curtains block out cold air that seeps in from windows or slider doors.
As if revisiting the decorative tapestries of the Renaissance, hang your Grandmother's quilt on the wall. This buffer of fabric offers warmth to a room and a touch of heartfelt décor.
On a similar note, roll out rugs on hardwood floors to boost the temperature of a room and add a level of comfort and cozy design.
Finding ways to keep the cold air out and warm air in is an ongoing challenge during these long days of solstice. Trying the tactics mentioned here can be helpful.
8) Tend to your fireplace.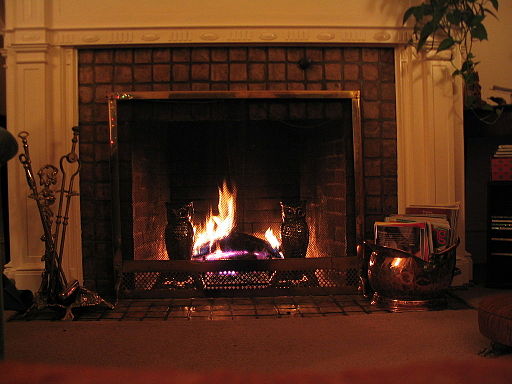 From Wikimedia
If your dwelling includes a fireplace, MilitaryByOwner offers many tips and hints to make the most of your charming hearth. Before you begin to burn wood in earnest, hire a chimney sweep to give your smokestack the VIP treatment. This professional can also check the security of your chimney cap or screen and the functionality of your damper.
As tempting as it is to stack the firewood within easy reach, the woodpile is often a magnet for bugs, pests, and moldy lichen. Ideally, you'll want to keep your surplus of wood about five feet away from your door.
Plan on using a dust mask and try a wet/dry vacuum or a sturdy whisk and broom set for ease of ash clean-up. Leave the ashes to rest in a fireproof container for nearly a week before disposal.
If your hearth has a glass guard that becomes cloudy, spray with a white vinegar and water solution and wipe clean with a microfiber cloth. If more elbow grease is needed to tidy the glass, dip your cleaning rag into the ash and scrub as a gentle abrasive.
During these days of hibernation, you'll be spending quality time indoors with your military family. Keep safety in mind when you gather around a roaring fire.
No matter which chore you'll attempt first, it's important to follow through with winter home maintenance tasks to keep your villa in good working order. Don't forget to dust off your snow shovel and find your ice scraper. Also, replenish your auto windshield wiper fluid and stock up on ice melt. Before you know it, you'll be fully prepared to face any cold weather challenges!
Do you have a seasonal task that is a "must-do" on your checklist? Share it with us in the comments!