8 Things Landlords Should Know About Accessibility Compliance
If you're involved with rental real estate, whether you're a landlord or tenant, you should be familiar with accessibility compliance.
While it might not be something that's felt entirely relevant before, it's something you want to be prepared for. Why? Because if you are, or become, a tenant with a disability, you need to know what you're entitled to. And if you're a landlord, you need to not only know the rights of tenants with a disability but also how to accommodate for them reasonably.
According to an article written by Mia Mercado on Bustle, "More than one in eight Americans have a disability, according to Pew's most recent information from 2015. That works out to be roughly 40 million people in the U.S. who have a severe impairment when it comes to one of six areas as measured by Census Bureau's American Community Survey: hearing, vision, cognition, walking or climbing stairs, difficulty with self-care, or difficulty with independent living. That number does not include people who are living in institutions nor does it include people who have less severe disabilities."
Understanding accessibility compliance requires a general understanding of the laws in place. But when we get through that, then we'll dive into what accessibility compliance looks like for you on a more tangible level. Ready? Let's do this!
8 Things Residential Landlords Should Understand About Accessibility Compliance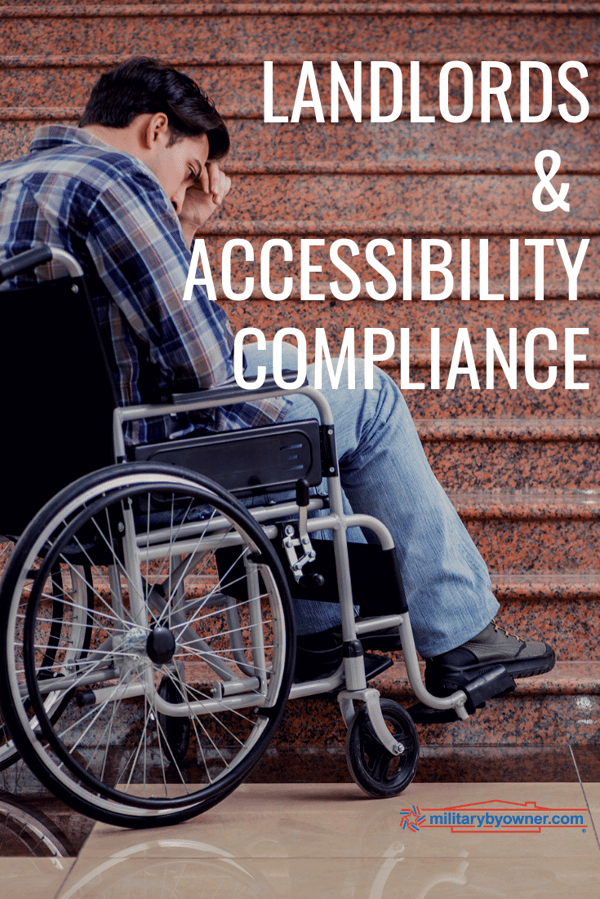 1) Understanding the Americans With Disabilities Act (ADA)
The grandfather of protection for people with disabilities is the Americans With Disabilities Act.
The ADA is "a civil rights law that prohibits discrimination against individuals with disabilities in all areas of public life, including jobs, schools, transportation, and all public and private places that are open to the general public. The purpose of the law is to make sure that people with disabilities have the same rights and opportunities as everyone else. The ADA gives civil rights protections to individuals with disabilities similar to those provided to individuals on the basis of race, color, sex, national origin, age, and religion."
I know, I know, you're thinking, But that doesn't address residential properties. And you're right. It doesn't directly address that specific concern, but it does serve as the foundation on which the Fair Housing Act and U.S. Department of Housing and Urban Developments base their policies--which address accessibility compliance for residential properties.
2) The Fair Housing Act
You should already be familiar with the Fair Housing Act. It is, after all, the bible of the rental world. You've likely turned to it for answers in the past, and we'll do the same for this topic.
Just like it protects against discrimination against race, color, national origin, sex, and familial status, the FHA also protects renters with disability from discrimination.
3) Defining Disability
On HUD, you'll find that federal nondiscrimination laws define a person with a disability "to include any (1) individual with a physical or mental impairment that substantially limits one or more major life activities; (2) individual with a record of such impairment; or (3) individual who is regarded as having such an impairment."
These disabilities include, but aren't limited to, observable disabilities like deafness, blindness, as well as mobile, neurological, intellectual, physical, and mental impairments.
Read more on HUD for a comprehensive list of disabilities.
4) Types of Reasonable Accommodations
"A reasonable accommodation is a change, exception, or adjustment to a rule, policy, practice, or service that may be necessary for a person with disabilities to have an equal opportunity to use and enjoy a dwelling, including public and common use spaces, or to fulfill their program obligations."
If you read further in the ADA, it refers to accommodations as modifications, such as:
Adjusting a payment schedule around when the tenant receives income assistance.
Assigning an accessible parking space for tenants with a mobility impairment.
Allow early termination of lease should tenant develop a disability that can't be accommodated for in rental property.
Waive pet deposit/fees for assistance animals.
Omitting a "no pets" policy for assistance animals.
Note: The HUD defines an assistance animal as "an animal that works, provides assistance, or performs tasks for the benefit of a person with a disability, or that provides emotional support that alleviates one or more identified effects of a person's disability."
But does this include emotional support animals? In short, no. The ADA National Network clarifies:
Emotional support animals, comfort animals, and therapy dogs are not service animals under Title II and Title III of the ADA. Other species of animals, whether wild or domestic, trained or untrained, are not considered service animals either. The work or tasks performed by a service animal must be directly related to the individual's disability. It does not matter if a person has a note from a doctor that states that the person has a disability and needs to have the animal for emotional support. A doctor's letter does not turn an animal into a service animal.
So what does this mean for service members diagnosed with PTSD who have a certified emotional support animal? Those diagnosed with PTSD may not look like they have a disability, which doesn't present a huge problem so long as they provide proof of need for requested accommodations. However, since the ADA doesn't recognize emotional support animals as assistance animals, accommodations aren't required.
However, if you're a potential tenant diagnosed with PTSD and have a service animal, it's fair that you ask your landlord if they're willing to make accommodations if given proof of PTSD and certification of service animal. Though they aren't required to bend the rules, you might find that they're understanding and open to the idea.
5) Types of Reasonable Modifications
Under the Fair Housing Act, a reasonable modification is "a structural change made to existing premises, occupied or to be occupied by a person with a disability, in order to afford such person full enjoyment of the premises."
Modifications include structural changes to the property, both inside and outside:
A wheelchair ramp.
Grab bars in the bathrooms.
Widening doorways.
Lowering counter tops.
Installing special faucets or handles for limited hand use.
Modifying kitchen appliances.
6) Who's Financially Responsible for Modifications?
Under Section 504 of the Rehabilitation Act of 1973, the landlord is. The housing provider is required to cover the expense of any necessary modifications to the property, assuming it doesn't create an undue financial burden. If the requested modifications do, then the homeowner is expected to fulfill the requests up to the point it becomes a burden.
But there isn't a black and white answer as to what constitutes an undue burden. However, Associate Director of the University of Cincinnati Center for Excellence in Developmental Disabilities Kara Ayers shares that:
An undue burden is defined in relation to the size of the business or residential facility/group. For example, a landlord who only owns one property might be able to claim "undue burden" much easier than a property management company that owns (and profits from) multiple units and properties. Unfortunately (for both the residents and the landlords), a direct monetary amount is not set. If the two parties can't agree, the only way to determine whether it's an undue burden is through the court system.
7) Verifying Need for Reasonable Accommodations and Modifications
So, we talked before about the FHA prohibiting discrimination against renters with disability. Housing providers aren't allowed to ask, even if the disability is obvious. So how are you, the homeowner, able to verify that any requested accommodations and modifications are reasonable? And since you're required to pay for and make the changes, this a valid concern.
The U.S. Department of Housing and Urban Development (HUD) adds that the renter is required to provide proof of need:
If the disability and/or the disability-related need for the requested accommodation or modification is not known or obvious, the provider may request only information that is necessary to evaluate the disability and/or disability-related need for the accommodation. This information may be from the requesting individual, medical professional, a peer support group, a non-medical service agency, or a reliable third party who is in a position to know about the individual's disability.
Note: Even under these circumstances, it's inappropriate to request medical records. Most validations can be made through the resources listed above.
8) Other Things Worth Noting
Landlords can't charge a higher or additional deposit for renters with a disability.
Tenants are allowed to request for reasonable accommodations anytime during their lease, even if they didn't have the disability when they signed the lease.
Landlords aren't automatically required to accept an applicant with a disability. As with any other applicant, you are expected to determine general eligibility first.
Failure to comply with laws pertaining to accessibility compliance could result in civil penalties, punitive damages, and attorney fees.
Overwhelmed? While there's a lot to process, you only have to take it one step at a time. Allow me to oversimplify.
First, don't discriminate when screening potential tenants.
Second, allow tenant to make requests for reasonable accommodations and modifications.
Third, request proof of need.
Fourth, make reasonable accommodations and modifications as requested by a disabled tenant.
The specifics and details you read through today aren't meant to create confusion. On the contrary, they're there to ensure that both you and the tenant are protected. Should you have any questions or concerns about accessibility compliance, be sure to utilize published resources like HUD, the Fair Housing Act, and state laws. And, if necessary, seek legal counsel.
Note: quotes and information are not meant to act as legal advice for your situation.