Best Places to Stargaze Near Fort Bliss, Texas
I'm sure you've heard that everything is bigger and better in Texas; well, the same can be said about the night sky and stars. Away from city lights, you will find wide-open spaces where stargazers can view the amazing night sky. In mid-December at Fort Bliss, the Geminids meteor shower is a sight to see. Bundle up the family to lay in the backyard and make wishes on shooting stars. There's Mars, the Big Dipper, and finally a meteor or two, but mostly it's purple haze from city lights. It is a fun evening, but you might like to find a darker sky for next time.
What does it mean to have a "dark sky" and how is stargazing different in these places?
In addition to messing up your stargazing, light pollution messes up our normal body rhythms, increases energy consumption, and harms wildlife. The International Dark-Sky Association is working to bring awareness to the different types of light pollution, create solutions, and protect places conserving habitat, wildlife, and clear night skies. Their conservation program "recognizes and promotes excellent stewardship of the night sky" and several locations that have received one of their designations are close to Southwest postings like Ft. Bliss, Ft. Huachuca, Kirtland AFB, and Holloman AFB.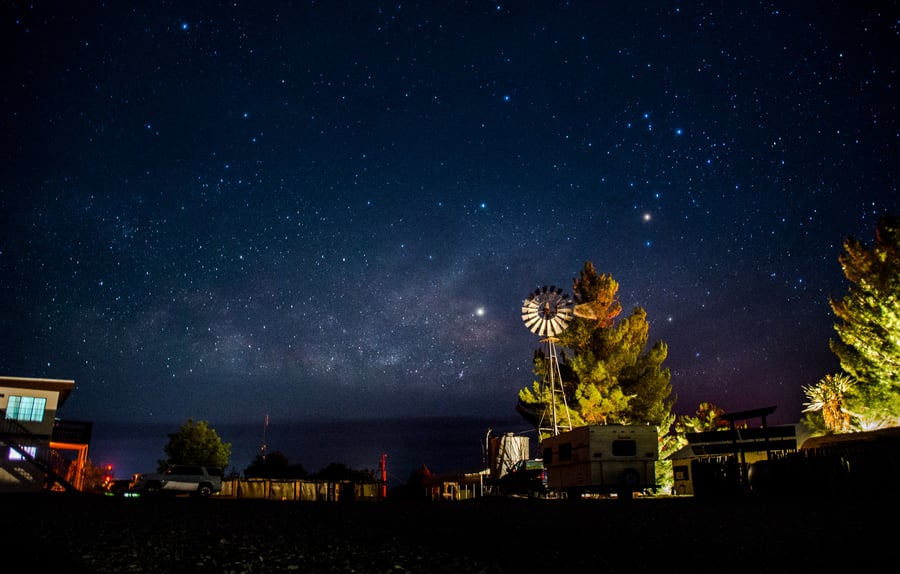 Night sky in West Texas. Photo by MJ Tangonan on Unsplash
Lights in the Skies of West Texas
The road between Fort Bliss and Big Bend will also take you close to the town of Marfa with attractions for art lovers and the mysterious Marfa Lights. Observe them from the lookout area or join the town for the annual Marfa Lights Festival. To learn more about astronomy, make a detour to the McDonald Observatory Visitors Center or plan to attend one of their star parties.
Big Bend National Park is one of the least visited national parks due to its out-of-the-way location in the south of Texas on the Mexico border, but it's also one of the most awe-inspiring. El Paso is the closest major city, around four-and-a-half hours away. Big Bend National Park and Big Bend Ranch State Park are both Certified IDA International Dark Sky Parks. In the evening, watch the sunset at the end of the paved, wheelchair-accessible Window View Trail, then wait wherever you're staying for the late-night view of the Milky Way.
Cosmic Campground
The Gila National Forest is a 3.3-million acre expanse of public lands with several recreational areas throughout New Mexico. Many of those areas allow camping and have excellent views of the night skies, but one in particular was designed just for stargazers. The Cosmic Campground is one of only 14 certified International Dark Skies Sanctuaries in the world. It's a primitive, first come-first serve campground with rules maintaining no harsh lighting at night. While there, hike the bridge system at the Catwalk Recreational Area.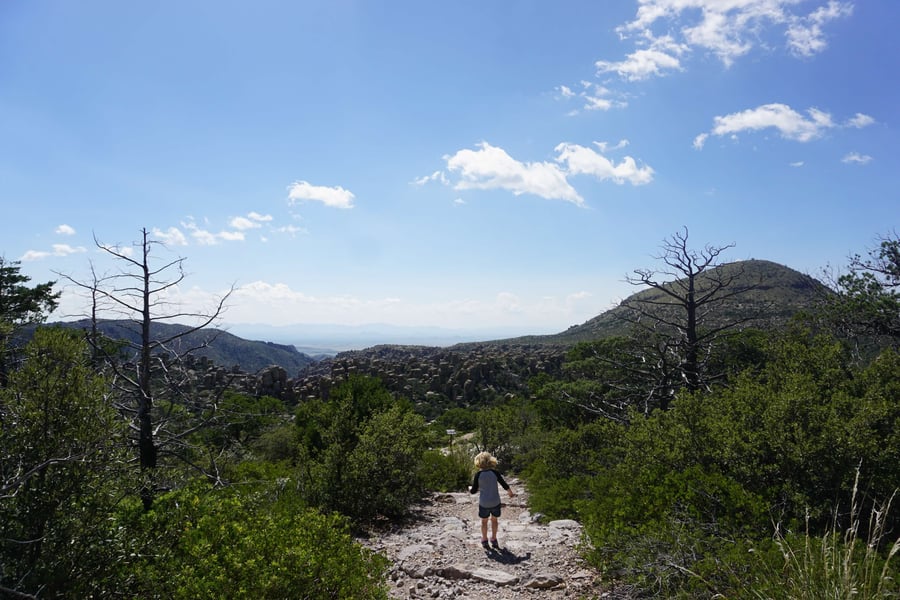 The author's daughter at Chiricahua National Monument, one of the Sky Islands in SE Arizona and a Dark Sky Park. Image courtesy Meredith Flory.
Southeastern Arizona
In the area of Fort Huachuca, both Chiricahua National Monument and Kartchner Caverns State Park are Certified IDA International Dark Sky Parks. Kartchner has tent and RV camping available, and is open for cave tours during the day. These tours fill up and have limited group sizes and age restrictions, so make your reservations online. Chiricahua has hiking opportunities, 25 camping sites, scenic views of rock formations, and excellent wildlife viewing as part of the Sky Islands of southern Arizona.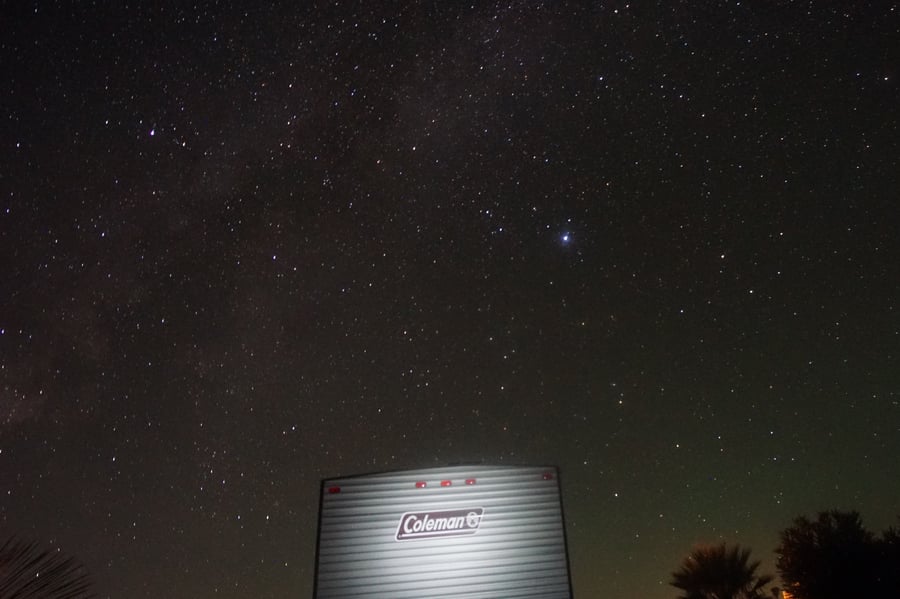 Desert Oasis, image courtesy Meredith Flory
Many of the campgrounds and RV Parks in Southeastern AZ are prepared to host stargazers. For example, Desert Oasis Campground has nighttime light rules and beautiful panoramic views of the sky and sunrises with full RV hook-ups, tent sites, and RV and cabin rentals. It's a perfect base for exploring historic towns like Tombstone and Bisbee.
The Butterfield RV Resort and Observatory in Benson has its own high quality telescope installation with stargazing shows for those staying at the resort—however, the shows and hours have been limited by the pandemic, so call to get the most up-to-date information. Benson puts you close to Tucson to explore the many parks and museums there including the Pima Air and Space Museum.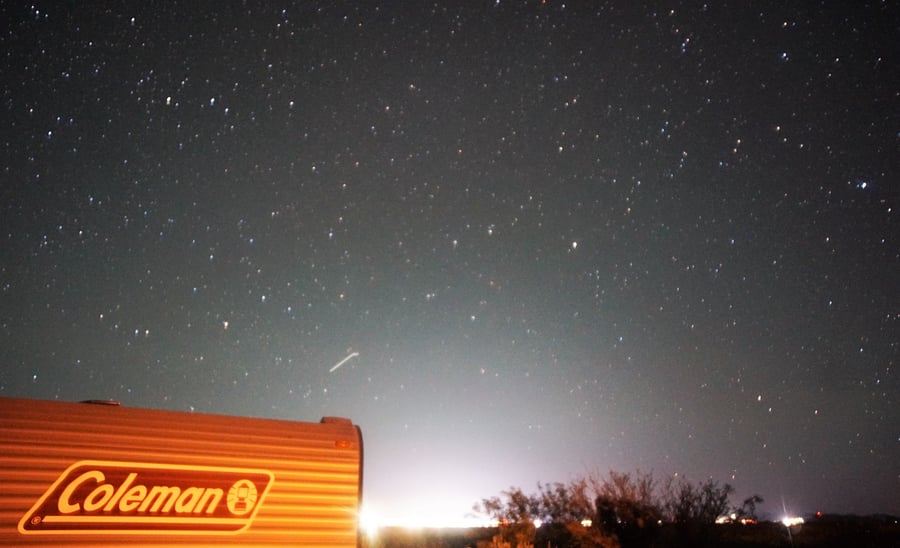 Sunrise at Desert Oasis. Image courtesy Meredith Flory.
Follow the New Mexico Space Trail
In Alamogordo, close to Holloman AFB and White Sands Missile Range and one to two hours away from Fort Bliss, start the New Mexico Space Trail, 52 historic sites across NM including aerospace research locations, alleged UFO sightings, archeological sites, and other museums, setting up the perfect road trip for a space buff.
Begin your journey at the New Mexico Museum of Space History to learn more about astronaut training. Continue to Las Cruces, home to the Museum of Nature and Science and the annual Las Cruces Space Festival, celebrating stargazing with movies, educational events, and more (Next event: April 22).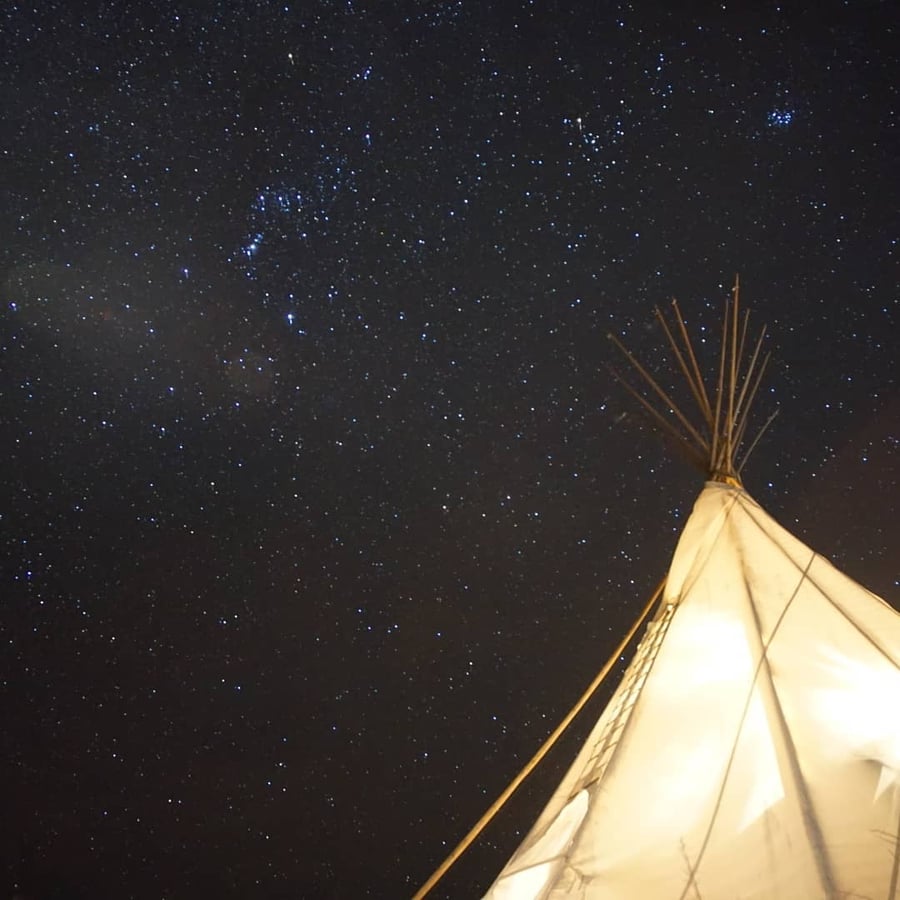 Tipi and night sky while "glamping." Image courtesy Meredith Flory.
History in the City
Explore even more of the New Mexico Space Trail in Albuquerque with a visit to the New Mexico Museum of Natural History and Science with space exhibits and a planetarium. Several other sites around the city are available to visit for aficionados of Air Force history and space travel, as the city is home to Kirtland Air Force Base, making these sites perfect day trips for families stationed in the area. In the surrounding area, the Salinas Pueblo Missions National Monument is a dark sky area with three historic sites to explore during the day and astronomy events at night.
Want more travel tips? Download our free guide for military families.