Colorado Springs Real Estate: A Comprehensive Market Snapshot
With plenty of sunshine and idyllic blue skies, a vibrant arts and culture scene, and all the recreational activities you could ask for, it's no surprise Colorado Springs tops dream sheets as one of the most requested locations for military families. Whether you are headed to Fort Carson, the US Air Force Academy, Peterson or Schriever SFB, or Cheyenne Mountain Space Force Station, families overwhelmingly enjoy the Springs.
Colorado Springs is a rapidly growing area. As of the 2020 census, the metro area population is approaching 750,000 — a 15.02% increase from 2010. Where your servicemember is stationed will certainly narrow your search for housing, but there are several things you'll want to know about the Colorado Springs market.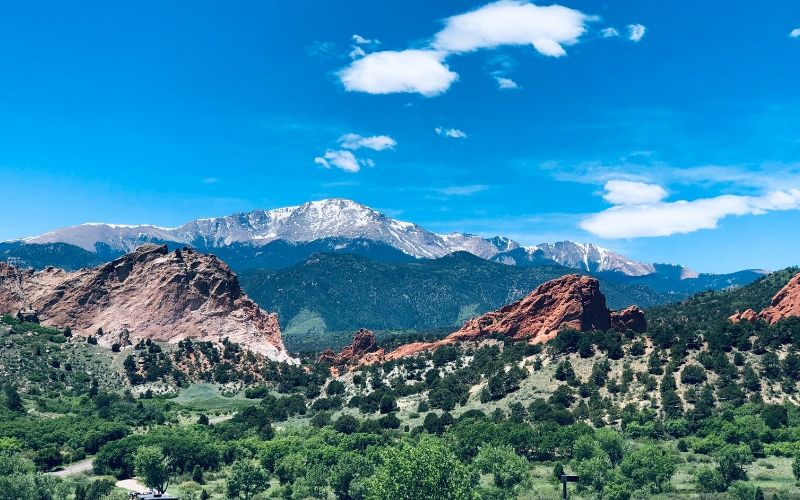 Photo from Canva
A Colorado Springs Market Snapshot
Most military families tend to seek housing options and neighborhoods geographically closest to their assigned installation over a commute, as Interstate 25 and main thoroughfares can get quite congested during peak travel times. Colorado Springs is home to nearly 45,000 active duty troops across its five installations, several thousand reservists, and nearly 100,000 veterans, which creates a strong demand for housing. Housing prices in Colorado Springs are higher than the national average by nearly $200,000, but the area did see a slight constriction in demand and pricing from 2022 to 2023's markets.
Colorado Springs Real Estate by the Numbers:
Median home price: $555,072
Median monthly rent: $1,995
Listings go under contract in about 10 days.
5% of sales are over the list price, but 51.1% of sales are sales are under
the sales price in 2023, according to various real estate sites.
Building permits for single-family detached homes have dropped from 2022's high of 1,350 permits issued to just 563 permits for the first quarter of 2023, marking a 58% decrease in just over 12 months.
Overall, the housing supply market in the area continues to remain low, at just 2.3 months. This is an increase from 2022's supply of 1.3 months, but still on track with national numbers in signaling that the area is trending toward a seller's market, as many markets are. For reference, a 4 to 6 months housing supply is generally accepted as a balanced market.
Four Potential Colorado Springs Market Disrupters
There are four potential market disrupters that will be key to monitor for those either relocating or looking to sell in the Colorado Springs market.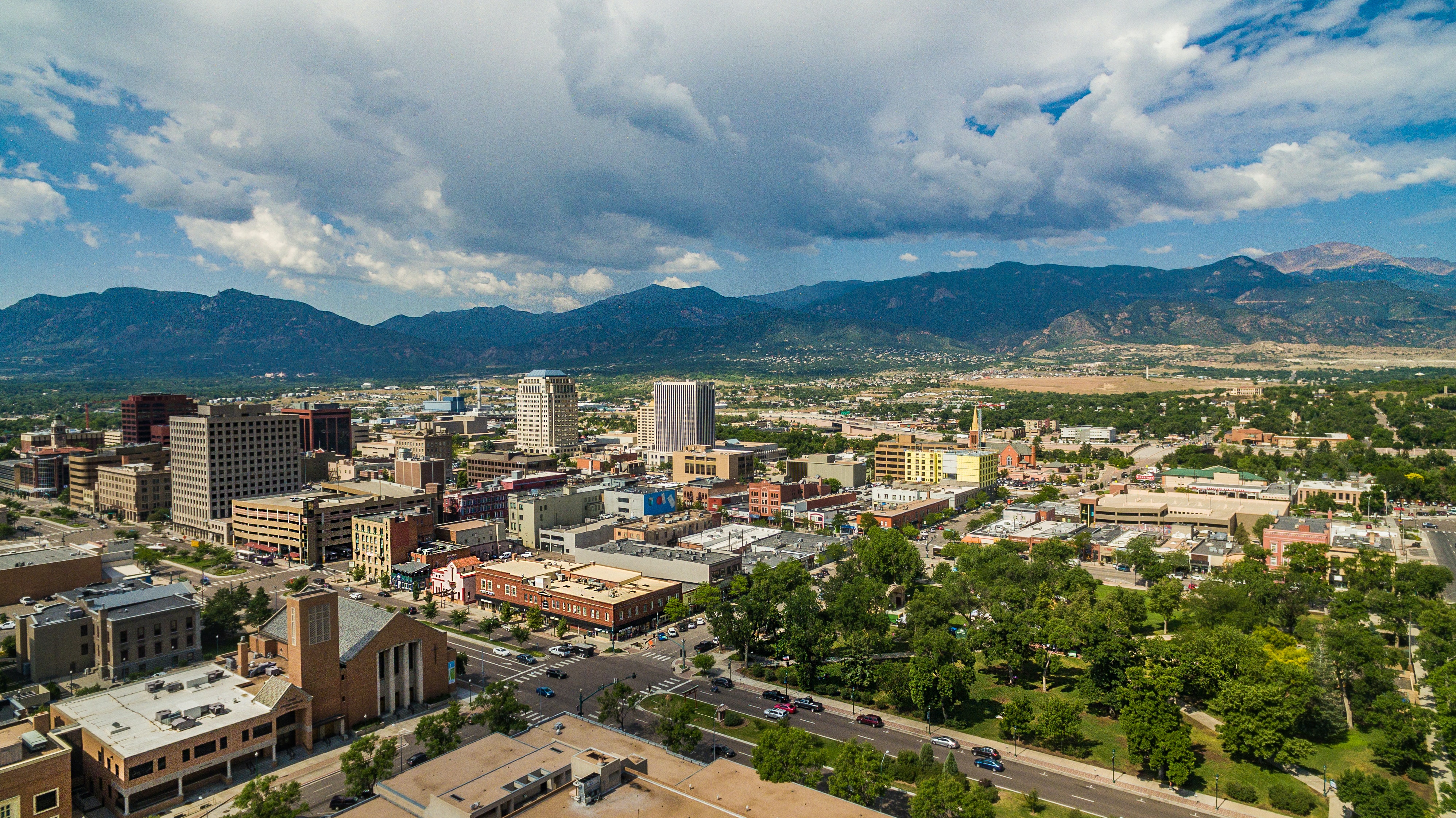 An aerial view of downtown Colorado Springs, overlooking Acacia Park at the intersection of Nevada Ave. and E Bijou St. with Pikes Peak in the distance. Photo by Kevin Bree on Unsplash.
1) New Water Regulations
In January 2023, the Colorado Springs City Council approved a new water ordinance that will directly affect annexation and the ability for new development. With growing demands on the current water systems and supply, the updated ordinance requires Colorado Springs Utilities to have 128% of the water necessary to serve existing demand. (Source)
This could result in an even lower housing supply, as new developments may not be approved to build. Fewer houses being built could encourage more sellers to list, particularly if appreciation increases with a renewed competition for a lower supply.
2) Property Taxes
As residential property values rose sharply from 2021 through 2023, so did the area's property tax bills. The Colorado Department of Local Affairs reports that property values rose on average 44% percent, and up to 84% in some areas from 2022's assessments, resulting in sizable property tax increases, which will in turn result in higher monthly mortgages.
A higher tax bill particularly affects those living on fixed incomes, and military members that may have considered converting their home into a rental upon PCS may instead look to sell as rental cash flows may diminish with the higher operating cost of property taxes.
3) Potential Space Command Headquarters (USSPACECOM HQ) Relocation
The decision to move Space Command Headquarters from Colorado to Redstone Arsenal in Huntsville, Alabama, came as a surprise to many when announced in 2021. The headquarters is expected to draw an estimated 1,400 servicemembers, contractors, and civilian employees. However, as of May 2023, the relocation decision has been temporarily delayed due to additional analysis, with several political concerns raised.
With a fairly tight housing supply, a migration either in or from the area would reasonably be felt in the market with more homes coming on the market to sell (or rent), or the inverse, more competition for homes and rentals with a population influx.
4) Housing Price Sticker Shock
With a favorable climate and job opportunities, Colorado Springs has become a relocation magnet in the civilian sector as well. A population influx tends to have a direct effect on housing supply and demand, reducing supply and increasing demand. This shift alone results in rapidly appreciating homes, with the pandemic and historically low interest rates exacerbating the effect. Newcomers to the area may be left reeling from sticker shock upon encountering median area home prices ranging from mid-$450k into the mid-$500k range, yielding an average monthly mortgage payment of $3,200 to $3,500, well above the 2023 BAH rates for all ranks.
BAH and Budget
BAH rates for all Colorado Springs military installations mirror each other, and although 2023 rates have experienced a notable increase of 13.8% percent from 2022, there may be a purchasing gap between the dream home or rental and your BAH rate.
As examples, the current E5 with Dependents Rate is $2,139 with an O3 with Dependents Rate of $2,418.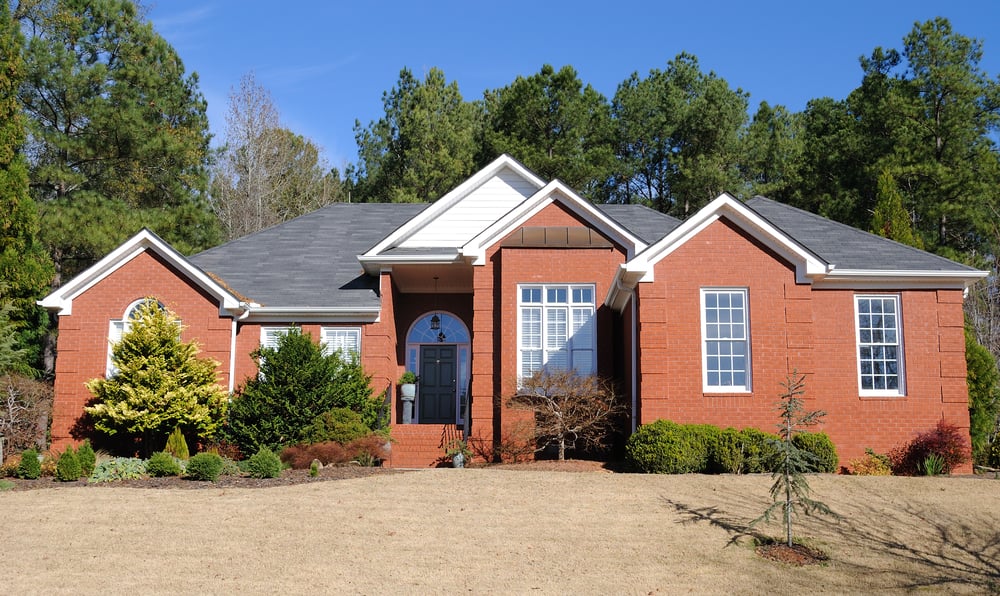 Photo from Canva
Sample Colorado Springs Mortgage Payment
Mortgage rates will vary considerably based upon creditworthiness, down payment, interest rate, property taxes, and loan instrument used (VA, FHA, etc.) but here's what a mortgage payment might look like for a $485,000 median home price.
Home price: $485,000
Down payment, 5%: $24,250
Property taxes: $2,958
Insurance (annual): $2,037
Interest rate, 6% (30-year fixed)
Estimated monthly payment: $3,386
In comparison, the median rent for a three-bedroom property is $2,282, with a four-bedroom home at $2,868, nearly an $800 Year-Over-Year increase from 2022's median.
On-Base Housing Options in Colorado Springs
For families seeking on base housing options, there are several opportunities available.
Fort Carson:

Fort Carson Family Homes offers nearly 3,200 homes across 16 distinct neighborhoods.

Air Force Academy:

The Air Force Academy Family Housing offers a range of homes across four distinct and convenient neighborhoods.
Cheyenne Mountain Space Force Station: While there is no on base housing at Cheyenne Mountain, inbound families may be eligible to apply for housing at nearby Peterson SFB.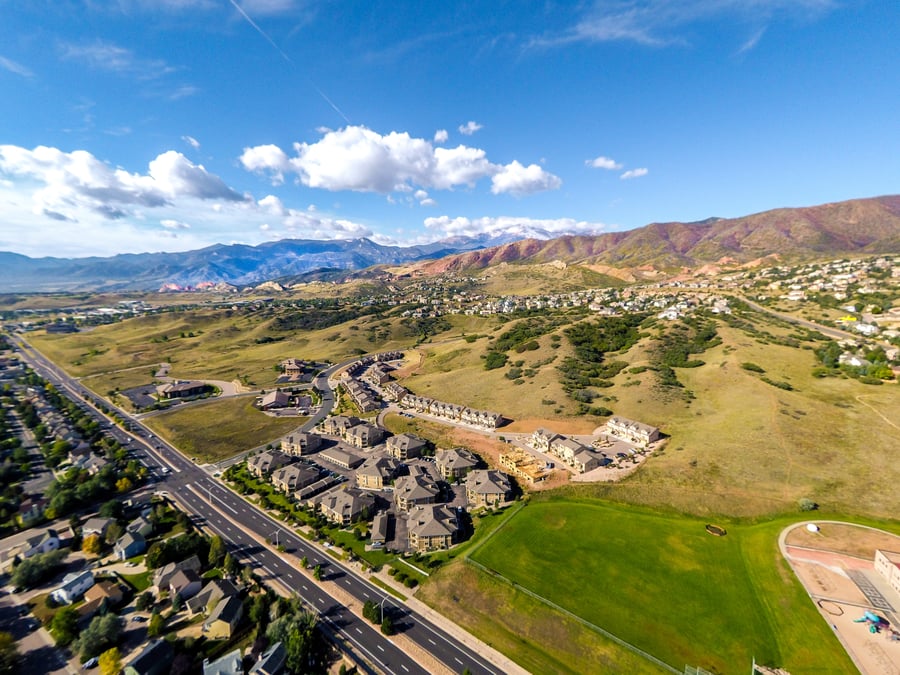 Centennial Boulevard, Colorado Springs. Photo by Russell Smith on Unsplash.
Popular Off-Base Neighborhoods
Located just west of Interstate 25, those heading to Fort Carson or Cheyenne Mountain often seek housing off base in Manitou Springs, Broadmoor Bluffs, Briargate, Northgate, Fountain, and Powers.
Families headed to Peterson or Schriever SFB often look to Falcon, Peyton, and Calhan as favored eastern neighborhoods.
And those headed to the US Air Force Academy cite Monument, Palmer Lake, and Black Forest as sought-after northern locations.
Downtown Colorado Springs and Old Colorado City remain popular options across the board, with some even electing Denver. At about an hour and fifteen minute commute, Denver is a viable option for those seeking a culturally vibrant metropolitan lifestyle.
A Few Last Colorado Springs Housing Nuances
There are a few nuances to be aware of when selecting that perfect home, whether you intend to buy a home in Colorado or are searching for that ideal rental.
Lawns and Water
Whether you elect to rent or buy, pay special attention to the size and condition of the lot and landscaping. Water is expensive in the area, and a large plush lot may yield a higher water bill than you'd like. You may want to ask the listing agent or landlord for an estimate of the summer's typical utilities before signing on the dotted line.
Air Conditioning
A/C is not standard in many Colorado homes or apartments, so you'll want to pay attention to the primary sun exposure for the home. If the home's exposure is largely southern and western facing, that side of the house will experience strong sunlight and heat, particularly in the summer months. Likewise, northern facing or east exposures will experience less intense sun exposure and remain cooler, which could accumulate ice and snow in winter months.
Colorado Marijuana Laws
Marijuana is legal in Colorado, and this includes the ability to grow it in homes for personal use. Ask either the leasing agent or realtor if the home has ever been used as a grow house and preferably take a physical tour of the property to determine if there is any lingering smell or moisture issues from indoor cultivation.
With no shortage of outdoor adventures and a vibrant arts and culture scene, military families tend to love the Springs.
If a move to Colorado Springs is in your future, you won't want to miss MilitaryByOwner's free regional guide! Get additional insider info on house hunting tips, local schools, military spouse employment, and more.