7 Things to Know Before Renting Out Your Home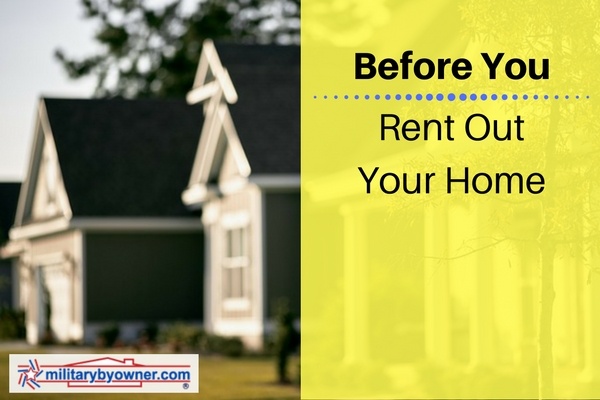 As the toasty days of summer melt away, thoughts of cool fall breezes fill my mind. Daydreams of orange gold mums planted in flowerbeds. Visions of pumpkins and gourds displayed on the front porch.
Then, wouldn't you know it--my spouse comes home from work and shares unexpected news. We have military orders to a new assignment. Apparently, we will not be enjoying the fall season in this home. Boo!
The good news is we could easily be stationed here again. With that in mind, we've decided to keep our home and rent it out. Now the real fun begins!
What do we need to know as we take on this new role as a landlord?
Thankfully, MilitaryByOwner has answers for the many questions we have. Are you facing an unexpected change of assignment? Or do you anticipate an upcoming military move?
From my research with MilitaryByOwner, I've gleaned some good stuff to get the ball rolling as a landlord. Consider the following points.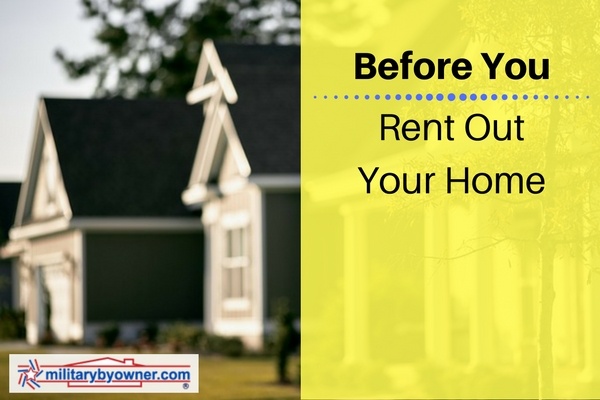 1) Organize.
By virtue of being a landlord, you've now started your own business. With that in mind, it's a good idea to be as organized as possible. Perhaps purchase an accordion file for safe keeping of any/all receipts. Keeping receipts in order may help when you need to itemize your deductions at tax time.
2) Learn the law.
It may not be a real page-turner, but you'll want to read through the state and federal fair housing laws. Visit the U.S. Department of Housing for documents that detail the Fair Housing Act.
A little bit of homework now may prepare you if any unexpected legal issues arise later. When looking for accurate forms to address the legal requirements, MilitaryByOwner offers various options via U.S. Legal Forms.
3) Timing is important.
When initiating a Residential Rental Lease Agreement from U.S. Legal Forms, you may want to ponder the timing. What length of time do you want a tenant to reside in your home? 6 months? 1 year? 2 years?
In our case, we are unsure how long our new assignment may be. We hope to find a tenant to lease our home for at least one year with the option to renew if they prefer to stay another year.
4) Lease specifics.
While creating a lease, you may add as many or as few details as you'd like, such as:
Amount of rent
Amount of security deposit
Smoking or Non-smoking
Pets allowed, pets upon approval, or no pets
Landscaping service provided or tenant responsible for landscaping
Tenant responsible for utilities or landlord covers utilities
Parking permit provided or tenant applies for parking permit
All these little pieces (and more) fit together to create a bigger picture, personalizing the lease for your home and your situation.
RELATED: DOWNLOAD FREE LANDLORD/TENANT EBOOK
5) Think like a tenant.
As for the home itself, consider a walkthrough of your property as if you are seeing it through another person's eyes. This walk-around may highlight any repairs that need to be done before a tenant moves in. If a home is in move-in ready condition, it may lead to less headaches down the road.
6) Listing your property.
Paperwork? Done. Repairs? Complete. Now it's time to list your property. Having MilitaryByOwner by your side will make it simple to create an alluring ad. As outlined in Expert Tips For Placing Your MilitaryByOwner Ad, the steps to building an online listing are as user-friendly as possible.
If you happen to hit a bump along the road, the helpful Customer Service team members are just a phone call or mouse click away. If you prefer a visual guide, take a gander at this Ad Submission Tutorial video, which offers step-by-step instructions.
Within your ad, here are a few questions you may want to answer:
What is included with the rent? Such as utities paid, landscaping paid, etc.
Which school district is the property zoned for?
What amenities are in the area? List a community swimming pool, local parks, or convenient shopping or dining.
7) Draw potential renters in with photos.
When I'm looking online for properties, I am immediately drawn to listings that include a photo. Once I've clicked on the ad, stellar photos continue my interest. Honestly, the quality of photos taken around the home either makes or breaks it for me. To keep a viewer interested, consider photographing your home at its best. Trust me, it will set your listing apart!
After creating your super star listing on MilitaryByOwner, you'll want to share, pin, favorite, post, tweet--whatever it takes to get the word out! Allow popular social media platforms such as Facebook, Twitter, Instagram or Pinterest to do the work of marketing for you.
RELATED: USE THE POWER OF SOCIAL MEDIA TO SELL YOUR HOME
With a handy Residential Lease Application form for each candidate, you'll soon be able to screen for an ideal tenant. Most prospective tenants understand the need for credit and background checks. No matter if the candidate may be a referral from a friend or a co-worker, treat each applicant the same and trust your instincts.
When you find a compatible tenant and have the lease, deposit and rent squared away, make sure to keep up positive communication. Make it clear what you expect from the tenant and what they may expect from you as their landlord.
If, like our family, you need to rent your home before leaving for a new assignment, rely on the bevvy of resources available at MilitaryByOwner. The idea of becoming a landlord may seem far less intimidating!