Landlords, Should You Allow Pets in Your Rental Property?
As a landlord, you've probably given some thought as to whether or not you should allow pets in your rental property. And if you're catering to military renters, it's especially important to consider.
Why?
A large number of military families move with pets, and will immediately pass by your property listing if you have a "no pets" policy. Allowing pets opens you up to a broader pool of tenants. You can even justify charging a higher rent for a pet-friendly property.
Military landlords often have mixed feelings about pets. Some require hefty deposits, while others allow no pets at all. Many landlords admit their properties rent much more quickly when allowing pets. Some say tenants are going to bring their pets anyway, so why fight it? In their view, it's better to require a pet deposit upfront to offset any possible damages and have guidelines in place. Take a look at these facts:
A recent Apartments.com survey reports that 72% of renters own pets.
Statistics show that, overall, pet owners make good tenants.
Pet owners are more likely to renew a lease.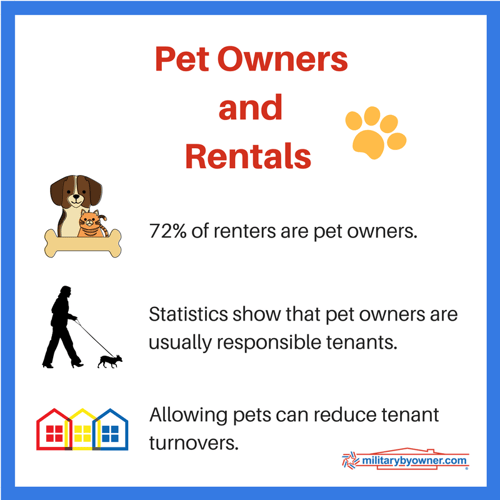 Landlords, Should You Allow Pets in Your Rental Property?
Of course, only you can decide if it's worth allowing pets in your rental property. If you don't want pets in your rental home, be sure to state this clearly in your lease. But if you do rent to pet owners, it's important to take a few steps to protect your property and understand your legal obligations.
1) Require a pet fee.
Whether you call it a pet deposit, non-refundable pet fees, or a monthly "pet rent," charge a reasonable fee to repair any damages or pay for carpet or other cleaning on move out.
Not sure how much to charge? Take a look at your local rental market to see what the going rate or deposit is for pet-friendly rentals.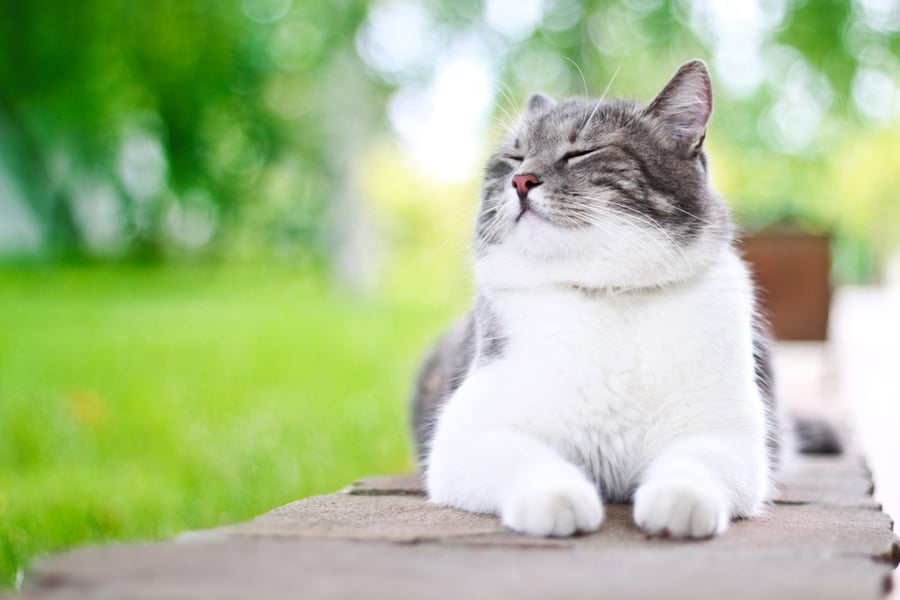 2) Add wording to your lease addressing your pet requirements. Include important points:
You may wish to approve dogs based on weight rather than breed. For instance, some leases allow dogs only under twenty pounds. Add wording for approval on a case-by-case basis if that's what you plan to do.
Whether or not you require proof of spaying/neutering.
Require renters insurance. This will cover your tenants and you in the event of accident or bite.
Stipulate that pet waste will be removed regularly and where it's to be placed (for instance, in outside trash bins only).
Require proof of current vaccinations and that cats and dogs are microchipped and wear tags.
Behavior: that pets will be kept under control at all times or leashed when outside.
No tethering of animals or left outside in a fenced yard in extreme temps or at night.
Tenants are responsible for any damages caused by pets.
Whether or not exotic pets are allowed, and what type.
MilitaryByOwner's partner, US Legal Forms, has pet specific addendums for rental properties.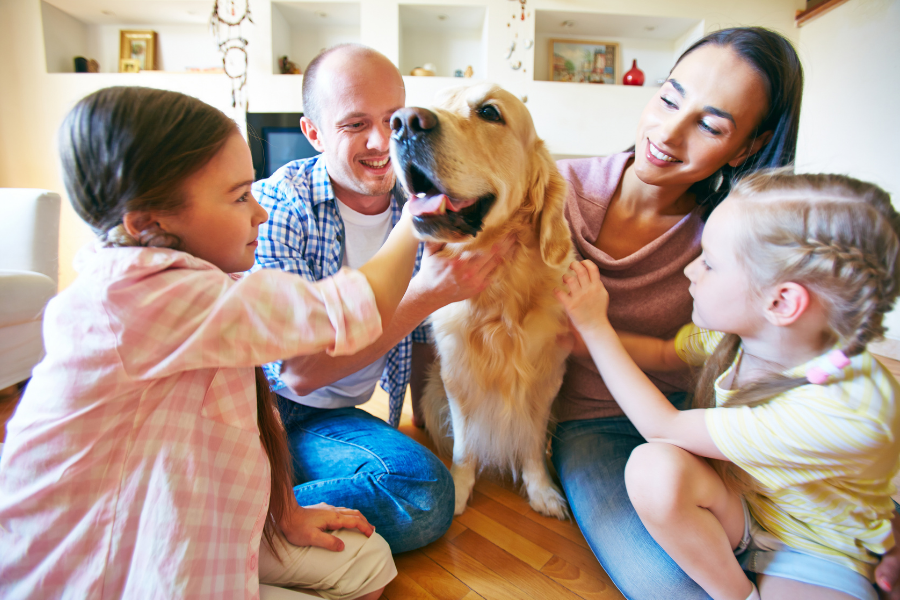 3) If you allow pets in your rental, stipulate how many and what kind.
The number of pets you allow should make sense for the property size. You might choose to limit exotic animals or certain breeds, as well as require your tenant to seek approval for pets. Also, if you plan to return to the home some day, you might enforce tighter guidelines if someone in your family has a pet allergy.
Some insurance companies won't issue renters insurance for certain dog breeds, such as pit bulls, so check with your insurance provider before deciding which pets to allow.
What about small pets or fish tanks? You may decide on a policy of cats and dogs only, and no exotics (lizards, chinchillas, rabbits, etc.) Even small animals can create damage if let out to roam, and large fish tanks can cause carpet damage or flooding issues.
Add wording to your lease along the lines of "tenant's pets only" if you don't want a tenant caring for extra pets on your property. Also include specifics about visitors' animals, including if they're allowed, length of stay, and so on.

4) Understand what's required of landlords in regards to service animals.
Under law, landlords must provide "reasonable accommodation" for service or support animals. For more information, Avail has an in-depth article on the topic of service animals and rental properties. Be sure you are complying with the Fair Housing Act as well as local and state laws. Check with the ADA site for the latest laws regarding service and emotional support animals.
The Department of Housing and Urban Development (HUD) provides further clarification on service and assistance animals to help housing providers understand their responsibility when it comes to reasonable accommodation.
5) Check your HOA for regulations.
Your homeowners association probably has rules in place regarding breed, types, and number of pets on your property. If you're renting out a condo, there will certainly be regulations regarding pets, including noise that would disturb neighbors.
But what recourse does a landlord when it comes to pet issues?
Whether it's an unauthorized pet, noise complaints from neighbors, or obvious signs of neglect, you as a landlord will need to become very familiar with your state and local law. Photographic evidence may be necessary, or you or your property manager may see something suspect during a routine maintenance call or regular inspection that requires action.

What to do?

While we can't give legal advice, a landlord would need to first provide a written notice of the lease violation and the timeline in which it needs to be remedied. If the violation isn't corrected, you may need to move forward with an eviction notice. Fines may be part of this process, as well as any fees for damages incurred. Learn more in RentPrep's post, My Tenant Got a Dog Without Permission: Now What?

Many families consider their furry friends members of the family. By opening up your rental to pet owners, you can provide support to military families and also broaden your potential pool of renters. See the infographic below for even more tips.
Are you a landlord? Share your best tips regarding tenants with pets!