5 Creative Alternatives to Backyard Swingsets for Military Families
Every birthday or major holiday that has passed since I became a parent, I've wistfully looked at advertisements for swingsets and playhouses, wishing we could put one in our backyard for our kids. As a military family, we have lived in rentals or homes that we knew were only for a couple of years, and investing in a structure for thousands of dollars that we would need to leave behind is not a wise choice.
We've made great use of local parks, splash pads, and playgrounds to get our family outside. However, there's some afternoons and evenings when the kids need to get energy out or it's beautiful weather to sit on the back patio, and we want our home to have enjoyable outdoor spaces, too.
Military families do have options for purchasing patio furniture and play equipment that is affordable, age appropriate, and light enough to move on each PCS! Below are five alternatives to swingsets to make any backyard space inviting and portable for a PCS.
1) Slack Line Sets
While traditional swingsets are very expensive and not practical to move, several companies have started using slack lines and ratchets to create backyard fun that is cheaper and only requires two sturdy trees. If you have kids that love to act out game shows like The Floor is Lava or American Ninja Warrior, a slack line Ninja course might make the backyard a perfect training ground.
A variety of obstacle courses, swings, and climbing gear is available for families to set up an easily moveable jungle gym in their backyard (see photo below). Each set has weight, age, and placement requirements that you are responsible for following instructions for, but do a quick search on Amazon and you'll find an alternative to swingsets that can PCS with you.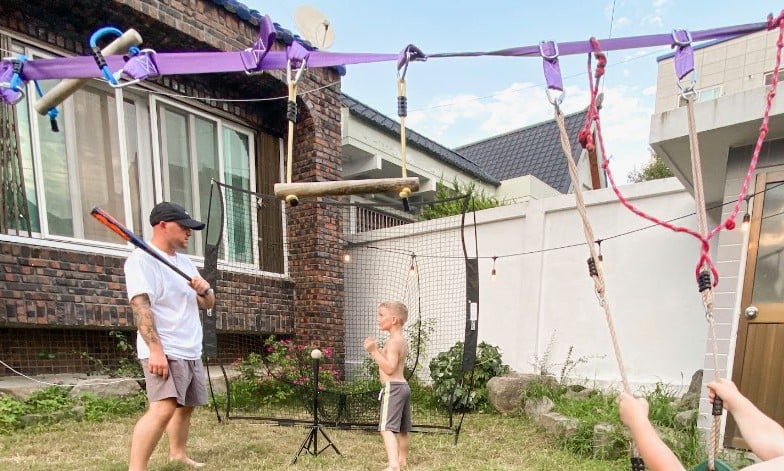 The Gonzalez family installed a slack line Ninja course and a portable batting cage in their small outdoor space to keep their active boys busy while stationed with the Army in South Korea.
2) Pollinator Gardens
When you know a move is on the horizon, the idea of planting a garden might seem overwhelming. Furthermore, some rentals may not allow you to make major changes to the yard. Potted plants and container gardens can be a family project that you can fit in any outdoor space, and if you select plants that attract pollinators, can be beneficial to nature.
Military families live in a multitude of regions and climates, and learning about local plant life can help you beautify your back yard while helping local insects and birds. The National Wildlife Federation has a tool to find which plants are native to your area, simply by inputting your zip code. Pollinators also need water sources, so bird baths or other containers with water, muddy water, or low levels of water with rocks for insects to land on can also encourage pollinators to visit your yard. Children can decorate bird houses or paint rocks to brighten up the area for decoration, too.
If you discover you have a green thumb or want to teach children about growing food, add herbs to your garden, many of which are easy to grow in a pot. Kids also love the concept of "zombie vegetables" which are plants that will regrow from the scraps you don't eat, such as green onions or celery.
If you can't take your potted plants with you, they make wonderful gifts to give to friends in the area before a PCS. Attach instructions for care, tie a beautiful bow around the pot, and gift your friend something to remember you by that you put lots of loving care into.


3) Mud Kitchens and Sensory Boxes
Sensory play—play that exposes children to different textures, smells, sights, sounds, and even sometimes taste—is wonderful for children as it encourages different types of thinking and skills. However, sensory play can be quite messy, so setting up sensory stations in the backyard is a way to encourage outdoor play and get the whole family outside.
Focus on smaller set-ups appropriate for your space. For example, an old play kitchen found at a thrift store can be turned into a mud kitchen with outdoor paint and sturdy small pots, pans, and utensils. Let children make mud pies while they giggle and get messy.
Water tables, sandboxes, and sensory tables that have bins you can fill are also available for purchase, and usually small enough to easily move when you PCS. Fill with items like water and small toys, water beads, kinetic sand, homemade playdough, or other non-toxic, outdoor safe textures.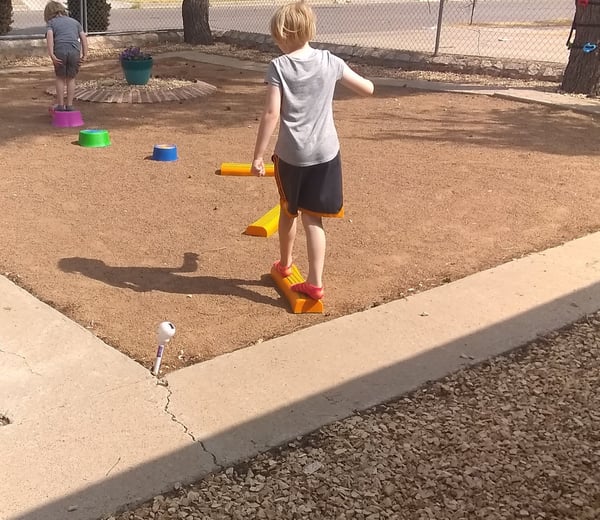 The author's children playing with the Step-A-Trail obstacle course for kids. Different textures and heights help build gross motor skills and add a splash of color.
4) Art and Music Centers
The outdoors can be a great place to inspire creativity and imagination for the whole family. Pinterest is full of ideas for making a music wall for kids to get all the loud noises out of their system outdoors before heading in for the night. This can be a way to talk about upcycling and sustainable art as well. Thrift old pots and pans, bells, wind chimes, and children's instruments and connect each to a pallet, wall, or existing fencing. Kids can explore what noises each makes with their hands, sticks, or even by spraying water at it. Combine a music wall with the above suggestions for sensory play by including old locks, toy gears, and different touch surfaces.
Art is a wonderful way to pass the time outside as well, and with non-toxic easy outdoor supplies, the backyard can minimize cleanup.
Several popular brands make plastic flip easels for kids with chalkboard and dry erase surfaces along with clips for large pieces of paper. Use a small weather-proofed shelf or cabinet to store art supplies like sidewalk chalk, paintbrushes, word magnets, or found objects to use for art like bottle caps, sticks, and seashells. Children will have a perfect place to create, or to do a fun activity with adult supervision. We've enjoyed some of these creative art projects:
The author's family making art on the back deck with paint filled eggshells on a plastic, double-sided Crayola easel for kids.
5) Entertain with Ease
For homes with older children, teens, or only adults, the outdoors, even in a small yard, can be a great place to entertain or spend time as a family. Be inspired by the newest season of Bridgerton and purchase fancy lawn games like a croquet set. Pair with an outdoor drink cart or upcycle one from a thrift or antique store to serve teas, lemonade, or old fashioned sodas for a fancy afternoon.
An outdoor storage box can be a great place to store games like your bean bags for corn hole, badminton, or a ring toss. If you only have an apartment or townhouse patio or deck, a board game like an outdoor Four Connect in a Row set, some small chairs, and a table to play games on can make for a perfect enchanted evening surrounded by potted plants and fairy lights.
Note: Of course, you are responsible for deciding what is safe and suitable for your own family. The author or MilitaryByOwner are not responsible for use of suggested equipment, DIY projects, or outdoor activities. Read safety guidelines, take precautions, and choose what might be right for your outdoor space!