Don't Scare off Prospective Home Buyers with These Photos!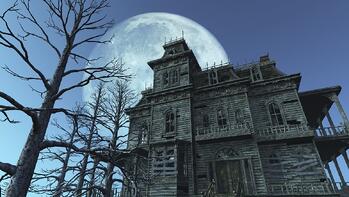 We're coming upon the busiest time of the year for relocating military families. Summer PCS time will soon be here, and many families who are preparing to either rent or sell their home will take advantage of these last few months by listing their home early. Keep in mind, the median time it took to complete a listing and home selling last year was 11 weeks. When you're preparing your house for a turnover, don't forget the importance of taking good photos.
But also realize that photos can scare off prospective home buyers! As Bruce Ailion, Atlanta-based Realtor and Attorney with Location, Location, Location writes, "Photos are not how a buyer selects the home they buy, but photos eliminate the ones they don't."
Buyers Don't Want to See a Dark and Gloomy Property
Sunshine has a critical effect on the photos you take of your property! Rob Levy, a principal broker with Keller Williams Realty Professionals in Portland, OR, says that home sellers should pay attention to the position of the sun when taking photos of their property. He explains, "If you are taking a picture of a dark brown house with the sun behind, it the house is going to show up very dark." At his office, he says that they use an iPhone app called LightTrac to help with their outdoor photos. The app, he explains, "...tells us where the sun will be at a particular location at a particular time of day. Doing this ensures the front photo will be lit the best, and it's the front photo that gets the majority of the looks."
Buyer's Don't Want to See a Problem with Your House
Don't give your buyer a reason to think there's a problem with your house. Deb Tomaro, a Broker Associate with RE/MAX Acclaimed Properties in Bloomington, IN, warns that having certain items in pictures of your home may suggest that your home either smells or that it "doesn't heat or cool adequately." As such, she suggests that you remove fans, ionizers, and space heaters from the scope of the lens when shooting listing photos of your room.
Kristin Geenty, President of The Geenty Group Realtors in Branford, CT, agrees with Tomaro. She adds that listing photographs should never include any hint of repairs taking place at your property. It isn't that you shouldn't complete repairs, but rather, Geenty explains, pictures of repairs should be limited to "a scrapbook, filing an insurance claim or documenting your progress," and not your home sale listing! Geenty explains that you shouldn't include photos of repairs because you may scare prospective buyers off. "Repairs underway in listing photos," she explains, "make buyers wonder what else should be fixed and whether the repairs were done well." She encourages sellers to wait until repairs are either complete, or sufficiently complete, to take partial photos. For example, she says, "If you have a blue tarp on your roof, wait until you can take it off or shoot the pic so that part of the roof doesn't show."
Bill Horne, Editor of The Telecom Digest, also encourages home sellers to avoid taking pictures of the roof of their homes. Again, it isn't that you should hide any trace of potential problems with your roof, or the fact that you completed a repair on a roof, but like Geenty, he thinks those repair issues are better left out of sight and out of the buyer's mind. "Everyone knows that roofs are troublesome and prone to leak," Horne says, "and they'll be put off and on their guard just because you reminded them of it."
Buyers Don't Want to See a Problem with Your Community, Either!
Buyers recognize that they are buying into a community. If your home has just a hint of disrepair showing in a photo, it could suggest that the entire community shares a value that home neglect is okay. Remember, buying a home is the biggest investment that most people make in their lives, and they don't want to feel as if they're getting a shoddy product. Ailion warns home sellers to pay attention when taking photos of their property. He says, "A missing or crooked shutter, overgrown grass and shrubs, a damaged gutter, mildew on the siding, or faded or peeling paint say to a buyer the seller does not care for the home or take pride in ownership." Not only does it say that you don't take pride in your home (even if you do), but it also suggests that "there are other owners who also do not maintain their home, and the community may have a problem."
If you're selling your home this PCS season, make sure you avoid scaring prospective buyers off by showing your home in the best light and by avoiding highlighting potential problems with your home in your photos. Remember, photos are the Internet Age's curb appeal!