Shut the Front Door! And Other Must-Have Photos for Your Home Listing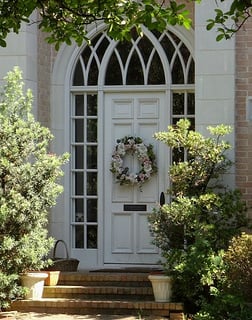 When searching for our next homes, most of us browse hundreds of listings as one of the first steps for identifying potential properties. Whether knowingly or not, we make judgments in mere seconds simply by viewing photographs.
In 2012, The National Association of Realtors and Google produced a study, The Digital House Hunt: Consumer and Market Trends in Real Estate, and it revealed that 90 percent of home buyers searched online for home listings. The study also calculated real estate searches on Google have increased 253 percent during the past four years.
This is a substantial audience to entice with the perfect photographs!
Photography is a powerful tool for buying, renting, or selling your home. Just look at these pictures from Salem, Oregon based professional real estate photographer, Larry Lohrman. Although we all may not need quite the level of professionalism he produces, it is worth noting how dramatically superior the homes appear.
However, be careful when using technology to show off your real estate. Buyers and renters will be disappointed and annoyed if, for example, a wide-angle lens was used to make a small room appear deceptively large. The photographs should reveal each room or location at its best, taking into account lighting and staging techniques.
MilitaryByOwner has a descriptive but compact guide for the top 10 photos needed for a successful home listing. Briefly, these are the rooms or qualities that should be included in your online photo collection:
Master Bedroom
Master Bathroom
Kitchen
Dining Room or Eating Area
Living Room
Entry Way
Backyard
Views from the Home
Outstanding Features in the Home
Community Amenities
On average, real estate websites offer 25 thumbnail pictures of a home listing, (MBO offers a Home Tour Plus package for your home sale that supplies 40 pictures) with the exterior photo as the listing's predominant feature. It makes sense then to spend more time getting those photos just right. Use this directional hour of the day guide to achieve your best angles and natural light for pictures of the outside of the house.
Homes facing:
West should be photographed in the evening, within two hours of sunset.
East need photos in the morning, within two hours of sunrise.
South should avoid overhead sunlight likely between 2pm and 4pm.
North need to calculate the time of day when the most sunshine lightens on your house. If there is not direct sunlight, a bright day will be your best bet.
Military spouse and Help-U-Sell Grein Group agent in Stafford, Virginia, Cindy Miller, offered her experience as to the importance of strong photos for listings and recommended these tips:
Load photographs logically as you would enter the home: outside shot of the house, entryway, foyer, living room, kitchen, and so on. She says to be especially mindful of the importance of a welcoming, well maintained, and purposefully painted front door. It can be a major point of reference for someone when trying to recall a home they have seen amongst many.
Update seasonal photos. Although a snowfall picture may seem appealing, she prefers pictures with a blue sky on a bright day with a clear yard. They show the best features to a buyer.
Always, always advertise with photographs! The accessibility of high resolution digital cameras has never been cheaper, and Cindy is surprised when clients are reluctant to supply quality pictures. Most home buyers will flat out ignore listings without them.
Photos on MLS listings are viewed best with horizontally oriented pictures.
Guides, tips, and suggestions from Resources and blog posts at MBO will help buyers, sellers, and renters learn to achieve attractive and high quality photographs of the most desired views of their properties.
---