Easy Updates To Help Sell Your Home [Video]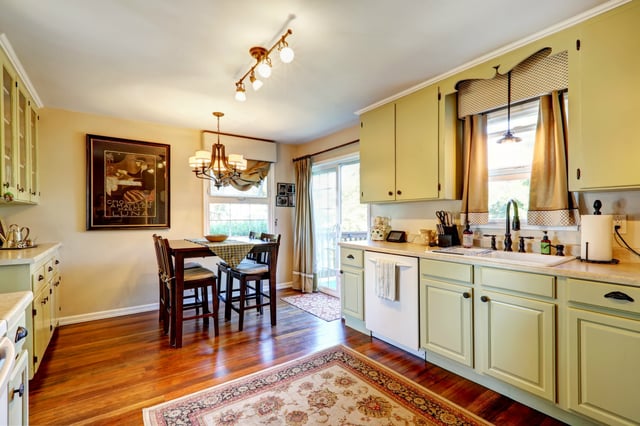 Like many people, I enjoy watching my favorite home improvement TV shows. As I gather inspiration, my imagination soars with home renovation possibilities. Then, I glance at my calendar app and realize we'll be up for a military move in about a year.
Reality check! I'll need to narrow down my "whole house transformation" dreams a bit!
As a military homeowner, you may also find yourself narrowing your focus and taking a good look at what investments will offer the best return when it's time to list your property for sale. Often, two project areas within the home stand out: the kitchen and the bathroom.
Here are a few more easy updates for your kitchen and bath!
Refinish the cabinetry:
When thoroughly cleaned, sanded, and primed, the cabinets can be painted to offer a fresh new look.
Crown molding added to the tops of tiered cabinets makes units look custom-built with far less expense.
If a cabinet door has a removable panel, add a glass insert for peek-through charm.
LED lighting adhered underneath the cabinets may shine a positive light on the countertop below. Also, lighting inside of the cabinets may give the illusion of more spacious storage capacity.
Shine a new light:
It may be time to bid farewell to the dated rectangle of fluorescent light bulbs perched on the ceiling. Consider a more modern feel with track lighting. The flexible sockets can adjust where points of light are needed most.
Or, perhaps your kitchen ceiling has a remarkable "can-do attitude" with can lights? It may look more appealing if the can lights are replaced with a dangling pendant over the sink or island.
If the dining area of your kitchen space includes a lighted ceiling fan, spin positive change with a new sconce. Also, you may want to give replacement fan blades a whirl.
Depending on how far your budget stretches, you may want to:
Switch out the kitchen sink from stainless to porcelain, or vice versa.

Upgrade the existing countertops

if they're tile or laminate. Rather than granite, consider a more affordable option, like quartz.
Add a matching backsplash to fully showcase the new countertops.
Update the Bathroom
Another room at the core of most every house is the bathroom. From dreams of luxurious spa amenities to whims of ample storage for vanity items, many have visions of grandeur with a bathroom retreat. If a complete overhaul of the loo is a pipe dream, keep these powder room projects in mind.
Put in new flooring:
If you're looking for flooring that is easy to take care of, consider porcelain or glazed tile.
If you'd prefer non-slip flooring, look for tiles with a matte surface or a textured glaze.
Keep in mind, good quality textured vinyl flooring may give the room a new look with less expense.
Freshen up your tub or shower:
Consider updating your old bathtub with a new surface. A wraparound liner can be custom fitted to your existing tub.
On a similar note, think of investing in a new surface for your shower stall. Now available in a wide variety of colors and textures, a fiberglass insert may give the illusion of tile without the added expense.
Light it up:
Consider wall sconces on either side of a centrally located mirror.
Or, dangle an industrial themed chandelier within the room.
Or, center a three or four bulb fixture above the vanity.
While watching my favorite home improvement shows, I've noted that potential buyers gravitate towards what is stylish and new, notably in rooms like the kitchen and the bath.
As you prepare to sell your home, in mind that the overall goal is to give a potential buyer the peace of mind that your home has been well cared for.