Farmhouse Style Living Near Robins Air Force Base
This year, your house shopping standards for a PCS to Robins Air Force Base in Georgia have likely been reframed by what your previous home did NOT have. Pre-pandemic, multiple acres of land, seclusion, abundant square footage, and built-in recreational options probably weren't all at the top of your must-have list. Now, however, not one, but most of these amenities are in high demand.
When envisioning your future home in Georgia, did owning a farm estate seemingly a world away from work responsibilities (yet only a 30-minute commute) cross your mind? Did you see a lush, green pasture perfect for horses? Or a line of colorful Crepe Myrtles lining the drive into your three-car garage? How about an afternoon spent poolside?
If so, you've got an eye for fabulous real estate and are about to encounter precisely the property you've been daydreaming about while working from home.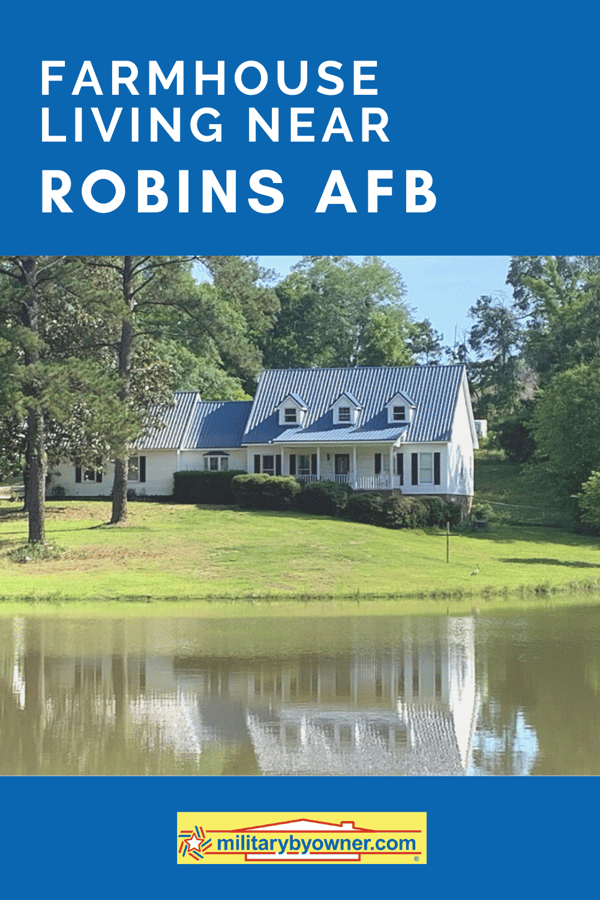 Live the Farm Life You've Always Wanted in Macon, Georgia Near Robins AFB
MilitaryByOwner Listing #MBO1461136
For Sale: $375,000
Is there a better phrase for the home buyer looking for quaintness and tranquility than "mini-farm"? This property is self-contained and spread over nearly 15 acres. It provides a private home experience like no other and has easy access to downtown Macon, I-16, and I-75. All are only 10 minutes away.
Just beyond the 4-bedroom, 2.5-bathroom 3,000-square-foot-home lies the farmland, pasture, paddocks, and outbuildings needed to house a variety of livestock, including horses, cows, and goats. The property has a large workshop, a tractor barn, and a cattle chute, all ready to accommodate the farm life you've wished for.
In front of the house, a two-acre stocked bass lake means a picnic, and a relaxing afternoon of fishing is never too far away. After fishing, a quick dip in the in-ground pool will invigorate everyone planning to stay for an evening get-together in the fenced back yard.
Although owning a farm does allow for a step back from the buzz of city life, new technology isn't sacrificed in the home. Recent updates inside include the downstairs HVAC and furnace in 2017 and the water heater in 2019. Outside, a new roof, pool pump, and liner were updated in 2016.
Because the farm is located in a subdivision, the property has been outfitted with high-speed internet, which is ideal for wiring the office space and flex room inside the house.
The opportunity to own a farm at this price point with access to city conveniences and Robins Air Force Base couldn't come at a better time. Take advantage of this home sale to enjoy wide-open space, clean air, and enviable at-home amenities.
Click below to view more homes for sale or rent near Robins AFB!