Happy 244th Birthday, Marine Corps!
Another year has come and gone, and here's to all our U.S. Marine Corps have accomplished and all the victories that are to come. Let's join in the celebration and take a look at what these remarkable service men and women have done this past year.
Happy 244th Birthday, Marine Corps!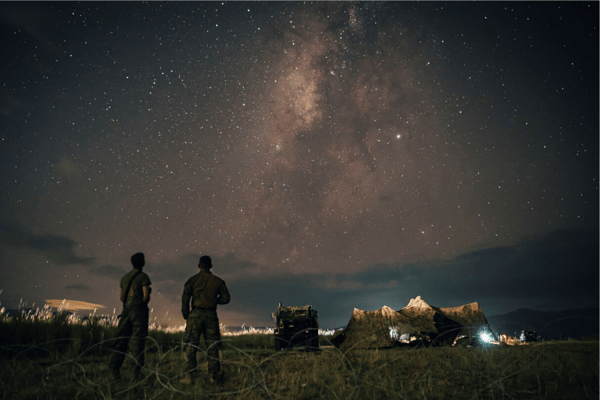 U.S. Marine Corps photo by Staff Sgt. Donald Holbert
OCTOBER 2019
U.S. Marine Corps Lance Cpl. Davon Moore, left, a field artillery cannoneer, and Gunnery Sgt. Nicholas Cantu, the motor transportation chief, both with Alpha Battery, Battalion Landing Team 3/5, 11th Marine Expeditionary Unit, observe the night sky at Colonel Ernesto Ravina Air Base, Philippines, during exercise KAMANDAG 3, Oct. 16, 2019. KAMANDAG advances military modernization and capability development through subject matter expert exchanges.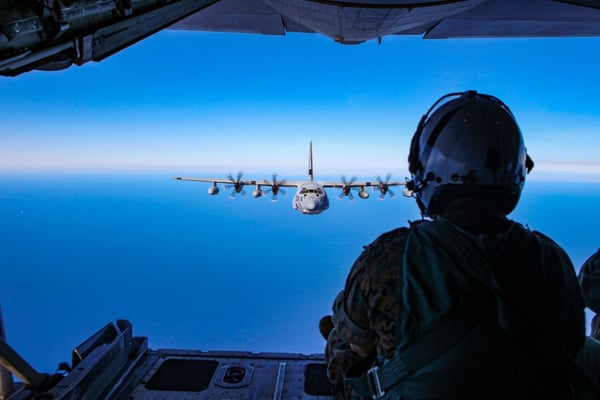 U.S. Marine Corps photo by Capt. Clayton Groover
SEPTEMBER 2019
A U.S. Marine Corps KC-130J Super Hercules with Special Purpose Marine Air-Ground Task Force-Crisis Response-Africa 19.2, Marine Forces Europe and Africa, flies off the coast of Spain during an air-to-air refueling rehearsal Sept. 24, 2019. The aviation combat element rehearses aerial refueling to maintain proficiency and increase the operational reach of supported aircraft. SPMAGTF-CR-AF is deployed to conduct crisis-response and theater-security operations in Africa and promote regional stability by conducting military-to-military training exercises throughout Europe and Africa.
U.S. Marine Corps photo by Petty Officer 3rd Class Keypher
AUGUST 2019
Assault Amphibious Vehicles assigned to the 11th Marine Expeditionary Unit cruise towards land after exiting the well deck of the amphibious dock landing ship USS Harpers Ferry. Harpers Ferry is part of the Boxer Amphibious Ready Group and 11th MEU and is deployed to the U.S. 5th Fleet area of operations in support of naval operations to ensure maritime stability and security in the Central Region, connecting the Mediterranean and the Pacific through the Western Indian Ocean and three strategic choke points.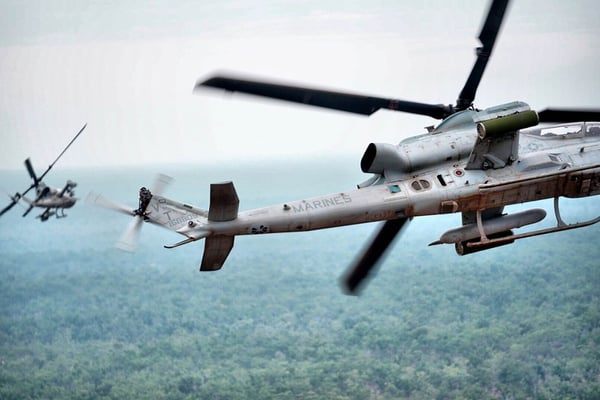 Photo by Capt. Daniel Keech
JULY 2019
U.S. Marine Corps AH-1Z Viper light attack helicopter conducts an aerial break to perform forward arming and refueling operations in support of the multinational training of Marine Rotational Force - Darwin Australia, July, 2019.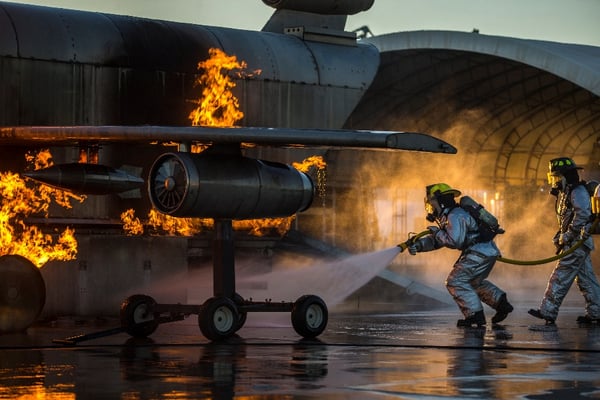 U.S. Marine Corps photo by Lance Cpl. John Hall
JUNE 2019
U.S. Marines with Aircraft Rescue and Firefighting, Headquarters and Headquarters Squadron (H&HS), Marine Corps Air Station Yuma conduct hand line drills during live burn training on MCAS Yuma, Arizona, June 25, 2019. Hand line drills focus on techniques to push fuel fires away from aircraft, ARFF Marines train monthly to enhance their readiness when responding to emergencies on the flight line.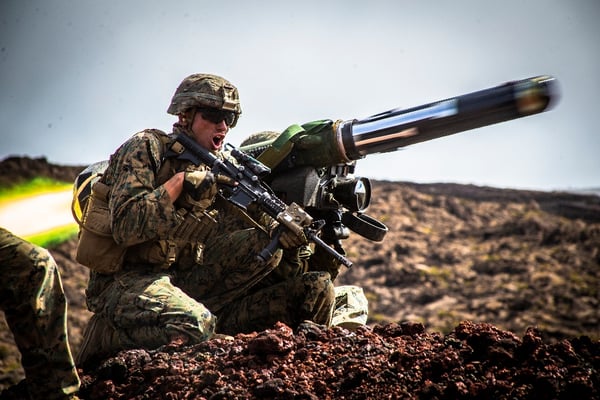 U.S. Marine Corps photo by Lance Cpl. Jacob Wilson
MAY 2019
U.S. Marine Corps Sgt. Troy Mole, section leader, Combined Anti-Armor Team, Weapons Company, 2nd Battalion, 3rd Marine Regiment, fires a shoulder-fired Javelin missile during Exercise Bougainville II on Range 20A, Pohakuloa Training Area, Hawaii, May 15, 2019. Bougainville II is the second phase of pre-deployment training conducted by the battalion in order to enhance unit cohesion and combat readiness.
U.S. Marine Corps photo by Lance Cpl. Nathaniel Hamilton
APRIL 2019
A Screening Obscuration Module attached to a Utility Task Vehicle is autonomously activated during the Robotic Complex Breach Concept on Yakima Training Center in Yakima, Washington, April 26, 2019. RCBC allows the military to utilize autonomous systems that provide increased awareness on the modernization of the equipment.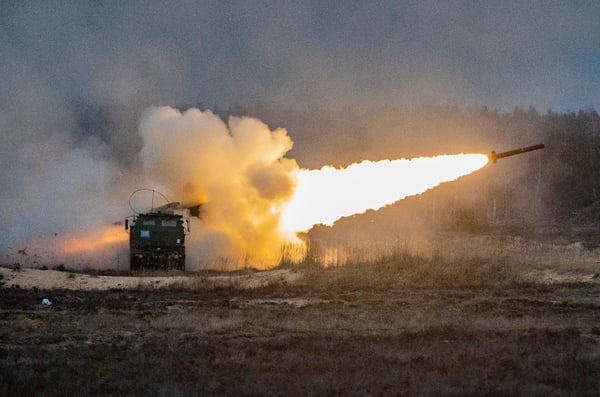 U.S. Marine Corps photo by Sgt. Andy Martinez
MARCH 2019
U.S. Marines with Fox Battery, 2nd Battalion, 14th Marine Regiment, 4th Marine Division, launch rockets from a High Mobility Artillery Rocket System during live-fire training at Adazi Training Area, Latvia, March 7, 2019, in support of exercise Dynamic Front 19. Exercise Dynamic Front 19 includes approximately 3,200 service members from 27 nations who are observing or participating from Grafenwoehr Training Area, Germany; Riga, Latvia; and Torun, Poland; during March 2-9, 2019. Dynamic Front is an annual U.S. Army Europe exercise focused on the readiness and interoperability of U.S. Army, joint service, and allied and partner nations' artillery and fire support working together in a multinational environment.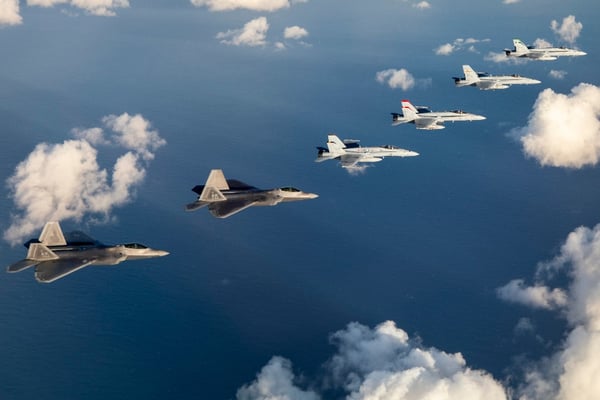 U.S. Marine Corps photo by Chief Warrant Officer Wade Spradli
FEBRUARY 2019
Four F/A-18 Hornets from Marine Aircraft Group 11, 3rd Marine Aircraft Wing, fly in close formation over the Southern California coast with two F-22 Raptors from 3rd Operations Group, Elmendorf Air Force Base, Alaska, Feb. 6. The flight commemorated joint training achieved during exercises Winter Fury 2019 and Patriot Grizzly 2019.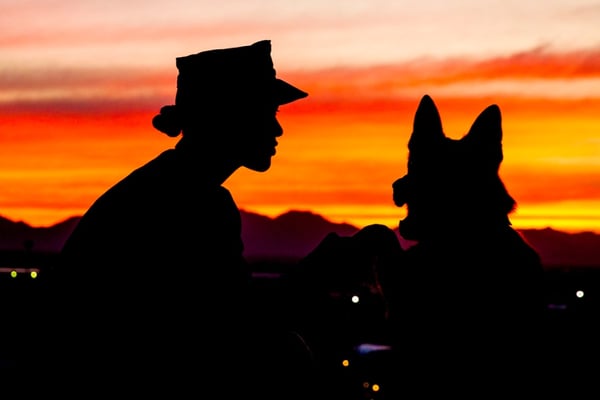 U.S. Marine Corps photo by Sgt. Allison Lotz
JANUARY 2019
Sgt. Jenna L. Cauble, a dog handler, with Marine Corps Air Station Yuma poses for a silhouette photograph with her military working dog, Ken, on Marine Corps Air Station Yuma, Arizona on January 18, 2019.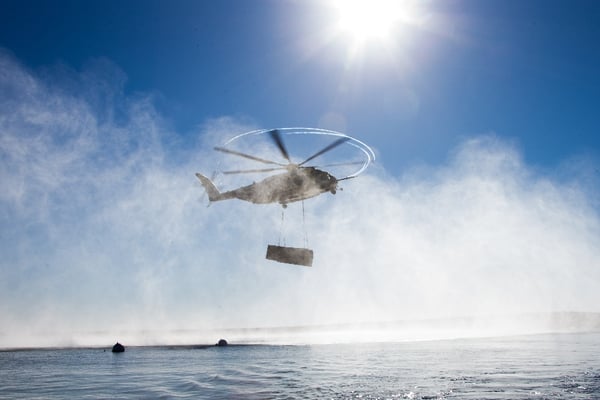 U.S. Marine Corps photo by Lance Cpl. Betzabeth Galvan
DECEMBER 2018
A U.S. Marine Corps CH-53E Super Stallion drops an improved ribbon bridge at Del Mar Boat Basin, Camp Pendleton, California, Dec. 13, 2018. The operation was conducted to increase tactical bridging proficiency during an Improved Ribbon Bridge operation.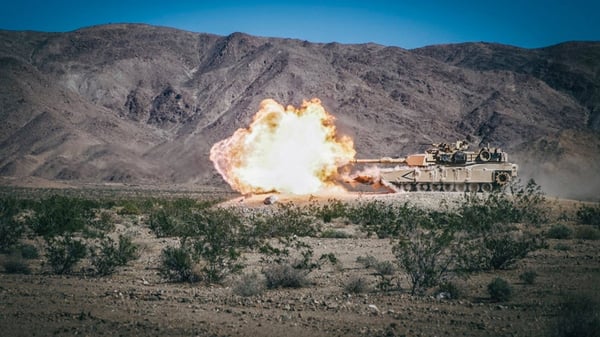 U.S. Marine Corps photo by Lance Cpl. Dalton S. Swanbeck
NOVEMBER 2018
An M1A1 Abrams Main Battle Tank with Battalion Landing Team 3rd Battalion, 5th Marine Regiment, 11th Marine Expeditionary Unit fires its main gun during a pre-deployment training exercise at MAGTF Training Command/Marine Corps Air Ground Combat Center at 29 Palms California, Nov. 9, 2018.
To all our nation's Marines and families, we say thank you!