Happy Birthday, U.S. Air Force!
From its earliest days of fixed-wing aircraft in the ground attacks and aerial dogfights of World War I, the U.S. military has led the fight in the skies. Building on the shoulders of our country's renowned pilots like Billy Mitchell, the "father of the U.S. Air Force" who understood the need for air superiority and advocated for an independent Air Force in the years following WWI; Chuck Yeager, who first exceeded the speed of sound in 1947; and the Tuskegee Airmen, the first African American aviators in the Army Air Corps, the precursor to the Air Force, our country's air dominance continues to this day.
The U.S. Air Force, as we know it now, was established on September 18, 1947. Since that time, American Airmen continue to do amazing things all around the world and are the preeminent force in air, space, and cyberspace. With a Vision Statement of "The World's Greatest Air Force—Powered by Airmen, Fueled by Innovation," The Airman's Creed sums up every Airman's promise to their country and their fellow Airmen.
I AM AN AMERICAN AIRMAN.
I AM A WARRIOR.
I HAVE ANSWERED MY NATION'S CALL.

I AM AN AMERICAN AIRMAN.
MY MISSION IS TO FLY, FIGHT, AND WIN.
I AM FAITHFUL TO A PROUD HERITAGE,
A TRADITION OF HONOR,
AND A LEGACY OF VALOR.

I AM AN AMERICAN AIRMAN.
GUARDIAN OF FREEDOM AND JUSTICE,
MY NATION'S SWORD AND SHIELD,
ITS SENTRY AND AVENGER.
I DEFEND MY COUNTRY WITH MY LIFE.

I AM AN AMERICAN AIRMAN.
WINGMAN, LEADER, WARRIOR.
I WILL NEVER LEAVE AN AIRMAN BEHIND,
I WILL NEVER FALTER,
AND I WILL NOT FAIL.
Happy 72nd birthday to the U.S. Force! Take a look at a few amazing moments from this past year. (All photos via official USAF website)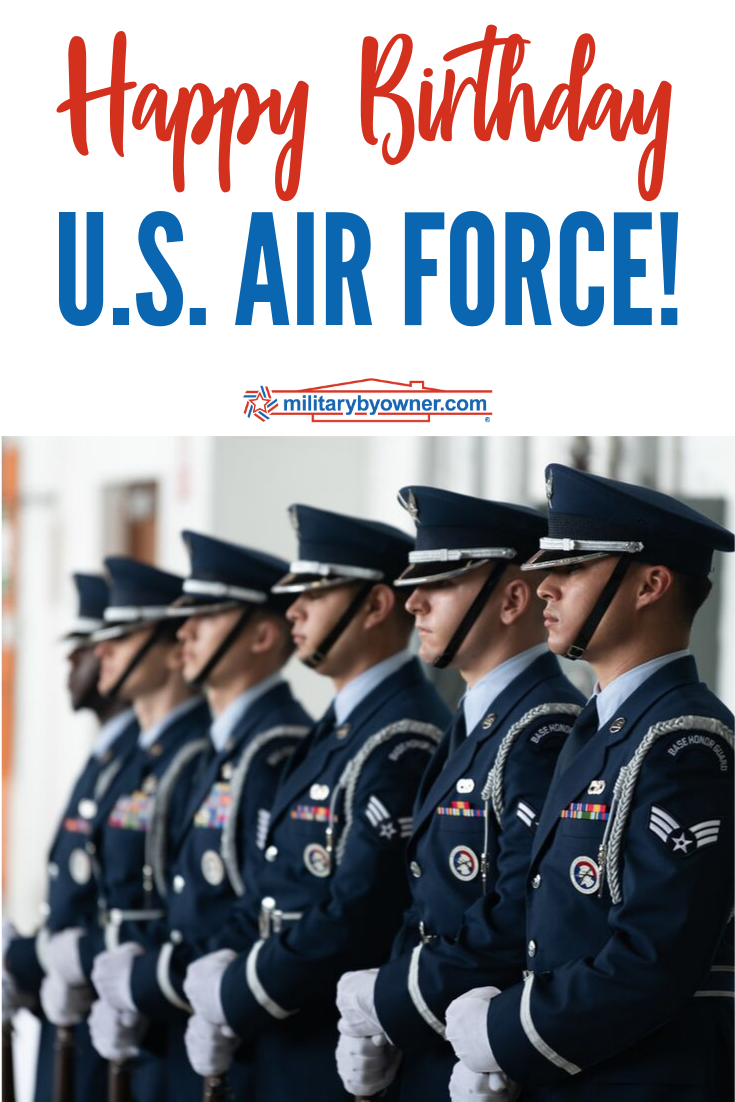 Happy 72nd Birthday, U.S. Air Force!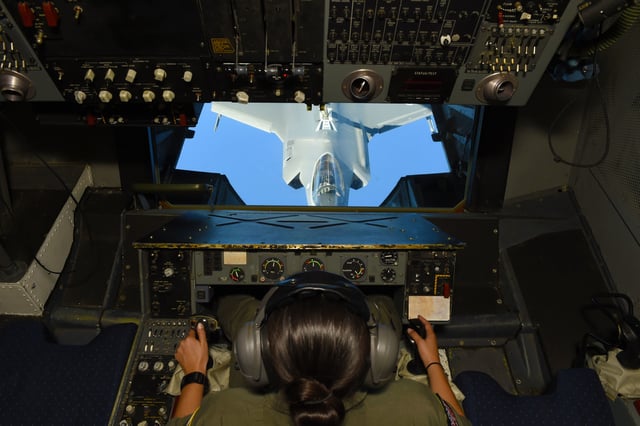 Tech. Sgt. Arriel Bromley, 78th Aerial Refueling Squadron in-flight refueler, out of McGuire Air Force Base, N.J., operates the fuel injection arm of a KC-10 Extender connected to an F-35 Lightning II for a mid-air refueling training mission during exercise Astral Knight 19 over the Adriatic Sea, June 3, 2019. Astral Knight is a joint, multinational exercise taking place throughout various locations in Europe, with more than 900 Airmen participating in the exercise. (U.S. Air Force photo by Staff Sgt. Joshua R. M. Dewberry)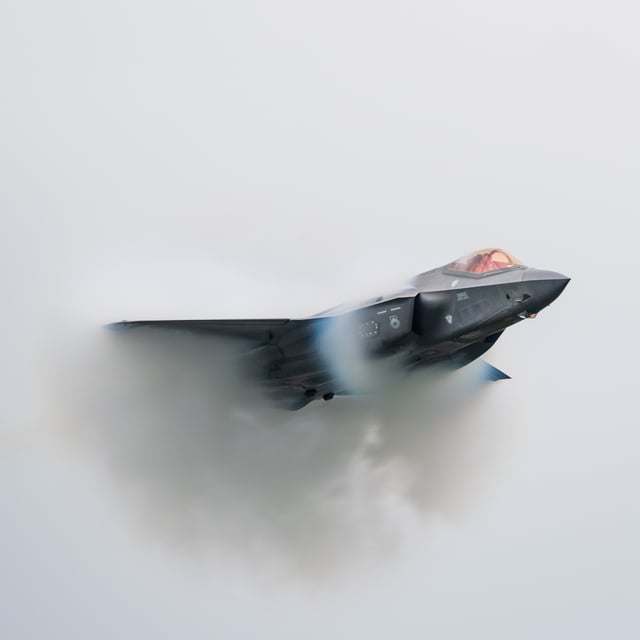 Capt. Andrew Olson, F-35 Lightning II Demonstration Team pilot and commander, performs aerial maneuvers during the Aero Gatineau-Ottawa Airshow in Quebec, Canada, Sept. 7, 2019. The team consists of 10 Airmen who help showcase the world's most technologically advanced fifth-generation fighter jet. (U.S. Air Force photo by Senior Airman Alexander Cook)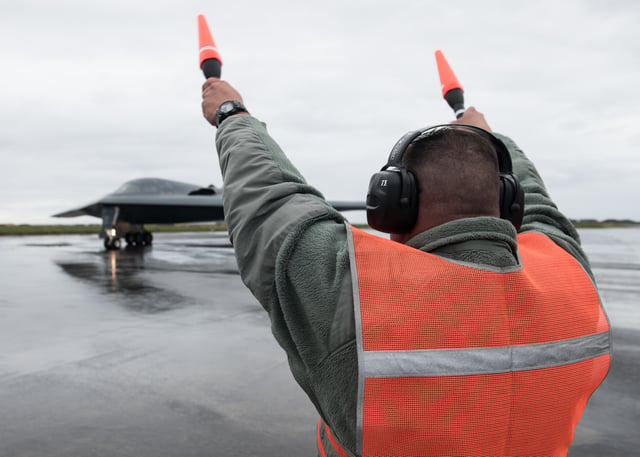 Master Sgt. Scott Smith, a 131st Maintenance Squadron Group hydraulics shop chief, marshals a B-2 Spirit at Naval Air Station Keflavik, Iceland, Aug. 28, 2019. This marks the B-2s first time landing in Iceland. While in Iceland, Airmen from Whiteman Air Force Base, Mo., conducted hot-pit refueling, which is a method of refueling an aircraft without shutting down the engines. (U.S. Air Force photo by Senior Airman Thomas Barley)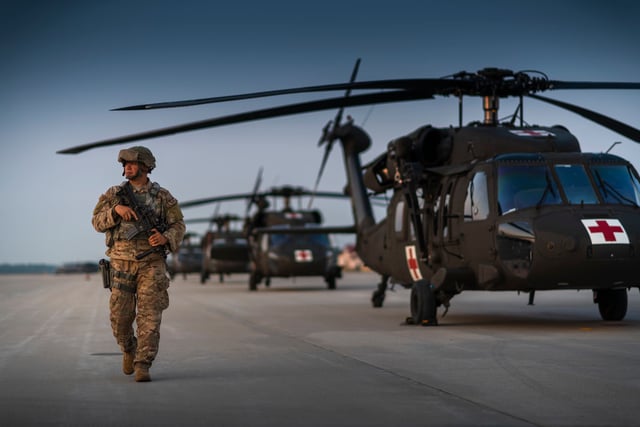 Tech. Sgt. Hai Spletstoser, a 116th Security Forces Squadron, Georgia Air National Guard, security forces specialist, walks the flight line at Alpena Combat Readiness Training Center, Mich., July 22, 2019, during exercise Northern Strike 19. Northern Strike 19 is a National Guard Bureau-sponsored exercise uniting service members from more than 20 states, multiple service branches, and seven coalition countries. (U.S. Air National Guard photo by Master Sgt. Scott Thompson)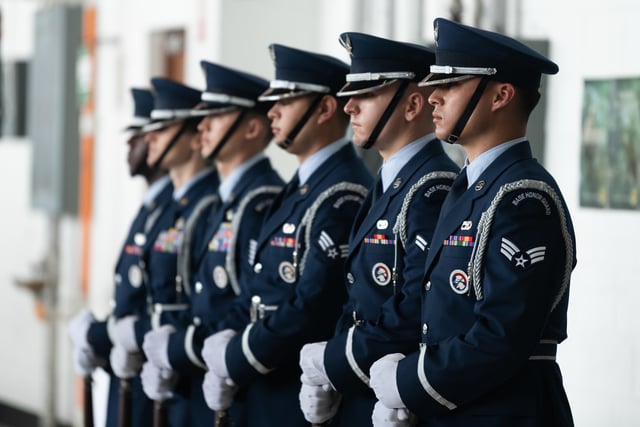 Airmen from the Kadena Honor Guard stand at ease during the 18th Wing change of command ceremony July 8, 2019, at Kadena Air Base, Japan. The change of command is a traditional military ceremony in which the departing commander assembles troops for presentation to the incoming commander. (U.S. Air Force photo by Airman 1st Class Matthew Seefeldt)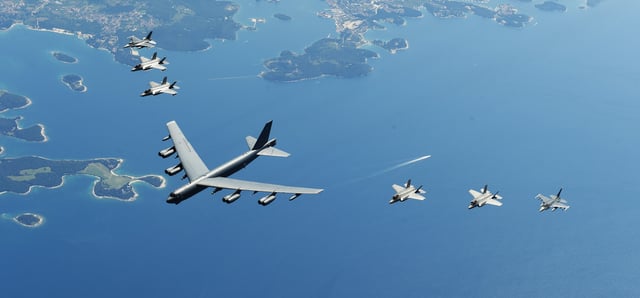 U.S. and Italian Air Forces aircraft consisting of F-35 Lightning IIs, F-16 Fighting Falcons and a B-52 Stratofortress, fly in formation over the Adriatic Sea during exercise Astral Knight 19, June 4, 2019. Astral Knight is an exercise taking place throughout various locations in Europe, involving more than 900 Airmen and supports the collective defense and security of NATO allies and U.S. forces in Europe. (U.S. Air Force photo by Staff Sgt. Joshua R. M. Dewberry)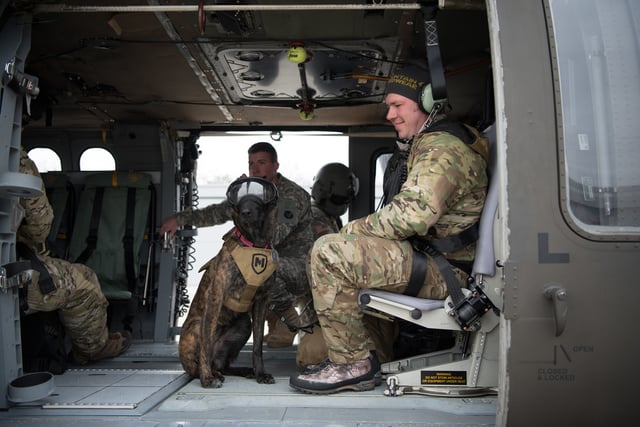 Tech. Sgt. Rudy Parsons, 123rd Special Tactics pararescueman, and his search and rescue dog, Callie, ride a UH-60 Black Hawk aircraft as part of Callie's familiarization training at the Boone National Guard Center, Frankfort, Ky., Nov. 29, 2018. Callie is currently the only search and rescue dog in the Department of Defense. (U.S. Air National Guard photo by Staff Sgt. Joshua Horton)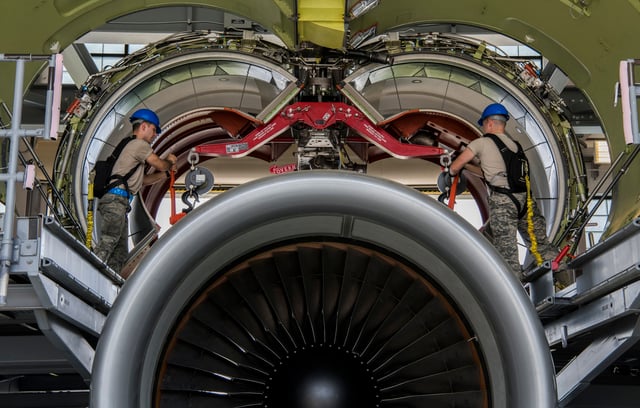 Senior Airman Chad Helminiak, 60th Aircraft Maintenance Squadron aerospace propulsion journeyman, left and Staff. Sgt. Randolph Quarteroni 725th Air Mobility Squadron aerospace propulsion craftsman, right, lower a C-5M Super Galaxy engine, June 6, 2019, at Dover Air Base, Del. The engine needs to be balanced from the front, back and from each side while it is being lowered and raised. In order to accomplish this, each Airman must be able to communicate effectively as a team all while cranking and checking the scales attached to the engine. (U.S. Air Force photo by Senior Airman Christopher Quail)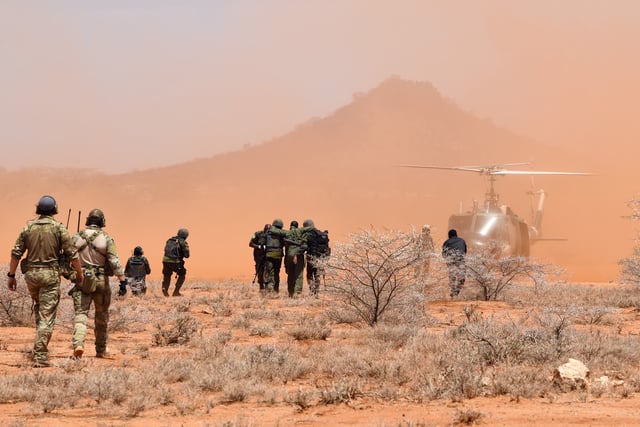 U.S. Air Force special tactics Airmen with the 22nd Special Tactics Squadron observe the culminating event of the African Partnership Flight Kenya 2019 program at Larisoro Air Strip, Kenya, Aug. 25, 2019. The event, Linda Rhino 2, incorporated multiple skills covered during the week-long program, including combat search and rescue, aeromedical evacuation and personnel recovery command and control. (U.S. Air Force photo by Master Sgt. Renae Pittman)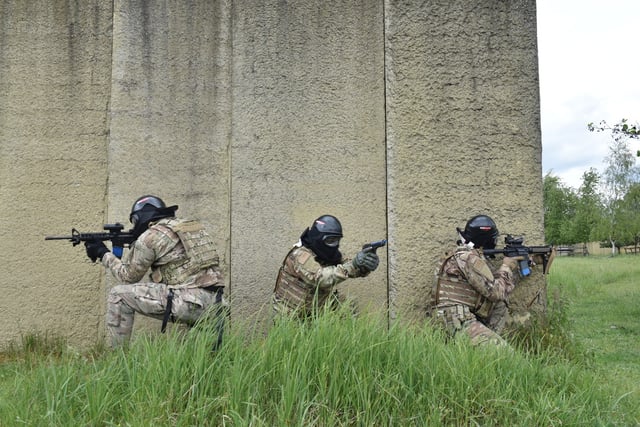 Security Forces Airmen from the 165th Airlift Wing discuss a plan of action before a dry-run exercise engaging simulated enemy combatants at RAF Mildenhall, U.K., June 5, 2019. 165th SFS Airmen are conducting their annual training which consists of tactical combat casualty care, rappelling techniques and combatives. (U.S. Air National Guard photo by Tech. Sgt. Amber Williams)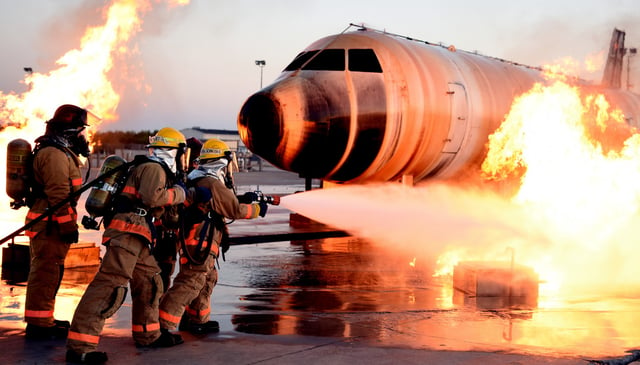 Airman Kristina Schneider, 312th Training Squadron student, approaches an exterior aircraft fire with a water hose outside the Louis F. Garland Department of Defense Fire Academy on Goodfellow Air Force Base, Texas, Aug 16, 2019. Though Schneider has graduated three fire academies throughout her civilian firefighting career, she expands her knowledge with aircraft fire suppression during her technical school training at Goodfellow AFB. (U.S. Air Force photo by Airman 1st Class Ethan Sherwood)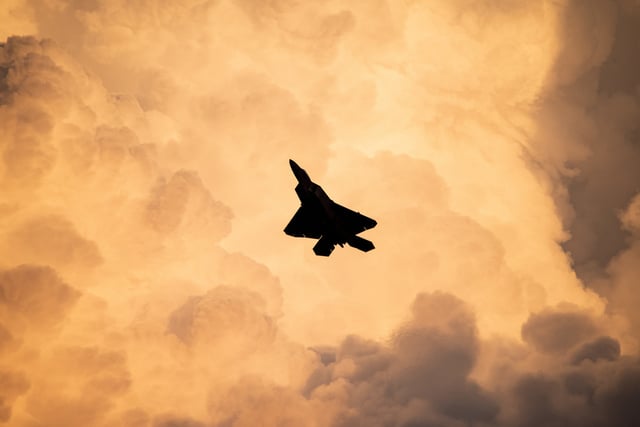 Maj. Paul Lopez, F-22 Demonstration Team commander, flies a twilight demonstration during EAA AirVenture in Oshkosh, Wis., July 28, 2019. Founded in 2007, the F-22 Raptor Demonstration Team showcases the unique capabilities of the world's premier fifth-generation fighter aircraft. (U.S. Air Force photo by 2nd Lt. Samuel Eckholm)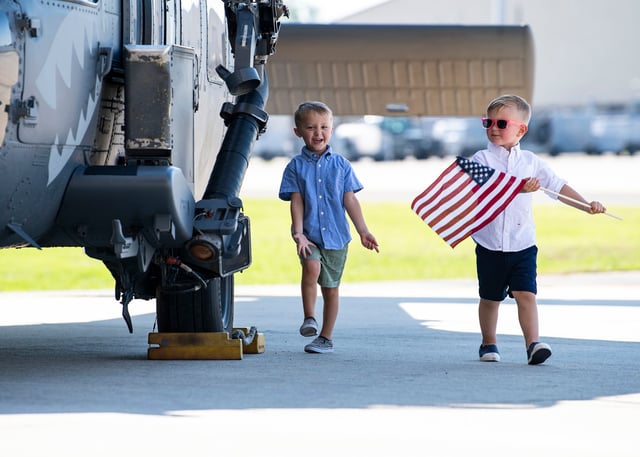 Children tour an HH-60G Pave Hawk helicopter during a redeployment ceremony, June 14, 2019, at Moody Air Force Base, Ga. Airmen from the 41st Rescue Squadron and 723d Aircraft Maintenance Squadron returned from a deployment in support of Combined Joint Task Force - Horn of Africa. Reintegration events like these afford families the opportunity to celebrate their loved ones return surrounded by other families doing the same. (U.S. Air Force photo by Staff Sgt. Janiqua P. Robinson)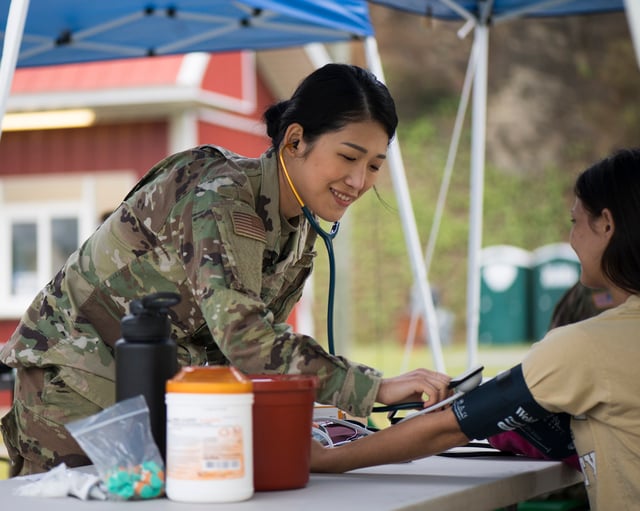 Senior Airman Eunbi Ko, a 919th Special Operations Medical Squadron aerospace medicine technician, assigned to Duke Field, Fla., checks a patient's blood pressure during Innovative Readiness Training Appalachian Care 2019, Aug. 24, 2019, in Wise, Va. Appalachian Care IRT 2019, which took place Aug. 16-29, highlighted care for the medically underserved communities of Wise while simultaneously conducting deployment and readiness training for military personnel. (Air National Guard photo by Staff Sgt. Jacob Cessna)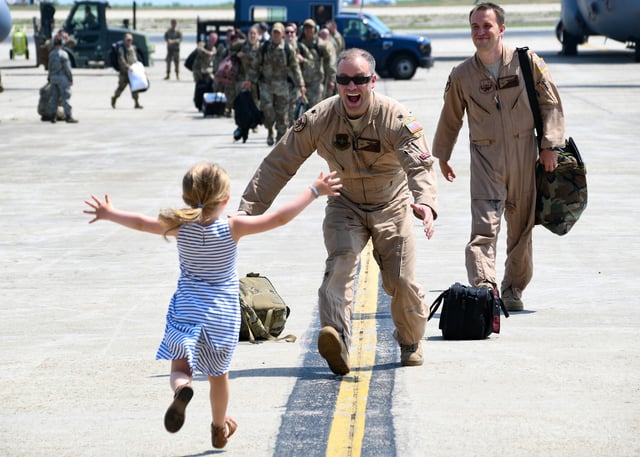 The 143d Airlift Wing welcomes home more than 100 Airmen from their recent deployment in support of Operation Freedom's Sentinel, July 4, 2019 at Quonset Air National Guard Base, North Kingstown, R.I. The Airmen returning include personnel from a cross-section of aviation operations, aircraft maintenance and support specialties. (Air National Guard Photos by Staff Sgt. Deirdre Salvas)