Your Top 5 Favorite Air Force Bases
We asked, and you answered! As part of our ongoing series of favorite duty stations, we're now turning our attention to your most-loved Air Force bases around the world. Check out the favorite Army posts, Navy bases, and Marine Corps aviator bases we've already covered.
Garnered from social media polls and input from MilitaryByOwner's customers, you will probably see a familiar base on this list. And if you don't see your absolute favorite Air Force base, we hope you'll share in the comments about the places you've lived and loved!
1) Ramstein Air Base, Germany
Ramstein was the top pick among those we polled. Air Force families often request to be stationed at this important base in Germany, which is situated near the town of Ramstein-Miesenbach, with the city of Kaiserslautern nearby.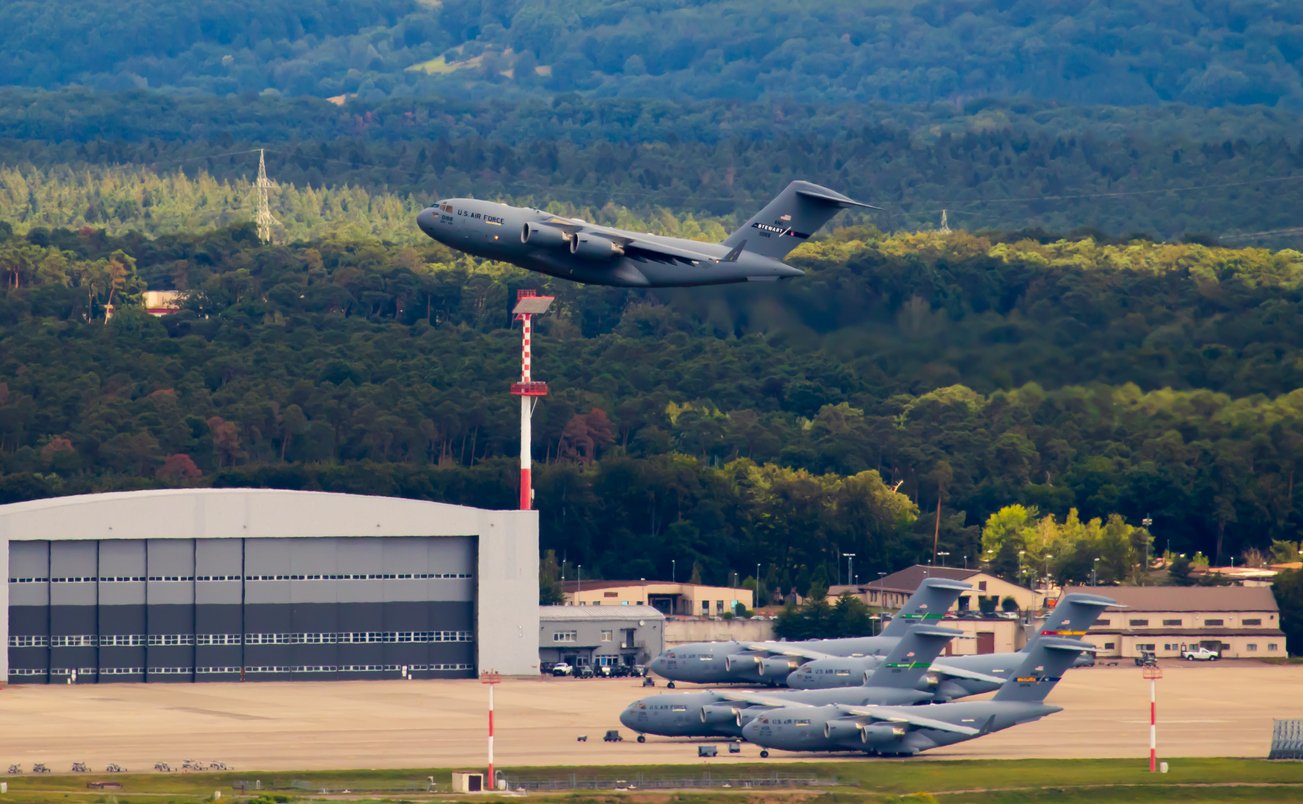 Ramstein Air Base photographed from Nanstein Castle. Photo from iStock.com/Balint Erlaki
Ramstein AB is headquarters to USAFE (U.S. Air Forces in Europe), a major command of the U.S. Air Force and the air component of the U.S. European Command, a Department of Defense unified command. Ramstein is also a NATO installation. Ramstein's host wing is the 86th Airlift Wing, which consists of seven groups, 30 squadrons, and four bases in Germany, Spain, Belgium, and Portugal. Also residing at Ramstein is the 3rd NAF (Numbered Air Force), the 435th AGOW, and 521st AMOW.
As you can see, Ramstein is a bustling, busy base, but what military families say they love most about being stationed here are the opportunities for travel, the local culture, food, and all the things to do (Oktoberfest!). From Christmas markets to the opportunity to catch a Space-A flight to a bucket-list European destination via the Ramstein Passenger Terminal, there's no reason to be bored during your time at Ramstein.
France is a mere 45-minute drive away, and you can immerse yourself in history and tour the many castles, cathedrals, and other historic sites right in your own backyard. The oldest city in Germany, Trier, which has the largest Roman city gate (built circa 170 AD) and Germany's oldest cathedral, is about an hour away. Frankfurt and its international airport are about 120 km from Ramstein. Cities and sights in Germany, France, Switzerland, Belgium, and other locations are all doable for an easy day trip by car or train.
Here's what a couple of our readers said about being stationed at Ramstein:
JD says, "Our favorite base was Ramstein, Germany, because there were so many new things to do and see and so many new cultures to immerse yourself in!"
Christina adds, "I loved living on the economy and having German neighbors. I enjoyed the different cultures of food, the German beer, and traveling by train and plane to other countries. Ramstein is where I met my handsome husband and my wonderful step-daughter, so it will always hold a special place in my heart."
It's no surprise to learn that many military families will jump at the chance to be stationed in Hawaii. At Hickam, which is part of Joint Base Pearl Harbor-Hickam (JBPHH), Air Force families have the opportunity to live in one of the world's premier vacation destinations on the island of Oahu.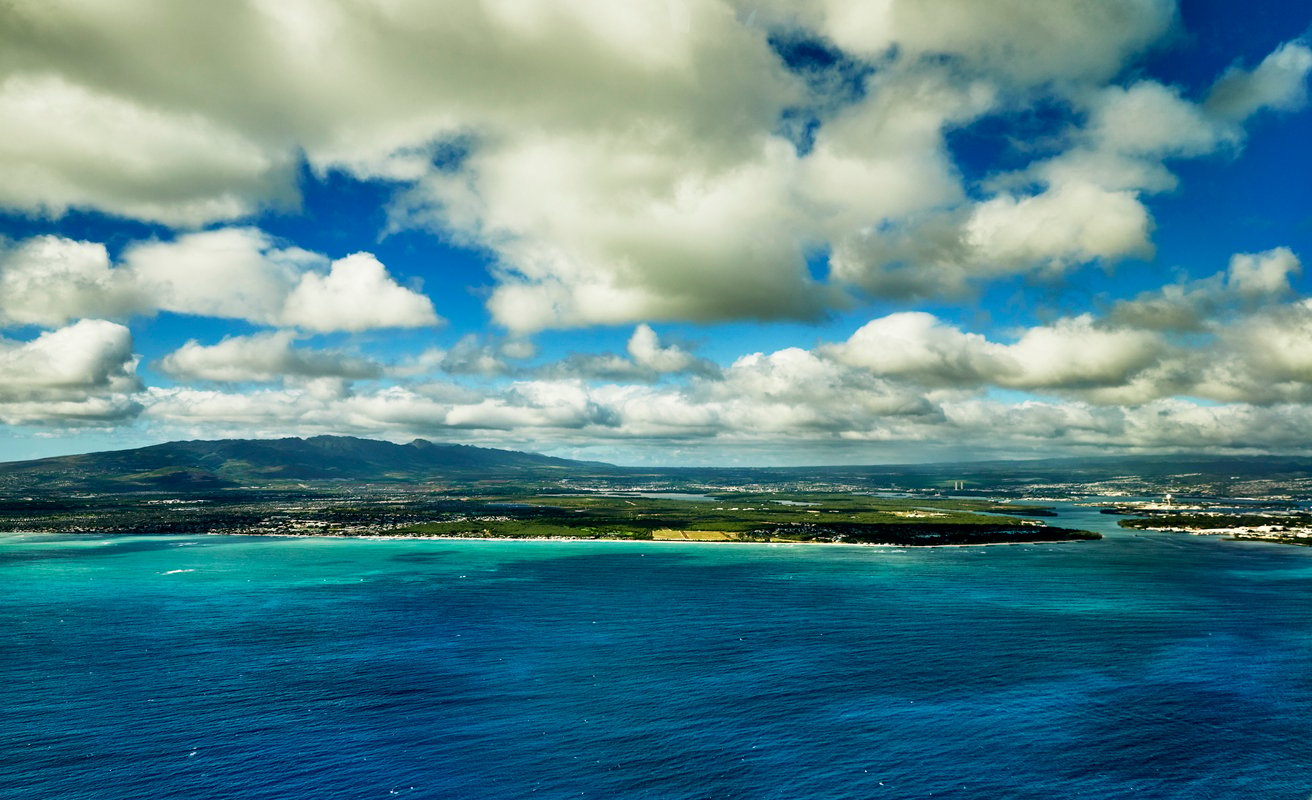 Aerial view of Iroquois Point and entrance to Pearl Harbor on the Island of Oahu, Hawaii. Photo from iStock.com/wingedwolf.
JBPHH is located 8 miles west of Honolulu. Naval Station Pearl Harbor and Hickam AFB were realigned to form Joint Base Pearl Harbor-Hickam in 2010, but many people still refer to each part of the base separately (Pearl Harbor and Hickam AFB). Each side of the base still has its own main gate, as well as Air Force and Navy specific support and organizations.
Hickam is home to the Air Force major command PACAF (Pacific Air Forces). PACAF's AOR (area of responsibility) covers more than 100 million square miles and spans from the west coast of the United States to the east coast of Africa and from the Arctic to the Antarctic. The Hickam host wing is the 15th Wing, and other major units on base include the 647th Air Base Group, Hawaii Air National Guard, and the Joint MIA/POW Accounting Command.
The island of Oahu is dotted with military installations from all the service branches. Other military bases on Oahu include:
If you love to be outside or on the the beach, your time on Oahu will feel like paradise. Spend a weekend at Bellows Air Station across the island, which is located on one of the most beautiful stretches of beach in the world and offers cabins and lodging for your stay. Hike the amazing mountains of the island, view breathtaking landscapes, or spend the day shopping and playing tourist in Waikiki. Visit the iconic North Shore and catch a wave or while away a few hours touring the Dole Plantation or snorkeling at Hanauma Bay. If you're not already the outdoorsy type, maybe now is the time to embrace it!
Take a look at some other ideas to fill your time while you're stationed at Hickam:
Some input from military families who've lived at Hickam:
Lisa: "I would go back to Hickam in a heartbeat. We loved all the opportunities to get our family outdoors, as well as the welcoming spirit of Aloha from the people we met!"
Geia: "I lived on base and off base. But it was great living there! The weather required very little in the way of off-duty clothing."
Many of you mentioned other bases in Florida as your top bases, including Patrick AFB and MacDill AFB, but Eglin AFB stands out as an Air Force family favorite.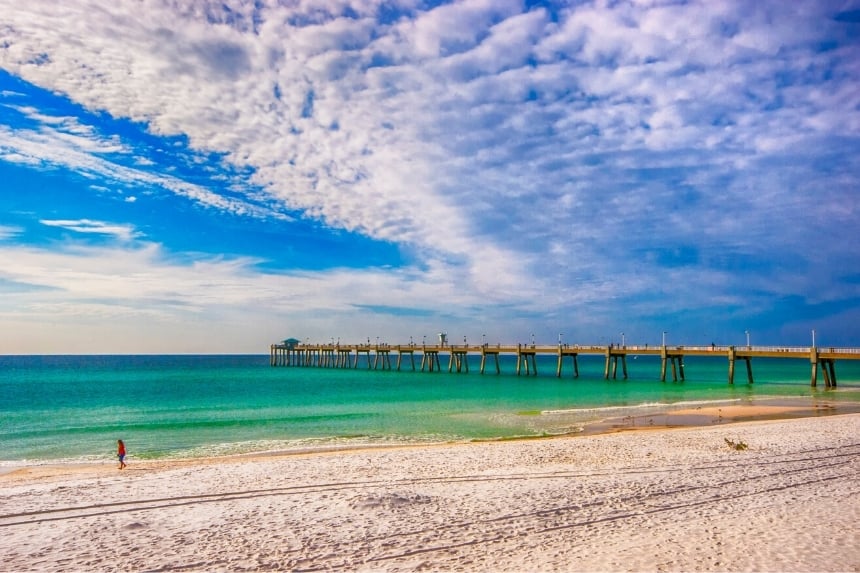 Photo from Canva
Located on Florida's beautiful Emerald Coast, Eglin AFB sits between Pensacola and Panama City. Eglin is the largest Air Force base in the world as far as land size goes, sitting on 700 acres of diverse terrain. Eglin AFB's host wing is the 96th Test Wing, and other units on base include the 33rd Fighter Wing, 53rd Wing, 919th Special Operations Wing, AFOTEC DET 2, 6th Ranger Training Battalion, AF Armament Directorate, 7th Special Forces Group, and NAVSCOLEOD.
Other nearby bases include:
Military families note that they love the easy beach life in this area, along with accessibility to favorite spots like Destin and Pensacola. If you're looking for shopping, a vibrant downtown area, and a variety of dining options, Pensacola is the place to go. And even though this part of Florida is a tourist destination, the cost of living is lower than you might expect. Learn more about Eglin AFB housing and costs here.
Katie's family loved their time at Eglin:
"Our favorite was Eglin AFB by far. We were able to rent a home on the water with a dock next to 250 acres of green space full of hiking trails. With our own private beach, ample boating, and swimming, we felt like we were on vacation for 3 years!"
California was another top Air Force family pick, with some mentioning Vandenberg Space Force Base and Edwards AFB as favorites, but Travis AFB won out above them all.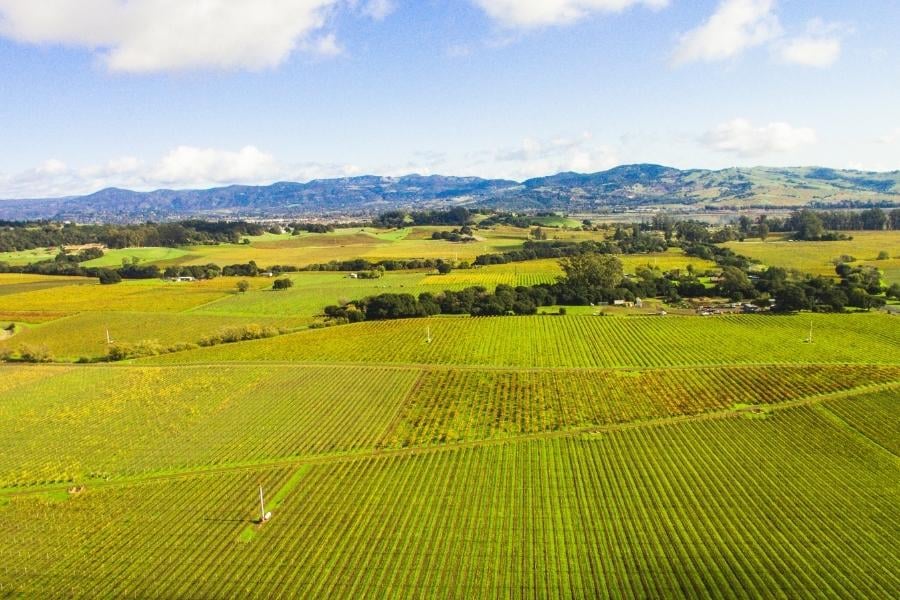 Aerial view of Napa Valley, California. Photo from Canva.
Located in Northern California, Travis AFB lies approximately midway between Sacramento and San Francisco. The base serves 10,700+ active duty and reservists, 7,858 military family members, 3,268 civilians, and 110,780+ retirees and family members in the area.
The 60th Air Mobility Wing, the largest wing in the Air Force's Air Mobility Command (AMC), is the host wing at Travis. Other units include its Air Force Reserve counterpart, the 349 AMW, and the 621st Contingency Response Wing, which provides AMC the capacity to meet its global mobility task force commitment anywhere in the world.
Travis is known as the biggest Space-A hub on the West coast, with multiple flights each week to destinations like Hawaii and Alaska, as well as across the U.S. and even Europe. Families stationed at Travis mention the proximity to travel up and down the West Coast, and, closer to home, kayaking, hiking, vineyards, and historical sites and museums.
Reader Diane agrees:
"Travis AFB is central to so many things to see and do. A weekend hour drive to San Francisco, Mt. Tamalpais, Muir Woods, and Redwood Forest to the west, Sonoma and Napa wineries within 45 minutes, and Lake Tahoe summer or winter."
Joint Base Lewis-McChord (JBLM) is a joint base consisting of Fort Lewis and McChord Air Force Base. Located on the picturesque Puget Sound in northwest Washington, JBLM is the most requested Army installation, and apparently Air Force families love it here, too.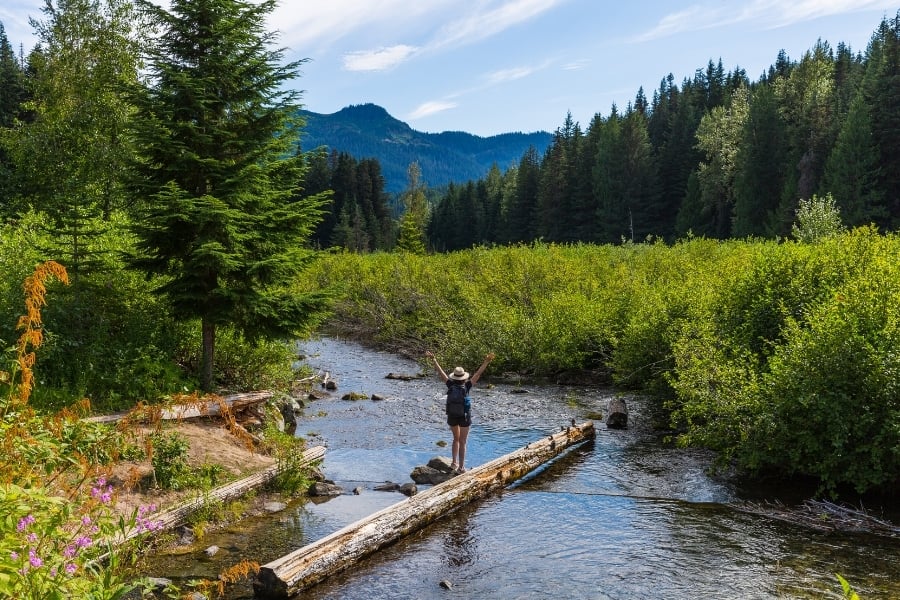 Photo from Canva
One hour south of Seattle, those stationed at JBLM have probably heard of the area's legendary rain, and you can expect some sort of precipitation most days. However, downpours aren't as frequent as drizzle and fine misting. Outdoor enthusiasts love JBLM, as it sits in easy proximity to mountain ranges and Pacific Ocean destinations.
Imagine boating, skiing, hiking, and kayaking in the shadow of iconic Mt. Rainier. City lovers will relish exploring nearby Olympia, Tacoma, and Seattle with their museums, zoos, kids' activities, shopping, and dining, and the Canada border is a short drive away. Victoria and Vancouver are two military-family favorites.
Get more ideas for area explorations with our post, Explore the Pacific Northwest with JBLM's MWR.
Robin notes this about being stationed at JBLM:
"This was our favorite military base due to its location in the Pacific Northwest. There is so much to do in the area and everything is so close. Minutes to shopping and restaurants, 40 minutes to the airport, one hour to Crystal Mountain ski resort, minutes to Puget sound (water activities, and 1.5 hours to the Pacific Ocean. If you love the outdoors, this is a base to be stationed."
While we can't possibly cover everyone's favorite Air Force base, some honorable mentions include the following. For more information about these locations, to include area and housing information, weather and climate, schools, military family resources, things to do, and much more, click through the name to view its base page here on MilitaryByOwner!
What did we miss? Share your favorite Air Force base, and tell us why you love it!