9 Things to Know Before Moving to Germany
As we began our descent into Ramstein Air Base, I caught my first glimpse of the German countryside through a rain-spotted airplane window. It looked like a gray and green patchwork quilt, but I shivered anyway.
Anxiety clawed at my nerves and a million questions cluttered my mind. I had no idea what to expect or how to begin setting up our life in a foreign country.
Is your military family heading overseas soon? Here are nine things I wish I'd known before moving to Germany.
1) Driving on the Autobahn isn't as scary as you might think.
I had serious anxiety about getting behind the wheel for the first time overseas, but I was surprised to find it didn't take long to get used to the fast cars, dizzying roundabouts, and windy, narrow streets.
While you are free to drive as fast as you'd like on many stretches of the highway, it's important to know there are restrictions in certain areas, like construction zones. Memorize the traffic signs (e.g., Ausfahrt is not a city; it means exit), use your blinker, and pay close attention to posted speed limits.
It's rare for German police, or Polizei, to patrol the roads, but speed cameras will snap your photo when you least expect it. If you prefer to drive at a more modest speed, stay in the far right lane.
2) Learning the language goes a long way.
Many Europeans speak English fluently, but I discovered locals truly do appreciate individuals who make an effort to communicate in the native language. Knowing words like please (bitte), thank you (danke), and excuse me (entschuldigung) not only help you get around more effectively; it is a sign of respect, it enriches your experience, and it helps you forge deeper connections with the people and customs of your host nation. Try an app like Duolingo to start familiarizing yourself with useful phrases.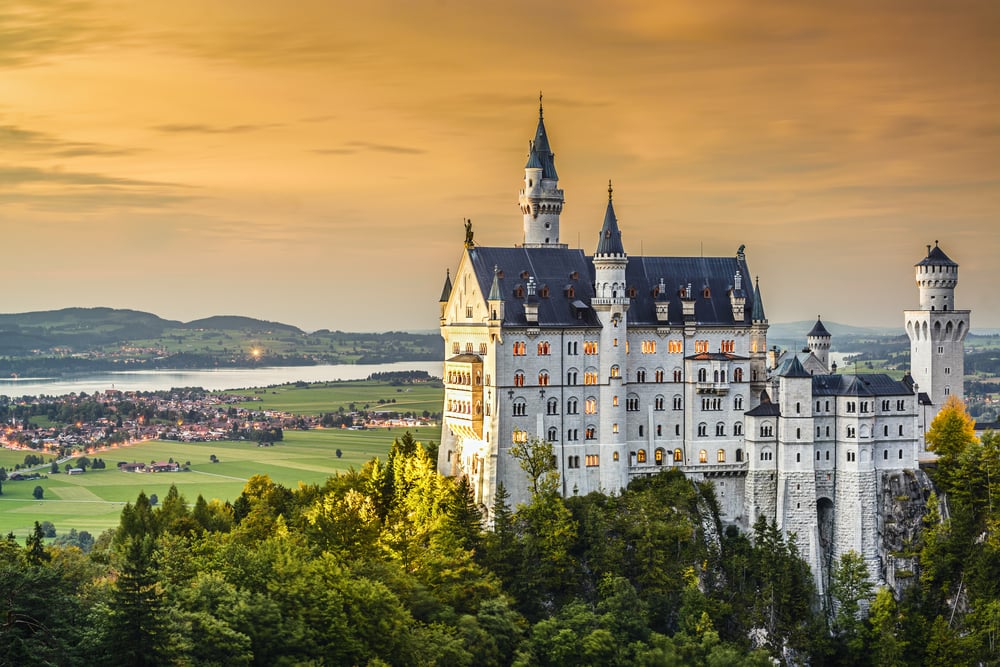 Neuschwanstein Castle in the Bavarian Alps of Germany. Photo from Shutterstock.
3) The holidays are truly magical.
Germany is known for its picture-perfect Christmas markets, but fest season is year-round. From religious feasts to village fairs, there is never a month without a reason to celebrate. Locals love to commemorate it all with delicious food and beverages, vibrant décor, and lively music.
I highly recommend getting out and enjoying the festivities as often as possible. The holiday sights, sounds, scents, and flavors make up some of my favorite memories from our time overseas. While you're at it, order a Flammkuchen for me (you're welcome).
4) It's vital to pay attention to your vitamin D levels in winter.
From late November to early April, the daylight hours are particularly short in Germany and it's often overcast. Many people struggle to maintain healthy vitamin D levels during this time; it took me two years to learn this the hard way.
Pay attention to your body, check in with your primary care manager when you aren't feeling well, and consider purchasing a small sun lamp to brighten gray days. Better yet? The winter months are the perfect time to plan getaways to warmer countries, like Spain, Portugal, and Italy.
5) Realize that you can't see it all.
There will never be enough time or wiggle room in the budget to travel to every exciting destination on your bucket list. As soon as you check one place off, a new spot will capture your attention.
To avoid disappointment and make the most of your experience, steer clear of the comparison vortex, set realistic travel expectations, and be thankful for every opportunity you have to experience all Europe has to offer.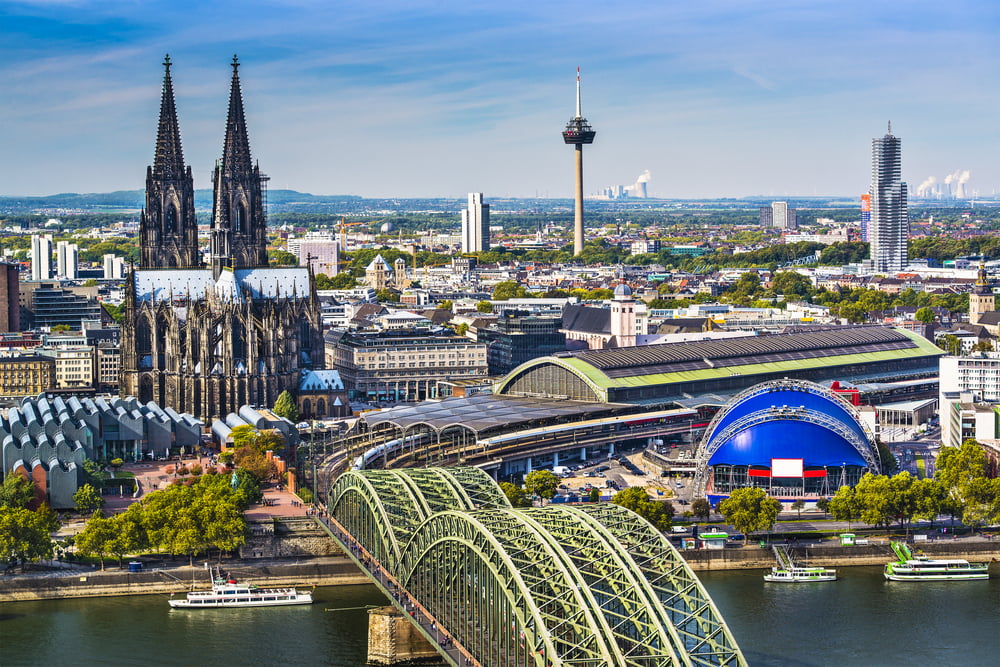 Cologne, Germany aerial view. Photo from Shutterstock.
6) Being able to laugh at yourself is important.
Moving to a foreign country requires you to step way out of your comfort zone. Inevitably, there will be moments when you find yourself feeling silly, awkward, or less-than-intelligent.
When your face flushes with embarrassment because you've forgotten to bring your own grocery bags to the local market (again), you can choose to either laugh along with the locals or cry into your steering wheel after you make the walk of shame back to your car. Which would you rather do?
7) Be patient with yourself as you adjust to life overseas.
Speaking of stepping out of your comfort zone, it didn't take long for anxiety and paranoia to get the best of me when we arrived in Germany. I'd gotten used to the six-month transition period that typically accompanies a military move, but it took much longer to feel settled and at ease overseas.
Be patient and honest with yourself as you adjust to your new surroundings. You can't run or hide from dark feelings; to overcome them, you must give yourself permission to face your fears head on.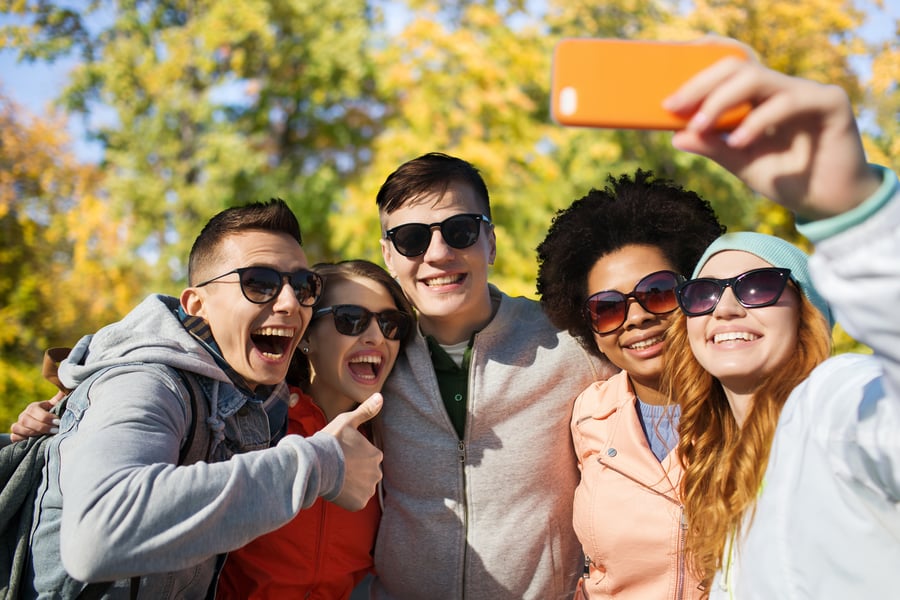 Photo from Canva
8) The OCONUS military community is amazing.
No matter where you are, the military community knows how to come together to make it through times of adversity. However, I can confidently say service members and families stationed overseas make up the most close-knit group I have experienced so far (and that's saying a lot). Maybe it's because we need each other more when we are so far away from extended family and all that is familiar; maybe it's because living in a foreign country teaches us to see past insignificant differences that often keep us apart.
Whatever it is, know that if you need help while you are in Germany, you aren't alone. There is a deep well of support there for you— and you just might find you have plenty to offer the community, too.
9) The experience changes you forever.
When the time comes for you to leave Germany, you will not be the same person you were when you arrived. Cliché or not, your time overseas truly is what you make it. While you have the opportunity, take advantage of every chance you get to fly down the Autobahn, learn the language, celebrate life, take care of yourself, and explore new places. When you are struggling, lean on your sense of humor, face your fears, and reach out to good people in your communities (both on base and off).
As we lifted into the sky, I caught my last glimpse of German countryside through a rain-spotted airplane window. It looked like a gray and green patchwork quilt, warm and familiar.
"Thank you, thank you, thank you," I whispered to the foreign country that had become our home for three unforgettable, challenging, beautiful years. We were heading back to the States with a new world view, warm memories to last a lifetime, and a heart forever altered by our days in Deutschland.
I wish the same for you.
Heading overseas? Learn from military families who've been there! Download MilitaryByOwner's free guide for your overseas PCS move.