Celebrating the Holidays Overseas as a Military Family
As I bent down to collect the torn pieces of colorful, patterned paper that had been strewn about the family room by my children in their feverish excitement that morning, I tried to swallow the hard lump of homesickness forming in my throat. Even though we'd spent Christmases away from our extended family members before, this was the first year our boys had been old enough to really enjoy themselves. I wished my parents, in-laws, and siblings had been there to join in the fun; I was missing them more than I dared to admit.
Suddenly, I was shaken out of my funk when the doorbell rang to announce an unexpected visitor. Curious, I lifted the receiver of the phone on the wall that connects to the two-way speaker on our front porch.
"Hallo?"
"Hallo! It's Frau Junker," a woman's voice replied.
I pulled open the heavy, wooden door to find our landlady standing on our doorstep with her arms full of small packages.
"Merry Christmas!" she said with a smile, and I could've cried.
We'd delivered handmade gifts to our landlord's family a few weeks before, and we hadn't expected to receive anything in return. But there she was, with books, chocolates, and nuts for our boys and tickets to the local movie theater for our entire family — a surprising act of kindness and generosity. I wanted to hug her, but I refrained, feeling unsure about the appropriateness of the gesture.
"In Deutschland, we give gifts on Weihnachten, Christmas Eve," she explained in broken English. "But you were not home when I came by yesterday."
Ah, that explains why they'd seemed so confused when we'd come by with presents earlier in the month, I thought to myself.
Celebrating the holidays overseas is a great way to expand our knowledge and understanding of different cultures. It is important to remember this when the seasonal blues and pangs of heartsickness start creeping in. If you find yourself feeling sad — don't worry, it's completely normal. Consider trying one of these ideas to bring a little bit of holiday cheer back into your home.
9 Ideas for Celebrating the Holidays Overseas as a Military Family

1) Attend a local festivity.

Every country has its own unique way of celebrating the holiday season — just ask any elementary student who has participated in a "Christmas Around the World" unit study.
Overseas military families have the unique opportunity to experience these variations firsthand. Learn about the special events that are being held in your area in November and December, and add the dates to your calendar.
RELATED: PLANNING YOUR OVERSEAS PCS
2) Try a seasonal host nation recipe.
Food is a universal way cultures celebrate special days throughout the year. Research the fare that is traditionally eaten during the holiday season in your region.
Have your children help you bake a special batch of cookies or pastries. Add a side dish to your traditional Thanksgiving menu, or go all out and exchange the roasted bird, stuffing, and green bean casserole for local cuisine. Experience the flavors unique to your host nation's festivities this time of year.
3) Fill the empty seats at your table.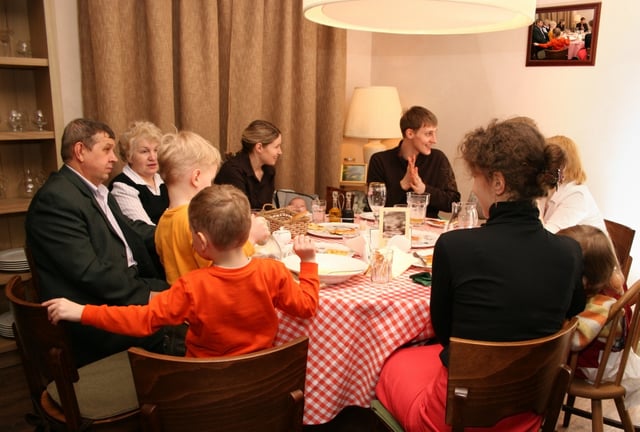 Look for members of your community that may not have a place to go this holiday season, and extend them an invitation to your family's holiday meal. Single soldiers and military families with deployed service members often feel particularly alone at Thanksgiving and Christmastime. Help make their spirits a little brighter — and yours in return — by setting extra plates for them at your dining room table.
4) Go out to dinner.
Instead of cooking an elaborate feast, consider taking the year off and have dinner at a restaurant instead. For example, it's common for eateries throughout Europe to have Christmas goose on the menu during the months of November and December. I'm looking forward to finding out what it tastes like this year. Research the dishes that are traditionally served for holiday meals in the restaurants near your duty station, and make a reservation.
5) Skip town for Thanksgiving.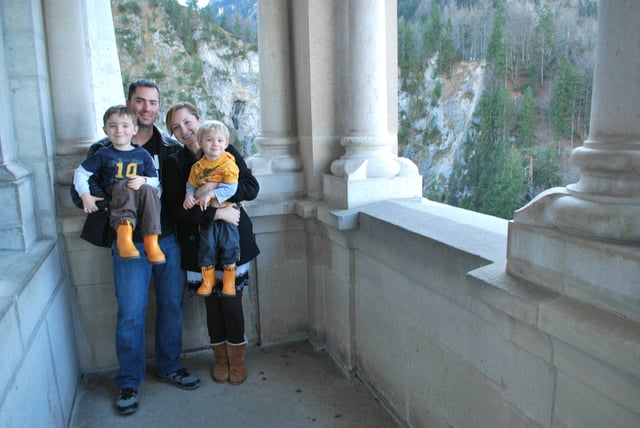 The author's family at Neuschwanstein Castle, Germany during a holiday getaway.
Since this cherished holiday is unique to American history and culture, most places around the world will be carrying out the day like it's just another Thursday. Take advantage of the long weekend to spend time with your family while exploring hot spots for tourists with lower rates and fewer crowds.
6) Honor family traditions, but be open to embracing new ones.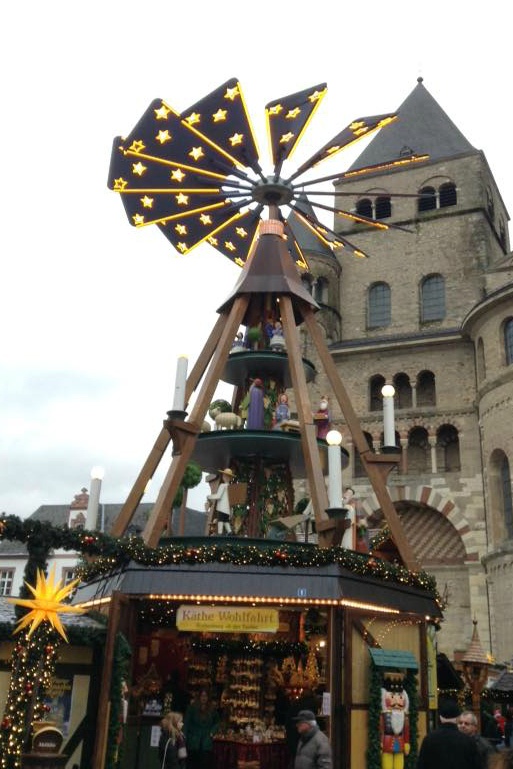 Our beliefs and rituals shape our families, and our beliefs and rituals are shaped by our experiences. Your time overseas will undoubtedly change the way your family celebrates the holiday season. Carry on your special family traditions, but find ways to incorporate customs that are unique to the country you have the opportunity to reside in.
7) Share host nation customs with friends and family in the States.
Send a little bit of holiday cheer back home in the form of care packages filled with local treats and trinkets. Your family members will appreciate the gesture, and they will likely be fascinated by the gifts. Turn it into an opportunity to teach your parents, siblings, aunts and uncles about the culture.
8) Learn holiday phrases in the local language.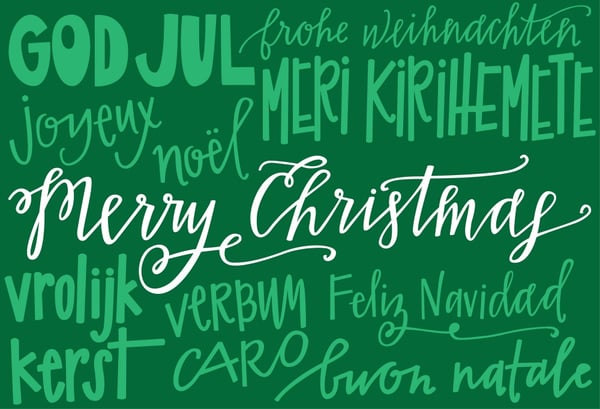 What better way to wish a citizen of your host nation a happy holiday season than by doing your best to say it in their own dialect? Making an effort to learn the local language is a sign of respect to the community that accommodates our American military installations and it will not go unnoticed.
9) Find a way to serve your community.
No matter where you are in the world, there will always be gaps to fill and needs to be met in throughout the year. Find a way to use your unique passions and talents to serve others this holiday season. Donate gently worn coats to a local clothing drive serving refugees, send cards to troops down range, or volunteer to serve meals to those in need.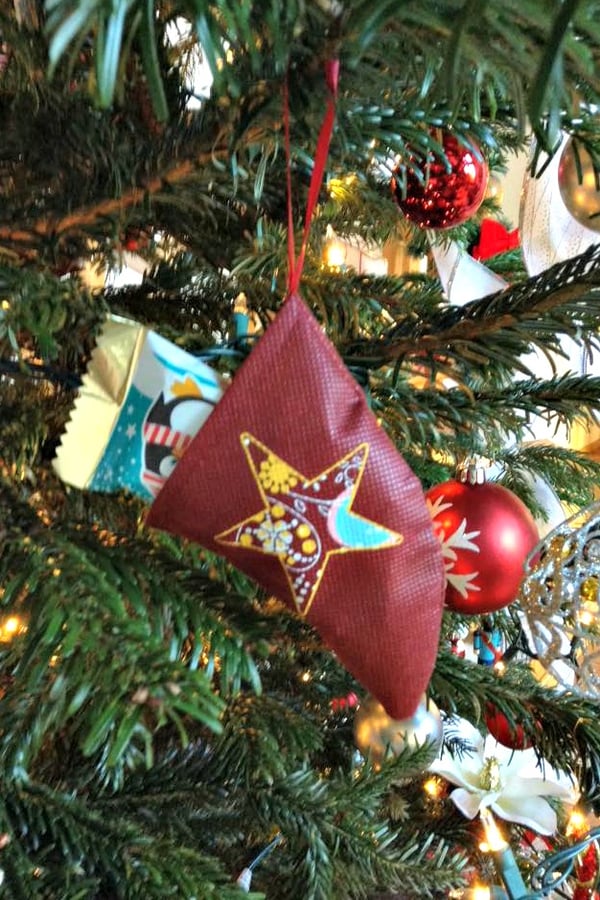 Courtney's gift from her German neighbor.
As I hung the small bags filled with nuts and chocolate onto our Christmas tree, a warm wave of gratitude washed over me. Even though I longed to be spending the day with my parents, grandparents, in-laws, and siblings, I was thankful to have the unique opportunity to experience the holiday season in Germany. It is a beautiful country with kind people, and – no matter where the military takes us – it will always have a special place in my heart.