Can't-Miss Holiday Markets Near Military Bases
A popular holiday tradition that we are happy to welcome back this year is holiday markets. After cancellations across the world due to COVID in 2020, these highly-anticipated events are a go for 2021.
Originally a European tradition, cities all over the world now host their own versions of the holiday markets, which typically start in late November or early December. You can find arts and crafts, artisan gifts, Christmas decorations, culinary treats, and a taste of local flair in a very festive atmosphere.
Here are some of the best holiday markets near major U.S. military communities around the world. For the hard-core market-goer, we've also mentioned a few that are farther afield.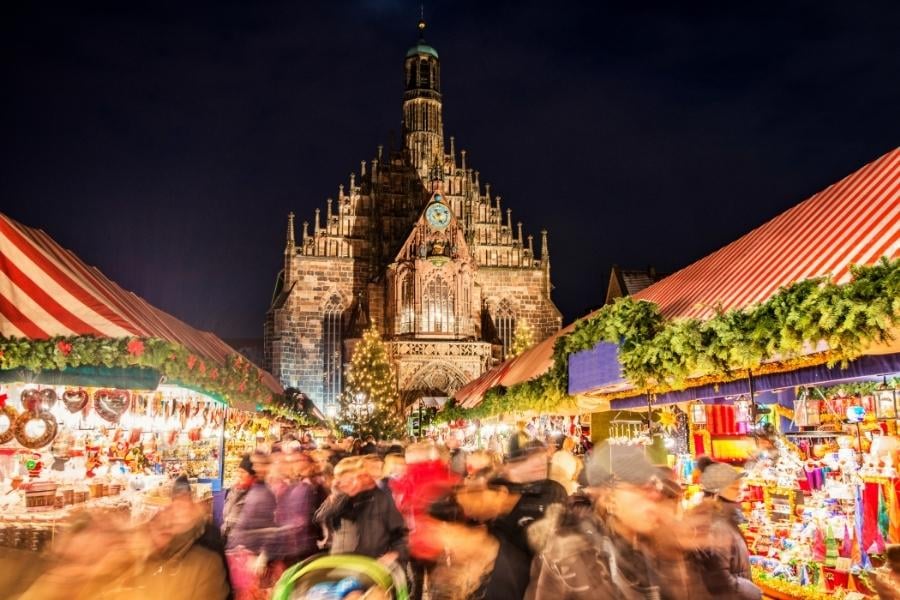 Nuremburg Christkindelsmarkt - image from Canva
Nuremberg, Germany (26 November to 24 December)
Among the most famous Christmas markets in the world, the Nuremberg Christkindlesmarkt dates back to the 16th Century and is one of Germany's oldest Christmas markets. The Nuremberg market returns in 2021 with a slight adjustment to allow more space between vendors, with stalls located throughout the Old Town (rather than concentrated in the Main Market Square). You can still find all of your favorite traditional products and crafts, unique gifts, and of course, local treats such as bratwurst, mulled wine (Glühwein), and gingerbread.
Farther afield:
Cities all over Germany host Christkindlesmarkts, but another particularly famous one is the Reiterlesmarkt in the medieval walled city of Rothenburg (26 November to 23 December). "Reiterles," a mythical figure representing the spirit of winter, will make an appearance at the opening ceremony on 26 November.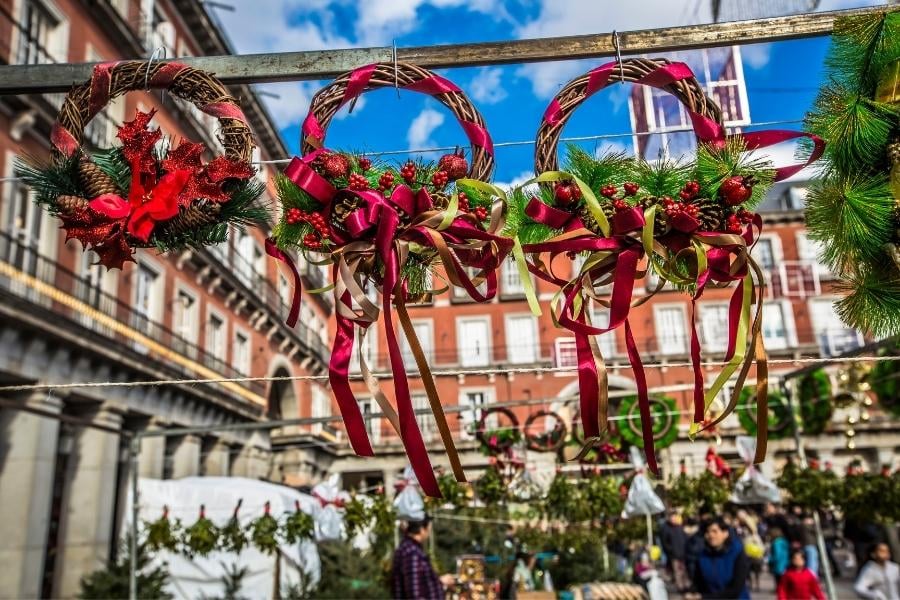 Christmas market in Spain - image from Canva
Seville, Spain (17 December 2021 to 5 January 2022)
The Mercado Navideño de Artesanía, located in Seville's Plaza Nueva, specializes in Andalusian-style handcrafted items, such as jewelry, wooden toys, and nativity scenes. Part of the fun of this market is seeing the beautiful city of Seville dressed up in holiday lights.
Farther afield:
December is one of the busiest times of year in Madrid as visitors flock to the famous Plaza Mayor Christmas Market (26 November to 31 December). Visit more than 100 stalls and enjoy Madrid's festive holiday light displays throughout the city.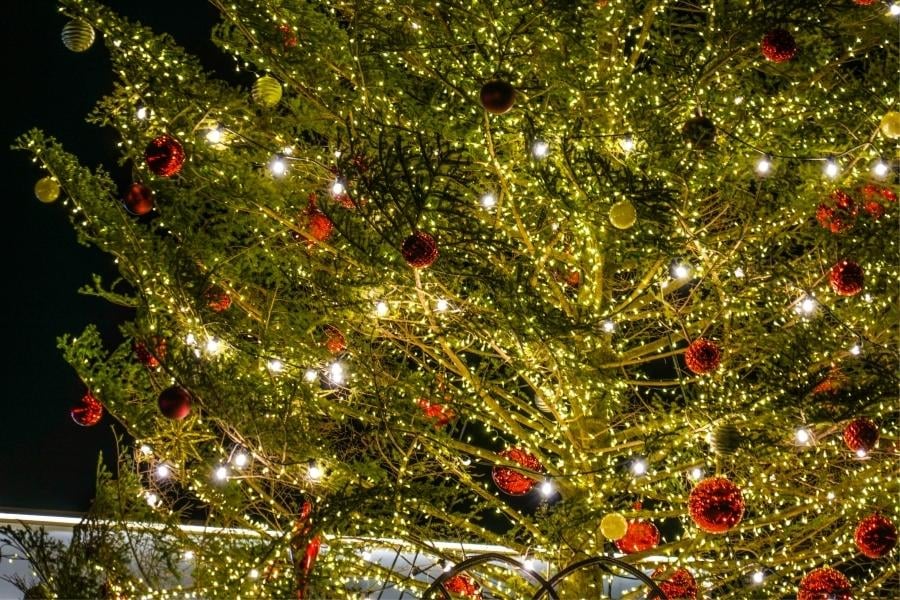 Yokohama, Japan - image from Canva
Yokohama, Japan (26 November to 25 December)
The Red Brick Warehouse Christmas Market offers a taste of Germany in Japan. The German Embassy and German Tourism Board are among the sponsors of this event, which features traditional German-style shops, food, and beverages. Visit at night to see the full display of lights!
Farther afield:
The Tokyo Christmas Market in Hibiya Park runs from 10 to 25 December and is the biggest Christmas market in Tokyo. See their giant Christmas tree and experience how this park in Tokyo transforms into a holiday-themed German village!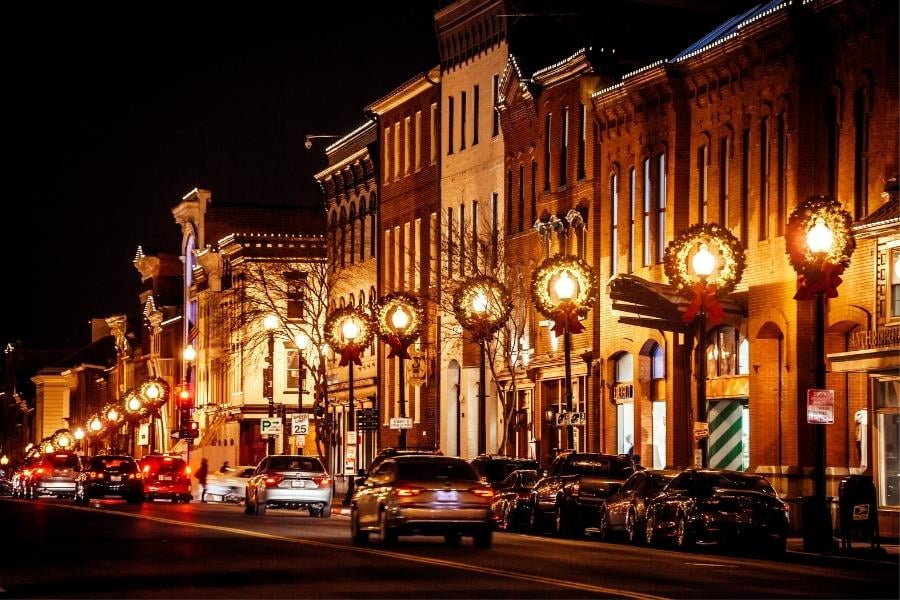 City street in Georgetown near Washington, D.C. - image from Canva
Washington, DC (19 November to 23 December)
The Downtown Holiday Market, now in its 17th year, takes place on F Street NW between 7th and 9th Streets NW. It features more than 70 exhibitors, a variety of food vendors, and live music from dozens of performers across all musical genres.
Farther afield:
If you make the trip to New York City, you can shop 'til you drop at markets throughout Manhattan and the other boroughs. Some of the most famous markets are the Union Square Holiday Market (18 November to 24 December) and the Columbus Circle Holiday Market (27 November to 24 December).
Some nearby bases: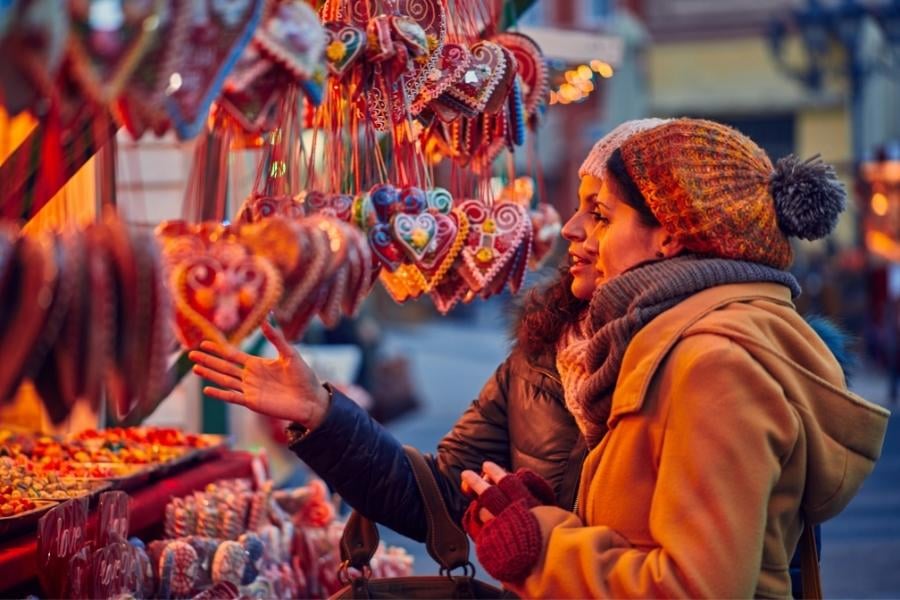 Image from Canva
Raleigh/Durham, NC (various dates starting late November)
The Triangle area hosts numerous smaller holiday markets in various locations. The Christmas Carousel Holiday Gift Market, held at the NC State Fairgrounds in Raleigh, is Thanksgiving weekend and features more than 250 exhibitors plus Santa! Raleigh Night Market also sponsors several other holiday markets, including the Merry Moore Market in Raleigh's Moore Square (Friday and Saturday nights from 19 November to 11 December) and A Very Merry Cary in downtown Cary (18 – 19 December).
Further afield:
The city of Charlotte hosts its own Christkindlmarkt at the Charlotte Christmas Village (26 November to 23 December). Enjoy the full menu of traditional German holiday food and beverages, holiday shopping, crafts, and live music, plus daily visits from Santa.
Some nearby bases: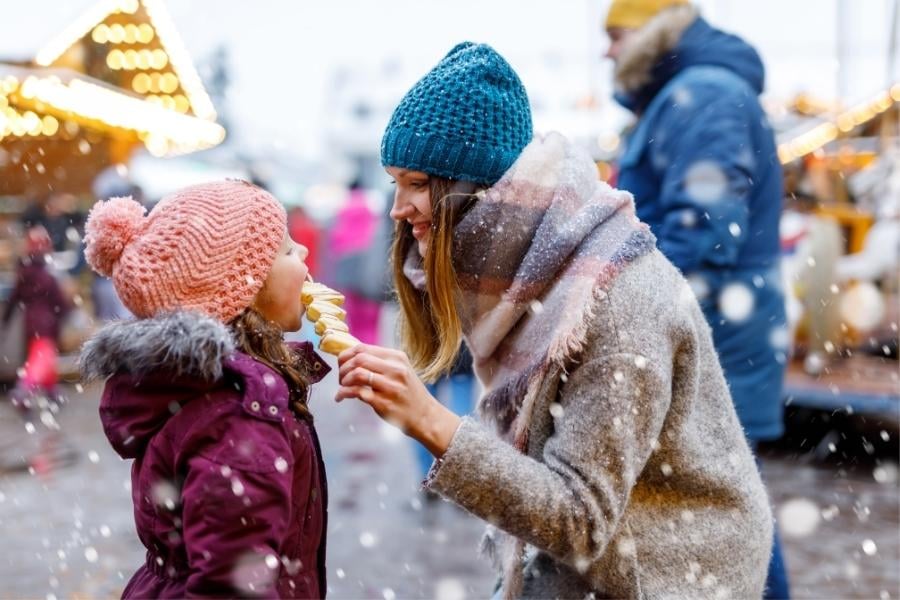 Image from Canva
Denver, CO (19 November – 23 December)
Denver Christkindlmarket recreates a traditional German holiday market right in the heart of Colorado. Complete with wooden huts, traditional German gifts, food, and beer (plus the all-important Glühwein), it's the next best thing to traveling to Germany!
Farther afield:
About an hour west of Denver is historic Georgetown, which also hosts a popular Christmas market during the first two weekends in December. It includes a European-style outdoor market along with some American Christmas traditions, such as roasted chestnuts, horse-drawn wagon rides, and Christmas carolers.
Some nearby bases: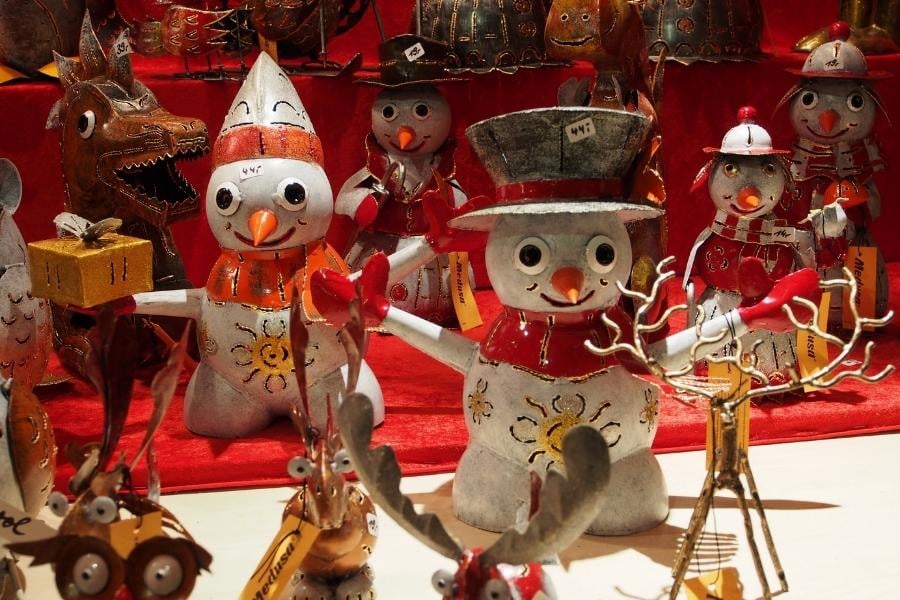 Image from Canva
San Diego, CA (3-6 and 9-23 December)
The Holiday Market and Trail at Petco Park includes a mix of European and American traditions. It features European artisan shops along with other crafts and gifts, plus seasonal food, themed lighting displays, and Santa! Tickets with designated entry times are required for this event.
Farther afield:
The unique historic town of Solvang, a year-round "miniature Denmark," hosts its annual Julefest from 27 November to 1 January. While not exactly a holiday market, Julefest offers plenty of holiday festivities for the whole family, including a Santa's Village and guided candlelight tours of the town.
Some nearby bases:
That's just a sampling of the many holiday markets throughout the U.S. and around the world! Many cities have smaller versions or 1 - 2 day markets, so check your local tourism or visitors bureau website to see what's coming up. If you want to fully indulge in beer and Glühwein, inquire at your local military base Tickets & Travel or Outdoor Rec office, because some offer group tours to local holiday markets, and they will do the driving for you. Either way, make sure you don't miss these fun events!
Want more content like this? Stay updated and never miss a post!