Get Outdoors Near Joint Base Lewis-McChord
If you're stationed at Joint Base Lewis-McChord, you've found yourself in an outdoor lover's paradise! JBLM is one of the most popular duty stations in the military, and part of that reason is all the opportunities to get outside.
Whether you're setting out to a nearby destination or planning a day trip to explore the Pacific Northwest area, take a look at a few ideas for your next outdoor adventure.
Family-Friendly Outings Near Joint Base Lewis-McChord
Point Defiance Park
Host to the Point Defiance Zoo & Aquarium and the Fort Nisqually Living History Museum, Point Defiance Park also offers miles of trails, lake access, and boat rentals.
Billy Frank Jr. Nisqually National Wildlife Refuge
The Nisqually National Wildlife Refuge is a pit spot for many species of migratory birds. On its nature trails, you can spy 200 different bird species, along with otters, mink, beavers, deer, and Pacific Tree Frogs.
Wildwood Park
You'll find a playground, trails, a historic reservoir and more in the 80 acres of beautiful landscape of Wildwood Park.
Learn more about these destinations and many others in our post 11 Military Family-Friendly Outings Near Joint Base Lewis-McChord.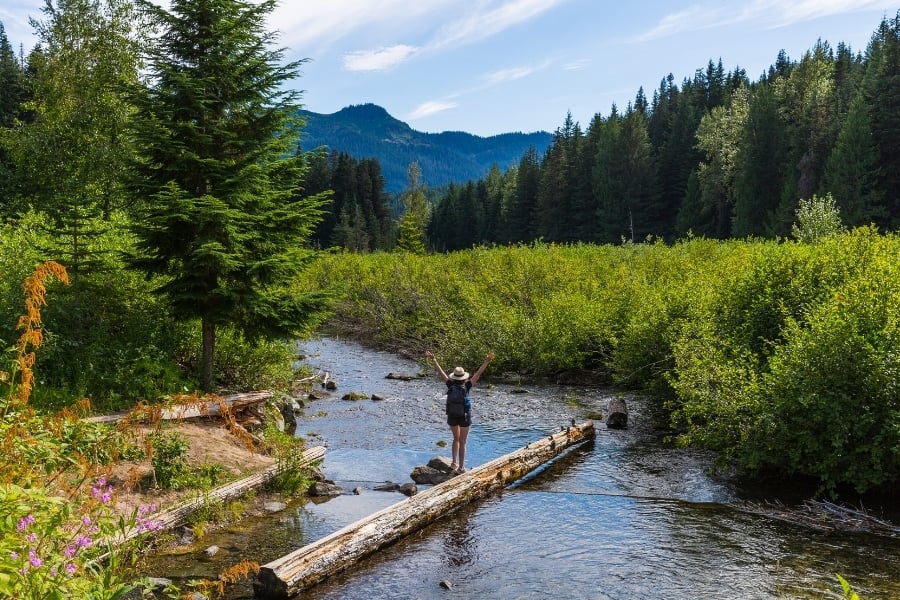 Image from Canva
Explore the PNW With JBLM's Outdoor Rec Center
JBLM's MWR makes it easy to take advantage of all the Puget Sound area offers. If you're interested in any of the following activities and more, check out the JBLM Outdoor Rec calendar for more info and to register.
Hiking
Explore Wallace Falls, the Green River, and other destinations in the Cascades with guided hikes. Transportation, parking fees, and trip leader support are included! Explore beautiful forests, waterfalls, and mountains.
See the best hikes in Mt. Rainier National Park!
Rock Climbing
JBLM's Outdoor Rec offers a comprehensive introduction to top rope climbing. They provide instruction, equipment, and a rock climbing wall.
Mountain Biking
The trails of Swan Creek make an ideal location to learn more about mountain biking. You'll get a full day of learning, whether you're a beginner or want to practice more advanced maneuvers.
You'll find so many reasons to get outside while you're stationed at Joint Base Lewis-McChord!
Get even more ideas:
Moving to Joint Base Lewis-McChord? Download our FREE guide to the area!