How Much Does Pre-Approval Matter for My Home Mortgage?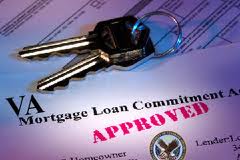 It's not the sexiest part of the home buying experience. It also isn't as exciting as deciding between the house with the adorable sitting room off the master and the home with the inviting southern front porch.
I can assure you, though, that there is little about the home buying process that is more important than obtaining your pre-approval.
If you're a first-time military home buyer (or any home buyer, for that matter), here's what could happen if you don't get your home loan pre-approval:
You find the home of your dreams!
Then, you get to tour the home because:
Your real estate agent forgot to ask for your pre-approval letter prior to showing your home (this rarely happens anymore), or
You're buying from a FSBO home seller who either didn't know that they could require your pre-approval letter or didn't feel comfortable asking for it.
You submit an offer on the home, and one of two things happens.
Your offer is rejected in favor of an offer that came with a pre-approval letter. The seller can see that the buyer is both more serious about moving forward with the offer and that the buyer can afford the property, or
Your offer is accepted.
If your offer is accepted, you immediately order an inspection of the property, which is worth every penny. Then, you move forward with financing only to learn that either:
You won't qualify for the amount sufficient to cover the property because of your debt-to-income ratio. Even if you know that you can cover the monthly mortgage, interest, insurance, taxes, and so forth, the lender may not agree with you.
You qualify for a mortgage large enough to cover the purchase agreement price, but you will need to come up with more money than you can afford for your down payment.
You don't want to end up in this situation. This isn't good for you, it isn't good for the home seller, and it isn't good for your agent. This situation really only worked in favor of the home inspector.
Here's how to avoid that sticky situation.
1) Get a pre-qualification amount so that you have a ballpark range of what price point you may be shopping in.
You can hop on over to the VA Home Loan page to complete a pre-qualification form through MilitaryByOwner's partner, Veterans United. This will take approximately two minutes, and it will not commit you to anything financial. A pre-qualification approval is an amount that a lender estimates that you will be approved for based solely on your self-reporting. There are many factors that could alter that amount.
2) Check out your credit report to make sure there are no errors or issues that you need to remedy.
You can use a service through your bank or you check out a free service such as Credit Karma.
3) Assuming all is well with your credit report, use the pre-qualification amount as an opportunity to begin looking at properties online to get a sense of whether you can afford the taxes and insurance as part of your monthly payment.
This Home Search Tutorial can show you how to use the pre-qualification amount to begin to find homes located near your new duty station. If you want to better understand what you can afford, take a quick read of our post How Much House Can You Afford on Your Military Family's Budget to see three different ways that military families determine affordability.
4) If you believe that home buying is within your military family's means for this PCS, then contact a lender to request your pre-approval letter.
This will take a little longer to process, and you'll need to have an array of documents such as copies of your driver's license, LES statements, two months' of bank statements, W2s (these will be necessary for the military spouse, too, if you are both using income to qualify), and a copy of orders. Working through this paperwork now will save you time during the home buying process, though, because your lender will ultimately need those documents for the underwriter who will be processing your loan.
While this aspect of the home buying process may prove more tedious than the fun house hunting process, it will ultimately help make your home selection process more efficient, because you'll know the exact price point you can shop for. Having your pre-approval letter will narrow down your home search immediately!