How Much Should Military Homeowners Spend on Custom Features?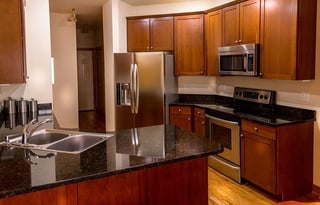 Stainless steel appliances...granite countertops...updated lighting...a "smart" home...
These are some popular updates for homeowners. But what about you, military homeowner?
How much cash should a military homeowner sink into custom details if you'll only live at an address for a few years? Tweet This!
While touring the new home our friends built, I noted many features that specifically fit their lifestyle, such as eight-foot-high doorways and a five-foot-tall breakfast bar. Needless to say, their family includes a husband and sons that are over 6 feet tall! They plan to retire in this dream home, so the custom details are important for their overall comfort and enjoyment for years to come. Military homeowners will need to consider wisely when planning updates or paying for special features.
Consider These 4 Points When Upgrading Your Home
1. Compare Updates
If you watch a home improvement television show, the top two custom items the kitchen designers usually add are shimmering stainless steel appliances and glistening granite countertops. With this in mind, consider researching properties in your area. What materials are your neighbors choosing with their kitchen updates? If stainless steel and granite are common denominators, you may need to add those custom items to your equation and upgrade your kitchen with resale in mind.
2. Get Smart
With today's tech-centric lifestyle, a military homeowner may be interested in having technology in their house that ties to their smartphone or tablet. This could be as simple as a thermostat installed in the home and controlled remotely by a smartphone app. Another option is a wireless security system that feeds to an app with cameras and sensors around the house. This custom detail may be appealing for a military homeowner to keep tabs on their house when away at work or when traveling, without the monthly fee tied to a traditional home security system. Adding custom amenities to make your home "smart" may bring you peace of mind and could set your house apart from others on the market.
3. Light It Up!
A few simple changes with fixtures can update your lighting features and shine the best light on your home. If you tire of the hum of the fluorescent box light in your kitchen, consider a track unit with flexible sockets to spotlight specific areas. If recessed lighting is served in your dining room, consider replacing one of the can lights with a fixture and a pleasing pendant or a charming chandelier. If your ceiling fan is circling with lackluster appeal, consider replacement fan blades of a different style or pattern. You and yours may enjoy these enhancements, and they are sure to be highlights at an open house.
4. Doorway to Opportunity
A custom detail that offers a remarkable return on investment is right at your doorstep! By replacing a fiberglass or wood entry door with a steel model, the door may offer more security and better insulation. If this expense doesn't fit your budget, consider repainting your existing door and adding new hardware and kick plate. If the entry space at your front door gives a welcoming vibe to friends and family, it's likely to have the same appeal to a potential buyer.
With large efforts or small touches, a military homeowner may indeed cosider adding custom features to a home. These details may bring enjoyment during the current assignment as well as engage a buyer at resale!