PCS to Fort Campbell, Kentucky
Making a PCS move to Fort Campbell, Kentucky? Let's take a quick tour of your new duty station!
The Fort Campbell area is known for its small town feel and military-friendly atmosphere. Many military families stationed here fall in love with those features, along with the rolling hills of Kentucky and Tennessee.
Ft. Campbell is large: it's the third largest post in the U.S. Army by population and the seventh largest in the entire Department of Defense. Land-wise, Fort Campbell covers over 106,700 acres.
There's a large military retiree community here, bringing the total population of active duty, civilians, retirees, and family members to over 237,000. Nearby Clarksville, Tennessee, was listed in Money Magazine as the "Best Place to Live in the United States." You'll find access to city life in nearby Nashville, Tennessee (about an hour's drive), while outdoor lovers will love the easy access to hiking, camping, fishing, and hunting.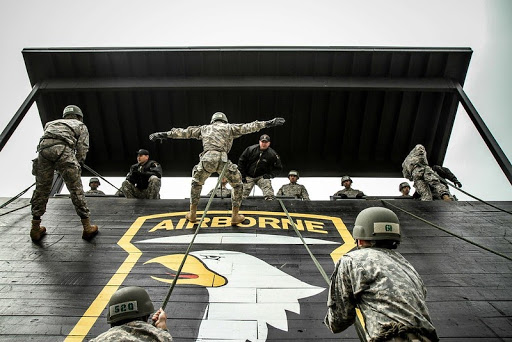 Photo via U. S. Army Flickr U.S. Army photo by Sgt. Keith Rogers
Fort Campbell is home to the "ten toughest days in the Army" at the Sabalauski Air Assault School; the Army's 101st Airborne Division, known as "The Screaming Eagles"; the 5th Special Forces Group; the 160th Special Operations Aviation Regiment; and more.
Here's what military spouse Megan had to say about the area:
"Ft. Campbell is our favorite duty station: the people and the camaraderie. There's nothing like it!"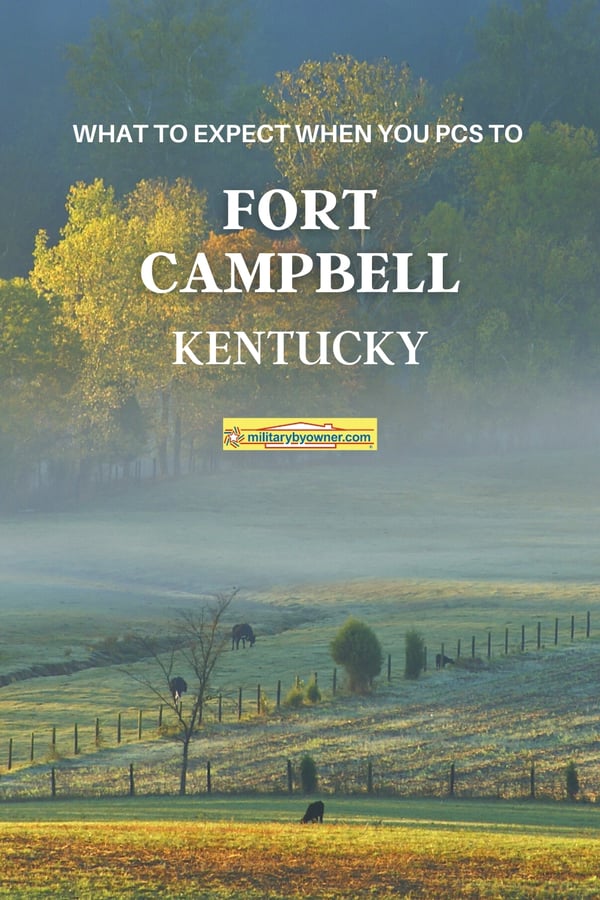 Where is Fort Campbell, Kentucky?
Fort Campbell sits on the border of Kentucky and Tennessee. Although nearly two-thirds of this Army post is in Tennessee, the post office is located in Kentucky, giving Fort Campbell its Kentucky designation.
Fort Campbell lies between the towns of Clarksville, TN, and Hopkinsville, KY. It's northeast of Nashville, connected by I-24. Fort Campbell is located in four different counties: Trigg and Christian in Kentucky, and Stewart and Montgomery in Tennessee. Fort Knox and Blue Grass Army Depot are each a few hours' drive from Fort Campbell.
Cities within an easy drive of Fort Campbell (approximate distance):
Nashville, Tennessee: 60 miles
Louisville, Kentucky: 190 miles
Memphis, Tennessee: 208 miles

Fort Campbell Housing
The Fort Campbell housing market is dominated by rentals. If you're looking to buy a home, this is actually good news, since if you move out of the area due to military service, finding future tenants should not be difficult. Areas that have a high livability score include Clarksville, Hopkinsville, and Oak Grove.
Fort Campbell on-post housing is managed by Lend Lease/Campbell Crossing. Families living on post at Fort Campbell enjoy features including an updated commissary, housing, splash pads, and parks.
See homes for sale and houses for rent near Fort Campbell: Fort Campbell Homes.
---
Looking for Fort Campbell housing? Take a tour of this home for rent in nearby Clarksville, Tennessee.
6 Bed, 3.5 Bath (Single Family)
For Rent: $3,450/mo.

MBO Listing #MBO1472723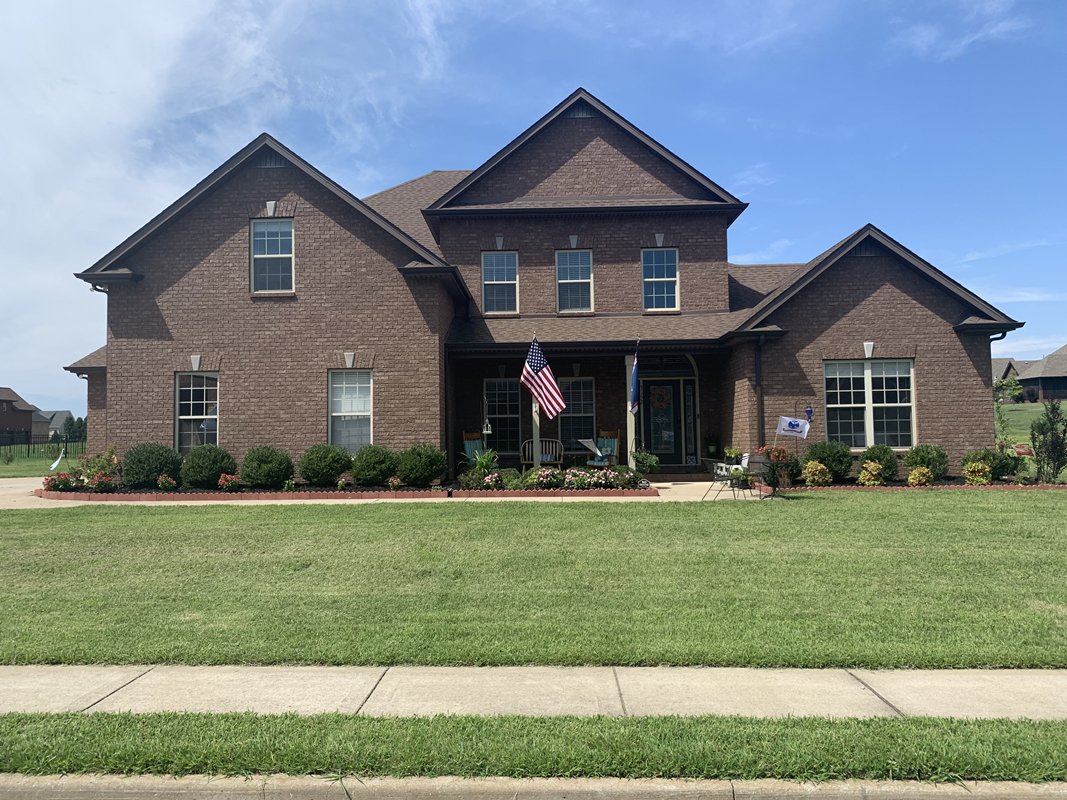 This bright and airy 4,400-square-foot home could be the perfect location for your family to settle into life near Fort Campbell! The spacious custom-built home sits on an over half-acre fenced lot and has so many features that families want: three living areas, two with a gas fireplace; two bedrooms on the main floor with the remaining four on the second floor; master bathroom featuring a soaking Jacuzzi tub; an updated gourmet kitchen with double ovens; hardwood floors and tile; and so much more. Zoned for some of the area's top rated schools, this home is about 20 minutes from Fort Campbell, and also allows pets on case-by-case approval.
Want more information and home photos for this rental? Click the listing above.
---
Fort Campbell Families

Schools on Fort Campbell
Fort Campbell has schools on post that are run by DODEA. The district includes four elementary schools, one middle school, and one high school.
The system's four elementary schools serve approximately 2,500 students in grades pre-k through fifth grade, while the middle school and high school have about 500 students each. Get more details about Fort Campbell schools.
Did you know you can search for a home using school boundary maps on MilitaryByOwner? Find out more!
Military Spouses
Military spouses will find a welcoming environment at Fort Campbell, along with many opportunities to further their education or employment, connect socially, or volunteer.
Top area employers near Fort Campbell include the retail, manufacturing, social services, education, and health care industries. Check in with the Fort Campbell Career Center for assistance with your job search, training, career coaching, connections to certification programs, and more.
Things to Do Near Fort Campbell
Whether you're a history buff, art lover, or outdoor adventurer, you'll find plenty to do during your time at Fort Campbell. Before you head out, don't forget to check in with the Fort Campbell MWR Leisure Travel Services for discounted tickets.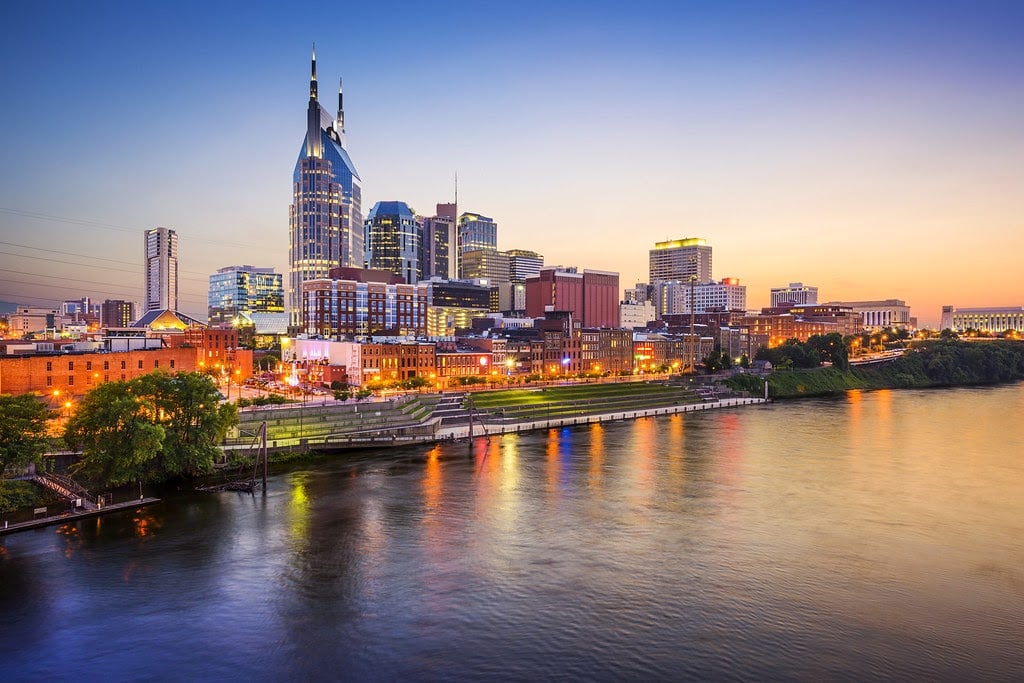 Nashville, TN by Derrick Brutel
Military families who've been stationed at Fort Campbell shared these ideas:
Families highly recommend Pilot Rock, Land Between the Lakes and its 1850's farm, Clarksville's Riverwalk, and Dunbar Cave as great destinations.
Visit a local eatery to sample yummy food or take in one of the many area festivals. Some recommendations: Miss Lucille's Cafe, Reggie's BBQ, Strawberry Alley Ale Works, Blackhorse Pub & Brewery, TN Red White & Brewfest, Riverfest, and Clarksville BBQ Bash. (See our Fort Campbell ebook below for more things to do!)
Take a quick trip to Nashville to visit the Grand Old Opry or enjoy some nightlife and shopping.
Local breweries, weekend concerts, and pro and semi-pro sports will keep your social calendar full! (Some local teams: Tennessee Titans, Nashville Predators, Lexington Blackstones RFC, and of course, the Kentucky Derby.)
Get even more ideas: 7 Adventures for the Whole Family Near Fort Campbell, Kentucky, and follow MilitaryByOwner's Fort Campbell Pinterest board .
Heading to Fort Campbell? Download our free resource below.