Rhode Island Getaways: These Military Lodging Facilities Give You Access to 3 Top Destinations
An assignment to Naval Station Newport, Rhode Island, puts you right in the middle of the action in the northeastern U.S. This region has a very high concentration of important historic areas, beautiful coastlines, incredible nature, and dozens of cities, large and small, that are worth a visit.
In fact, there are so many things to do within a day's drive of Newport that you couldn't see them all if you did a getaway every single weekend! So, how do you narrow it down?
One way is to choose destinations that you can visit and use your military ID card to save money!
Here are three top getaways from Rhode Island that you can visit conveniently and affordably by staying in military lodging.
1) Cape Cod, MA
Only 60 miles from Newport is Coast Guard Base Cape Cod, which offers easy access to one of the top spots in Massachusetts.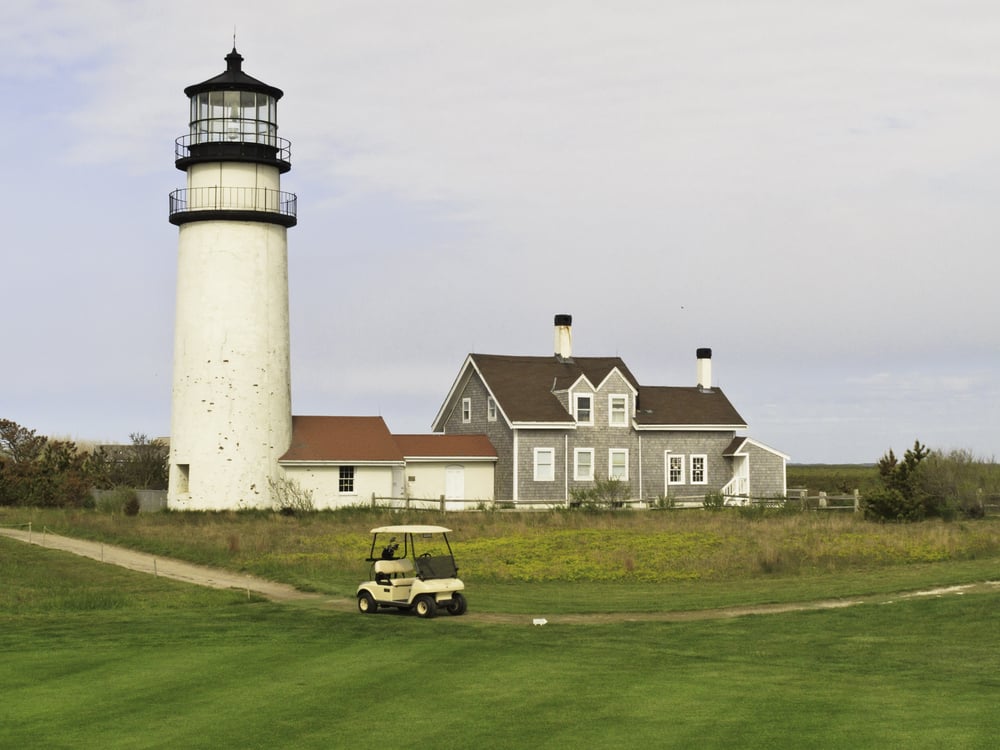 Golf cart on path around putting green by historic lighthouse and station in Cape Cod. Photo from Shutterstock.
The Recreation House, a furnished 3-bedroom, 2-bath house with full kitchen. The house is available for rent year-round and can sleep up to 4 adults and 4 kids (one room has bunk beds).
The Wings Inn, a motel-style facility. It has 1- and 2-bedroom suites.
The Townhouses on Lemay Ave., located in the Base Cape Cod Housing Area. There are 13 units of varying configurations, but all townhouses have a living room, dining area, and full kitchen.
An RV park. Also located in the housing area, the RV park has five gravel sites. They have full hookups but no restroom or shower facilities. The RV park is open May through October.
While staying in MWR lodging, you can use all the other base services and facilities, such as bike rental, the outdoor pool (seasonal), and the 9-hole golf course. But the best part about staying here is the convenient access to Cape Cod.
One of Cape Cod's top attractions is its famous beaches, and this Coast Guard base makes it easy to visit them. If you stay here during the summer, get a daily beach parking pass at the front desk of the Wings Inn to save about $20/day (the pass is not required at other times of year).
Besides the beaches, Cape Cod is a destination for outdoor adventure, art, and culture. Water sports, biking, and hiking are popular, as is whale-watching. The Cape also has dozens of museums, art galleries and craft shops. Finally, don't miss the delicious local seafood!
2) South Shore Region, MA
Further up the coast of Massachusetts, but still only 70 miles from Newport, is Fourth Cliff Family Recreation Area. Aptly named, the 56-acre facility sits on a cliff overlooking the ocean.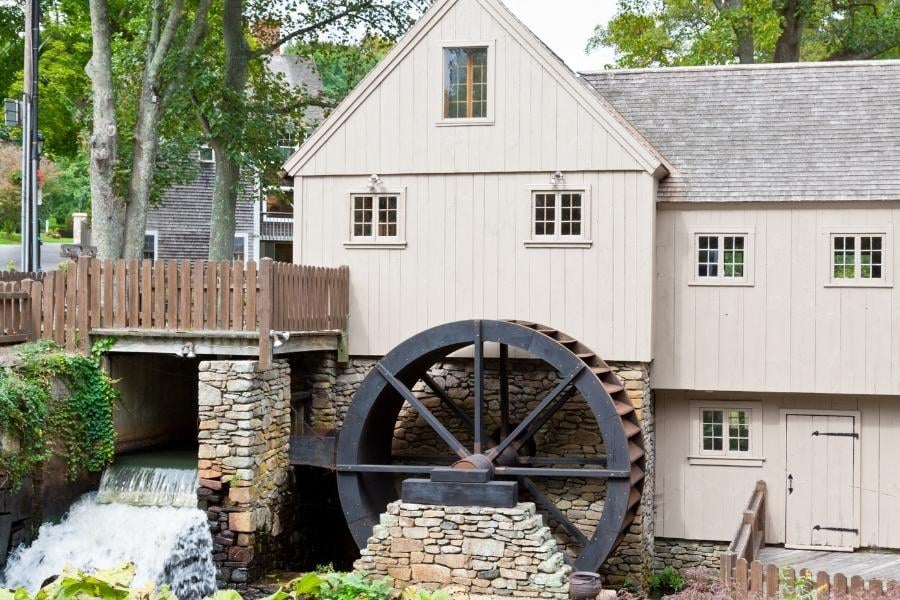 Jenney Grist Mill in Plymouth, MA. Photo from Canva.
Fourth Cliff offers several different lodging options:
Cottages/Chalets: These 2- and 3-bedroom houses sleep up to eight guests. All have fireplaces, living areas, and full kitchens.
Efficiencies: These 1-bedroom apartments have a living area and kitchenette.

RV sites:

The 11 full hookup sites have stunning views of the Atlantic Ocean, making this one of the top military RV parks.
Besides enjoying the scenery, popular things to do at Fourth Cliff include water sports and fishing (you can rent canoes, kayaks, and fishing rods on base).
Outside the recreation area, there are many interesting and historic coastal towns to explore. One example is Plymouth, which was founded in 1620 by the English settlers who arrived on the Mayflower. Scituate, the small community just north of Fourth Cliff, is also worth a visit. It's a picturesque New England town full of independently-owned shops and restaurants. Less than an hour north of Fourth Cliff is the city of Boston, which of course, is a must-see while you're stationed in Rhode Island!
3) New York City, NY
Fort Wadsworth, a historic military installation located on Staten Island, is the home of U.S. Coast Guard (USCG) Sector New York. Staying at Fort Wadsworth makes it easy and convenient to visit Manhattan – even with a car!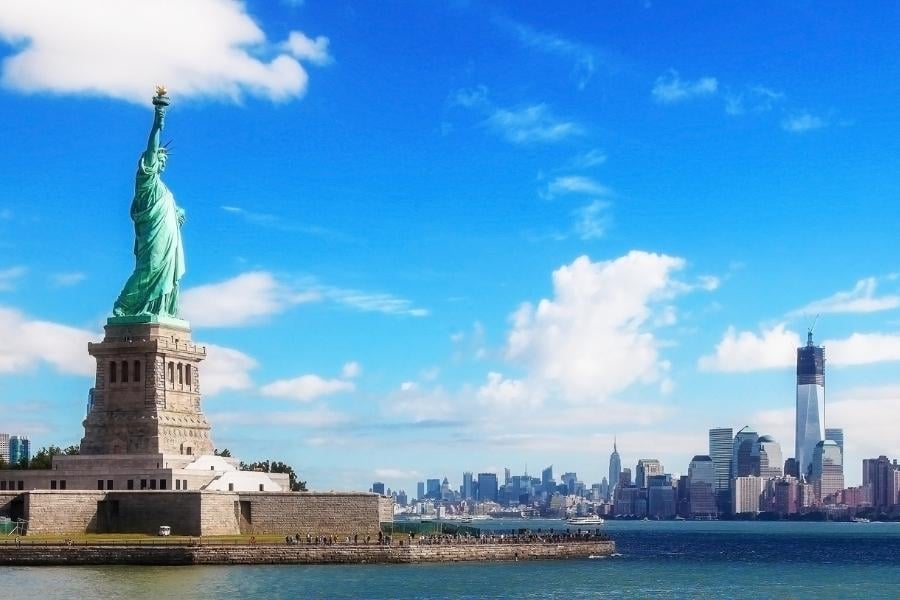 Statue of Liberty and Manhattan skyline. Photo from Canva.
The Coast Guard station is less than 200 miles from Newport and a few minutes from the Staten Island ferry terminal. The ferry to Manhattan is free and operates 24 hours/day.
Fort Wadsworth has two lodging facilities:
Navy Lodge New York

:

Navy Lodge offers standard hotel-style rooms and free breakfast.
Fort Wadsworth Guest Quarters

:

This former family housing building has a 2-bedroom and a 3- bedroom apartment. The 2-bedroom can sleep up to six guests, and the 3-bedroom accommodates up to eight. Both are furnished, two-level units and have fully-equipped kitchens.

Fort Wadsworth has a Coast Guard Exchange and a fitness center. The Gateway National Park Visitors Center also offers tours of this historic fort. Beyond that, you have all of New York City to explore! Stop at the Sector New York MWR Office before you head out to see what discount tickets they have.

Then, strike out and discover the Big Apple! Catch a Broadway show, visit the museums, see the Statue of Liberty up close, experience the action in Times Square, or stroll through Central Park. No matter how much time you have, you can find something to do in NYC!

Make the most of your time in Rhode Island by taking advantage of all the things to see and do in the surrounding area. Staying at military facilities can help you stretch your dollar and conveniently visit what are often very expensive areas at a lower price.
Moving to Naval Station Newport? Grab our free guide below!