Think Like a Real Estate Agent When Selling Your Home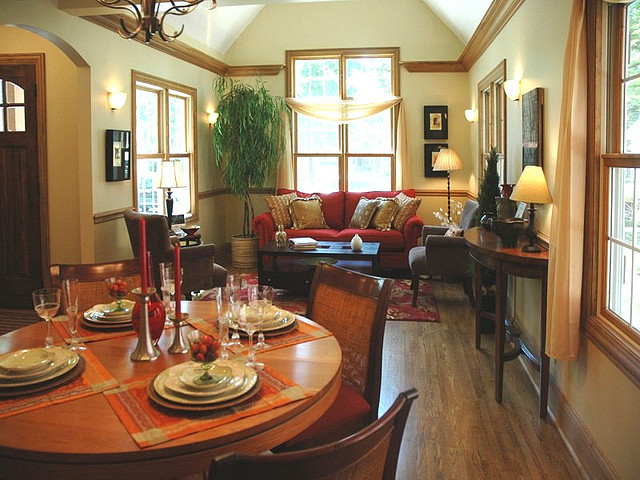 Until I actually started accompanying real estate agents on appointments with photographers, sellers, and buyers, the marketing aspect of a property remained a pretty abstract concept for me. Sure, I could tell you statistically how buyers respond to good real estate photography. I could tell you that it is critical to stage rooms because buyers struggle to conceptualize functionality of empty space, but none of that data was truly real until I experienced actually working with buyers.
And Oh. My. Gosh...positioning a house to sell quickly and for top dollar involves intense, strategic marketing at a level I could never have imagined.
Selling your home requires campaigns--multiple campaigns, that is--through a multi-pronged marketing approach that could involve any combination of the following marketing techniques:
Online listings

Direct mailings

Cold callings (For houses! Who'd have thought?)

Street signs

Flyers
That's just a short list, but you get the idea.
Before any of that marketing occurs, however, there are a series of steps that must first take place. Since I know my fellow military families are just a big 'ol bunch of DIYers, if you're endeavoring to complete a For Sale By Owner through MilitaryByOwner, then this information is for you. If you're in the game to sell your home amid a slew of real estate marketers competing to sell their listings, then you're going to need to step up your game and think like a real estate agent to get your listing under contract, too!
7 Steps to Help You Think Like a Real Estate Agent When Marketing Your Home for Sale
1) Get a fresh set of eyes on your home. Have a trusted third party walk through your home to identify what's appealing and what's not. If possible, get multiple eyes on your property for perspectives on what features of your home you should highlight in your property listing, marketing, and showing of your home.
2) Create a listing readiness checklist. Using the information from your trusted third party viewers, create a checklist of what you need to accomplish to get your home ready for listing. You can find some tips in our post on marketing your home to VA Home Loan buyers, but a general readiness list may include:
Get the windows cleaned.

Hire someone to do a deep clean of the house.

Repaint your child's bright blue bedroom.

Cut down excess tree branches.

Mulch yard.

Add a cheery wreath to the front door.

Hire a room stager to stage the room your third party eyes described as "awkwardly shaped."

Order maintenance for the water softener system.

Get gutters cleaned

Touch-up paint throughout the house.

Replace the lightbulbs with the highest wattage that's safe to use (great for photos).
3) Execute the listing readiness checklist. If you are selling FSBO, it can be a little tougher to get up the motivation to complete the checklist because no one is going to hold you to it if you decide to leave off an item or two, but know that your checklist serves to help position your home in its best possible light. Small expenses and some effort now will help you later by placing you in a stronger negotiating position.
4) Schedule and prepare for your professional real estate photography. You will likely pay anywhere from $250-450 for good real estate photography. Yes, it's an unwelcome upfront expense amid many other expenses involved in listing your property, but this is one of the many marketing expenses that you could otherwise hand off to a real estate agent. The thing is, not every agent chooses to use a professional real estate photographer, and it shows in both their listing and in their ability to garner a better sales price for their client. If you're choosing to work with a real estate agent, ask if he or she uses a professional for photography and ask for samples of the photographer's work. Remember, you're paying for the photography and marketing of the home--it's just a matter of whether you're paying for it upfront in cash with a FSBO or after-the-fact as part of the sale of the home.
5) Plan where you'll list your home. Think about the target market for your home, and create a list of places to market where those people will find your home. If you're marketing to the military, for instance, then make sure to take advantage of MilitaryByOwner's national reach.
6) Strategically price your home. A real estate agent will be able to help you with comparables based on current inventory and recently sold houses. You can use Automated Valuation Models, but as our article on How Do I Estimate My Home's Value? discusses, AVMs are unreliable. By understanding where your home fits into the market, you can more strategically place your home where it will receive the maximum number of inquiries, showings, and potential bids. Starting your home at a price too high, meanwhile, will mean languishing on the market and ultimately will probably require a price drop. The market will only bear what the market will bear.
7) Carefully craft your marketing text.
Once you've achieved all of the above, then you'll need to get your writer's thinking cap on and craft the language that will help sell your house for you! If you struggle with words, check out our easy guide to crafting ads in our downloadable
Key Words to Emphasize in Your Home Listing
.
I know this list may look a little long, but when you're trying to sell an asset worth that's possibly worth five to ten times the value of your family's car, then it's going to take longer than the few hours it took for you to organize a car detailing and trip to CarMax the last time you sold a car.
Have you successfully sold your own house or did you work with a real estate agent? What marketing tips do you have to share with your fellow military home sellers based on your experience? Please share with our readers in the comments below or on our Facebook page!