Traveling While Your Spouse Is Deployed? 5 Tips to Keep Your Home Safe
As military spouses, many of us use the endless amount of time during deployment to reconnect to family and travel. For those of us that own a home, the idea of leaving our home sitting empty for months on end can be terrifying. Though we're used to frequent moves, there is extra love and concern taken for a property you own.
So, what is the best course of action to prevent an unwanted incident? Here are FIVE tips to help you prepare now and relax later.
Traveling While Your Spouse Is Deployed? 5 Tips to Keep Your Home Safe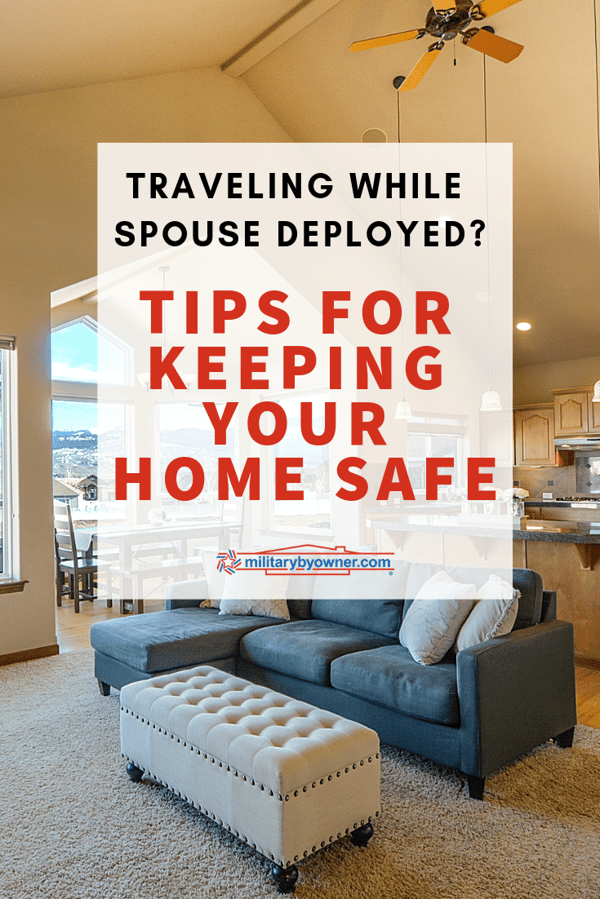 Tip #1: Get to know your neighbors in advance or have a good friend willing to commit a little time to helping you.
It's important that someone you trust enters your house every two weeks or so to make sure there is no surprise infestation, leaks, plumbing nightmares, etc.
While you're worried about someone stalking your house, the upstairs plumbing could be giving you more of an "open concept" than you bargained for.
Tip #2: Leave your thermostat at a "semi-comfortable" temperature.
This is crucial, and one you have probably heard before. If the thermostat is set too low and the outside temperature drops, you risk your pipes freezing. So, when this trusted friend comes in and out every few weeks, have them lower or raise your thermostat temperature with the seasonal changes.
Tip #3: Set up mail and package pickup.
Lack of mail delivery at your home is a big "empty house" flag to anyone considering breaking in. You should continue to have your mail delivered to your house and have a neighbor retrieve it every few days. If something is truly important and it needs to get to you, then I'm sure with some bribing your sweet neighbor would get it to you one way or another.
Mail delivery is a sure sign of life in the home. The less disruption in the service or the occasional package delivery is a good visual to anyone watching too closely. Also, we live in a day where most bills are paid online anyway, therefore the mail is becoming more obsolete than in previous years. If you really need your mail, then have the address changed for the few things you can't live without.
Tip #4: Use a light timer.
With a little Christmas lighting magic, set up your living area lights to a light timer to turn on and off throughout the day and night depending on your preference. It's suggested to get a second light timer for your master bathroom as well. Have it set to go on every hour-and-a-half or so for a few minutes. This gives the illusion of fluid activity in the home.
Tip #5: Maybe the most obvious tip--but don't tell the social media world that you're leaving your house empty.
If you're just a very upfront person and want to share your plans with the Facebook world, that is ok, but do so lightly. For example: mention your house sitter a few times, whether this person exists or not. Also, don't give your specific dates of travel. If you use dates like "mid-March" and someone with ill intentions is watching your home, but they see light timer-controlled lights on and package deliveries, then they may think they have the wrong dates. Use subtle white lies to throw off the trail where you can.
Deployments are difficult enough as it is without having to worry about your home when you step away from it. Take these small precautions to heart and enjoy yourself where you're able. Rest assured knowing that, if something unfortunate does happen to your home while you're gone, you still put the right foot forward in preventative care.
Want more tips like this? Click below to subscribe to our newsletter!

About the author: Daily Mom Military is an online magazine for military spouses and their families providing resources, support, advice, and community for all ranks and all branches of the United States Military. Daily Mom Military is for military life and beyond- because we are more than just milspouses.