Updates on Coronavirus (COVID-19) and the Military Community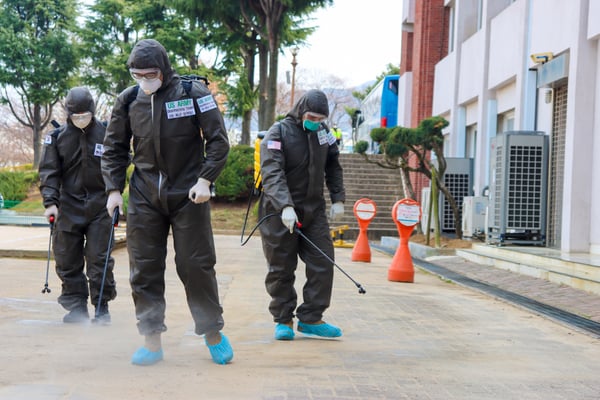 U.S. and South Korean soldiers spray a COVID-19 infected area with a solution of disinfectant in Daegu, South Korea, March 13, 2020. Photo by Army Spc. Hayden Hallman via Defense.gov.
With the constantly evolving news on the Coronavirus (COVID-19) pandemic, it can be difficult to keep up with what's real and what's hearsay.
For military families living overseas, in the middle of a PCS move, or with a family member deployed or in training, staying updated with accurate information is especially important. While experienced military members and spouses know that nothing is certain in military life, it's easy for even the most seasoned among us to feel anxious as news spreads like wildfire across social media. It's crucial to vet any information through official sources.
As mentioned in our post last week, The Impact of COVID-19 on Military PCS Moves and Travel, the Department of Defense is sharing regular updates as events and guidance unfold. As of now, travel restrictions are in place until at least May 11.
As always, look to your local command for information and area closures and cancellations. We've also put together a list of resources to help your military family during this time. All links are to official military or government organizations.
10 Trusted Sources About Coronavirus and the Military Community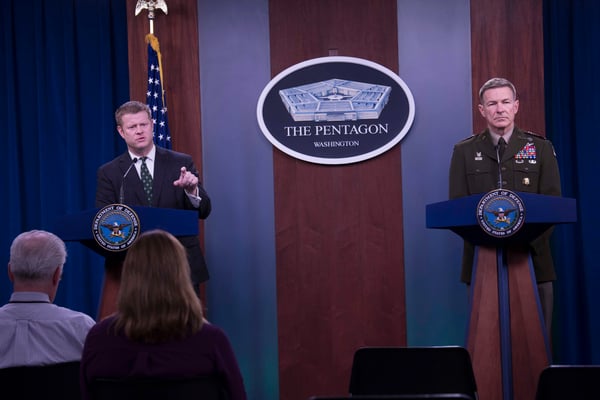 Secretary of the Army Ryan McCarthy and Chief of Staff of the Army Gen. James McConville hold a news conference at the Pentagon, March 20, 2020, to discuss the Army's efforts during the COVID-19, coronavirus pandemic. Photo by Army Staff Sgt. Brandy Nicole Mejia via Defense.gov.
Daily updates from the Department of Defense in conjunction with the State Department and Department of Health and Human Services.
2) Washington Headquarters Services
Specific guidance for those in the National Capital Region and Pentagon.
Information for families in the DODEA school system.
4) U.S. Department of Veterans Affairs Coronavirus Updates
Advice for veterans and contact info for facilities if you think you need to be tested.
5) Tricare's Coronavirus Guidance and FAQs
Updated as the situation changes, find out where to be tested as a Tricare beneficiary, information about quarantines, and more.
6) Centers for Disease Control (CDC)
Prevention, symptoms, and resources for families, schools, businesses, and communities.
7) Impacts on Transition Assistance Programs and Yellow Ribbon Reintegration Programs
News from the Military-Civilian Transition Office regarding the effects of Coronavirus on programs for transitioning and reintegrating military members.
8) Guidance from the Defense Health Agency
Advice includes calling providers before visiting clinics if you think you have Coronavirus symptoms.
The latest updates for civilian workers.
10) Military OneSource Coronavirus Information for the Military Community
Military OneSource now has a section dedicated to Coronavirus updates and resources. Find help for families in crisis, online learning resources for military kids, service updates and changes, and the latest video non-medical counseling for military youth (so helpful during this time of school closures and uncertainty).
Remember, non-medical counseling is available 24/7 toll-free at 1-800-342-9647 or through live chat.
MilitaryByOwner will continue to provide updated information and resources for your military family, along with flexibility for home and business advertisers. Current advertisers whose home or business ads expire before April 30th will be extended an additional 30 days if needed. Contact MilitaryByOwner with any questions you may have or through the live chat feature on our site.