Virtual Staging Your Home: What You Need to Know
Virtual staging is a relatively new concept, but it has been gaining popularity for all the right reasons. More and more people are buying homes online, and virtually staging properties helps in leaving a positive impression of the house on the customer, making the sale faster. Read on to learn more!
What to Know About Virtual Staging Your Home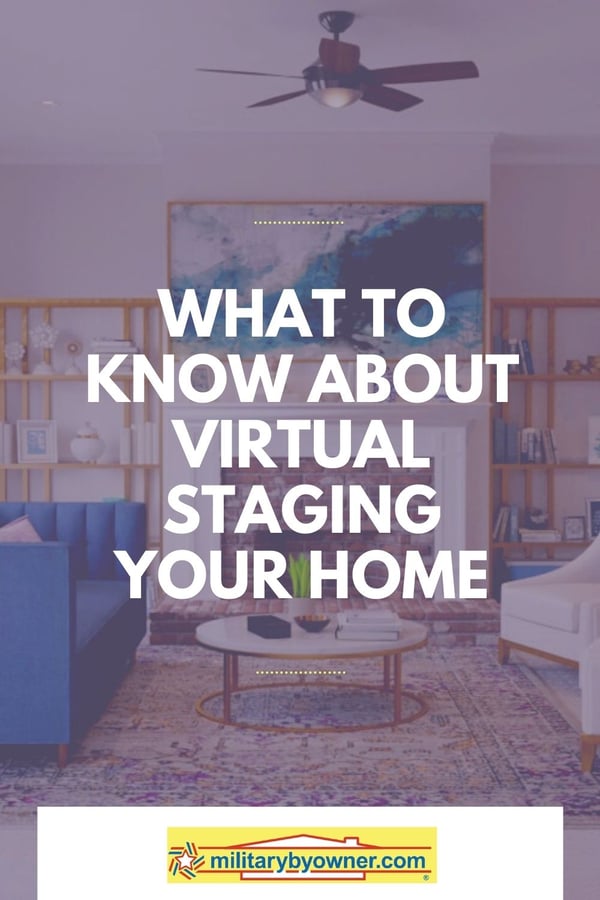 What is Virtual Staging?
In simple terms, it means furnishing an empty house virtually.
In this process, the graphic editors and interior designers virtually design the interiors of a property and give the customers a glimpse into the personality and aesthetics of the house.
Using images of the vacant interior of the house, highly realistic furniture and decor pieces are placed in the space. The designers can also use the existing decor and change it up by reducing clutter or changing the wall colors. This process gives customers an idea of how the space will look after interior design.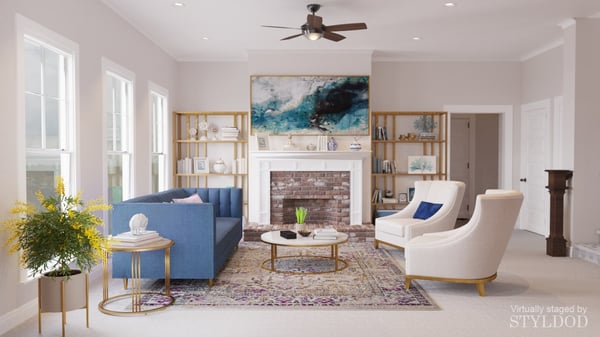 Image via styldod.com
How Does Virtual Staging Work?
The designers take existing photos of the house and collect the measurements of the space.
After that, the specialists will upload the details onto software and create a similar virtual space. Then, they will virtually place the furniture and create a staged house. Virtual staging companies also scan high-resolution photographs of the property and upload them on the software. This helps in making the process faster.
Take a look at these before and after photos. Keep scrolling to see more and and find other before and afters at Styldod.com.
Before virtual staging: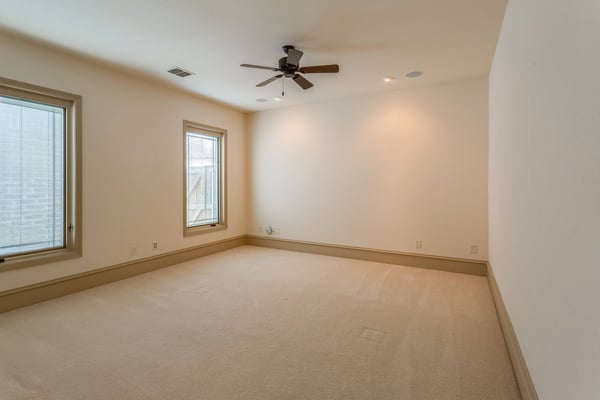 The same room after virtual staging: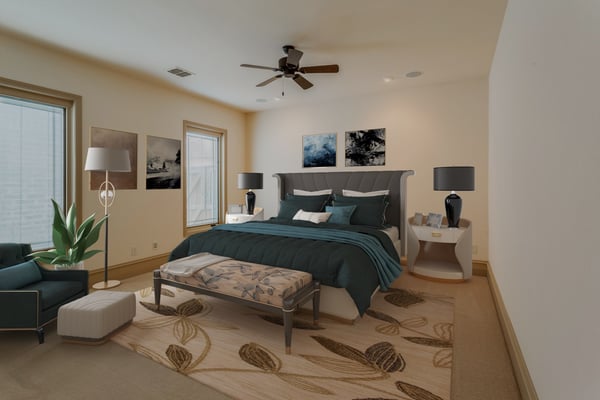 What Are the Benefits of Virtual Staging?
1) Customizing the Rooms
There is no limit to how you can customize a room when it comes to virtual staging. You can show off different styles of interiors.
For example, if a customer is looking for modern interiors in the house he wants to sell, you can virtually stage and put modern elements in the space. This way, he can show pictures of a virtually staged house to the buyers rather than showing an empty space.

Example of modern style virtual staging.
2) Helps Home Buyers Visualize the Space
When someone is buying a house or considering a makeover, it would be slightly tricky to just imagine the end result with the new furnishings. They may not exactly understand the interior designer's views just by talking. This is where virtual staging can help, as they will be able to "see" the changes, rather than just imagining it.
Real estate agents and property owners often consider staging a home before selling. This helps them attract potential buyers by showing how the property can look, rather than putting up pictures of empty rooms.

Living area virtually staged in coastal style.
3) Creates a Great First Impression
When staging a house for sale, it is crucial to make a great first impression of the house. Virtual staging can help you show how a property can potentially look after decorating it.
4) Saves Time, Money, and Effort
Physical staging takes a lot of money, time, and effort – selecting the furniture, buying it, transportation time and expenses, as well as arranging the furniture and decor pieces. You may also hire a photographer to take photos. This process may take days or even weeks.
Virtual staging, on the other hand, takes around 24-48 hours. You just need to photograph the empty property and get the entire home virtually staged.

Kitchen virtually staged in Scandinavian style home decor.
5) Shows the Best Features of the House
Let's be honest – the pictures of unfinished properties don't do justice to the actual potential of the house. They don't attract customers who are searching for properties online. Virtual staging can help you make the house look homely and attractive.
You can highlight the best features of the house in a great way. Virtual staging images also look great as ads for the property. Attract the right customers by helping them visualize the property in the best manner possible.

Industrial style virtually staged room.
In Conclusion
Virtual staging will give a competitive edge as you can stand out in the market. A beautiful home sells faster, and virtual staging will help you make the property look and feel attractive.
About the author:
Rahul Agarwal is the Co-founder and Chief Business Officer at Styldod, where he has taught a computer to do interior design! Styldod provides the most hassle-free and inexpensive virtual staging solutions for real estate agents so they can sell their listings faster, and for higher prices. Rahul was also a co-founder of Mebelkart (which is acquired by Ask Me). He's your everyday IIT Kanpur nerd who pushes the boundaries with his innovative entrepreneurial stints and is also a sound startup investor and advisor. Rahul attributes his success as a professional to the discipline he has learned from his district hockey days, being a swimmer and a gym enthusiast.