What to Expect When You PCS to MacDill AFB, Florida
Welcome to the Sunshine State! If you're headed to MacDill Air Force Base, you'll find it to be a very military and veteran friendly area.
MacDill AFB is located in the city limits of Tampa, Florida, on the Interbay Peninsula in Hillsborough County. It's the home of the U.S. Central Command, U.S. Special Operations Command, and 37 other units.
The Tampa area is a well known vacation destination, and with good reason. With gorgeous beaches, night life, entertainment, and warm weather, it can be a great location for your military family to work and play!
MacDill's military presence is a joint one, as it's the home of two military combatant commands: CENTCOM and SOCOM. As well, you'll find Army, Navy, Air Force, and Coast Guard bases, and the Florida "Space Coast" within hours.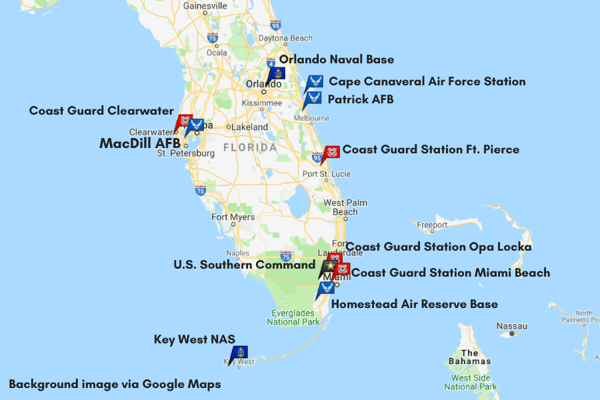 Military Installations Near MacDill:
What to Expect When You PCS to MacDill AFB, Florida
With five distinct neighborhoods, Harbor Bay at MacDill provides homes and community for military families who choose to live on base. And the waitlist for on-base housing is known to require some patience! But out in town, you'll find single-family homes, apartments, townhomes, and spacious lots depending on how far you want to live from base.
Popular areas include South Tampa, Apollo Beach, Brandon (home to one of MacDill's medical clinics), and Lithia. Each suburb offers its own culture, perks, and things to do.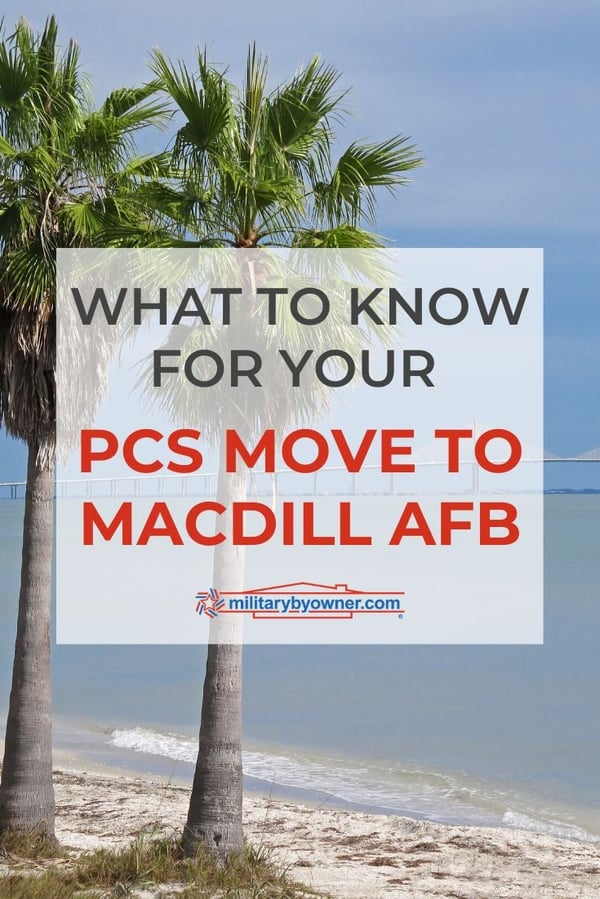 MacDill AFB Housing and Commuting Options
As close to base as you can get is South Tampa. It's located straight north of the Dale Mabry Gate (main gate) and puts you close to all that MacDill AFB has to offer.
Those looking to create some distance between work and home can direct their house hunt to Riverview, Brandon, and Apollo Beach.
You'll need to account for heavy traffic since public transportation isn't considered the most efficient and nearly everyone drives. To get a baseline idea, here's a breakdown of average commute times to MacDill AFB without excessive traffic:
Tampa: <5 to 20 minutes (depending on area)
Riverview: ~30 minutes
Brandon: ~30 minutes
Apollo Beach: ~35 minutes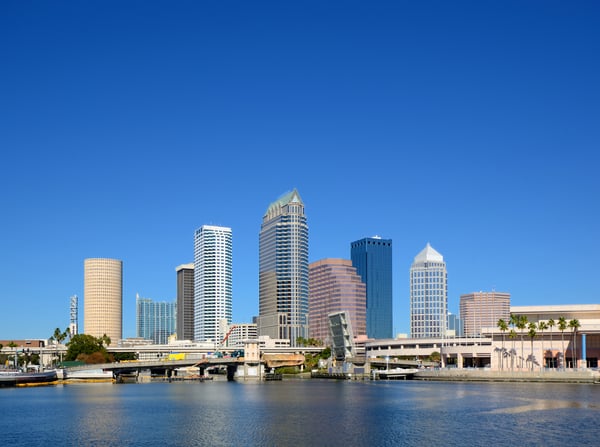 Skyline view of Tampa, Florida
The average home costs $224,464, while the average price to rent is $1,416/month, but you'll find that more people choose to rent than buy in this area. To get an idea of your new budget and how much house you can afford, be sure to take a look at the Tampa, Florida, BAH Rates for 2020.
Here's a small sampling of Tampa area BAH rates:
E-5 with dependants: $2,097
E-8 with dependants: $2,205
O-3 with dependants: $2,232
O-6 with dependants: $2,589
Military Spouse Employment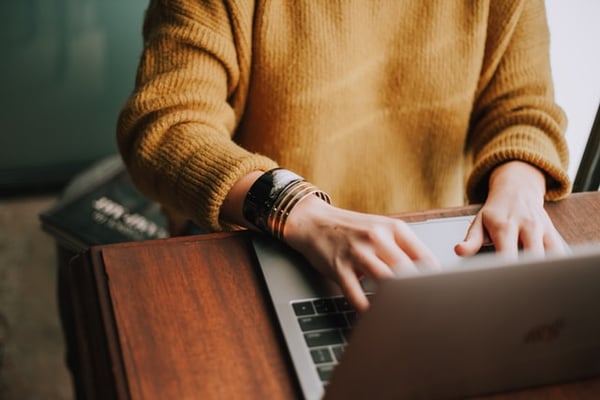 Photo by Christin Hume on Unsplash
The unemployment rate remains consistently lower than the national average. And as of early 2018, the Tampa area was listed #1 in the state for job openings, including high-skill, high-wage STEM jobs.
Want to know who's hiring? These are the top employers in the area as of 2018:
Publix Super Markets Inc.
BayCare Health System
Hillsborough County School District
MacDill AFB
HCA West Florida Division
If you're looking to further your education, there are a handful of schools in the area to help you do so. Take a look and see if the University of South Florida, University of Tampa, Everglades University, Hillsborough Community College, Southern Technical College-Tampa, or Saint Leo University is a good fit for you.
Wanting to find a volunteer opportunity? Organizations like the Tampa American Red Cross, The Salvation Army, United Way Suncoast, Elmira's Wildlife Sanctuary, Inc., Trinity Cafe, and the Citizen Corps create incredible opportunities to do so some meaningful work.
Things to Do Near MacDill AFB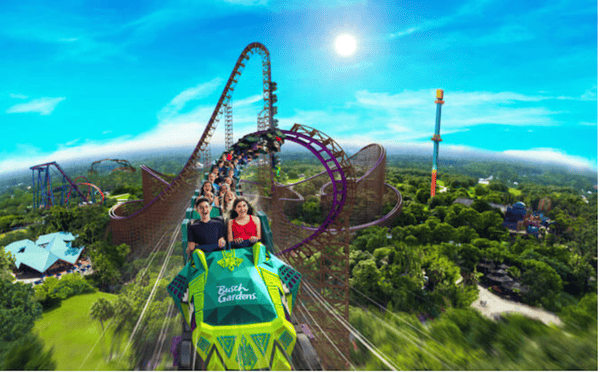 Photo by Busch Gardens Tampa Bay
Tampa is a vibrant city with easy water access and something for everyone in the family: outdoor lovers, families looking to entertain the kids, foodies, history buffs, and more.
You'll find a million ways to keep cool during the summer. Gas up the boat and head out for a day on the water, bait your hook and see what you can catch for dinner, or dig your toes in the sand and relax at the beach.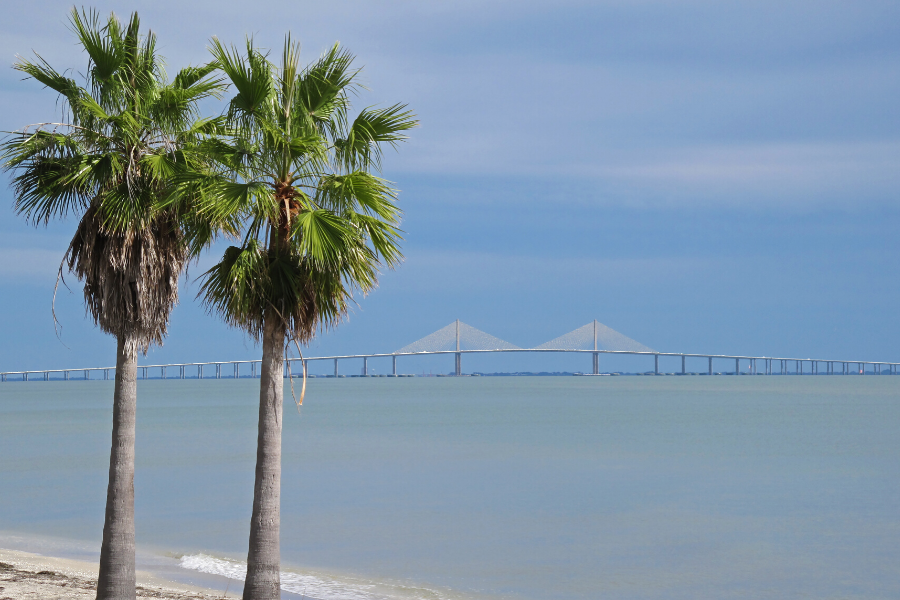 Sunshine Skyway Crossing Tampa Bay
If beach life isn't your idea of a good time, don't worry! This cultural city offers more than sand and sunshine. Clothe yourself in local spirit and head to the stadiums to cheer on the Tampa Bay Rays and the Tampa Bay Buccaneers.
Parents, make your kid's day and take advantage of all the family-friendly attractions around the city like Busch Gardens, Lowry Park Zoo, Glazer Children's Museum, the Florida Aquarium, and more!
Learn more about this amazing area!
Download MilitaryByOwner's free ebook about the MacDill AFB area below: