What is Your Due Diligence as a Homebuyer or Renter? [Infographic]
by Laura Maravillas and Trung Brill
Finding a safe neighborhood for your family is always a priority when making a PCS move. Just how do you know if that beautiful home you picked is going to be safe for your family? Has someone died in the home? How can you know if there is a registered sex offender living nearby? These are questions we all have when looking to rent or buy a house.
What is your due diligence as a homebuyer or renter? While you can't foresee every possible scenario, take a look below for some helpful tips!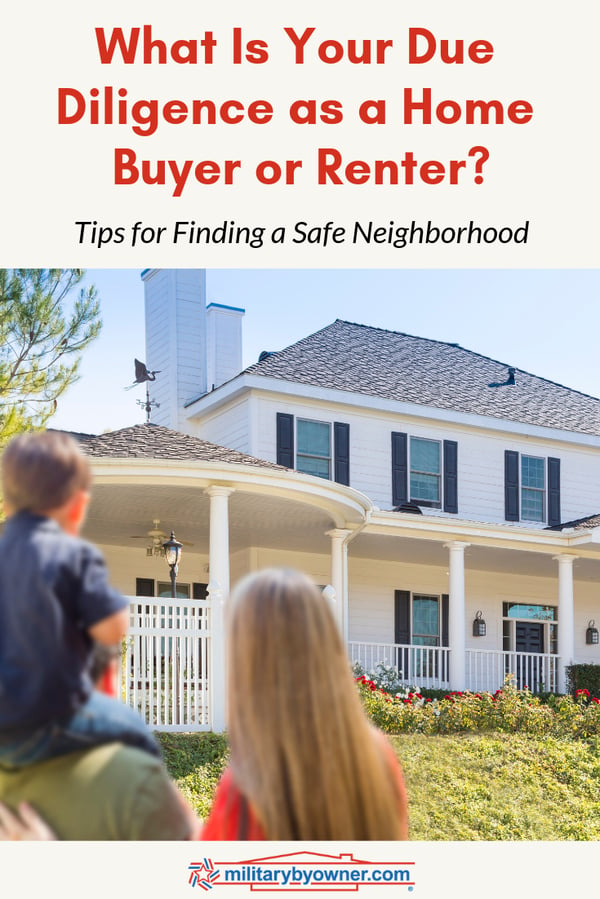 Tips for Finding a Safe Neighborhood When Renting
First stop, the base housing office (not the privatized housing office).
This should be part of your base check-in. The housing office will give you a list of areas that are off limits and also counsel you on the laws regarding your lease. One question to ask would be: "What legal obligations does the landlord have on informing me of registered sex offenders in the neighborhood?" The answer to this question will vary from state to state.
Google your potential address
.
This may lead you to some interesting information regarding crimes in the area.
Check the local police or sheriff's department website.
This will give you neighborhood crime statistics and the locations of registered sex offenders.
Ask on social media.
Check to see if there is a Facebook page for your military installation and the neighborhood you're interested in. For example, the MacDill AFB area has several pages for spouses and neighborhoods. Once you locate a page, ask questions.
Do a drive by.
Visit the potential neighborhood at several different times of day, including the evening. That quiet neighborhood during the day may look very different at night!
Research.
Take a look at Military Town Advisor to find more specifics about neighborhoods and the area. Reviews are by your fellow military families!
Do a background check.
If you're renting a room or an apartment in a home, ask the landlord if you can have a background check on the other occupants of the home.
Tips for Finding a Safe Neighborhood When Buying a Home
When purchasing a home, not only should you follow all the above tips for renters, but there are more places you can look for information about the neighborhood or community.
Homeowner's Association

Check with the HOA about any concerns and issues expressed by current or previous residents, including disturbances of the peace, robbery, loitering, or vandalism.
Check the various sex offenders' lists. Here are some to choose from:
Ask your real estate agent.
Your agent may already have information on the area or neighborhood where you're looking to purchase a home. Depending on the laws in your state, they may be able to advise you about possible issues.
Consider getting a House Fax.
For information on building permits, loan history, natural hazard risk assessment, property incident history, insurance claims on the home, and much more, you can pay a small fee for a report about the home you plan to purchase. (Note--at this time, the site is under construction, with plans to reopen at an indefinite date.)
Ask about the local Neighborhood Watch program.
They may have information on incidents in the neighborhood.
Check with the local planning office to see if any other developments are planned in the community or near your property.
The last thing you may want is the wooded area behind your home being clear cut and a new subdivision appearing where you spend your mornings with your coffee.
Whether renting or buying, keeping you and your family safe is your responsibility. Take the necessary steps and do the due diligence to protect yourselves! Use the infographic below for reference.