11 Ways to Get Outdoors in San Antonio
If you're stationed at or visiting Joint Base San Antonio, Texas (this joint base includes the installations of Randolph AFB, Fort Sam Houston, and Lackland AFB), then you're probably already aware of the area's vibrant culture, delicious food, and popular things to do, like visiting the well known River Walk, the Alamo, and other iconic sites.
San Antonio, a.k.a. "Military City USA," is also the seventh largest city in the country, and it's only growing. San Antonio is also a destination city featuring attractions like SeaWorld and Six Flags Fiesta Texas. It's a vast area, and there's so much to do in the Alamo City that we can barely scratch the surface with this list, but consider this a starting point.
Let's head outside in San Antonio!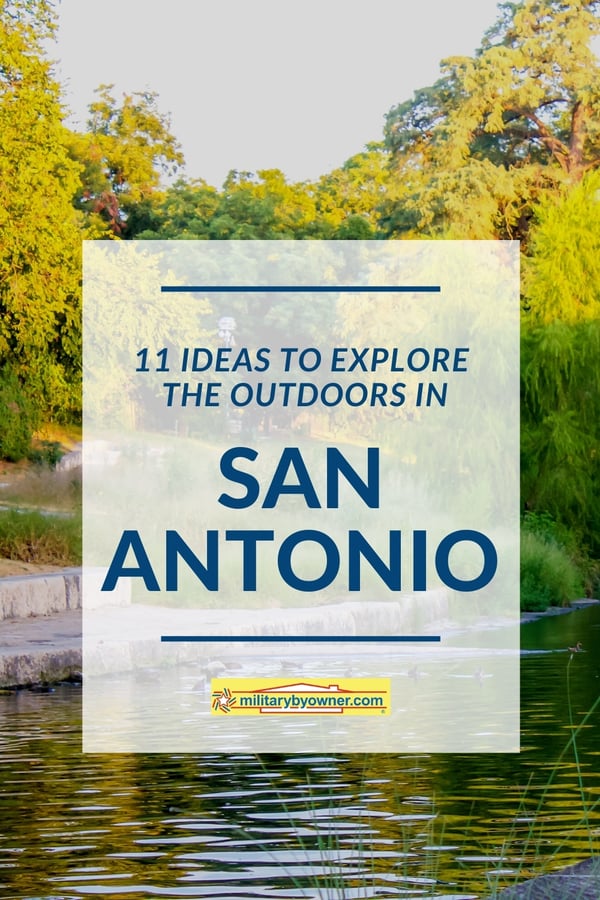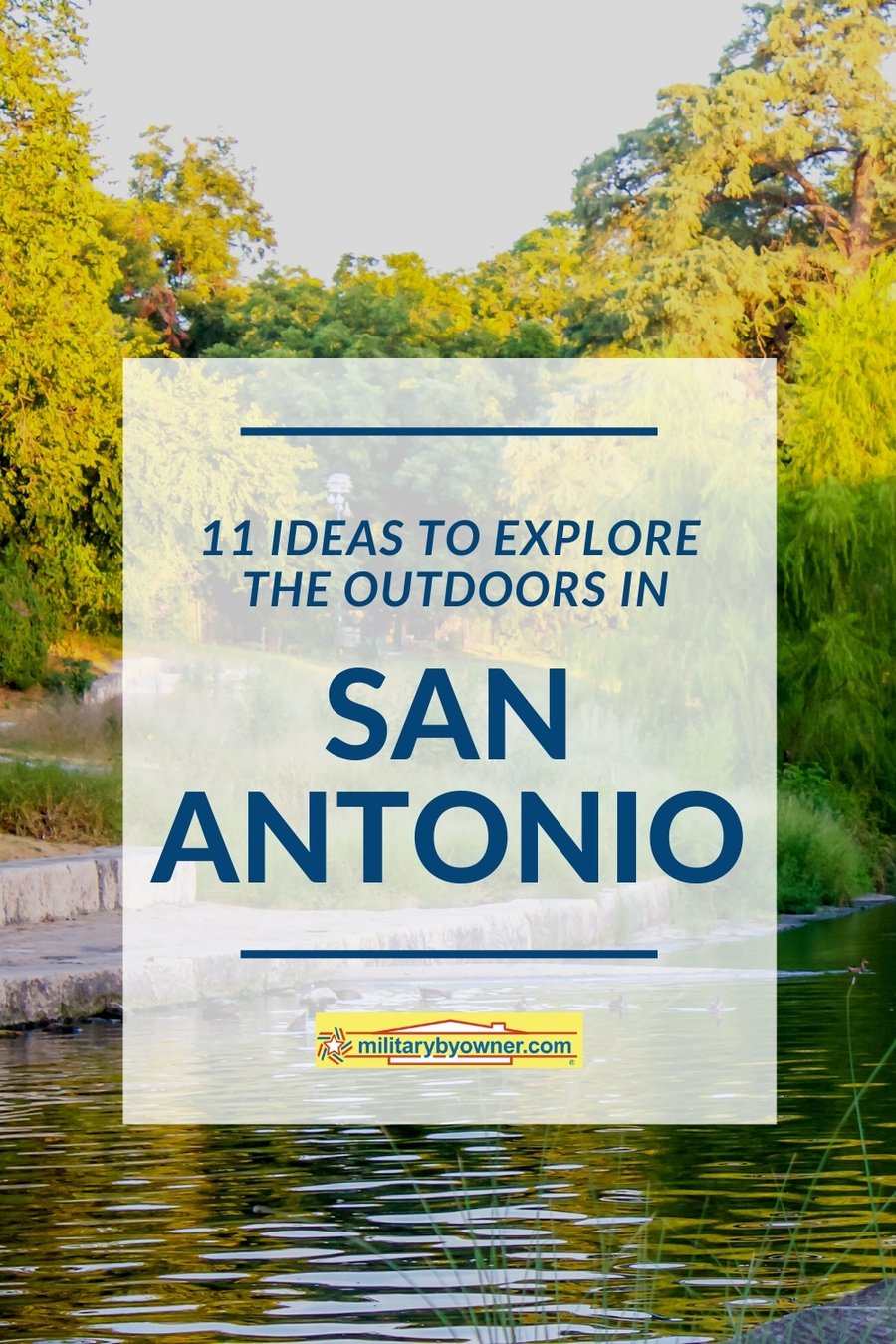 11 Ways to Get Outdoors in San Antonio
You've probably heard about the Spanish missions that are part of the San Antonio Missions National Historical Park: Concepción, San José, San Juan, and Espada. Along with the Alamo, the park was named the first World Heritage Site in Texas by UNESCO. But did you know there's an 8-mile stretch of trails, bridges, pavilions, and portals joining the missions? Ride your bike or walk/run along the River Walk's Mission Reach to view the beautiful historic missions and enjoy some fresh air!
Explore the quiet walkways, pavilions, stone arch bridges, and island of the Japanese Tea Garden. Spanning a history of 90 years, this space was once a working rock quarry and was later transformed into one of the most iconic and beloved sites in San Antonio. Leashed dogs allowed.
The San Antonio Zoo began with a donation from George W. Brackenridge in the 1800s. Today, you'll find more than 8,500 animals on 56 acres, a zoo train, Zoo Camp, and plenty of other educational opportunities. The San Antonio Zoo's bird collection is one of the world's largest.
The San Antonio Botanical Garden showcases plants from Texas and across the world on its 33 acres. Explore the many seasonal events, exhibits, classes, and camps. Active duty military, retired military, and reservists receive a discount on admission.
Tour the Alamo city in a different way! Rent a recumbent trike and take a guided tour. You'll delve into the history, architecture, and public art displayed throughout San Antonio.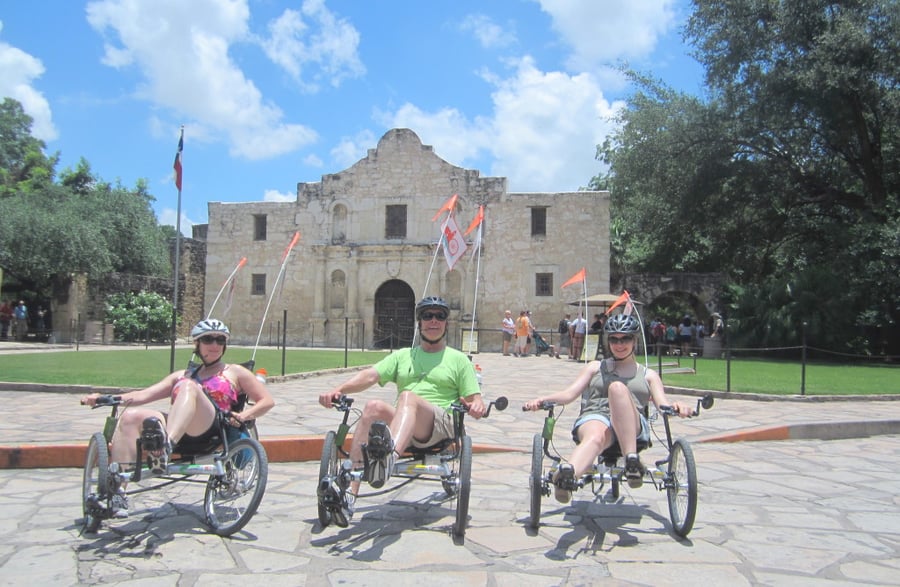 Image via San Antonio Bike Tours
Bracken Range is a family-oriented, family-operated public range. With five ranges for public use and three ranges available to instructors, each is designed with safety in mind. Range Safety Officers provide help and supervision. See their site for requirements and guidance.
Mission Adventure Tours specializes in kayak tours on the San Antonio River, bike tours to the historic San Antonio Missions, along with Museum Tours and Texas History Tours.
Take a Western-style ride on these scenic horseback trails and get a different view of San Antonio! You'll find guided tours, birthday parties, and group rides. Discounts available.
Whether on foot or bike, you'll have plenty of ground to cover on The Howard W. Peak Greenway Trail System. So far, there's approximately 80 miles of developed multi-use and accessible trails open from sunrise to sunset. You can access the trail system around the city via 50 major trailheads and neighborhood connections. San Antonio Greenway Trails include:
Salado Creek
Leon Creek
Medina River
Westside Creeks (Apache, Alazan, Martinez, San Pedro, and Zarzamora)
and Tributary Creeks (Such as Huesta Creek and Culebra Cree)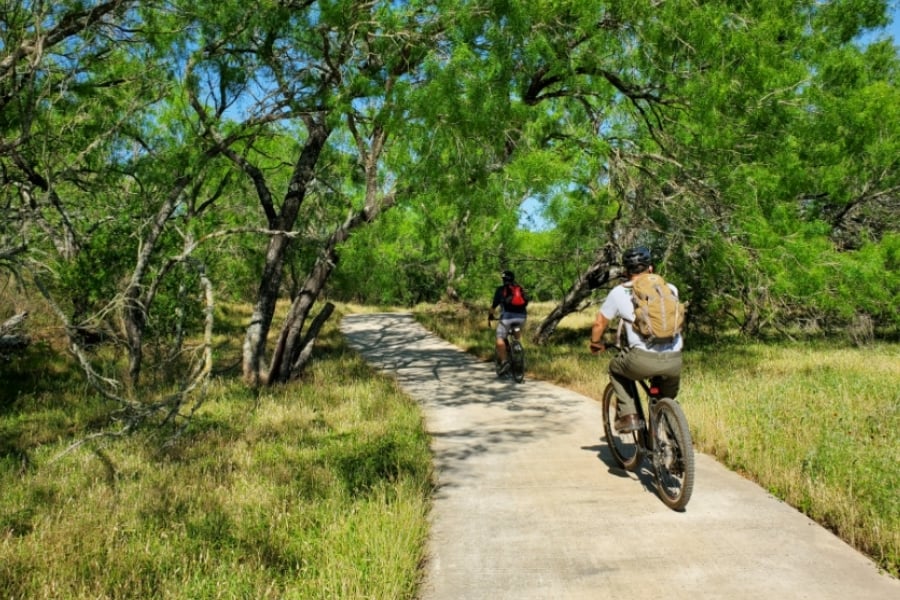 Image via San Antonio Parks & Facilities
Tour the underground caverns and then pan for gems at the Discovery Village Mining Company. Then, navigate the outdoor maze and finish it off with one of the Canopy Challenge ropes course and zip lines. Fun for the whole family! Be sure to check with your base's information, ticket, and tours office for discounts.
While not technically in San Antonio, we can't complete this list without mentioning the Texas Hill Country. San Antonio is situated on the southern end of this region. The Hill Country towns of nearby Fredericksburg, Boerne, and New Braunfels are charming and inviting and offer plenty of shopping, dining, and opportunities for outdoor fun.
But wait, there's more! We didn't even mention the area's summertime river tubing and water sports, Canyon Lake, or the multiple hiking trails in nearby Government Canyon State Natural Area, Lost Maples State Natural Area, Pedernales Falls State Park, and Enchanted Rock State Natural Area. You'll find miles of river, hiking and biking trails, guided hikes, and rock climbing—all within a short drive!
---
Moving to San Antonio? Take a look at this home for rent in nearby Schertz, and then view other listings on our San Antonio home page.
4 Bed, 2 Bath (Single Family)
For Rent: $1,750/mo.

Just minutes from Randolph AFB and a short commute to Fort Sam Houston, this San Antonio home for rent is a charming one-story home in the desirable Savannah Square subdivision. With four bedrooms, two baths, a sunroom, and fireplace in family room, your family will settle right into South Texas living! This home also features newly remodeled bathrooms, updated kitchen appliances, and an open floor plan. Highly rated schools and shopping are just minutes away. Click the home link above to view the full listing.
Note: Though this home is no longer listed, click below to see more San Antonio homes for rent or sale!
---
Want more ideas for exploring San Antonio? Take a look at our posts below, then download our free guide to the area!