Explore San Antonio's River Walk
If asked, one of the first things someone mentions about visiting San Antonio, Texas, is the River Walk. Locals and transplants alike love the place, and it's usually one of the top three places they'll recommend visiting. If you've never been to the River Walk, it's definitely something to see while visiting friends and family or if you're house hunting in the San Antonio area.
Today's modern River Walk is the culmination of decades worth of progress, but the vision has roots dating back to before Texas was a state and the U.S. was the U.S., thanks to the San Antonio River and the natural tendency for people to gather riverside.
Everything from dam bypasses, locks, city planning, cultural expansion, and beautification was carefully planned and survived many iterations of technological innovation.
So, what exactly is so great about the River Walk? Well, since you asked; here are 17 ways to help you get acquainted.
1. Let's start with the fact that it's listed as the #1 attraction in Texas. Since it's so popular with so many options to see and do, you should take advantage of the free customized itinerary tool online to help you plan your visit and make the most of your time there. Depending on your preferences, you could spend hours or a couple of days taking in everything from parades to live performances.
2. The San Antonio River Walk is 15 miles long and flows through about five miles of downtown San Antonio. Along the banks, there are nearly 50 places to dine, snack, and drink. Don't worry about driving home; there are also close to 20 different hotels to chose from along the way.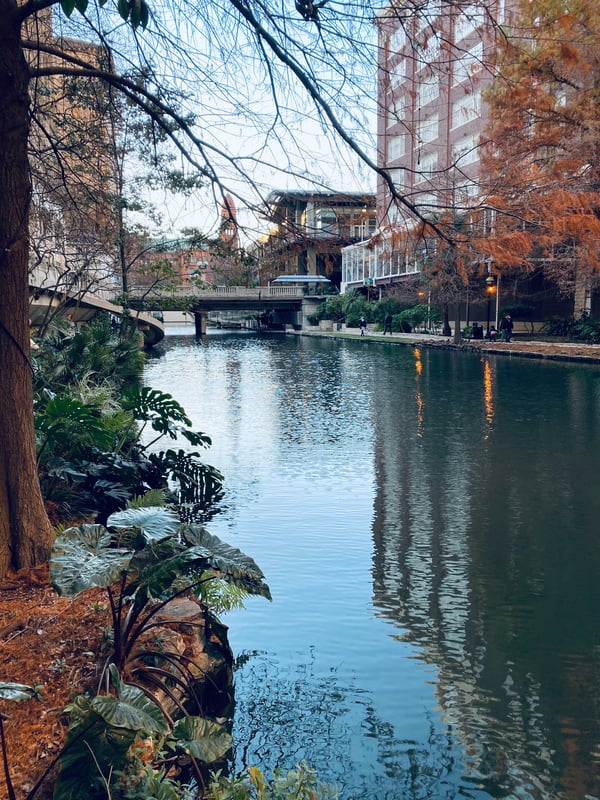 Photo by Hannah Hancock on Unsplash
3. You'll also want to check out the event calendar (see point #1) to see what's happening while you're in town, especially if you're there during the holidays. You won't want to miss:
Lightscape: Stroll a one-mile path of magical Texas-themed light displays through the Botanical Garden.
The 40th Annual Ford Holiday River Parade: The beloved San Antonio tradition is a one-hour boat and float parade among 100,000 Christmas lights along the River Walk.
Ford Holiday Boat Caroling 2021: Buy a boat and sing carols to your heart's delight or stand on the banks and join in as the caroling boats pass by.
4. Before making your plans, you might also want to check the maintenance calendar to avoid the few times a year the river is drained for cleaning.


5. The River Walk is actually a public park and free to visit. You can hang out at the recreation spots and walk along the riverside path. Your best furry friend can also tag along if they're on a leash. They're even welcome outside at some of the restaurants.

6. Boats on the river are the biggest draw. Take tours, go cruising, take a boat taxi from place to place, and book dining boats.

7. Plenty of military marriages have interesting beginnings. If the time is right, the River Walk and the Parks and Rec Department operate Marriage Island for die-hard River Walk fans to become one.

8. Before you arrive, read the River Walk's online publication, Rio Magazine, to get coupons, discounts, and in-the-know details to add a little extra to your trip.

Pixabay Micheal0424
If you're new to San Antonio life, find more information in our blog posts and base information pages!
---
House shopping in San Antonio? Don't miss this updated rental home!
Note: while this home has been rented, see below for even more homes for rent or sale in San Antonio!
3 Bed, 2.5 Bath (Single Family)
For Rent $2,150/mo.
The curb appeal will draw you in, but the cozy, updated interior is what will make you sign the lease! A move-in ready rental house can be hard to come by, so move quickly. The next lucky renters have access to a well kept home outfitted with in-demand paint colors, flooring, upgraded light fixtures, and appliances. Not to mention a laundry/mudroom that's perfect for extra storage.
Although you'll be tempted to stay snuggled up in the house, tenants have complete access to all of the neighborhood amenities including the pool, playground and sports courts. Plus, Lackland AFB is just 11 miles away.
---
9. If shopping is on your must-do list, head to Rivercenter Mall. There are four levels of stores to explore, plus an IMAX and movie theater, not to mention dozens of restaurants to try.
10. History buffs and tavern fans run to the Esquire Tavern, the oldest River Walk bar, opened in 1933 to celebrate Prohibition's end.
11. Head to Museum Reach, the extension of the River Walk that's dedicated to viewing public art and native landscaping. Museum Reach was added in 2009 to access and dock at the San Antonio Museum of Art.
Spanish tiles at the River Walk by Pixabay marilynkimberly
12. Catch a show at the Arneson River Theatre, an open-air venue that hosts all genres of dance and musical performances.
13. You might have heard about the Aztec Theatre, a historic multi-purpose events and entertainment facility. The theater began showing movies back in 1926. Today, the site is on the National Register of Historic Places.
14. If you've come to the River Walk and your primary mission is to eat, look no further than the iconic Casa Rio. The restaurant has been serving Tex-Mex since 1946 and was the first San Antonio business to use the river as an attraction for diners.
15. If you've always wanted to visit the now-closed Love Lock bridge in Paris and missed your chance, head to the River Walk and add your love message on a padlock--Texas-style.
16. For an up-close and personal view of the San Antonio River, rent a kayak on the Mission Reach section of the River Walk and paddle away. You can go solo or hire a guide for your tour all year round.
17. After a day on the river, you're going to need some relaxing time at the Mokara Spa in the Omni Mokara San Antonio Hotel. Then, if you time it right, you can have lunch at the poolside café.
These fun dining and entertainment picks are just the beginning of exciting adventures at the River Walk. There are many more things to do just beyond the riverbanks that could easily extend your adventure by a couple of days. So if you're headed to San Antonio, round up the family and friends and make the most of your time at the River Walk!