Things to Do Near Lackland AFB
Heading to Lackland AFB?
Lackland AFB in San Antonio, Texas, is known as the "Gateway to the Air Force" and is home to the 37th Training Wing. The 37th TW provides the U.S. Air Force's BMT (Basic Military Training), along with professional, technical, and English language training for the military services, government agencies, and coalition partners from over 100 countries. Lackland is also home to the DoD's Military Working Dog training program at the 341st Training Squadron.
Joint Base San Antonio is a consolidation of Fort Sam Houston, Lackland AFB, and Randolph AFB. San Antonio is commonly referred to as "Military City USA," due to the presence of area military installations, along with the large veteran and retiree population and the overall friendliness to military in the area.
Whether Lackland is your new duty station or you're just visiting, if your military travels bring you here, you'll never be bored! From exploring cultural sites to the foodie scene or heading outdoors, you'll always find something to do. Here's a list to start off your San Antonio adventures.
Want to know more about Lackland AFB? Check out the extensive information on our base page!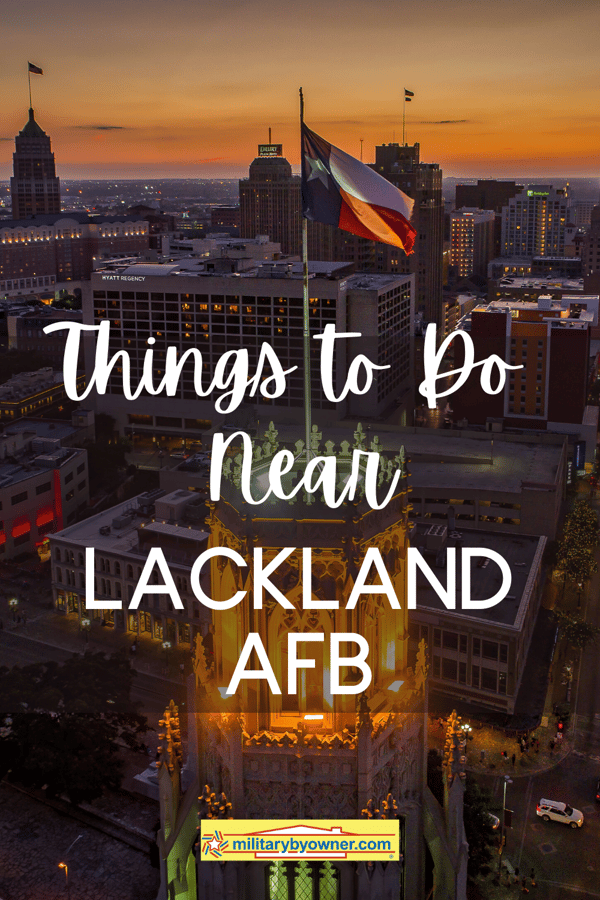 Things to Do Near Lackland AFB
JBSA Force Support Squadron (FSS): Right on base, make sure to check in with the JBSA FSS for a calendar of events, Outdoor Recreation opportunities, and dining/entertainment.
Japanese Tea Garden: Dating back to 1919, the Japanese Tea Garden features a lush year-round garden, shaded walkways, stone bridges, waterfall, and ponds filled with koi fish. The garden's entrance features a moon gate created by a renowned Mexican artist. Free admission. Plan your visit to the Japanese Tea Garden.
The Pearl: Located north of downtown, the Pearl (a former brewery) is now a mixed use space featuring dining, seasonal events, boutique shopping, green spaces, and an amphitheater. It's also home to the third campus of the Culinary Institute of America.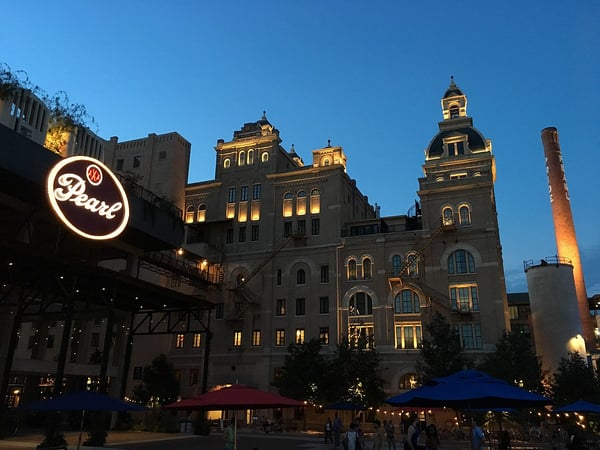 The Pearl, image via Bilestone on Wikimedia Commons
Natural Bridge Caverns: Take a guided tour of the underground caverns and spectacular formations. Next, pan for gems at the Discovery Village Mining Company. Find your way through the outdoor maze and finish it off with one of the Canopy Challenge ropes course and zip lines. Fun for the whole family!
SeaWorld San Antonio: Family friendly interactive shows and exhibits, an immersive water park and marine life encounters. Located in northwest San Antonio.
Six Flags Fiesta Texas: San Antonio's largest, most popular theme park. Situated in the center of a retail, restaurant, and entertainment district, Six Flags Fiesta Texas offers roller coasters, park rides, live entertainment, food, beverages, and more.
The River Walk: The iconic 15-mile long River Walk is a beautiful spot to shop, dine, and stroll. Just below street level, it's also the largest urban ecosystem in the U.S. In the downtown section, the King William District and the Alamo are walkable. Take a riverboat cruise for a quick drop off at a different section of the river or to simply enjoy a narrated cruise. Plan your River Walk excursion here.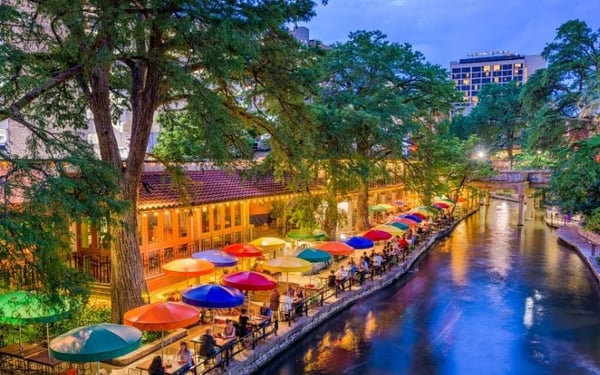 San Antonio River Walk
San Antonio Dining: Foodies rejoice! San Antonio has it all, whether you're looking for BBQ, fine dining, an amazing steak, or an American eatery. And of course, in this area, the Mexican and Latin American food scene is like no other.
Check out this list of 13 popular Tex-Mex restaurants in the San Antonio area.
Downtown San Antonio: Take one of the City Sightseeing Double Decker buses for hop on-hop off transportation. Their tours cover Alamo Plaza, The Pearl, Spanish Governor's Palace, Cathedral, Theater District, Tower of the Americas, Mexican Market Square, King William Historic District, and more.
A few other attractions you might want to visit while you're in the downtown area include: The Guenther House, Ripley's Believe it or Not!, The Witte Museum, The Buckhorn Saloon and Museum and Texas Ranger Museum, the Empire Theatre, Aztec Theatre, Briscoe Western Art Museum, McNay Art Museum, San Antonio African American Community Archive & Museum, and of course, the historical Alamo.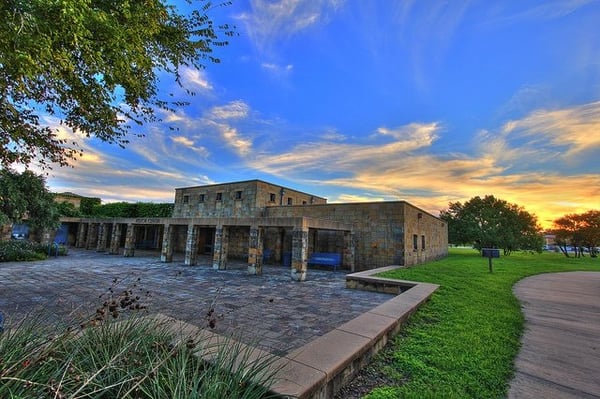 Mission San Jose photo via Flickr user Henry Carmona
San Antonio Missions and the Alamo: The San Antonio Missions National Historical Park includes the Mission San Jose, Mission Espada, Mission San Juan and Mission Concepcion. Along with the Alamo, the park was named the first World Heritage Site in Texas by the United Nations Organization for Education, Science and Culture (UNESCO). These five Catholic missions were established in the 18th century by Spanish priests. Today, the missions (walled compounds encompassing a church and buildings where the priests and local Native Americans lived) are the largest concentration of Spanish colonial missions in North America. Plan your visit to the San Antonio missions.
San Antonio Tours: plan a bike tour, walking tour, helicopter tour, ghost tour, bar walk, and more. "Visit San Antonio" has a nice round-up of area tours!
Confluence Park: Open daily, the park is a gateway to hike, bike and paddling trails, which begins near the Blue Star Arts Complex and ends near Mission Espada.
Texas Hill Country: San Antonio is on the southern end of the Texas Hill Country. Visit nearby towns of Fredericksburg, Boerne, and New Braunfels for a taste of city/country life. Charming small towns combine with outdoor living for an unforgettable experience.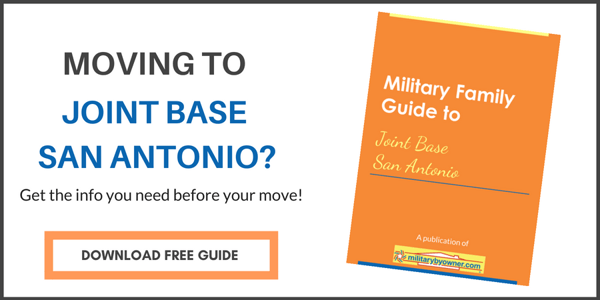 Outdoor Activities in the San Antonio Area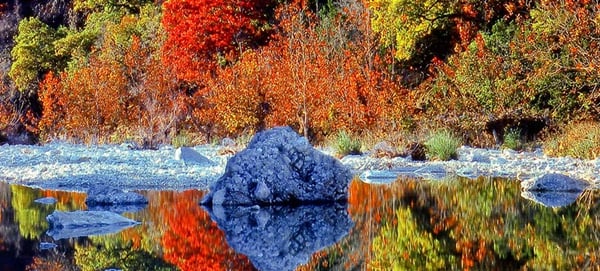 Lost Maples State Natural Area image via Texas.gov
Tubing: Warm weather finds San Antonians on the water, and tubing (floating down one of the area rivers) is a popular way of enjoying the water. You can rent tubes, canoes, and river rafts to float down the Guadalupe, San Marcos, Comal, and Frio Rivers. Most vendors also provide shuttles to pick you up at the end of your float!
Canyon Lake: One of the most picturesque area locations, this 8,230-acre lake is also one of the most scenic lakes in Texas. It has eight public parks with camping, fishing, swimming, scuba diving, picnicking, wildlife viewing, boating, and other water sports. JBSA Recreation Park at Canyon Lake is available year-round for military members and families.
Hiking: Explore locations like Government Canyon State Natural Area, Lost Maples State Natural Area (especially in autumn), Pedernales Falls State Park, and Enchanted Rock State Natural Area. Find miles of hiking and biking trails, guided hikes, and rock climbing.
San Antonio Events
The area seems to always have something going on, but here are a couple of the annual popular events in the San Antonio area!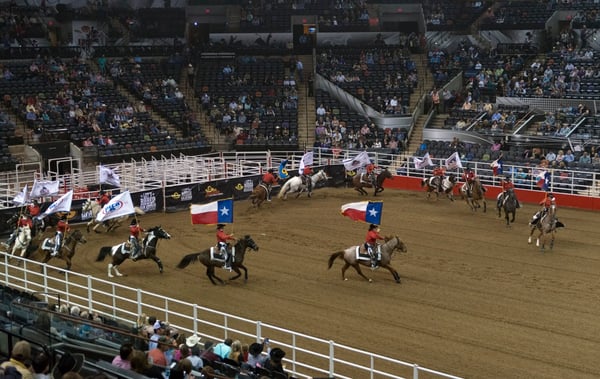 San Antonio Stock Show & Rodeo Opening Pageant. Image via Carol M. Highsmith, Wikipedia
San Antonio Stock Show and Rodeo: Every year, 1.5 million visitors come to the Stock Show & Rodeo. Since 1949, it's one of the largest San Antonio annual events. Attend the carnival and then the Charreada, a unique blend of Mexican and Western culture. Learn more about the stock show and rodeo.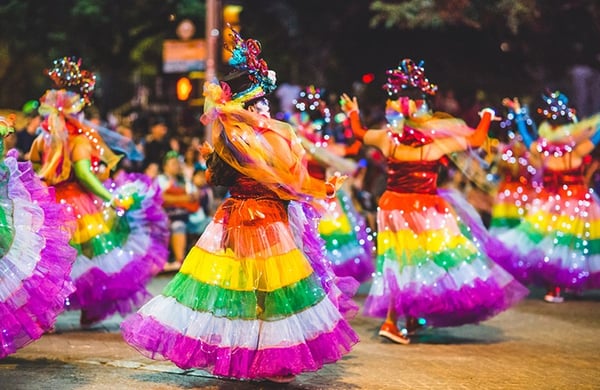 Fiesta San Antonio. Image via Visit San Antonio
Fiesta San Antonio: Start planning your Fiesta schedule now! Even schools close for this yearly event. Attend one of the parades: Battle of Flowers, Fiesta Flambeau (the largest night parade in the country), and the Texas Cavaliers River Parade. Then attend a food event and watch local entertainment. Fiesta started in 1891 as a way to honor the heroes from the Battle of the Alamo. It is now the city's largest party! ¡Viva Fiesta!
Want to get away from the area for a day or two? Easy day trips from San Antonio include:
Austin
Dallas-Fort Worth
Fredericksburg (Hill Country)
Corpus Christi
Houston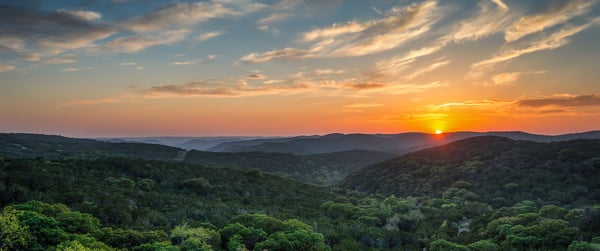 Texas Hill Country near San Antonio. Image via Visit San Antonio.
---
Are you relocating to Lackland AFB and looking to buy a home? Take a tour of this gorgeous home for sale near Lackland.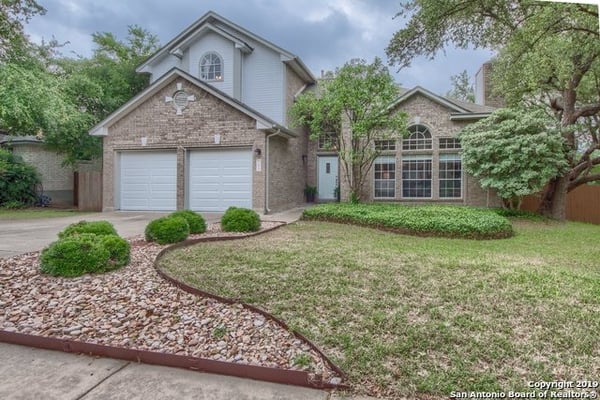 4 Bed, 3 Bath (Single Family)
Price: $280,000
This renovated home is located in the established Westcreek Subdivision and has over 2,400 square feet. Features multiple living and eating areas, making for easy entertaining! The master bedroom is split/downstairs with multiple closets and dual vanities, separate tub and shower. The neighborhood amenities include two pools, tennis/basketball court, jogging trails, and neighborhood events/activities throughout the year.
Note: While this home is no longer available, click below to view even more homes for sale or rent near Lackland AFB!