13 Things to Do Near Camp Lejeune
Heading to Camp Lejeune?
Camp Lejeune, just outside Jacksonville, North Carolina, is known as the home of "Expeditionary Forces in Readiness" and houses the II Marine Expeditionary Force, 2nd Marine Division, 2nd Marine Logistics Group, and other combat units and support commands.
This enormous Marine Corps Base covers 240 square miles, including 11 miles of coastline. Camp Lejeune isn't the only Marine presence in this region. Neighboring the massive installation is MCAS Cherry Point, MCAS New River, and Coast Guard Wilmington. As you can imagine, this area is very military friendly.
With Jacksonville (population 72,000) as the largest city nearby, small town charm flows freely through this region, which makes many military families feel right at home. And with numerous parks, beautiful scenery, and proximity to the beach, it's easy to understand why this region of the country fosters a love for the outdoors.
Whether Camp Lejeune is your new duty station or you're just visiting, if your military travels bring you here, you'll never be bored! From exploring cultural sites to sitting on the beach or heading outdoors, you'll always find something to do. Here's a list to start off your Camp Lejeune adventures.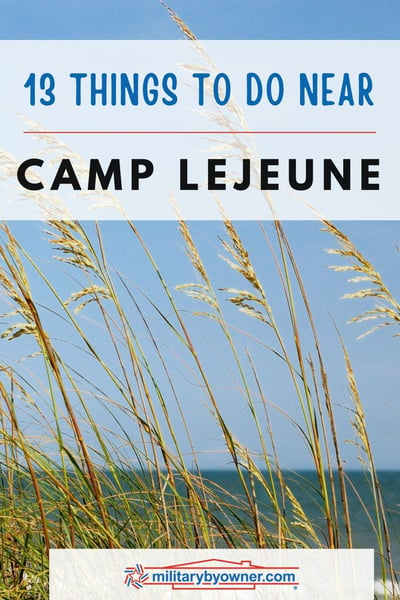 Things to Do Near Camp Lejeune
1) Lejeune Memorial Gardens
The Lejeune Memorial Gardens pay tribute to those who served and are serving our country. It's a great place to come, pay your respects, and feel closer than ever to the history which helped shape the country we live in today. It's home to four memorials: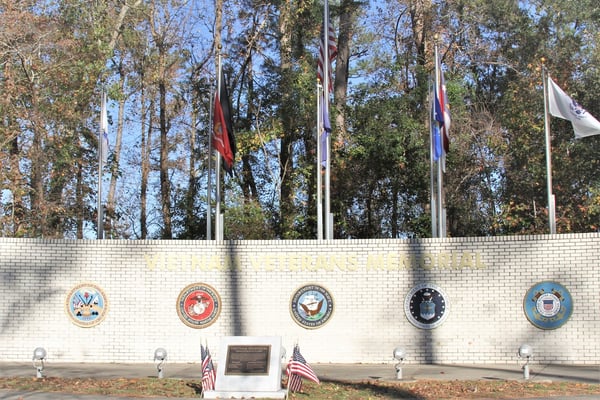 Photo courtesy Heather Whitfield
The Beirut Memorial: The largest military memorial funded by private funds, the Beirut Memorial honors the 273 Marines who lost their lives when a truck bomb destroyed the barracks in Beirut Lebanon in 1983. On the memorial you'll find each name of the 273 men lost that day as well as the words, "They Came in Peace."
Vietnam Memorial: Second in size only to the Vietnam Memorial in D.C., the Onslow Vietnam Veterans Memorial stands in honor of the men and women who served during the Vietnam War. You'll find a list recording all the names of the fallen.
Montford Point Marine Memorial: From 1942-1949, the first black marines shared their story and expressed their need to "fight for the right to fight" while serving on a segregated base (now Camp Johnson). The wall of 20,000 stars represents each member of a group who became distinguished in the war.
9/11 Memorial: Remembering those who lost their lives during the 9/11 attack in 2001, the memorial includes a beam from the twin towers that was presented to the first troops to enter Iraq from the New York police and firefighters.
2) Cracked It! Escape Games: Test your wits and teamwork with a role-playing escape room!
3) Zing Zumm Children's Museum: Located in downtown Jacksonville, this interactive children's museum is the perfect place for your littles to turn on their imagination, create, and explore as they learn through play.
4) North Carolina Aquarium at Pine Knoll Shores: Explore life under the sea at the North Carolina Aquarium. Explore exhibits like the Living Shipwreck, a replica of the U-352 German submarine that was sunk off the coast of North Carolina in 1942 (the first sunk by the U.S. Coast Guard), the Loggerhead Odyssey, and the Tree-Mendous Nature Play Area where the kids can run wild.
5) Battleship North Carolina: Majestically situated across the water from downtown Wilmington, it's easy to envision Battleship North Carolina in its prime, serving in the Pacific Theatre during WWII. Watch history come to life as you walk the wooden deck and explore the ins and outs of this ship's nine levels. The mess decks, berthing areas, engine rooms, bridge, Combat Information Center (CIC), the guns (yes, the guns), are all open for you to venture through.
6) Salty Pirate Waterpark: Need a break from the beach? Salty Pirate Waterpark offers some cool entertainment during those hot summer months. Race down the plummeting water slides, take a dive in the pool, or grab a tube and relax—it's a picture-perfect day for the whole family!
7) Walton's Distillery: Looking for a tasty sip to wash away your woes? Walton's Distillery is family owned and operated and offers free tours and samplings!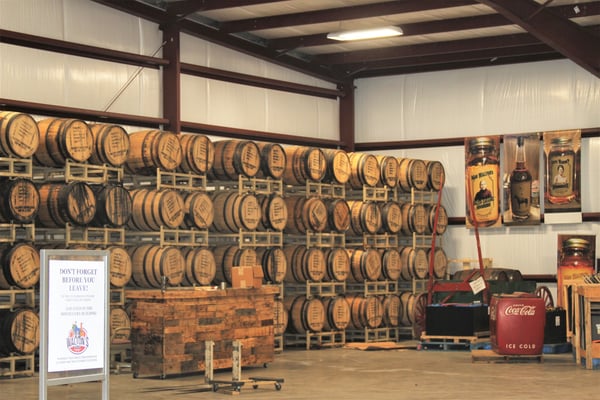 Photo courtesy Heather Whitfield
8) Onslow County Farmers Market: Serving the community for over 23 years, the Onslow County Farmers Market offers all the good stuff: local produce, pasture meats, honey, eggs, baked goods, and, of course, handmade artisan products.
9) Fort Macon State Park: As rich with nature as it is with history, Fort Macon State Park checks all the boxes. In addition to a perfectly restored Civil War era fort and educational center, you'll also find an untouched beach primed for swimming, surf fishing, and beach combing. As important as it is to bring a notebook and jot down moments in history, it's equally important to bring a towel and packed lunch to spend the day basking in the North Carolina sunshine.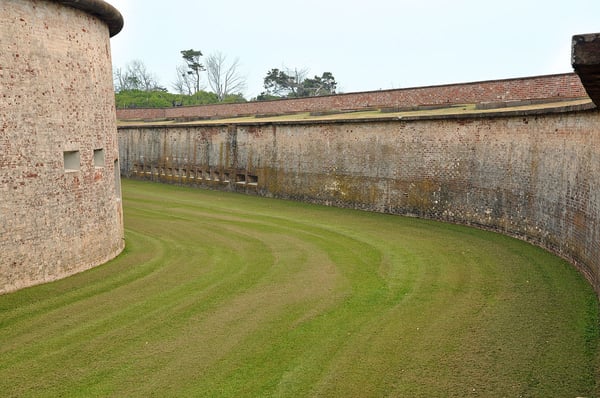 Fort Macon State Park
10) Charter Boat Fishing: In-shore or deep-sea fishing is a favorite here on coastal North Carolina. Climb aboard for a chance to catch red fish, trout, flounder, and more!
11) Look for shark teeth: Comb the beaches for outstanding sea shells, sand stones, and even sharks teeth as you soak up the sweet sunshine and listen to the waves as they reach the shore. Onslow, North Topsail Beach (dog friendly!), and Wrightsville beaches are great spots for these.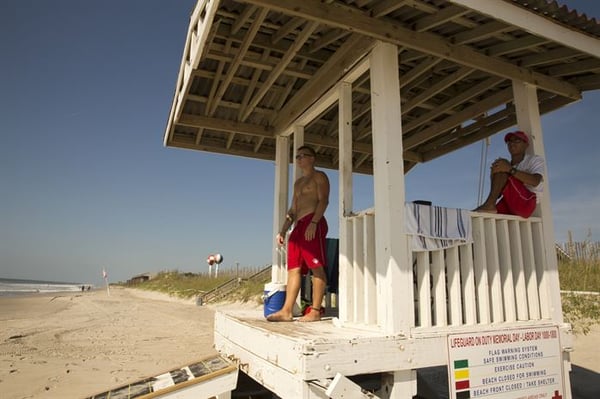 Photo by Cpl. Jackeline M. Perez Rivera
12) Oakhurst Landing and Nature Trail: Venture down one of the wilderness trails (1,500 foot and 3,400 foot) to explore the gorgeous landscape, then launch onto New River for a calm outing on New River and a chance to cool down.
13) Hammocks Beach State Park: The backdrop for outdoor adventure both on land and on sea, Hammocks Beach State Park is home to Bear Island, a 4-mile barrier island left untouched, made perfect for exploring the great outdoors.
Get more info about the Camp Lejeune area:
Are you relocating to Camp Lejeune and looking to rent a home? Take a tour of this Jacksonville house for rent near Camp Lejeune.
3 bed, 2 bath
For Rent: $1,400/mo.

This single story home is located in Jacksonville, just 5 miles from the Camp Lejeune main gate. Within just a few miles you'll find walking/running trails, ball fields, a boat slip, and gym. With three bedrooms and two baths, this home features a deck, fireplace, and hardwood flooring. The large lot has a fenced back yard with privacy fence, woods, and loads of space for pets, kids, or your boat and trailer! The master bath has dual sinks, oversized tub, and walk-in closet. Located on a quiet street with easy access to the bypass. Available by April 1st.
Note: While this home is no longer available, you can view even more homes for rent or sale near Camp Lejeune!