15 Simple DIY Projects to Make Home Improvement Easy
DIY projects aren't new to us. With the help of HGTV, Instagram influencers, and DIYers all over the internet, we've opened up (nay, embraced) the concept of doing things ourselves. We set out to refinish furniture, create fun crafts, and home decor with ease.
But here's the thing, you can also use this approach for simple household maintenance and in addition to revamping your home's personality!
Why?
To save money. Many small home projects and repairs can be executed for less money when you take it on by yourself vs. hiring a handyman—as long as you know what you're doing!

Enjoy a project. There's a sense of pride when you accomplish something, especially when it proved challenging. Setting forth to refinish your favorite table or update a bathroom all by yourself is fun!

Cut down on the number of people coming through your home. Hiring outside help means two things: working with someone else's schedule and having more people in and out of your home. At a time like this, cutting down foot traffic sounds pretty good, doesn't it?
Related: 15 Home Maintenance Tasks and Repairs Everyone Should Know How to Do
So if you're looking to save a little money, start a new project to keep busy while in quarantine, or cut down on foot traffic in your home, here are a few home projects that you can easily tackle yourself!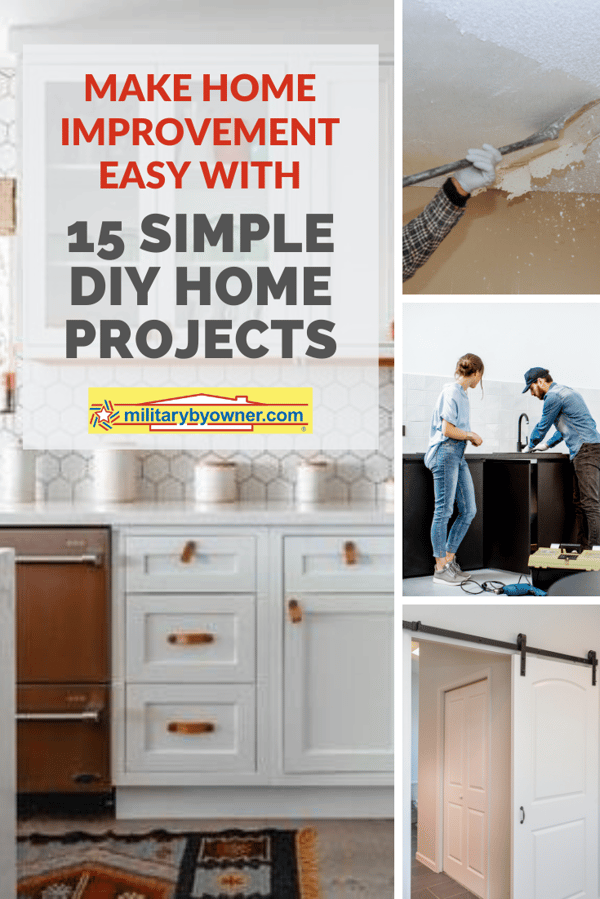 15 Simple DIY Projects to Upgrade Your Home
1) Paint your doorknobs.
Updating the hardware isn't cheap. Sure, the price of one new door handle doesn't break the bank, but think about how many you have in your home? If you have nine doors in your house, that's 18 doorknobs, handles, or levers. Let's say you choose a $13 doorknob (which is on the cheaper end of the spectrum). That's already a couple of hundred dollars and doesn't include the cost of replacing the hinges and latches to match. Instead, revive your dated hardware with a little coat of paint!
2) Add glass to your cabinet doors.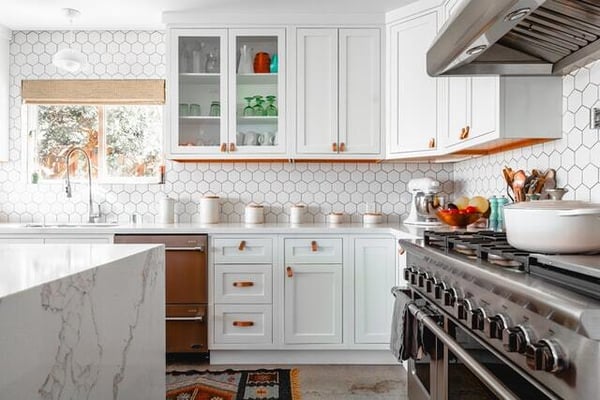 Replacing your kitchen cabinets is an incredible way to update your kitchen, but it's expensive and might not be within your set budget. Instead, install glass (plexiglass) to your cabinet doors to bring new life to your kitchen.
3) Install weather stripping.
Do you feel a draft now that the colder weather is setting in? No need to call for outside help. Create an air-tight seal around your windows and doors all by yourself!
4) Patch a hole in the wall.
This year especially, we've spent more time inside our homes than out. With fewer outlets to burn energy, our kids completely took over our homes. So it makes sense that these energetic young'ns might be rough-housing a little more inside instead of outside—which may or may not result in a few new dents inside the home. The good news is, a simple hole in the wall is an easy DIY project and doesn't warrant a call to the handyman.
5) Replace a faucet.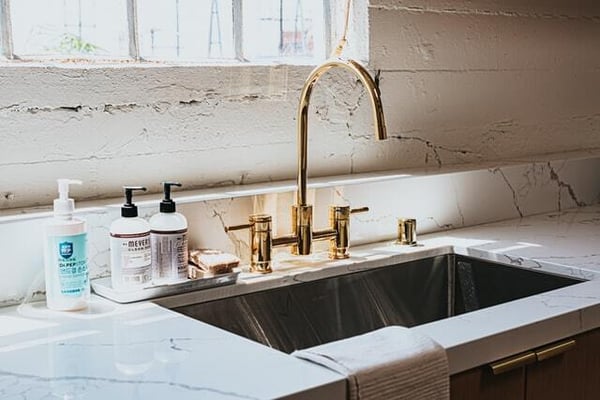 No need to call in back-up, unless you're replacing your faucet due to a larger plumbing issue. But installing a new, shiny, trendy faucet is well within your capabilities.
6) Create a built-in bathtub.
If you're not a fan of the classic builder shower/tub combo, you're not alone. Bump up your bathroom with a simple beadboard trim to give it that desired built-in look!
7) Replace a light fixture.
If your lighting is dated (beyond a little paint kind of dated), then it might be time to replace it altogether. Thankfully, this usually isn't something you need to pay a professional to install for you.
8) Remove a popcorn ceiling.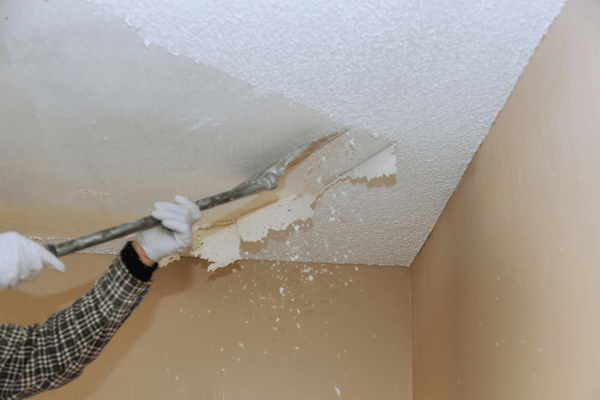 If you have a popcorn ceiling, getting rid of it has probably been on your list since you moved in. They're the perfect surface to collect dust, impossible to clean, and most homes don't have them anymore. Thankfully, you can scrape that icky stuff away all by yourself.
Get tips for organizing before you start home projects!
9) Stencil your concrete patio.
Want to bring personality to your patio without buying a rug that will collect dust and dirt? Grab a stencil and concrete stain and get to work!
10) Update your light switches.
Often overlooked is your light switch plate. While there's no need to go out and replace all of them, a simple frame around them makes a huge difference! Build a frame out of slim trim pieces, or find inexpensive picture frames to install around it.
11) Install a sliding barn door.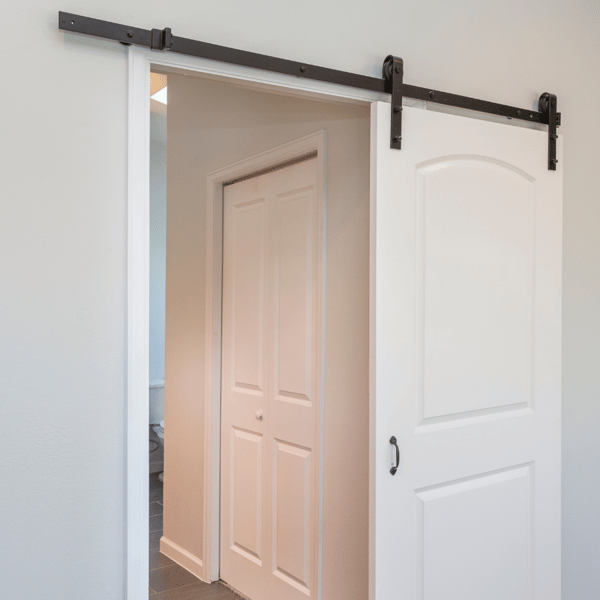 Sliding barn doors are quite the trend, aren't they? They're certainly a nice update from the plain builder-grade door your neighbor shares. The best part is, you don't have to go out and find a fancy new door to fit the bill, keep your budget low, and transform your pre-existing door.
12) Clear a drain.
No one wants to stand in the shower and find three inches of unexpected bath water at thier feet. Thankfully, clearing the drain is an easy fix. Often caused by a build-up of hair, a plunger, non-chemical cleaner, or plumbers snake can clear the clog in a matter of minutes.
13) Replace outdoor lighting.
Whether you want to up your curb appeal or you need new outdoor lighting, switching out your home's fixtures is relatively inexpensive and easy!
14) Install under-cabinet lighting.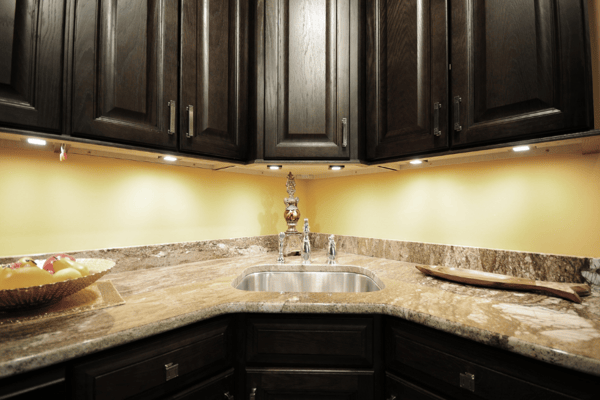 Take your kitchen to the next level and install extra lighting. Whether you want to go all out, install rope lighting, or use simple, self-adhesive puck lights, this is about as simple a DIY project as they come!
15) Create a dutch door for the kids' rooms.
Keeping littles contained and safe while easy some days, is a challenge on other days. Transform your child's door into a dutch door, so you can keep a better eye and ear on them while you tend to a few neglected chores around the house.
Whether it's out of necessity or fun, DIY projects are a great way to save money while you make tweaks around the house. For more home maintenance, repairs, and decorating tips, subscribe to our blog and don't miss a post!