2019 Real Estate Trends Military Members Should Watch
After several years dominated by a fast paced real estate market, the outlook for 2019 looks to be relatively calm and stable in comparison. In fact, within multiple speeches given at the end of 2018, Lawrence Yun, the chief economist for the National Realtors Association, referred to real estate in 2019 as "boring" and "without measurable increases or decreases."
As compared to 2017 (the best year for home sales of the last 10), housing prices in 2018 are forecasted to finish on a downward trend, albeit only slightly. Yun believes growth throughout the industry will force a mild uptick into 2020.
Military members considering changing their real estate status this year should pay close attention to how the following trends could affect their decisions. Interest rates, inventory, and location are all factors that could make or break a deal.
2019 Real Estate Trends Military Members Should Watch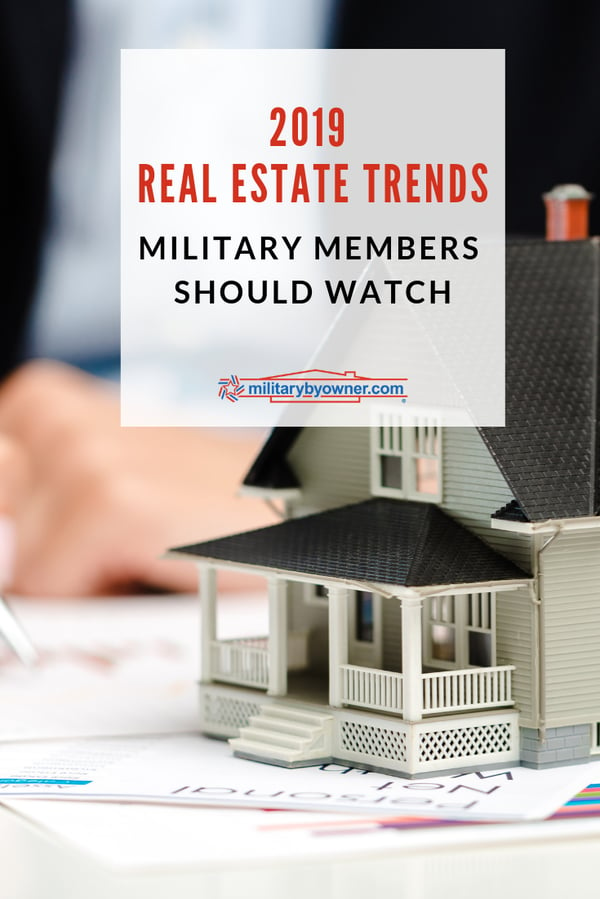 The Real Estate Market Is Stable, But Uncertain
Although major swings in home and rental prices are not predicted, another substantial trend is influencing the 2019 real estate industry: uncertainty. Uncertainty that stems from several factors.
Home buyers are poised to invoke a wait and see approach toward purchasing because they are watching interest rates steadily increase. These rate hikes may price buyers out of obtaining a home and leave them living in a constricted rental market for some time.
Because of the how the new tax laws were written in 2018, tax season will also have a period of ambiguity. It won't be until those returns are calculated that home owners and buyers can decide whether a tax bill or tax refund will affect their decision to buy or sell. It remains to be seen if the new and increased standard deductions outweigh the benefits of a homeowner's mortgage interest deduction.
Housing trends are difficult to place into neat, categorized boxes labeled Buyers, Sellers, and Renters. Often, it's better to envision how each group's actions overlap each other, to either solidify trends or create new ones. For example, first time home buyers may find mortgage qualifications to be loosening, but could be turned off the purchase price because of higher interest rates, thereby keeping them in an already tight rental market even longer. These choices in turn create a seller's market that has seen more lucrative days in years past.
Takeaways for Military Home Buyers in 2019
This year, buying real estate will be a confluence of contradictions, and where you land as a potential buyer among those contradictions has to do with your personal finance--meaning the amount of the down payment you can afford and/or how much more than the crucial BAH allotment you're willing to spend.
Although the inventory of homes for sale will be slightly larger this year, the overall national inventory remains restricted. In 2019, military buyers of all ages will not only compete with a national shortage but also the largest number of Millennial buyers to date, many who've had to wait years longer than they'd planned to access affordable terms to buy their first homes.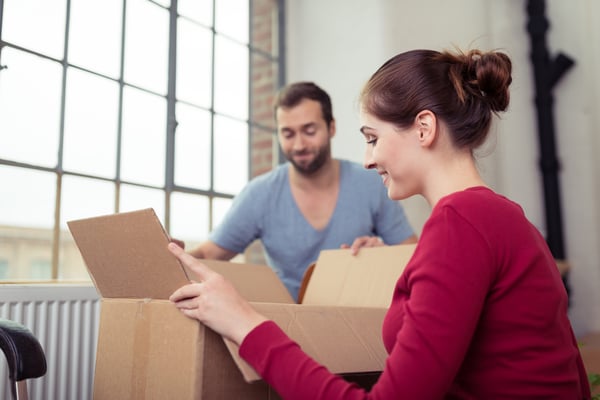 Home buying by and large still remains unaffordable for many in the U.S., even though job and salary growth has increased. These economic factors just haven't been able to keep up with the overall real estate growth. This appreciation, coupled with the shortage of entry market homes built, blocks potential home buyers from landing their first property. Freddie Mac revealed that in 2017, a shortage of 370,000 homes occurred, placing even more of a strain on availability and affordability, especially for first time buyers.
Lending restrictions have loosened somewhat and opened ownership status to buyers (especially Millennial aged) who have been priced out of the market for the past several years. But, buyers are also going to contend with higher interest rates that likely will increase as the year progresses. No doubt, interest rates are historically low, but a 5% rate would mark a 10-year high. Additionally, some real estate forecasters are projecting the interest rate to reach the 5.5% mark in 2019.
What Home Sellers Should Consider in 2019
If you missed the last two years of a hot seller's market, don't worry; sellers will likely solicit attractive offers because 2019 is still considered to be a sellers' market. Home price appreciation continues to charge forward, but slowing slightly.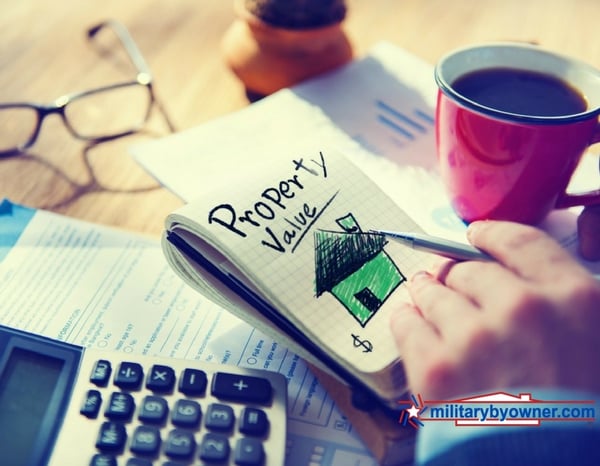 Sellers should demand and prepare for more direct and detailed communication with their real estate agent. The days of immediate bidding wars are likely over, and strategic pricing will be the key closing a great deal. Buyers have a bit more wiggle room for approval from their lender, but will be leery of creeping interest rates. They'll also keep constant tabs on rate hikes that may or may not make significant changes to their monthly mortgages.
Although the real estate market in 2019 will be skewed toward sellers, these sellers in turn will have future mortgages to plan for if buying another home. After selling, they'll become buyers in a low inventory market, likely with higher interest rates on a new mortgage. Determining if it is really is the right time to sell will require thorough investigation of personal finance factors.
How Will Renters Be Affected by the Real Estate Market in 2019?
Interest rates continue to drive the components of the rental market. If shoppers are reluctant to buy because of higher interest rates, they'll remain renters until a more favorable time, driving up rental payments per month in addition to putting more pressure on rental vacancies.
In October 2018, the cost of renting a single family home grew by 3 percent, up from a year ago. This also signals a bit of a slowdown among home buyers even before 2019 begins.
A burgeoning industry in real estate is the specialized niche of single family rentals (SFR). These companies are owned by larger corporations and large investors, vs. the traditional single owner. The concept of a SFR was born around 2010 from the collapse of the real estate industry just a few years earlier. Bundles of inexpensive and foreclosed homes were scooped up by a handful of companies and investors that turned each property into a rental home, under brand names like American Residential Properties, Colony American Homes, Starwood, and Silver Bay. Today, several of these companies have consolidated into American Homes 4 Rent, Invitation Homes, and Own America.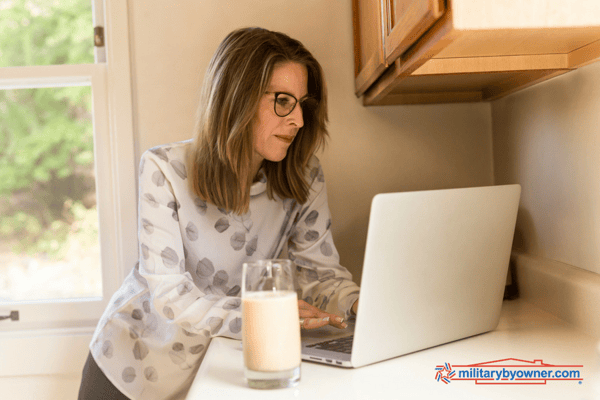 Recently, Renters Warehouse, a property management company, purchased Own America to supply the newly formed company with start to finish services for investors. Renters Warehouse now has the capability to supply investors with information for choosing the right property, buying, maintaining, and later, selling the rental house if need be.
If the SFR concept sounds a lot like the private housing companies that operate on base housing, it's because they're similar to their approach on renting and maintenance. Renters contact their SFR for maintenance issues and rental agreements instead of directly reaching out to a homeowner. Or, SFRs can be viewed similarly to an apartment building and its operational process for administrative and maintenance duties. But in the case of a SFR, the apartments are single family homes.
Collectively, SFRs currently operate only a small number of rental units when compared with the rental home market on the whole. But, as the SFR landscape grows and becomes more widely accepted, particularly around military bases, it would be wise for military renters to keep up with their rental policy practices and reputation for customer satisfaction before signing a lease.
Military Friendly Housing Markets in 2019
It's always a good thing when a happy co-existence between military installations and nearby cities benefit from strong real estate markets. Trulia identified its top 10 hot markets of 2019, and five of those cities were close enough to a base that service members could consider their locations for their housing needs. Colorado Springs, CO; Jacksonville, FL; Columbia, S.C.; El Paso, TX; and Oklahoma City, OK are all in the top ten.
Amazon's decision to locate their second headquarters to Crystal City, VA, and its surrounding cities cannot be ignored by military families who are due to PCS to the National Capital Region in 2019. Although the months' long hype from the local real estate and economic industries may prove to be just hyperbole, Amazon's decision to take over a region so dense in military homeowners and renters has to be at least a consideration for incoming families with regard to their buying, renting, and commuting resources.
Artificial intelligence and other tech influences are changing the way housing is marketed, bought, and, sold. In some circumstances, military families are benefiting. Virtual reality is bridging gaps in geography and timelines. Now, families not only have the choice to view photography online, but may be offered the option to don virtual reality glasses and take tours of not only the home, but the surrounding neighborhood.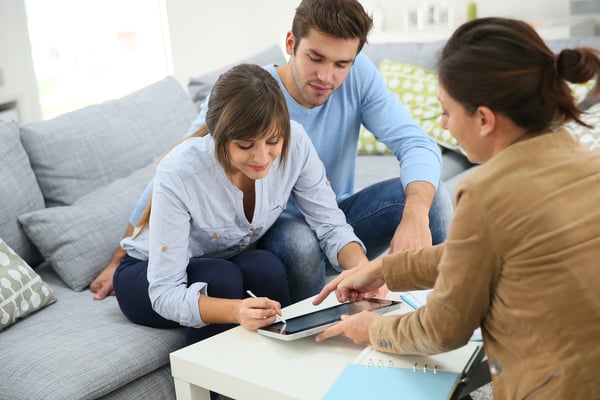 Conclusions in Real Estate for 2019
For those who are watching, the real estate industry is going to showcase a little bit of everything during 2019. Military buyers, sellers, and renters are all going to face challenges in some way or another. Climbing interest rates are on the top of the watch list, as are escalating home prices and a restricted housing inventory.
Off-season PCS moves are in full swing and will continue until late spring when the traditional moving season begins. As the seasons change, military families will encounter multiple versions of real estate trends that are predicted to dominate 2019. Brushing up on VA loan eligibility, organizing financial documents, correcting credit reports, and interviewing potential real estate agents are all important first steps for securing a new home.
Military families facing a transition will benefit from MilitaryByOwner's blog and resource articles which offer guidance and advice for successful moves. Homeowners with a property to market or sell are also served by checklists and resources for preparing for renters and buyers. And be sure to take a look at the infographic below which breaks down the housing forecast for 2019 for you!