How to Take Amazing Photos for Your Home Listing
What you'll learn in this post:
Capturing the beauty of your home and getting it to translate through photographs takes skill. If you've tried to do it before, you know it's not as simple as walking around your house snapping photos—at least not if you want great ones that will hook any potential buyer!
Great real estate photos require a process. You have to get your house ready, take the photos, edit them, and showcase them online in a way that has buyers clamoring to step through your door.
If you don't understand why high-quality photos are crucial to your home advertisement, the National Association of Realtors (NAR) and Photography for Real Estate put it succinctly:
Most homebuyers shop online for property.
Most homebuyers use photos to determine whether or not they want to visit a home.
Properties with high-quality photos sell faster than those that don't.
Properties with good images sell for more money than properties of equivalent value without photos.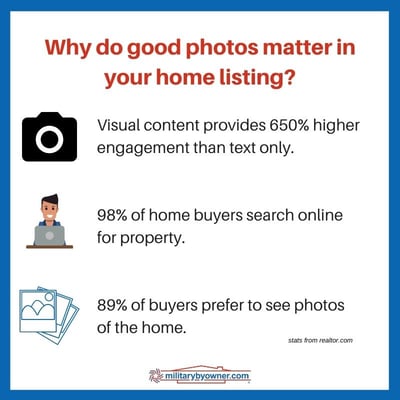 Since photos for your home sale are so important, you might consider hiring a professional to take them. Your home will likely spend less time on the market, and the photographer fees should pay for themselves. However, if you feel ambitious and have the confidence to do it yourself, we've compiled a list of tips to help you capture your home successfully, whether you're using a professional camera or your phone.
1) Capture your home at its best.
Your online advertisement often makes the first impression. The goal is to make it great (dare I say unforgettable). The first step is to stage your home. Staging is a powerful tool to use when selling your home.
Here are five ways staging benefits home sellers from Home Staging 101:
Staged homes sell faster and for more money.
Staged homes look better in photos.
Staged homes look move-in ready.
Home staging protects the property's value.
Home staging connects generations of buyers and sellers.
On that note, hiring a staging professional can serve you well. However, for those of you DIYers out there, here are a few guidelines you'll want to follow.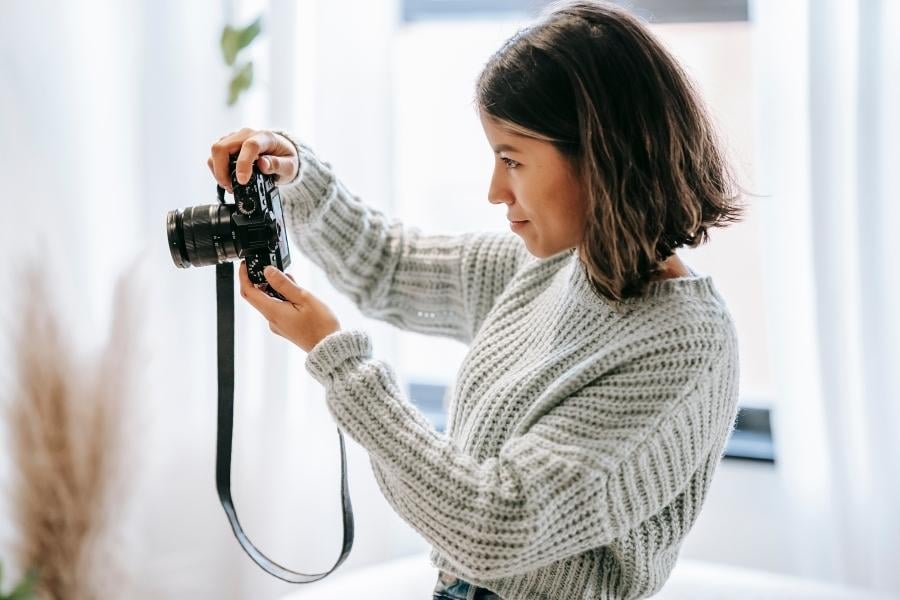 Photo from Canva
Don'ts for Staging Your Home
Don't have people in your photos. The buyer doesn't need a person to model the space. Instead, let the home speak for itself and ensure that people aren't visible, including yourself!

Don't leave the toilet lid up. It doesn't matter if it's clean. Seeing the inside of a toilet bowl is distracting and off putting.

Don't photograph your house empty. It's much more difficult to portray the size of a room when it's empty. Not to mention, impossible for buyers to determine if their furniture will fit.

Don't photograph your home dirty. Pictures with visible clutter are bad for a few reasons:
First, it's distracting. The potential buyer isn't going to see your home—they're going to focus on all the stuff you have sitting around.
Second, a buyer wants to know that the house is in good condition. If they see your belongings thrown around and not cared for, they'll be skeptical as to whether you've cared for the property any better. They may also wonder if it smells (no thanks!).
Third, clutter creates the illusion that your home lacks storage, hence the clutter piles around the house.
Don't neglect the home's exterior. Even if you're working with a tight budget, don't spend it all on the interior. A grungy front door or unkempt landscaping communicates to the buyers that you haven't looked after the property and makes them wonder what else you may have neglected.
An example of two "don'ts" in one photo!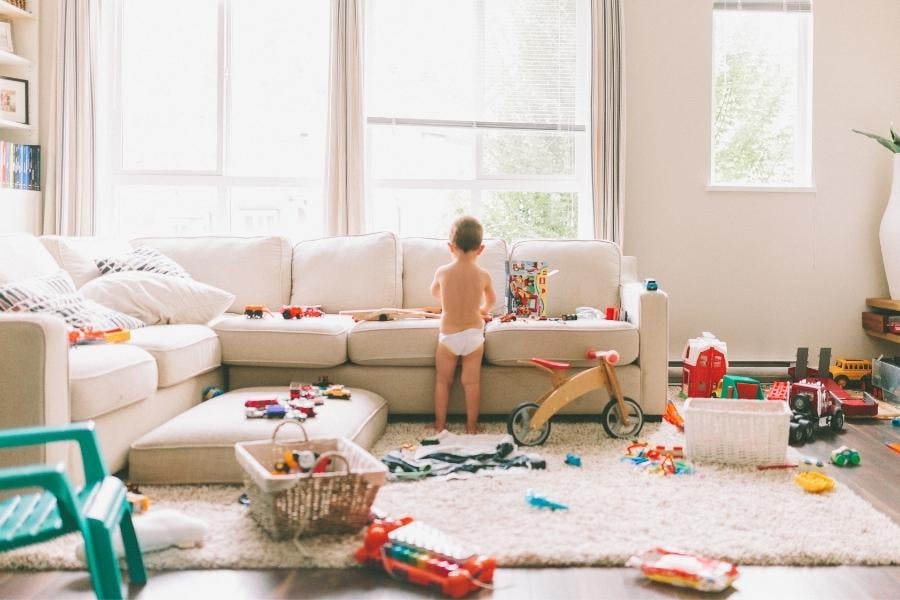 Photo from Canva
Focus On This When Staging Your Home
Let in the natural light. Light makes your home look more open, spacious, and airy. If you don't get a lot of natural light, remove curtains and blinds that could obstruct what little light you might have.
Depersonalize and declutter. Remove anything that's personal and not essential to your routine. But don't hide it in the cupboards or a closet, because when buyers come by for a showing, you can be sure they'll open every cabinet and closet door. Remember, less is more!
Rent a storage unit if you need to. Store extra appliances, furniture, and personal items that crowd your space until after your house sells.
Hide cleaning supplies and other items in the kitchen and bathroom. Put away sponges, dish towels, paper towels, and dish soap in the kitchen. Remove magnets from the fridge and clear clutter off the counters. And pay attention to details in the bathroom. Put the toilet lid down, remove the plunger, hide the toilet brush, tuck your toiletries away, and replace used towels with new, pretty ones.
Clean. Spotless is the goal. Repeat to yourself "Buyers want a move-in-ready house," as you re-caulk the bathroom sink. Pay attention to details like:
Baseboards
Walls
Floors
Appliances
Carpets
Ceiling
Repair holes in the wall (even little ones from hanging photos)
Get rid of any pet odor
Go neutral. Replacing vibrant, powerful colors in your home will help potential buyers see your home as a blank slate for their own belongings. You don't have to paint your walls white, but a soft, neutral color may go a long way to help your house appeal to more buyers.
Up the curb appeal. While your advertisement makes the first impression online, your front door really makes the first impression. A few things to keep in mind: keep the yard well manicured, replace dead or dying plants with new ones, repair or replace anything broken, and freshen up with a fresh coat of paint or a pretty pot of flowers on the front step.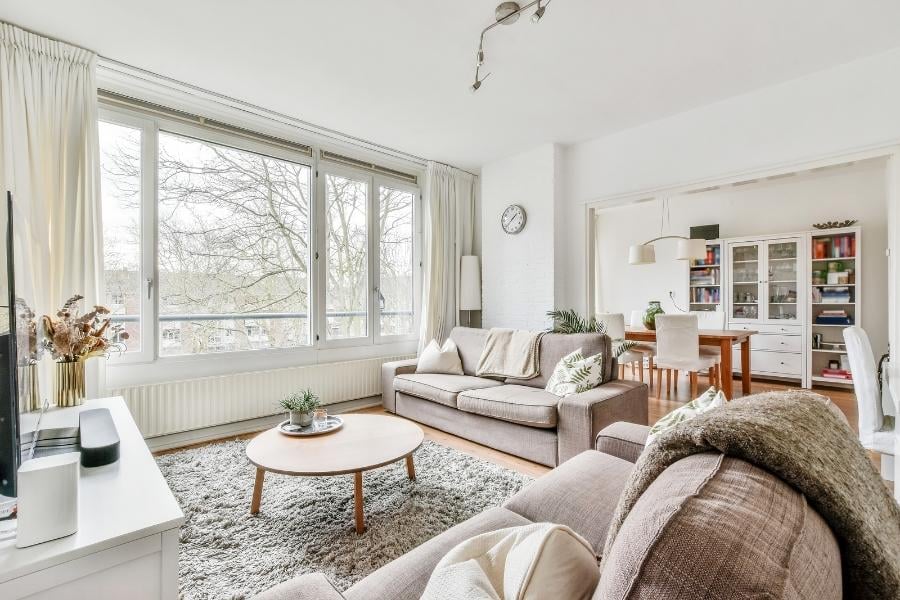 Photo from Canva
2) Take high quality photos.
Once you've staged your home and it looks radiant, it's time to talk about photography. How do you take photos that appeal to buyers when they see your home online? Here are a handful of tips to help you take good images of your property with whatever camera you have available.
Don'ts for Your Home Listing Photos
Don't use vertical photos. Even if you're trying to capture the world's smallest bathroom, it's hard to show depth and give viewers a good sense of the space with a vertical angle.
Don't take photos at night. Our homes often feel coziest in the evening after the sun goes down. With the proper lamps, the lighting makes the space feel comfortable. But don't try to capture this for your advertisement. Your pictures won't showcase the room at its fullest. Instead, dark areas take over, and artificial light distorts the natural hues. Natural light is best for real estate photography.
Don't leave the front door open. Although you might think it looks more inviting, an open front door looks unfinished.
Don't overlook features that sell. If your home has a garden tub, fireplace, pool, hardwood flooring, or any other attractive feature, take a photo and include it in the listing.
Don't use extreme angles. Don't take photos from above your head or below your chest. Don't angle the camera like you're taking senior pics in 2009. While a bird's eye view can help capture everything in the room, it doesn't provide online viewers with an honest perspective of the space. You also risk having more dead space (floors and ceilings) in your photo than areas of interest.
An example of too-dark lighting for a home ad photo: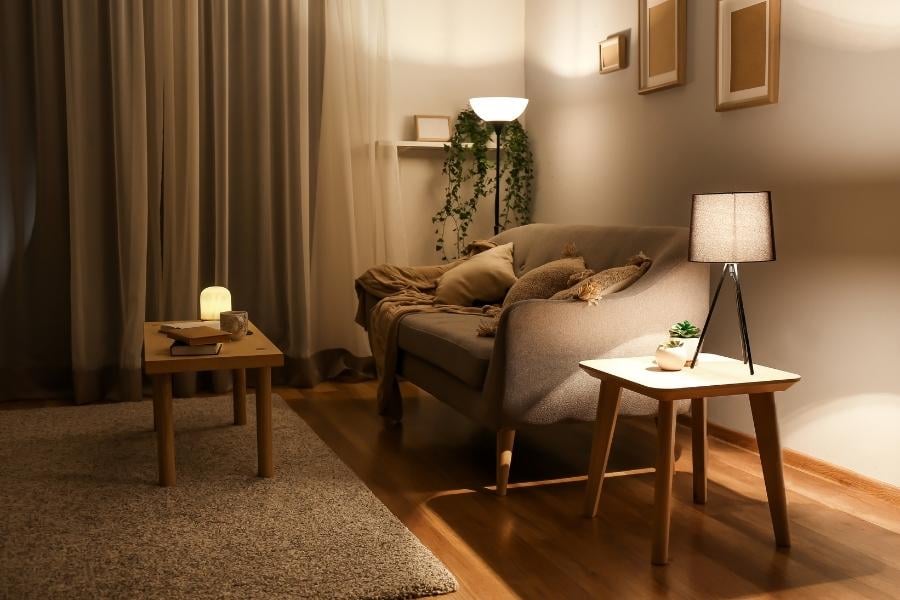 Photo from Canva
Focus On This for Your Home Listing Photos
Use landscape orientation. Landscape mode is the go-to for real estate photography. This best captures the size of your space and more accurately represents your property.

Foster lots of natural light. We've already discussed how light makes space look larger, open, and airy, so capture your home when the natural light is at its highest. The best time of day varies depending on your windows' location. Try using the flash to minimize window flares (the blurry light around a window that distracts from other details in your home). This step can eliminate the blur and help viewers see details outside the house creating a more fluid feel. In addition to a flash, photo-editing programs can reduce flare as well.

Tip: for iPhone 11 and 12 users, there is an HDR setting built into the camera. Models down to 8 have an auto HDR built in, while iPhone models 7 and older don't have this setting. HDR takes a series of photos with different lighting settings and blends them all into one image. The great thing about this feature is that it helps offset those dark spots and creates a consistent lighting throughout the photo. To ensure that you're using HDR, go to Settings > Camera > scroll down to HDR and turn it off. Now when you open your camera app, you'll notice an HDR toggle in the frame. Click it on for each photo to ensure that you take advantage of this feature.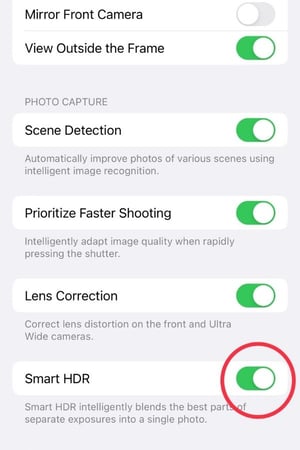 Create a good flow in your photos. You don't want the house hunter's eyes to stop at the first thing they see. Avoid large items in the foreground to ensure the photo leads the viewer around the room. However, small items, like a coffee table, create interest and lead the eye to the background.
Find the best angles. If you have a unique feature in the room, find the angle that accentuates it. For example, a nook, built-in bookcase, or fireplace are all great features potential buyers need to see when they look at your listing. Choose an angle that showcases that feature.
Avoid converging vertical lines. When taking photos of rooms, you want to avoid converging vertical lines. Unless you plan to use a tripod or bubble level on your phone, there's a good chance the space will look distorted when lines in the photo don't line up with the actual edges of the photograph. You can avoid this by adjusting your camera height, using a wide-angle lens, and shooting toward the corners.
iPhone users can go to Settings > Camera > scroll down to Grid and turn it on. Now, when you open the camera app, you'll see the same grid that appears when you're editing and cropping images appears when you go to take your photo.This feature extremely helpful to ensure that you're capturing straight images.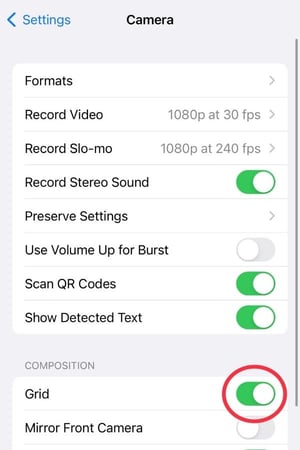 Use a wide angle lens. Using a wide angle helps portray a more accurate feel of the space. It creates more depth and detail for the house hunters shopping virtually. Here's an example of the same photo taken with and without a wide angle lens on my phone. You'll notice that without a wide angle lens, the image only captures a small portion of the space.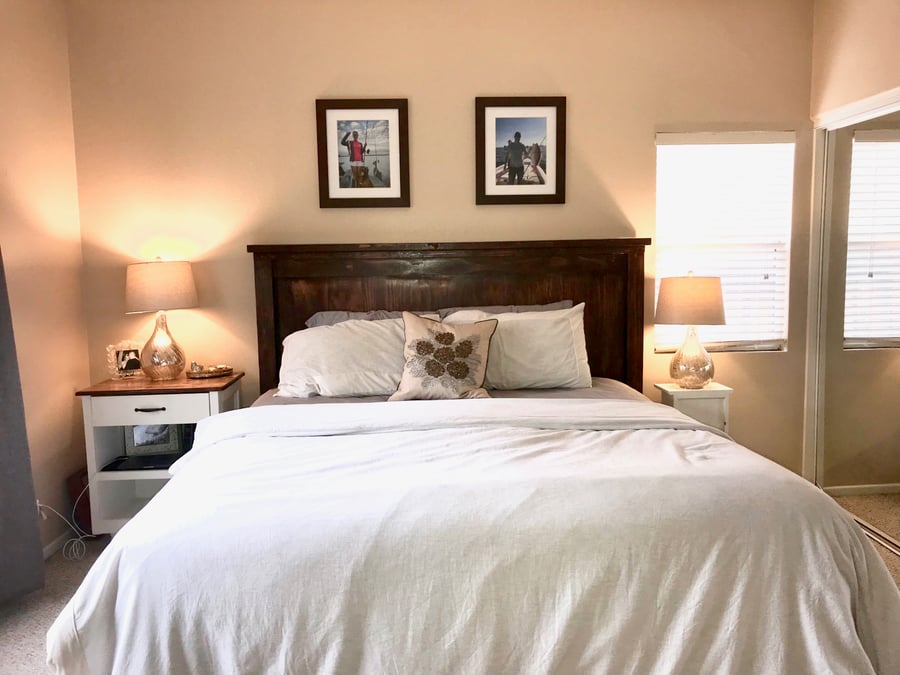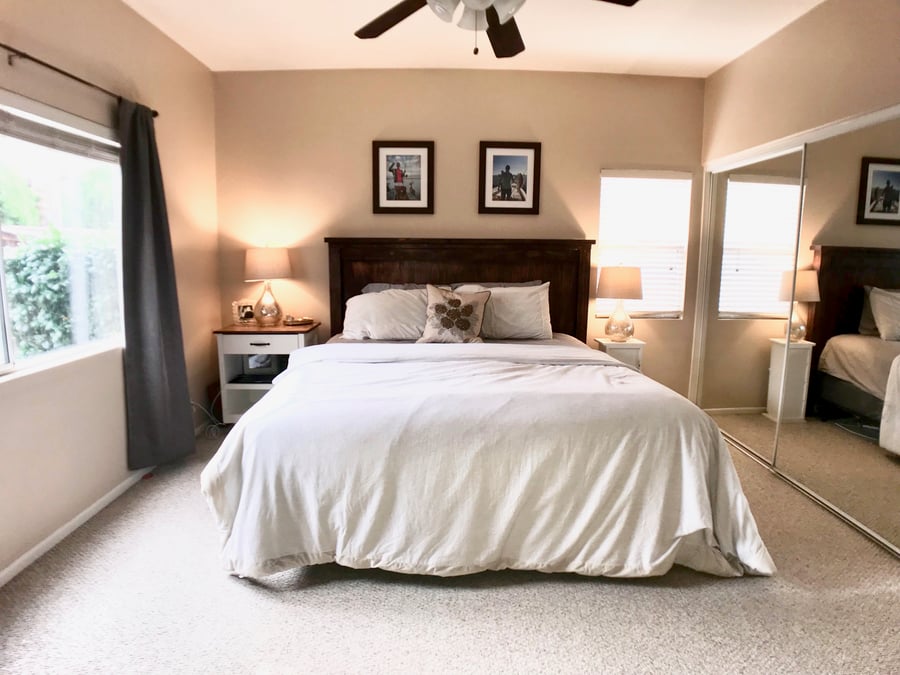 Lucky for iPhone users, Apple built the ultra-wide lens (.5) setting into their cameras.

Shooting the corners. Shooting toward the corner of a room in your image may help create depth and flow by drawing the viewer's eye into the image versus facing a wall. This strategy can also help you avoid those pesky converging verticals. The goal is to shoot two walls to create a three-dimensional photo. One wall falls flat, and three walls create a narrow, almost suffocating feel.


Here's an example of capturing one, two, and three walls.

One wall: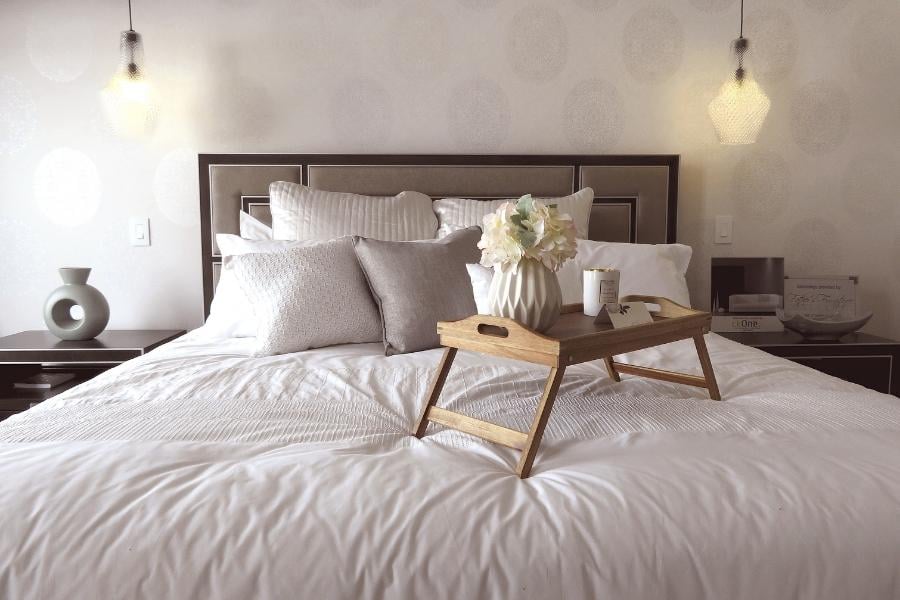 Photo from Canva
Two walls: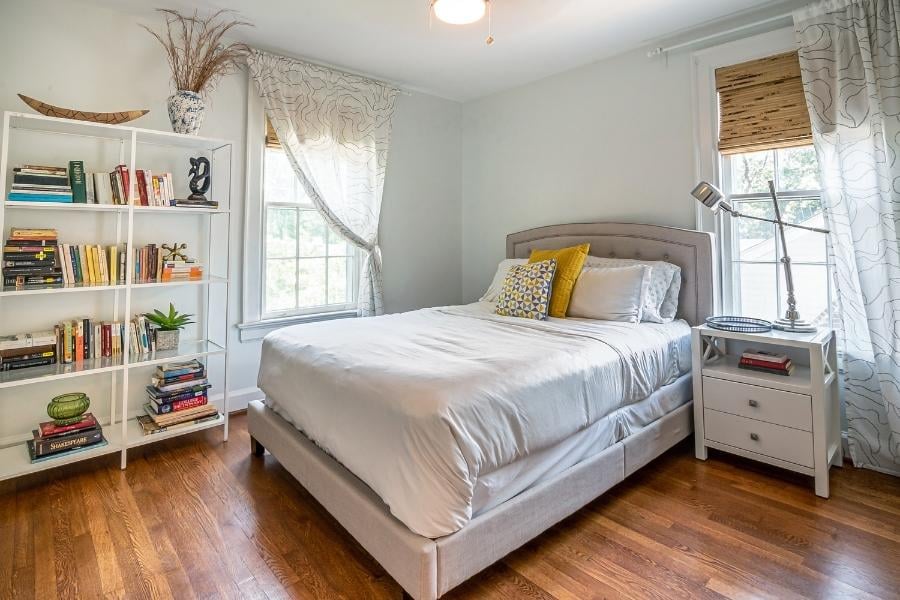 Photo from Canva
Three walls: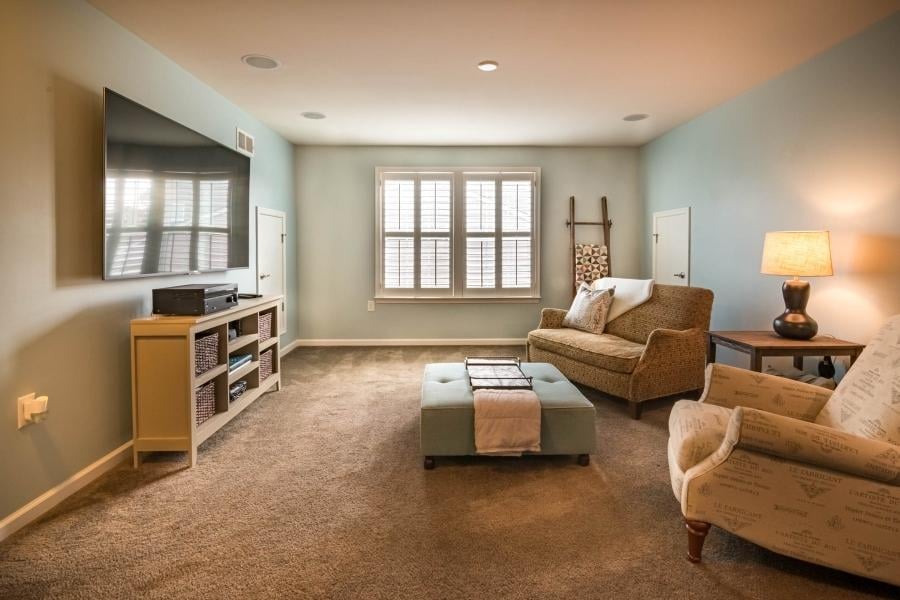 Photo from Canva
You'll notice that the room looks more spacious when the camera aims toward the corner of the room and captures two walls. The third picture with three walls feels smaller and closed.
Take photos at chest height. Photos taken at chest height present a more accurate feel of the space. It showcases what the buyer will see when they step into your home and leaves little room for dead space like the floor and ceiling.
Follow the sun for exterior photos. Take your exterior shots at different times of the day when the lighting is best. This might mean capturing the front in the morning and the back in the afternoon. Be patient and wait for the right timing.
3) Lighten, brighten, and edit your photos to make them the best they can be.
You don't need access to Photoshop to tweak your photos before you post them. There are easy-to-use editing tools available. Gimp, Picmonkey, Fotor, Photoshop Express, and Pixlr are all great options. You can also use simple editing tools on your phone, which can be better than nothing. And you don't have to be an expert to use them—you're just looking to make simple adjustments to the already amazing photos you took.
Don'ts for Editing Your Home Listing Photos
Don't use low-resolution photos. Low quality photos make for grainy uploads, and potential buyers will find it difficult to see the details of your space. Buyers want clear, bright images.
Don't upload small pictures. Small photos make it nearly impossible for buyers to perceive the size of the space. The whole point of your online listing is to create a stunning impression for home buyers and cause them to say, I need to see this house right now. Small, hard-to-see photos make this goal unattainable.
Don't add filters or a fun frame. Your online advertisement doesn't need a filter that you'd find on a social media account. Your pictures should draw buyers because your home looks incredible, not because you have a flashy filter. Leave the frames, vignettes, and filters for social media.
Focus on This When Editing Your Home Listing Photos
Adjust the brightness. Without professional photography equipment, you may find dark spots in your photos. Don't worry. With a simple edit, you can adjust the brightness and lighten shadows.
If your editing tool doesn't have an adjustment brush for more finite adjustments, you'll want to be sure that you look at the whole photograph. While some areas could use a considerable light adjustment, you don't want to over-expose the spots that are already well lit. Look at the photo in its entirety and determine a good balance between light and dark.
If you have an iPhone 12 or newer, you can shoot in RAW mode, which helps maintain your photo's integrity while editing. Go to Settings > Camera > Format > and turn on RAW. Now when you go to your camera app, you'll find the RAW toggle next to the HDR, where you can turn it on before capturing a photo of your home.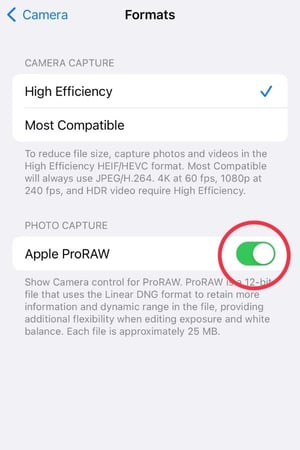 Crop your photo. Use the crop tool to edit out little nuisances in your photos, for example, telephone wires or part of the neighbor's car. Keep in mind, though, the more you cut, the more sharpness you lose, so use the crop tool sparingly.
Resize. Like we discussed earlier, small photos don't sell, so you may need to resize them before you upload. Just be sure they still have high resolution to avoid a grainy, pixelated image.

Pay attention to resolution. High resolution is crucial for the success of your photos. Dark, grainy images don't showcase your home well. And chances are, many online house hunters will scroll past until they find photos that appeal to them.
Pay attention to your first impression photo. Even if you have a gorgeous pool in your backyard, it shouldn't be the leading photo in your ad. The first photo/thumbnail should always be your home's exterior. If it's missing, house hunters wonder why you haven't included a photo of the front of the house. Is it because it's unpolished or because the area looks rough? Put their mind at ease and give them something to recognize when they pull up to your home for a showing.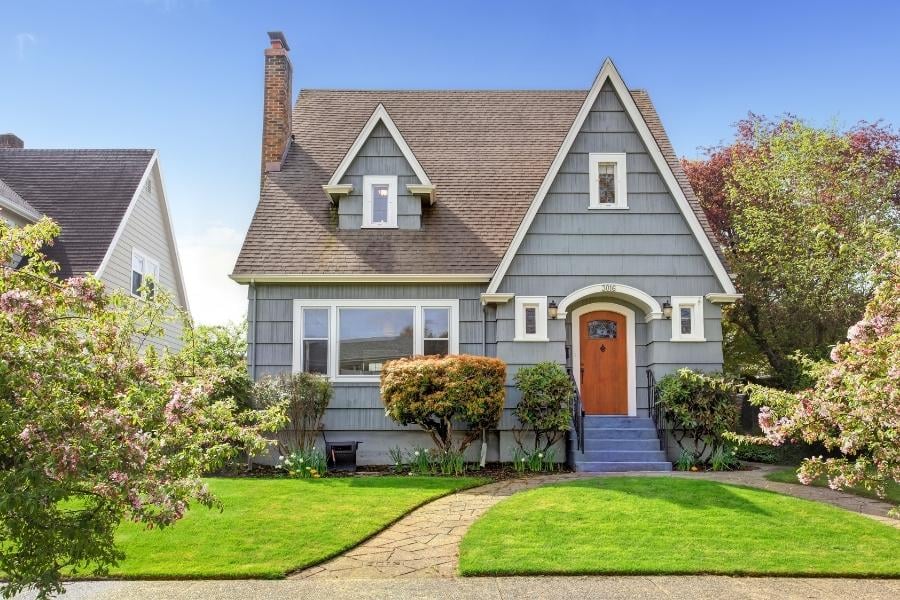 Photo from Canva
It may seem time-consuming to get everything staged, wait for proper lighting, edit, and then upload your home photos for the world to see. But with so much weight relying on those images to lure potential buyers to your home, it's well worth your time to get this part right.
Armed with these tips, are you ready to place your home ad? Start here!
For more tips on home selling, download our free resource below, A Guide to Selling Your Home.