4 Benefits of an Off-Season PCS Move
Have you ever moved during the off-season? There are a handful of military families who, instead of packing up during the summer, spend their winter months resisting hibernation to uproot and relocate.
There's no doubt about it, the summer PCS season is far more common. Since there are usually more families moving during that season, it's become part of the military culture. But the off-season is a little different. Only a few are headed off to a new duty station. And if you haven't been one of those military families in the past, then you might feel a little uneasy.
Not to worry. With a little information and a few key points to focus on, you can put those feelings of discomfort aside.
What makes an off-season PCS so different?
The goodbyes. During the mad PCS season rush that takes place in the late spring and early summer, yours is one of many families preparing to PCS. It's much easier to remember that you're not alone in the process when you see other families also saying goodbye to their friends. And thankfully, you might not be the only one of your close-knit group of friends to say "see ya later."
During an off-season PCS, it's likely that you're the only one leaving. The support group that you've relied on for years will remain intact. And saying goodbye to something like that induces feelings of loneliness.
The natural break. Aside from the emotions of relocating, a normal PCS move often creates excitement. With your kids out of school for the year, your PCS primes the family for a summer road trip vacay. Plus, your children will be able to start the next school year at the same time as local kids, meaning they won't have to adjust to their new school in the middle of the year.
But when you receive orders to move outside of the PCS season, you're moving during the typical fall and winter 'settling in' months. (It's called "spring cleaning" for a reason!) In the winter months, we all tend to focus on staying warm and cozy. And come springtime, then we emerge and make up for the poor decisions our holiday-crazed selves made. An off-season PCS interrupts our traditions and may even result in a holiday season spent away from home.
But since we don't have a great deal of control over when we move, it's important that we learn to embrace our opportunities no matter the circumstances. And who knows? Maybe you'll even learn to love your off-season PCS!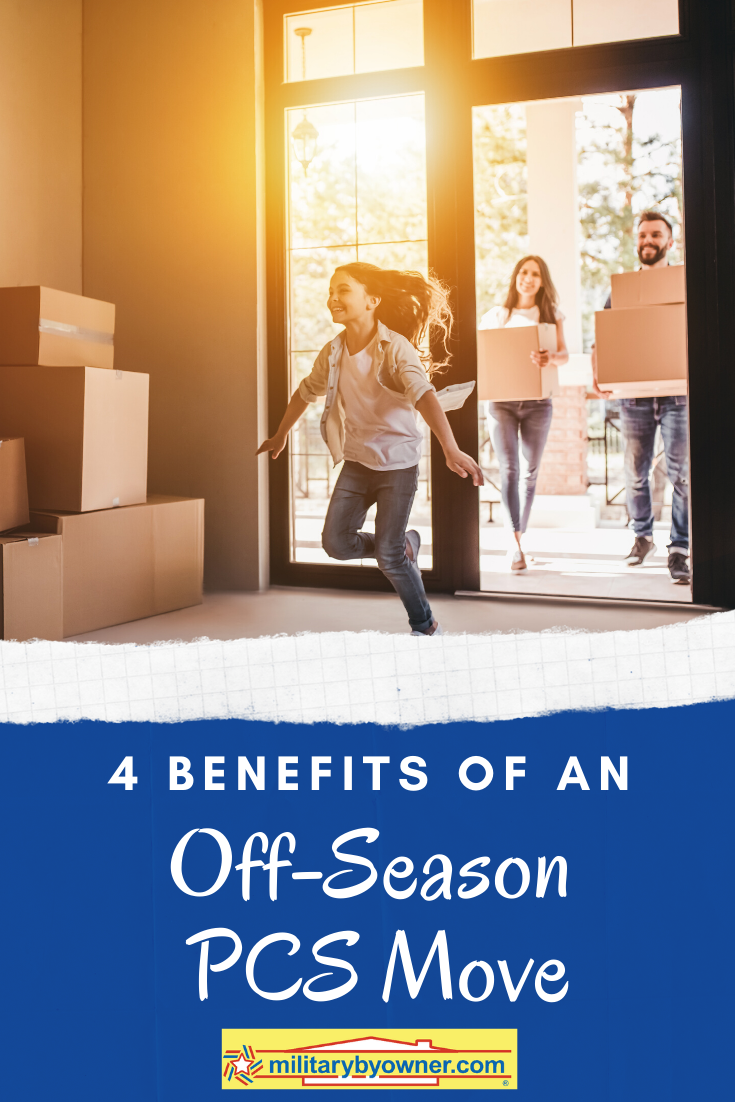 4 Benefits of an Off-Season PCS
1) Extended Holiday Vacation!
Getting orders around the holidays is a great opportunity for your the military member to take leave and schedule some time to be home. The military lifestyle can make it difficult to visit family for the holidays on an ordinary year, so take advantage of the opportunity to make time for your loved ones.
2) Lower Travel Costs
If you're moving after the New Year, you'll be one of the few on the road. Since most families plan their vacations for the spring and summer months, hotel rates and airfare will likely be more affordable.
Not only is this good news for your budget, but it also means that your per diem will get you further and you may even have the opportunity to pocket a portion of it!
3) Less Housing Competition
Since there won't be as many families moving to your next duty station at the same time as you, you may notice less competition when you're looking for the perfect house. However, since fewer families are also leaving during this time of the year, your selection may be slim to begin with.
Start by looking on MilitaryByOwner Advertising for homes. Get in contact with groups and families already located in the area, and begin the househunting process immediately. Because there's less real estate activity, you may find that the owner, property manager, or real estate agent is eager to work with you — opening the door to negotiating lower prices and expediting the timeline. For some guidance, take a look at:
4) Moving Companies Are Less Busy
You'll find that movers are easier to schedule around your most convenient time. You may be able to set your packing and moving days with ease. The same goes for securing a moving truck. If you choose to do a Do It Yourself (DITY), or Personally Procured Move, you'll find that securing your rental truck is far easier during the winter than the summer.
An off-season PCS might not be your first pick; we get it. But when you take the time to think about it, there are a few things that make a move this time of the year easier than in the summer months. The most important thing is to focus on the positives. And, when you're ready, hop on MilitaryByOwner where we'll help you find your next place to call home--no matter the time of year!